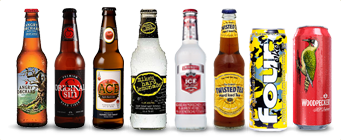 Angry Orchard Crisp Apple
This crisp and refreshing cider mixes the sweetness of the apples with a subtle dryness for a balanced cider taste. The fresh apple aroma and slightly sweet, ripe apple flavor make this cider hard to resist.

Hard Cider
Angry Orchard Rosé
The red flesh apples in Angry Orchard Rosé are from France. Each apple is crisp, juicy and red to the core, adding an irresistible rosy blush and apple-forward taste with a refreshing, dry finish. Angry Orchard Rosé can be enjoyed outside with friends or at the dinner table.
Angry Orchard Variety Pack
Angry Orchard Hard Cider Trifecta Variety Pack:

3 bottles each of 4 Angry Orchard Hard Cider styles: Crisp Apple, Crisp Unfiltered, Rosé, Pear
5% ABV
Naturally Gluten Free
Hard Cider


Bud Light Seltzer Variety Pack
WHY DOES IT TASTE SO GOOD?

Bud Light Seltzer's unique 5-step filtration process ensures a clean finish, with no lingering aftertaste. Our natural carbonation and quality ingredients like sparkling water, real cane sugar, and natural fruit flavor create a light and bubbly seltzer for any occasion.
Black Cherry, Lemon Lime, Mango & Strawberry
Corona Hard Seltzer
Corona Hard Seltzer is the only hard seltzer brand with 0g carbs, 0g sugars* and Corona's chill attitude along with all the other benefits you expect from a hard seltzer like 90 calories, natural flavors, and gluten-free. Available in refreshing flavors such as Tropical Lime, Mango, Cherry, and Blackberry Lime
Corona Refresca – Variety Pack
Corona Refresca has a refreshingly delicious taste and comes in three tropical flavors: Passionfruit Lime, Guava Lime and Coconut Lime. With an ABV of 4.5%, Corona Refresca offers a crisp and flavorful taste with 199 calories per 12-ounce serving. Guava Lime and Passionfruit Lime flavors

Sorry, temporally out of stock.
Downeast Cider Original Blend
The Original Blend is made from freshly pressed Maine apples (thank you Ricker Hill Orchards, www.rickerhill.com) because we believe in making the best product we possibly can. We also like to support local agriculture. We use Red Delicious, Yellow Delicious, McIntosh, Cortland, and Gala apples in our cider.
Kona Spiked Island Seltzers
Need a Hawaiian vacation? Every fizzy sip of our crisp hard seltzers is packed with tropical tastes that will transport your senses - no luggage needed! Sparkling bubbles, enticing aromas, and juicy flavors bring the islands right to you. What's even more refreshing? Kona Spiked Island Seltzers have zero sugar and are naturally gluten free. One Life, Right?
Flavors:Tropical Punch, Starfruit Lime, Strawberry Guava & Passionfruit Guava
Magners Hard Apple Cider
We love making cider, but we reckon there's only one way to do it properly. That's why we're still taking inspiration from the historic methods we used when we started making cider back in 1935. That's part of the Magners taste.

So in this way we use 17 varieties of apples, waiting until they drop before pressing and filtering them in the traditional way.

We take time to ferment the cider and even more time to let it mature, up to 2 years in fact, tasting it along the way.
Sure, there are faster ways of making cider, but then it wouldn't be Magners.
11.2 oz.
Bottle
24
$40.99
Pabst Blue Ribbon Hard Coffee
Can't decide between the pick-me-up of coffee and the pleasant buzz of a beer? You can now have both. Pabst Blue Ribbon is offering a new product, Pabst Hard Coffee, which is exactly what it sounds like: a combination of java and beer.

This new brew isn't just another coffee-flavored beer, it's really coffee spiked with alcohol. Pabst Brewing describes the drink as vanilla-infused premium iced coffee with 5 percent alcohol by volume. "It's a fun and deliciously unique drink made using Arabica and Robusta coffee beans and rich, creamy American milk," Pabst noted in a press release.
Rekorderlig – Premium Pear Cider
Made with the purest Swedish spring water blended with 100% European pears, resulting in a refreshingly delicious, perfectly tart and sweetened pear cider. Enjoy chilled with a zesty lemon wedge for an incredibly crisp finish.
Rekorderlig – Strawberry & Lime Premium Cider
A super premium Swedish Cider and is made using the finest fermented pears with an added summery burst of strawberry & lime to make a truly wondrous cider that is deliciously refreshing and bursting with summery freshness!
Rekorderlig – Wild Berries Premium Cider
Made from the purest spring water that runs under our family brewery in Vimmerby Sweden, Rekorderlig Wild Berries Cider is a semi-sweet Cider that uses only the finest berries to produce a truly delicious Cider.
REKORDERLIG – HARD APPLE PREMIUM CIDER
This premium hard cider brand from Sweden, announced the launch of Hård Äpple in the United States. The lightly carbonated cider is created in Vimmerby, Sweden using a blend of apples and the purest spring water in Europe. It is a higher alcohol, lower sugar blend than the rest of Rekorderlig's portfolio.
Smirnoff Ice Green Apple
Crisp, juicy green apple flavor. Not too sweet, and not too tart.
11.2 oz.
Bottle
24
$34.99
SMIRNOFF ICE PINEAPPLE
Smirnoff Ice Pineapple features the distinctive, tropical flavor of fresh-squeezed pineapple juice with a twist of Latin flare. Add some "fiesta" to your next get-together with the crisp, clean taste you except from Smirnoff.
Smirnoff Ice Watermelon Mimosa
Watermelon Mimosa delivers a premium taste experience with the perfect balance of flavor, sweetness, alcohol and a little extra carbonation. Not too sweet or overly flavored, Watermelon Mimosa is a refreshing mixture of prosecco, watermelon and berry flavors.
SMIRNOFF ICE®
SMIRNOFF ICE™ Original. The Original Premium Flavored Malt Beverage that started it all - with a delightfully crisp, citrus taste.

11.2 oz.
Bottle
24
$34.99
SMIRNOFF ICE® Mango
Smirnoff Ice brings you a new popular flavor - Mango. Add some fiesta to your next party with this fresh and tangy new flavor.
11.2 oz.
Bottle
24
$34.99
Smirnoff Seltzer Red, White & Berry
Smirnoff Zero Sugar Red, White & Berry Seltzer is the flavor of the summer. Sip on this blend of cherry, citrus and blue raspberry that is available for a limited time only in a can that changes color when cold. No artificial sweeteners and only 90 calories.
Truly Hard Seltzer Lemonade Variety Pack
Truly Lemonade is the perfect mix of refreshing hard seltzer and sweet lemonade that's big on taste and low on calories. It packs the sweetness of real lemonade with the refreshment of Truly Hard Seltzer, with only 100 calories and 1g sugars.
THE GOOD STUFF
Styles: Original Lemonade, Black Cherry Lemonade, Mango Lemonade, and Strawberry Lemonade
ABV: 5%
Calories: 100
Sugars: 1 g
Carbs: 3 g
Gluten free
Available In: 12-pack slim cans, 3 cans per style
Twisted Tea Original
Our fans love Twisted Tea Original's true iced tea taste. They also love fast cars, loud music, liberty and justice, and really big BBQ grills. For a refreshing and smooth taste, we use select tea and natural lemon flavor. It's delicious. It's a little twisted.
White Claw Black Cherry Hard Seltzer
Subtle yet unmistakable meets dry yet refreshing hard seltzer. The result? Crisp clean spiked sparkling water with mineral sweetness and no aftertaste- just a light hint of deliciously dark cherry.

White Claw Hard Seltzer 70 Clementine
White Claw® Hard Seltzer 70 has 70 calories, 3.7% alcohol and 0g carbs. Experience a burst of light citrus clementine notes — subtle and balanced crisp refreshment similar to seltzer water garnished with fresh citrus.
White Claw Hard Seltzer 70 Pineapple
White Claw® Hard Seltzer 70 has 70 calories, 3.7% alcohol and 0g carbs. Our carefully crafted Pineapple flavor has a subtle fruit flavor for times when you crave a more delicate beverage.
White Claw Hard Seltzer Variety Pack
The way we see it, the most refreshing innovation in the hard beverage aisle is honesty. And when it comes to artificial additives, less isn't just more—it's best. So we've decided to pioneer something true to nature. Something pure.

White Claw Hard Seltzer: all-natural sparkling seltzer water with 5% alcohol and a hint of honest-to-goodness fruit.

Crafted dry, hard and refreshingly drinkable, any flavor pairs perfectly with good times and even better company. Whether you're beach-bound, out blazing trails or simply chilling, you can count on one deliciously crisp sip after another.

No additives. No funny business. Just 110 calories of good clean fun with a kick.

THE LEGEND OF THE WHITE CLAW WAVE

White Claw® Hard Seltzer takes its inspiration from the legend of the White Claw wave - when three perfect crests come together to create a moment of pure refreshment. We set out to make something as pure, refreshing and natural as this. The result? White Claw® Hard Seltzer. Made Pure™.


Cheers to that.
White Claw Mango Hard Seltzer
White Claw® Hard Seltzer is made using a blend of seltzer water, our gluten free BrewPure® alcohol, and
a hint of fruit. Our 5 fruit flavors contain only 100 calories, 2g sugar, and all natural flavors. Discover the
refreshing taste of White Claw® Hard Seltzer today.
White Claw Variety Pack #2
Our newest variety pack featuring a new line up of flavors. This seltzer variety pack includes: Lemon, Mango, Watermelon, and Tangerine. Enjoy!