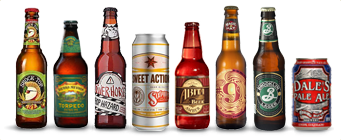 21st Amendment Hell or High Watermelon Wheat
Like Lady Liberty, 21st Amendment stands for independence and perseverance. In the pursuit of innovative beer, there is no obstacle too great. No journey too long. No fruit too gigantic. This American wheat beer is brewed with real watermelon, for a flavor that's surprisingly crisp, dry and refreshing—it's summer in a can! They start by brewing a classic American wheat beer, then add fresh melons for a straw-colored, delicious beer with a kiss of watermelon aroma and flavor.
902 Brewing Company Chilltown Crusher
A simple base malt of Pilsner and Vienna, fermented out with German lager yeast, and gently dry hopped with Huell Melon. Crisp, clean, flavorful, and an excellent companion to mow the lawn with you.


902 Brewing Company Path – Pale Ale True Hoboken
The pale ale is a lighter, refreshing, full bodied session beer. Session beer: one who retains the flavorful taste of a craft beer, but allows you to enjoy a few without seeing double. It is a light copper color, has a crisp, flavorful taste.
902 Brewing Heaven Hell Or Hoboken IPA
One of our flagships from when it all began, Heaven Hell or Hoboken IPA lays down a straw colored, slightly sweet base malt with that long lost hop bitterness. Classic to the style, it has flavors of pine,
dankness, grapefruit, and citrus.
Alchemist Heady Topper
An American Double IPA, packed with over 120 IBU! This beer is not intended to be the biggest or most bitter. It is meant to give you wave after wave of hoppy goodness on your palate. Tremendous amounts of American hops will creep up on you, and leave you with a dense hoppy finish in you mouth. So drinkable, it's scary. Sometimes I wish I could crawl right into the can.

Sorry, currently not available!
Allagash White
Delicately balances full flavor with a crisp, refreshing taste and subtle hints of spice. Naturally cloudy, bottled with yeast.
Bell's Two Hearted Ale
Brewed with 100% Centennial hops from the Pacific Northwest and named after the Two Hearted River in Michigan's Upper Peninsula, this IPA is bursting with hop aromas ranging from pine to grapefruit from massive hop additions in both the kettle and the fermenter.

Perfectly balanced with a malt backbone and combined with the signature fruity aromas of Bell's house yeast, this beer is remarkably drinkable and well suited for adventures everywhere.

Bira 91 Blonde Lager
Bira 91 Blonde Lager is a refreshing contrast to insipid mass-market beers. Rich in color and made with the finest two-row barley. This flavorful lager is extra malty and high-hopped with a delicate aroma.
Bira 91 IPA
Bira 91 "The Indian Pale Ale" is a hop mutiny in the glass. High in alcohol (7%), this beer is made with a mix of two row pilsner malts, pale malts and wheat malts. Brewed with the world's most flavorful aroma and bitter hops (cascade, magnum, brewers' gold, and some secret exotic varieties!), this is a beer with a punch. Rich aromas of tropical fruit with a mildly sweet front start to seduce you, until you get hit by a burst of spicy, extra bitter finish. And the cycle repeats, till every taste bud of yours feels fresh and alive with flavor, and you adjust your bow tie, and ask the bartender for one more.

Sorry, temporally out of stock.
Bira 91 White
Bira 91 White. Bira 91 White is a deliciously different wheat beer with low bitterness, a hint of spicy citrus with a soft finish - a refreshing all day craft beer brewed with the finest all natural ingredients and brewed with barrels of passion.
Blue Moon Belgian White
Brewed with oats for creaminess and spiced with the perfect combination of orange peel and coriander.
An unfiltered wheat ale spiced in the Belgian tradition for an uncommonly smooth taste.
Blue Moon Variety Pack
An Assortment of Blue Moon favorites including:
6 bottles Belgium White
3 bottles Mango Wheat
3 bottles Pacific Apricot Wheat

Blue Point Toasted Lager
Toasted Lager's balanced flavor of malt and hops makes for easy drinking and the special lager yeast produces an exceptional, long-lasting smooth finish.
Brooklyn East India Pale Ale
Inspired by the original East India Pale Ales brewed in England in the early 1800's for the troops in India.
Brooklyn Lager
Brooklyn Lager, the Brewery's flagship label, is New York's "hometown" beer, brewed to a pre-Prohibition recipe that dates back to the days when Brooklyn was the brewing capital of the East Coast. Brooklyn Lager has won numerous awards. Wrote Michael Jackson in the Simon & Schuster Pocket Guide to Beer: "The dry-hopped, fresh, flowery, firm, flavourful, Brooklyn Lager **-*** started well, in 1988, and has gained in character since."
Brooklyn Summer Ale
Brooklyn Summer Ale is a modern rendition of the "Light Dinner Ales" brewed in England throughout the 1800s right up until the 1940s. They were also called "luncheon ales" or even "family ales," because they were refreshing and flavorful without being too heavy. Brooklyn Summer Ale is brewed from premium English barley malt, which gives this light-bodied golden beer a fresh bready flavor. German and American hops lend a light, crisp bitterness and a citrus/floral aroma resulting in a beer with a very sunny disposition.
Brooklyn Variety Pack
Brooklyn Brewery Variety Pack includes the pre-Prohibition Lager, Pennant Ale, Brown Ale, East India Pale Ale and Pilsner.
Cape May Brewing ALWAYS READY
Cape May is home to the Coast Guard, so we salute those who are Always Ready with a juicy Northeast Pale Ale. With the addition of wheat and oats for a medium body and with brilliant aromas of tropical fruits like pineapple, mango, and citrus zest, this lush hop-bomb is Always Ready.
Cape May Brewing CAPE MAY IPA
The American IPA named for America's Oldest Seaside Resort, Cape May IPA is loaded with floral and citrus notes, slightly bitter with a zesty finish. A West Coast-style IPA brewed in the heart of the East Coast, it's the beer that's Crafted on the Cape.
Cape May Brewing CAPE MAY WHITE
Cape May White is brewed with orange and lemon peels, coriander, grains of paradise, and our favorite Belgian Witbier yeast. Fruity esters up-front with an easy-drinking finish yields a traditional Belgian-Style Wheat Ale brewed in the heart of the East Coast.
Cape May Brewing COASTAL EVACUATION
Coastal Evacuation — it's a phrase that's everywhere at the Jersey Shore. This West Coast-style Double IPA is as big and bold as hurricane season itself, with a Centennial-forward, brazen blend of hops serving up hints of orange citrus and honeydew melon. It's time to evacuate. Are you prepared?
Cigar City Jai Alai India Pale Ale
Jai Alai India Pale Ale pays tribute to the original extreme sport. Jai Alai, a game native to the Basque region of Spain, is played on a court called a fronton. Jai Alai players attempt to catch a ball using a curved mitt, whilst the ball travels at speeds of up to 188 miles per hour! Proving they have a sense of humor the Spanish dub this game, with its ball traveling at race car speeds, """"the merry game."""" Tampa was once home to a busy Jai Alai fronton but sadly all that remains of Jai Alai in the Tampa Bay area is this India Pale Ale that we brew in tribute to the merry game. The India Pale Ale style of beer has its roots in the strong ales sent from England to thirsty British troops in India during the 18th century. To survive the journey the beers needed more alcohol and more hops (which act as a natural preservative). This "big" brewing practice made India Pale Ale one of the first """"extreme beers"""" and a favorite among the Queens military men in India. Eventually it became a favorite style of the new crop of American brewers seeking more flavor and complexity than mass-market brewers were willing to offer.
CIGAR CITY MIXED PACK
Includes the tropical, citrusy flavors of Jai Alai IPA - 7.5% ABV, the effervescent lemon-lime quality of Florida Cracker Belgian-style White Ale - 5.5% ABV, Guayabera Citra Pale Ale - 5.5% ABV, and a new beer exclusive to this pack: Space Pope IPA - 7.3% ABV.
Departed Soles Brewing Company Brrr-berry
Winter Ale brewed with spices and raspberry puree.... GLUTEN FREE
Departed Soles Brewing Company Brut Tang Gluten Free
Brut Tang Can ain't nothing to... well, you know..

Our newest beer is ready to go! A BRUT haze boi with tons of TANGerine added throughout the process, packaged up in lots of CANs! Who needs draft beer nowadays anyway?

Mixes great with champagne, oranges, and quarantine. Oh, and it's made with 100% gluten free ingredients...

Sorry, currently unavailable.
Departed Soles Brewing Company Bumper Hops
A hazy New England style IPA that's easy on the bitterness, full of Citra, ElDorado, and Amarillo hops - n it's GLUTEN FREE!
Departed Soles Brewing Company Four My Homie (GoodbIPA)
The flagship beer of Departed Soles Brewing Company, brewed in Jersey City, New Jersey, GoodbíPA is a light, sessionable American Style IPA. The beer features a bit of sweetness that is balanced with floral and citrus hops. Mild bitterness makes this a beer you'll enjoy over and over again with friends... including those that are Gluten Free, because this beer is made strictly with 100% Gluten Free ingredients (no a gluten-free'ing agent, however the brewhouse is shared with non-Gluten-Free brews). Cheers!
Departed Soles Brewing Company New Jersey Ninja Gluten Free
Departed Soles Brewing gluten free blonde ale is brewed with organic, gluten free buckwheat, millet, oats, and malted rice, along with NJ honey and green tea, for a light, non-hoppy alternative for gluten free craft beer consumers, while having increased malt character from the new gluten free grain base. Rotating availability.
Departed Soles Trash Ban Banger
5.4% IPA Brewed with 2017* grams per barrel of Citra Galaxy and Strata hops
Baseball fans may not be able to taunt the Astros in ballparks across America this summer, but those who disapprove of Houston's sign-stealing can express their feelings with this beer from Departed Soles. They introduced a new beer called "Trash Can Banger" on Thursday, featuring a can that harkens back to the Astros jerseys of the 1980s. What was the impetus for creating the beer? The answer is simple, according to owner and head brewer Brian Kulbacki.

Limited supply!
Dogfish Head 120 Minute IPA
Too extreme to be called beer? Brewed to a colossal 45°P, boiled for a full 2 hours while being continually hopped with high alpha American hops, dry-hopped every day in the fermenter for a month, and aged for a month on whole leaf hops, 120 Minute IPA is by far the strongest IPA ever brewed. And at 21% ABV and 120 IBU's, you can see why we are calling this the Holy Grail for Hopheads. Editors note: ABV reduced down to 18% in 2009.

Extremely limited! Awaiting new shipment.
Dogfish Head 60 Minute IPA
A powerful but balanced East Coast IPA with a lot of citrusy hop character. Tasting Notes: Citrus, cedar, pine & candied-orange flavors, floral.
Dogfish Head 90 Minute IPA
An Imperial I.P.A. brewed to be savored from a snifter. A big beer with a great malt backbone that stands up to the extreme hopping rate. This beer is an excellent candidate for use with Randall The Enamel Animal! 90 ibu.
Tasting Notes: Brandied fruitcake, raisiney, citrusy.
Dogfish Head SeaQuench Ale
SeaQuench Ale is our session sour quencher made with lime peel, black lime and sea salt. It's a citrusy-tart union of three German styles of beer blissfully brewed into one. We begin by brewing a straightforward Kolsch with lots of wheat and Munich Malt, then we brew a salty Gose with black limes, coriander and our sea salt. We follow it all up with a citrusy-tart Berlinerweiss made with lime juice and lime peel. All three beers are then blended together in the fermentation tank to create this German hybrid.
Dogfish Head Slightly Mighty
Mighty hop character and just 95 calories … that can't be possible. Oh, but it is! After a year of R&D and months of fine-tuning what seemed to be unimaginable, Slightly Mighty is finally here! This true indie craft beer has all the character of a world class IPA, but with only 95 calories, 3.6g carbs, 1g protein and 0g fat per 12oz serving. Seriously.

But how? Digging deep into our culinary roots, we found our answer in an ancient Chinese delicacy - monk fruit. Sweeter than sugar per ounce, monk fruit amplifies the body and complexity of the beer, yet contains no calories. Whereas most IPAs start with a formidable malt bill to balance hoppy bitterness with malty sweetness, Slightly Mighty goes about it a different way – all through the magic of monk fruit. Most light beers are watery and lack body, but with Slightly Mighty, the monk fruit essentially acts as the beer's skeleton, on which mighty hop muscle and flavor can be built. It allows us to reduce the malt bill and avoid any unnecessary unfermentable sugars, and consequently deliver a beer that is lower in calories and carbs, and perfectly balanced.

The result is a hazy gold lo-cal IPA that throws tropical notes of pineapple, coconut, mango and citrus, all while delivering an aromatic hoppiness that makes it oh-so drinkable. Brewed with 'lo-cal'ly grown malted barley, Slightly Mighty is dynamic and crisp with a refreshing hop profile.
Downeast Unfiltered Craft Cider Variety Pack
A collection of cider styles from the brewers of Downeast. Enjoy 9 cans of cider in three different flavors: Original Blend, Double Blend and Drier Side
Downeast Winter Blend Craft Cider
Winter Blend pairs well with deep sofas, warm blankets, and a crackling fire. Our winter offering starts with fresh apple cider. It is fermented with our ale yeast and aged on toasted oak chips, cinnamon bark, and nutmeg. Not overwhelming on the spice, Winter Blend finishes clean – with enough kick for a cold winter night.


Fiddlehead IPA
Hop forward with mellow bitterness. Citrusy and Dank. Well Balanced.
Flying Fish Variety Pack
The Flying Fish is a constellation in the Southern Hemisphere, representing exploration and adventure. This variety pack of 15 cans is the perfect companion for any occasion, as there's a style for everyone on the journey.

Contains:
Day Light Savings (Low Cal IPA with Acai)
Hazy Bones (Hazy IPA)
Trade Winds tropical Wheat (passionfruit & Guava Ale)
XPA Citra Pale Ale (Citra Pale Ale)
Salt & Sea (Session Sour Strawberry Lime)

Founders All Day IPA
An all-day IPA naturally brewed with a complex array of malts, grains and hops. Balanced for optimal aromatic and a clean finish. The perfect reward for an honest day's work and the ultimate companion to celebrate life's simple pleasures.
Goose Island IPA
A hop lover's dream. This classic ale adds a fruity aroma, set off by a dry malt middle, to ensure that the long hop finish is one you'll remember.
Guinness Pub Nitro Cold Brew Coffee
Guinness Nitro Cold Brew Coffee is a nitrogenated dry Irish stout (just like Guinness Draught) brewed with coffee and natural coffee flavors. A distinct, sweet-smelling coffee nose hints at the perfect balance between bitter and sweet roast coffee flavor. This stout is rich, smooth, and creamy despite being just 114 calories per 12-ounce serving. All caffeine is naturally occurring.
Harpoon IPA
This copper colored ale is floral, medium bodied, with a crisp, refreshing finish.
Hoboken Brewing Company Bodi Blonde
Bodi Blonde Coconut Ale, has hop-driven notes of fresh citrus and takes part of its name from Patrick Swayze's character in Point Break. It's a light beer brewed with barley, wheat, and corn, and then filtered through a bed of fresh organic flaked coconut.
Hoboken Brewing Company Cityside IPA
Cityside IPA, is a New England Style India Pale Ale with Mosiac & Amarillo hops. It's a "sessionable" brew that focuses on the fresh aromatics and flavors of an IPA while being light in color, bitterness and overall Alcohol by Volume.
Hoboken Brewing Company Even Flow Pale Ale
We listened to our fans and evolved 2018's fan favorite Citra Pale Ale into this Pearl Jam inspired, delicious, crushable, juicy session. At 5.3%, Even Flow is the perfect brew as these summer days rolls in. It doesn't get Eddie Vedder than this!
Ithaca Box Of Sours
Box of Sours is Ithaca Beer's first variety 8-pack with two each of four different tart and sour Berliner Weisse style beers. Ithaca's first Box of Sours contains:

Cayuga Cruiser, our popular seasonal, returns. A slightly tart and exceptionally refreshing Berliner Style Weisse Ale, Cruiser is mildly hazy in appearance and light in body.
Ithaca Everyday Haze
A juicy, fruity and deceptively smooth hazy IPA. Brewed with a dynamic combination of complex aromatic hops. Boasts a uniquely tropical citrus depth.
Ithaca Flower Power
Heralded as one of the most important American Craft Beers Ever Brewed. Enjoy the clover honey hue and tropical nose of our celebrated flagship ale. Flower Power is simultaneously punchy and soothing with a big body and a finish that boasts pineapple and grapefruit. We hop and dry hop Flower Power four different times throughout the brewing process for a powerful floral hop experience. Rated the best IPA in New York State, Flower Power is highly regarded among the most discerning hop heads.
Kona Big Wave Golden Ale
Big Wave is a lighter bodied golden ale with a tropical hop aroma and flavor – a smooth, easy drinking refreshing ale.
Lagunitas A Little Sumpin' Sumpin' Ale
Way smooth and silky with a nice wheaty-esque-ish-ness. Just the little sumpin' sumpin' we all need to kick Summer into full swing! Ingredients: Hops, Malt, Hops, Hops, Yeast, Hops, Water, and Hops.


Lagunitas Daytime IPA
The beer in this can has achieved what we all hope for ourselves; to be made new again. There is freedom in burning down the house of expectations and it confers an undeniable lightness to being. We didn't invent these truths; they invented us.


Lagunitas HAZY WONDER
This fascinating ferment is full of fabulous Sabro, Citra, Cashmere and Comet hops for a smooth, tropical fruitiness. A slightly bitter, densely hazy phenomenon that's strangely light in mouthfeel, keeping you satiated and still coming back for more.
Lagunitas IPA
Made from Copius Cascade and Centennial hops with Crystal malt. Moderately hoppy and well balanced, this brew's perfect combination of hops and malt will leave your taste buds wanting more.
Left Hand Milk Box Variety Pack
Our classic Milk Stout richly reimagined in four different ways.
The pure milk chocolate bliss of our classic Milk Stout richly reimagined four different ways. Indulge in creamy Peanut Butter, sultry Raspberry, aromatic Chai and the robust coffee infusion of Bittersweet Imperial Milk Stout. Three cans of each style included in every box.


Left Hand Milk Stout Nitro
Super smooth with soft roastiness and mocha notes.
Experience America's Stout. Milk Stout Nitro is a full sensory experience. Gaze at the mesmerizing cascade of all those tiny Nitro bubbles. Breathe in the aromas of roasted coffee, milk chocolate, brown sugar and vanilla cream. Savor the super smooth Nitro sensation. And, smile as the perfectly pillowy head coats your upper lip. This portable draft beer experience is Good to Go straight from the can or served Like a Pro in a glass. From the bottle, Pour Hard to release the Nitro magic inside.
Leinenkugel Summer Shandy
Crisp weiss beer with natural lemonade flavor.

Leinenkugel's unique take on Franz Kugler's original Munich tavern tradition. Leinenkugel's® Summer Shandy® is a traditional weiss beer with refreshing natural lemonade flavor that makes it the perfect summer beer.

In 2012, Summer Shandy won a Silver medal at the Great American Beer Festival® in the Fruit Wheat Beer category.
MONTCLAIR BREWING NATIONAL EMERGENCY NEW ENGLAND IPA
Timing couldn't be more right, this is relevant now more than ever! Order this New England Style IPA on our website now. We can't give up the fight now we are in a state of "National Emergency."

A hoppy and hazy blond New England style IPA with a smooth and creamy mouthfeel with notes of tropical and citrus flavors from the citra, cascade and simcoe hops. A new favorite amongst IPA fans.
New Belgium Fat Tire
Named in honor of our founder Jeff's bike trip through Belgium, Fat Tire Amber Ale marks a turning point in the young electrical engineer's home brewing. Belgian beers use a far broader palette of ingredients (fruits, spices, esoteric yeast strains) than German or English styles. Jeff found the Belgian approach freeing. Upon his return, Jeff created Fat Tire and Abbey Belgian Ale, (assuming Abbey would be his big gun). He and his wife, Kim traveled around sampling their homebrews to the public. Fat Tire's appeal quickly became evident. People liked everything about it. Except the name. Fat Tire won fans is in its sense of balance: toasty, biscuit-like malt flavors coasting in equilibrium with hoppy freshness.
New Belgium VooDoo Ranger IPA
Are you a hopinista? Thank our Beer Rangers for inspiring (and begging for) this well-balanced Simcoe, Cascade and Chinook hopped IPA. 70 IBUs


Ommegang Witte
A traditional Belgian-style wheat ale with whispers of sweet orange and a touch of tart lemon. Soft and seductive, Ommegang Witte is this summer's version of spicy intrigue and refreshing flavor.
River Horse Summer Blonde
Great summer memories are born out of uncomplicated times. We've made that the basis for our Summer blonde recipe and kept this ale pure and simple. Relax and enjoy this all natural light golden beauty.
Rodenbach Alexander
Originally brewed in 1986 to commemorate the 200th birthday of one of the brewery's founding members – RODENBACH Alexander was re-released in limited edition bottles starting in 2016 and quickly became one of the most sought-after bottles of beer. Named one of the top beers of the year by Beer Connoisseur, it has earned a perfect 100/100 points by RateBeer and received high praise from Esquire, Eater, Food & Wine, USA Today and many other leading publications.
11.2 oz.
Bottle
24
$85.99
Rodenbach Grand Cru
3-time World Beer Cup award winner (GOLD), RODENBACH Grand Cru sets the standard for Flemish Red Ales and is one of the most awarded beers, globally.

RODENBACH Grand Cru is a blend of 2/3 authentically-aged ale (2-year matured beer from standing oak foeders) with 1/3 'young' ale. Bright and tart, with flavors of ripe berries, vinegar, vanilla and oak, RODENBACH Grand Cru has the refreshment of a beer and the complexity of a fine wine.
11.2 oz.
Bottle
24
$85.99
Samuel Adams Boston Lager
Complex and balanced, with a beautiful hop aroma. This deep amber to golden colored full bodied lager displays caramel sweet notes balanced with distinct citrus and piney notes. A strong, smooth finish and mouth feel.
12 oz.
Bottle
12
$19.99
ON

SALE
12 oz.
Bottle
24
$36.99
ON

SALE
Samuel Adams Cold Snap
FRESHER DAYS ARE COMING
Bright citrus and floral notes with a touch of vanilla, and smooth, subtle sweetness that says spring is on the way.
Crisp White Ale with orange peel, plum and a kick of spring spices.
Samuel Adams Summer Ale
Samuel Adams® Summer Ale is an American wheat ale. This summer seasonal uses malted wheat, lemon zest and Grains of Paradise, a rare pepper from Africa first used as a brewing spice in the 13th century, to create a crisp taste, spicy flavor and medium body. The ale fermentation imparts a background tropical fruit note reminiscent of mangos and peaches. All of these flavors come together to create a thirst quenching, clean finishing beer perfect for those warm summer days.
Samuel Smith Winter Welcome Ale
This seasonal beer is a limited edition brewed for the short days and long nights of winter. The full body resulting from fermentation in 'stone Yorkshire squares' and the luxurious malt character, which will appeal to a broad range of drinkers, is balanced against whole-dried Fuggle and Golding hops with nuances and complexities that should be contemplated before an open fire.

LIMITED EDITION SEASONAL BREW
11.2 oz.
Bottle
24
$69.99
Schlafly Coffee Stout
Schlafly Coffee Stout is a classic combination of a traditional stout and premium French roast coffee from St. Louis roaster, Kaldi's Coffee. We use a unique cold toddy extraction process to brew a less acidic coffee for the beer
Schöfferhofer Grapefruit
Schofferhofer Grapefruit is the unique combination of sparkling smooth Schofferhofer Hefeweizen with grapefruit flavoring. A refreshing well-rounded taste with tangy character and hints of sweetness is pleasing to the palate. Tastes best ice cold and right from the bottle. 50% of Schofferhofer Unfiltered Hefeweizen blended with 50% grapefruit drink.


11.2 oz.
Bottle
24
$36.99
SCHÖFFERHOFER POMEGRANATE
A unique 50:50 blend of sparkling, unfiltered Schofferhofer Hefeweizen and real pomegranate juice. Delicious, exotic notes of pomegranate meet the crisp, smooth taste of a hefeweizen to deliver a uniquely refreshing beer.
11.2 oz.
Bottle
24
$36.99
Sierra Nevada Celebration Fresh Hop IPA
The start of Celebration season is a festive event. Once the first fresh hops arrive from harvest, the party begins! We first brewed Celebration in 1981, blazing the path for American-style IPAs and offering a new take on holiday beers, which are often spiced and sweet. Famous for its citrus and pine aromas, Celebration is bold and intense, featuring Cascade, Centennial and Chinook hops—honoring everything we have at Sierra Nevada.
Sierra Nevada Hazy Little Thing™ IPA
As brewers, we get the privilege to sample our beers straight from the tanks in all their raw glory. Some beers need a little polishing to get ready to go out into the world, while others—the hop-heavy, rowdy, crowd-pleasers—should just be left alone. We wanted to share this brewery-only treat with you, so we present this Hazy Little Thing, our unfiltered, unprocessed IPA, straight from the tanks and into the can
Sierra Nevada Pale Ale
Sierra Nevada Pale Ale, is a delightful interpretation of a classic style. It has a deep amber color and an exceptionally full-bodied, complex character. Generous quantities of premium Cascade hops give the Pale Ale its fragrant bouquet and spicy flavor.
Sierra Nevada Torpedo
An assertive American IPA deep reddish-gold in color, with a smooth and bready malt presence and over-the-top hop aromas. The beer has a solid bitterness and a massive hop flavor, yet remains easy drinking with a pleasant dry finish.
Sixpoint Bengali Tiger IPA
The Bengali Tiger has a hoppy snap upfront, but strides at a steady pace, and finishes balanced. The signature characteristic of the Tiger is the aroma… using massive quantities of whole East Kent Goldings hops to dry hop in our conditioning tanks.
Sixpoint Higher Volume Variety Pack
Sixpoint Higher Volume Variety 15 Pack features 4 Killer IPAs and 1 World Class Pilz. The package includes the classics —Bengali IPA (6.6%), The Crisp Pilz (5.4%), and Resin IIPA (9.1%), and two all-new Hazy IPAs including Trail Haze 99 Cal Adventure IPA (4.0% w/ Mosaic, Enigma, Vic Secret) brewed in collaboration with REI and Hootie Hazy IPA (6.2% w/ Idaho 7, Amarillo, El Dorado, Galaxy).

Sorry, temporally out of stock.
Sixpoint Sweet Action
If you traced from 2004, you'd see that SWEET ACTION is a representation of our palates at any given point in time… it's a vibe more so than it was ever one distinct formulation. This version, a juicy, blonde wheat ale, is the latest iteration in that story.
The first brew was for a friend's party. In three separate phone calls, she requested three different beers. First it was a wheat beer. Then it was a lager because her dad loved 'em. Then she wanted a pale ale. So we put them all together and fermented it out with a Belgian yeast to 7.2% ABV. It was a super spicy brew with tons of biscuit malt, aromatic malts, and some bitter, dank American hops. This all took place in Madison, Wisconsin.

Then came the infamous photo shoot. A chance encounter in 2004 in Red Hook, BKLYN, led this beer to be served at a launch party for a short lived local magazine. The thing finally had a true namesake, after the magazine: SWEET ACTION.

That might leave you wondering, what exactly is SWEET ACTION? Well, sometimes knowing isn't everything. Sink one… your palate just gets it.
Sixpoint The Crisp
We went to Germany for this one. (Well went back really: we first devised this beer while counting yeast cells in a German lab, and sinking liters in underground caves.) Anyway, when it comes to German hops, American breweries get the leftovers… the less desirable plots, amalgamated into a "hop sausage." Instead, at Sixpoint we go straight to the source for the prime cuts — the Tettnanger and Hallertau hops in THE CRISP are sourced 100% directly from farmers in Tettnang, Germany. This way we personally select what goes into our beers.
Look, legit pilz should have an aroma that leaps from the glass, and the bright, floral aroma of THE CRISP absolutely blasts your nostrils. Follow that up with a crisp, clean finish, and you'll be sinking this thing by the liter.
Southern Tier Warlock Imperial Stout
Warlock is brewed to enchant your palate on its own & also to counterpoint our Imperial Ale, Pumking. Make your own black magic by carefully pouring this Imperial Stout into a goblet.

Dark and mysterious, reanimate your senses with Warlock's huge roasted malt character, moderate carbonation & a spiced pumpkin pie aroma.

Food Pairing:
-Spicy BBQ
-Smoked & roasted foods
-Carrot cake or as a float with vanilla ice cream
Tröegs NUGGET NECTAR
IT'S IMPOSSIBLE TO FORGET YOUR
first squeeze. Once a year, as the newest humulus lupulus harvest arrives at Tröegs, we blend these super-fresh hops into an Imperial Amber Ale. Excessively dry-hopped, Nugget Nectar is an explosion of pine, resin and mango.
Victory Sour Monkey
Aroma is very varied with lemon, sour, and mild brettanomyces notes. Flavor follows with a tart acidity. Not dry as it finishes with a malty grain flavor.
Sour Monkey puts a tastefully tart twist on our Golden Monkey's sweet, fruity essence. A sharp, citrus-laden tang makes this brew a Monkey all its own!
Victory Golden Monkey
Enchanting and enlightening, this golden, frothy ale boasts an intriguing herbal aroma, warming alcohol esters on the tongue and light, but firm body to finish. Exotic spices add subtle notes to both the aroma and flavor. Strong, sensual and satisfying.
Victory Summer Hazy Love IPA
Let's keep sharing the love. Summer Love goes Hazy in this IPA that sparkles with juicy hop notes for those days that feel like the sun never sets. Time for another.
Victory Summer Love
With the sublime, earthy familiarity of noble European hops backed up by fresh, clean German malts, Summer Love Ale ends with a surprising burst of lemony refreshment from fistfuls of American whole flower hops. Love Summer, now.
Victory Tart Monkey
Imported Belgian yeast and a swirling journey through the brewing process meet a fruity little twist of guava in this refreshing and tangy Session Sour Ale.