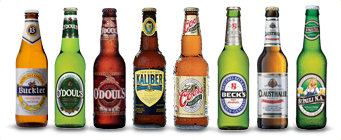 Beck's Non-Alcoholic
Non-Alcoholic- Euro Pale Lager- Pours a clear pale yellow. Has a mildly sweet, malty aroma with hints of bitter hops, grain, and yeast. A grainy, slightly bitter taste with hints of rice, grass, and just a touch of caramel malts.

Country of Origin: Germany
Brooklyn Special Effects
In movies, special effects make you think you're seeing the unbelievable. In Brooklyn Special Effects, we're making you taste something incredible: a delicious non-alcoholic brew. Brooklyn Special Effects is a hoppy lager with an unexpected zesty aroma and pleasantly bitter finish. The beer gets its bready sweetness from a blend of specialty malts, and its surprising nose from dry-hopping with citrus-forward hops--a technique rarely used in non-alcoholic brewing. We use a specially developed fermentation method that limits the amount of alcohol that is created, while allowing more traditional beer flavors to develop. It tastes just like a regular beer, but therein lies the special effect: it's not.

We wanted to brew a beer for more places, more occasions, and more people. A beer that could take on midday lunch breaks, work happy hours, pre-workouts, watching the kids, very late nights, and more.
Budweiser Zero
An alcohol free brew with the taste of Budweiser. Only 50 calories & zero grams of sugar, for those who are looking for less alcohol, but still want the refreshment of Budweiser.
Clausthaler Grapefruit Alcohol Free Beer
Clausthaler, the pioneer in non-alcoholic malt beverages which has been producing award-winning non-alcoholic beer for 40 years, has announced an exciting and refreshing addition to its lineup – Clausthaler Grapefruit.

Country of Origin: Germany
11.2 oz.
Bottle
24
$28.99
Clausthaler Pilsner Alcohol Free Beer
Alcohol Free- Brewed exclusively in Frankfurt, Germany, Clausthaler crafts their beers in accordance with the German Purity Law of 1516. This beer has a sweet, malty aroma of grains and barley. Taste is sweet, grainy and earthy with a hoppy finish.

Country of Origin: Germany
Coors Non-Alcoholic
The responsible choice in a premium nonalcoholic brew. Introduced in 1997. Available in bottles and cans. 65 calories per 12-ounce serving and less than 0.5% alcohol by volume.

Country of Origin: USA
Erdinger Non-Alcoholic
A cool glass of ERDINGER Non-Alcoholic not only tastes fantastic, but is also healthy – thanks to the vitamin B9 that supports a strong metabolism. With its isotonic properties , it provides the body directly with valuable ingredients and thus satisfies thirst even faster.

The Non-Alcoholic drink from Erding is not only a real energizer but also low in calories, with 82 calories in each 11.2 fl oz bottle, and made exclusively from natural ingredients.

A varied and balanced diet as well as a healthy lifestyle are important. ERDINGER Non-Alcoholic supports this while also tasting fantastically full-bodied and refreshing!

The Refreshing, Isotonic Recovery Drink

Country of Origin: Germany

Heineken 0.0
Heineken 0.0 is twice brewed and fermented with Heineken's unique A-yeast from natural ingredients with gentle alcohol removal and blending to achieve a fruity flavor and slight malty
notes
O'Doul's Original
Non-Alcoholic- American-Style Lager- Pours a clear straw yellow color with a fizzy head. A bold, malty aroma of sweet corn, bread, and grains. A lightly sweetened taste of bread and cereal grains with notes of corn and a very slight bitterness.

Country of Origin: USA
St. Pauli Girl N.A.
For those that prefer a non-alcoholic Girl, St. Pauli Non-Alcoholic (N.A.) has a pleasant hop aroma, a well-balanced malt flavor, crisp hop finish and the taste of an imported beer without the alcohol. ... She's a pure, high-quality Girl. St. Pauli N.A. is also the #1 Imported Non-Alcoholic Malt Beverage sold in the U.S.

Country of Origin: Germany