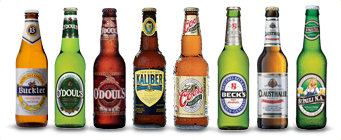 Athletic Brewing Company All Out Stout
All Out Stout was built for cold weather. We recommend enjoying by the fire after a long day on the slopes. Expect a full-bodied mouthfeel and a pleasantly roasty finish, as well as delicate coffee and bittersweet chocolate notes. Pairs excellently with savory dishes like hearty chili or sweet treats for dessert. Don't hibernate this winter. Go All Out!
Athletic Brewing Company FREE WAY NON-ALCOHOLIC DOUBLE HOP IPA
Medium-bodied, hazy IPA aggressively hopped with Amarillo and Chinook. A softer and simpler wheat body to showcase the hops. Notes of orange blossom, orange, citrus rind and wheat. Hops are gripping, oily and aggressive - not subtle
Athletic Brewing Company Run Wild IPA
Run Wild is the ultimate sessionable IPA for craft beer lovers. Brewed with a blend of five Northwest hops, it has an approachable bitterness to balance the specialty malt body. Always refreshing and only 70 calories.
Athletic Brewing Company Stump Jump Autumn Brown
Stump Jump combines one of our favorite seasons (fall) and favorite activities (trail running) into one beer. This Autumn Brown is packed with roasted caramel notes and a crisp finish. It pairs perfectly with fall dishes, from roasted vegetables to apple pie. Do you dare to Jump the Stump?
Athletic Brewing Company UPSIDE DAWN GOLDEN ALE
Classic non-alcoholic craft golden ale. Refreshing, clean, balanced, light-bodied. Aromas subtle with floral and earthy notes. Brewed with premium organic malts from US & Germany along with combo of English and traditional American hops. Crafted to be gluten removed (lab tested to under 20 ppm).
Athletic Brewing Sunset Stoke
Sunset Stoke is our epically refreshing Red IPA. Featuring Simcoe and Mosaic hops, this IPA has a subtle malt undertow and huge waves of hop flavor from pine to citrus to stone fruit. We brewed it in honor of the sun and the sea, and our favorite time to best enjoy both.
Brew Dog NON-ALCOHOLIC BUNDLE
Non-alcoholic doesn't mean taste free. This bundle pack brings all the attitude of our alcoholic range, all of the flavor – but non-alcoholic near beer.

The BrewDog *Mixed Pack includes: Punk IPA, Elvis Juice, Hazy Jane and a seasonal release. *Mixed Pack Variety selections are subject to change.

Brooklyn Special Effects
In movies, special effects make you think you're seeing the unbelievable. In Brooklyn Special Effects, we're making you taste something incredible: a delicious non-alcoholic brew. Brooklyn Special Effects is a hoppy lager with an unexpected zesty aroma and pleasantly bitter finish. The beer gets its bready sweetness from a blend of specialty malts, and its surprising nose from dry-hopping with citrus-forward hops--a technique rarely used in non-alcoholic brewing. We use a specially developed fermentation method that limits the amount of alcohol that is created, while allowing more traditional beer flavors to develop. It tastes just like a regular beer, but therein lies the special effect: it's not.

We wanted to brew a beer for more places, more occasions, and more people. A beer that could take on midday lunch breaks, work happy hours, pre-workouts, watching the kids, very late nights, and more.
Brooklyn Special Effects IPA
Brooklyn Special Effects IPA brings the bright hop aromas and juicy citrus flavors of our favorite IPAs to the non-alcoholic world, all with under 100 calories. We brewed it for drinkers everywhere who love all things hoppy and refreshing, but without the high ABV. Whenever and wherever the IPA mood strikes, Special Effects IPA is there to help you do more with your days and nights.
Brooklyn Special Effects Variety Pack
The Special Effects Variety Pack is bursting with a flavorful range of our favorite styles— that just so happen to be non-alcoholic. Enjoy three cans each of Special Effects Hoppy Amber, Special Effects IPA, and Variety Pack-exclusive Special Effects Pils and Special Effects Hazy IPA. Stock up, share them around, and see what you can do with Special Effects.
Clausthaler Grapefruit Alcohol Free Beer
Clausthaler, the pioneer in non-alcoholic malt beverages which has been producing award-winning non-alcoholic beer for 40 years, has announced an exciting and refreshing addition to its lineup – Clausthaler Grapefruit.

Country of Origin: Germany
11.2 oz.
Bottle
24
$32.99
Clausthaler Pilsner Alcohol Free Beer
Alcohol Free- Brewed exclusively in Frankfurt, Germany, Clausthaler crafts their beers in accordance with the German Purity Law of 1516. This beer has a sweet, malty aroma of grains and barley. Taste is sweet, grainy and earthy with a hoppy finish.

Country of Origin: Germany
Clausthaler Santa Clausthaler NA
Welcome to the nice list! Santa Clausthaler Holiday Brew Limited Edition is a first of its kind 50/50 blend of Clausthaler Original and cranberry-cinnamon drink, making it the perfect beer for all winter activities and holiday social gathering.
Coors Edge Non-Alcoholic
The responsible choice in a premium nonalcoholic brew. Introduced in 1997. Available in bottles and cans. 65 calories per 12-ounce serving and less than 0.5% alcohol by volume.

Country of Origin: USA
Erdinger Non-Alcoholic
A cool glass of ERDINGER Non-Alcoholic not only tastes fantastic, but is also healthy – thanks to the vitamin B9 that supports a strong metabolism. With its isotonic properties , it provides the body directly with valuable ingredients and thus satisfies thirst even faster.

The Non-Alcoholic drink from Erding is not only a real energizer but also low in calories, with 82 calories in each 11.2 fl oz bottle, and made exclusively from natural ingredients.

A varied and balanced diet as well as a healthy lifestyle are important. ERDINGER Non-Alcoholic supports this while also tasting fantastically full-bodied and refreshing!

The Refreshing, Isotonic Recovery Drink

Country of Origin: Germany

Heineken 0.0
Heineken 0.0 is twice brewed and fermented with Heineken's unique A-yeast from natural ingredients with gentle alcohol removal and blending to achieve a fruity flavor and slight malty
notes
Lagunitas HOPPY REFRESHER
AN IPA-INSPIRED BEVERAGE
Lagunitas Hoppy Refresher is a fresh take on an old tradition ... An IPA-inspired refreshment that's zero-alcohol, zero-carbohydrate, and zero-calorie, made using everything we know about hops. It's chock-full of Citra, Equinox, and Centennial hops, as well as some natural flavors and a pinch brewer's yeast to biotransform-ate the hops to just the right flavor.
LAGUNITAS IPNA
IPNA is a brewer-led labor of love, taking us over a year to perfect. Inspired by Lagunitas' love of hops and our brewery flagship, this non-alcoholic IPA is brewed with the same ingredients found in our highly-balanced IPAs (hops, malt, yeast & water), and thus the same hoppy deliciousness, but brewed without the ceremonial fez & ancient incantations that take it over the edge. That's all.

Crafted with the Highest quality malts and massive dry-hop of our favorite Yakima Valley hops—Citra, Mosaic & CTZ (Columbus, Tomahawk & Zeus for those acronym-averse)—giving it a uniquely-full body and crazy-big hoppy aroma. Our brewers worked hard to remove the alcohol while keeping the satisfying flavor experience. And…? The taste tells!


O'Doul's Original
Non-Alcoholic- American-Style Lager- Pours a clear straw yellow color with a fizzy head. A bold, malty aroma of sweet corn, bread, and grains. A lightly sweetened taste of bread and cereal grains with notes of corn and a very slight bitterness.

Country of Origin: USA
PARTAKE BREWING NON-ALCOHOLIC Blonde
A vibrant gold, crystal clear American-style blonde ale topped with a white foamy cap. On the nose, whiffs of toasted bread intermingle with floral, earthy hops and a hint of pom fruit. On the sip, the grainy notes are balanced by a soft hop bitterness. It's clean and crisp with a medium body.
PARTAKE BREWING NON-ALCOHOLIC IPA
Made with citrusy bold, fruity Cascade, Amarillo and Citra hops, this IPA pours a brilliant gold with a bouquet of sweet florals, grapefruit and honey on a light, effervescent body with a lingering grapefruit pith bitterness after the swallow.
Partake Brewing Non-Alcoholic Pale Ale
An award-winning craft brew made using simple ingredients (water, barley, hops, yeast) and mixes fruity and floral hops varietals that infuse the beer with bright flavors of orange zest, grapefruit and a whisper of pine. Pouring a deep amber hue with a bright white head, this pale ale is dry on the palate with a delightfully crisp finish
PARTAKE BREWING NON-ALCOHOLIC Stout
This stout pours a deep brown with warm, walnut highlights topped by a tall, tan cap of foam. It looks the part, and it smells the part too: picture cracking a fresh bag of medium-roast coffee with dark berry and plum notes. The medium-light, bubbly body boasts notes of coffee, smoke and a long, dry cacao-nib note in the finish.
St. Pauli Girl N.A.
For those that prefer a non-alcoholic Girl, St. Pauli Non-Alcoholic (N.A.) has a pleasant hop aroma, a well-balanced malt flavor, crisp hop finish and the taste of an imported beer without the alcohol. ... She's a pure, high-quality Girl. St. Pauli N.A. is also the #1 Imported Non-Alcoholic Malt Beverage sold in the U.S.

Country of Origin: Germany