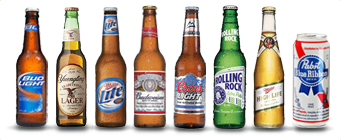 Bud Ice
Introduced in 1994, Bud Ice is a smooth-tasting ice beer. Combined with Bud Ice Light, Bud Ice is one of the country's top-selling ice beers.
Bud Light
Introduced nationally in 1982, Bud Light is brewed with a malt and hops ratio different from Budweiser for a distinctively crisp taste with fewer calories.
12 oz.
Can
30
$24.99
ON

SALE
Bud Light Lime
Premium Light Beer with 100% Natural Lime Flavor
12 oz.
Can
18
$20.69
ON

SALE
Bud Light Seltzer Variety Pack
WHY DOES IT TASTE SO GOOD?

Bud Light Seltzer's unique 5-step filtration process ensures a clean finish, with no lingering aftertaste. Our natural carbonation and quality ingredients like sparkling water, real cane sugar, and natural fruit flavor create a light and bubbly seltzer for any occasion.
Black Cherry, Lemon Lime, Mango & Strawberry
Budweiser
"We know of no brand produced by any other brewer which costs so much to brew and age. Our exclusive Beechwood Aging produces a taste, a smoothness and a drinkability you will find in no other beer at any price."
12 oz.
Can
30
$24.99
ON

SALE
Coors Banquet
The Banquet Beer was born in the Rockies and has been a proud part of the American experience for generations, stubbornly refusing to compromise, since 1873.
Coors Light
A premium light beer with 105 calories per 12-ounce serving.
16 oz.
Alum. Btl.
24
$23.99
Keystone Ice
Keystone Ice is a flavorful ice lager and member of the Keystone Family. Keystone Ice is 5.9% alcohol by volume and has 129 calories per 12-ounce serving.
Michelob Ultra Light
Michelob Ultra, the new low-carb light beer with taste smooth enough to carry the Michelob name.
Miller High Life
Miller High Life, the "champagne of beers," dates to 1903. Miller High Life is a classic American-style lager recognized for its consistently crisp, smooth taste and iconic clear-glass bottle.
Miller Lite
This carefully crafted pilsner uses the finest ingredients and brewing techniques to ensure rich, full-bodied beer taste at only 96 calories.
Pabst Blue Ribbon
Established in Milwaukee in 1844, this is the original Pabst Blue Ribbon beer. Nature's choicest products provide its prized flavor. Only the finest of hops and grains are used. Selected as America's Best in 1893.
Pabst Blue Ribbon Hard Coffee
Can't decide between the pick-me-up of coffee and the pleasant buzz of a beer? You can now have both. Pabst Blue Ribbon is offering a new product, Pabst Hard Coffee, which is exactly what it sounds like: a combination of java and beer.

This new brew isn't just another coffee-flavored beer, it's really coffee spiked with alcohol. Pabst Brewing describes the drink as vanilla-infused premium iced coffee with 5 percent alcohol by volume. "It's a fun and deliciously unique drink made using Arabica and Robusta coffee beans and rich, creamy American milk," Pabst noted in a press release.
Rolling Rock
From the glass lined tanks of Old Latrobe we tender this premium beer for your enjoyment, as a tribute to your good taste. It comes from the mountain springs to you.
Yuengling Lager
An iconic American lager famous for its rich amber color and medium-bodied flavor - with a roasted caramel malt for a subtle sweetness and a combination of cluster and cascade hops, this true original delivers a well-balanced taste with very distinct character.
12 oz.
Bottle
12
$13.99
ON

SALE
Yuengling Light
Yuengling Light Beer is skillfully crafted to deliver a consistently refreshing brew with only 98 calories.