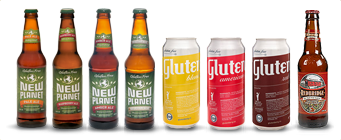 Angry Orchard Crisp Apple
This crisp and refreshing cider mixes the sweetness of the apples with a subtle dryness for a balanced cider taste. The fresh apple aroma and slightly sweet, ripe apple flavor make this cider hard to resist.

Hard Cider
Angry Orchard Rosé
The red flesh apples in Angry Orchard Rosé are from France. Each apple is crisp, juicy and red to the core, adding an irresistible rosy blush and apple-forward taste with a refreshing, dry finish. Angry Orchard Rosé can be enjoyed outside with friends or at the dinner table.
Angry Orchard Variety Pack
Angry Orchard Hard Cider Trifecta Variety Pack:

3 bottles each of 4 Angry Orchard Hard Cider styles: Crisp Apple, Crisp Unfiltered, Rosé, Pear
5% ABV
Naturally Gluten Free
Hard Cider


Departed Soles Brut Tang Gluten Free
Brut Tang Can ain't nothing to... well, you know..

Our newest beer is ready to go! A BRUT haze boi with tons of TANGerine added throughout the process, packaged up in lots of CANs! Who needs draft beer nowadays anyway?

Mixes great with champagne, oranges, and quarantine. Oh, and it's made with 100% gluten free ingredients...
Departed Soles GoodbIPA Four my Homie Gluten Free
6% Gluten-free West Coast IPA
The amazing blend of citrus and sweetness from the sorghum will give you that incredible West Coast IPA feel

Departed Soles New Jersey Ninja Gluten Free
Departed Soles Brewing gluten free blonde ale is brewed with organic, gluten free buckwheat, millet, oats, and malted rice, along with NJ honey and green tea, for a light, non-hoppy alternative for gluten free craft beer consumers, while having increased malt character from the new gluten free grain base. Rotating availability.
Kona Spiked Island Seltzers
Need a Hawaiian vacation? Every fizzy sip of our crisp hard seltzers is packed with tropical tastes that will transport your senses - no luggage needed! Sparkling bubbles, enticing aromas, and juicy flavors bring the islands right to you. What's even more refreshing? Kona Spiked Island Seltzers have zero sugar and are naturally gluten free. One Life, Right?
Flavors:Tropical Punch, Starfruit Lime, Strawberry Guava & Passionfruit Guava
Magners Hard Apple Cider
We love making cider, but we reckon there's only one way to do it properly. That's why we're still taking inspiration from the historic methods we used when we started making cider back in 1935. That's part of the Magners taste.

So in this way we use 17 varieties of apples, waiting until they drop before pressing and filtering them in the traditional way.

We take time to ferment the cider and even more time to let it mature, up to 2 years in fact, tasting it along the way.
Sure, there are faster ways of making cider, but then it wouldn't be Magners.
11.2 oz.
Bottle
24
$40.99
Omission IPA
Omission IPA is a bright, hop forward Northwest Style IPA produced in the spirit of the original IPAs shipped from the UK to India in the late 1800's. ... The bitterness is what you would expect of a NW IPA but this beer is balanced and smooth due to the perfect level of malt sweetness.
Omission Lager
Omission Lager's aromatic hop profile offers a unique, easy-drinking gluten-free beer for those looking for a lighter and approachable beer style.
Gluten free.
Omission Pale Ale
Bold and hoppy, Omission Pale Ale is a hop-forward American Pale Ale, brewed to showcases the Cascade hop profile. Amber in color, Omission Pale Ale's floral aroma is complemented by caramel malt body, making for a delicious gluten-free craft beer.
Gluten Free.
Redbridge
Redbridge is a hearty, full-bodied lager brewed using imported Hallertau and domestic Cascade hops. It is brewed with sorghum and has a well-balanced, moderately hopped taste.
Gluten Free.
Smirnoff Seltzer Red, White & Berry
Smirnoff Zero Sugar Red, White & Berry Seltzer is the flavor of the summer. Sip on this blend of cherry, citrus and blue raspberry that is available for a limited time only in a can that changes color when cold. No artificial sweeteners and only 90 calories.
Truly Hard Seltzer Lemonade Variety Pack
Truly Lemonade is the perfect mix of refreshing hard seltzer and sweet lemonade that's big on taste and low on calories. It packs the sweetness of real lemonade with the refreshment of Truly Hard Seltzer, with only 100 calories and 1g sugars.
THE GOOD STUFF
Styles: Original Lemonade, Black Cherry Lemonade, Mango Lemonade, and Strawberry Lemonade
ABV: 5%
Calories: 100
Sugars: 1 g
Carbs: 3 g
Gluten free
Available In: 12-pack slim cans, 3 cans per style
White Claw Black Cherry Hard Seltzer
Subtle yet unmistakable meets dry yet refreshing hard seltzer. The result? Crisp clean spiked sparkling water with mineral sweetness and no aftertaste- just a light hint of deliciously dark cherry.

White Claw Hard Seltzer 70 Clementine
White Claw® Hard Seltzer 70 has 70 calories, 3.7% alcohol and 0g carbs. Experience a burst of light citrus clementine notes — subtle and balanced crisp refreshment similar to seltzer water garnished with fresh citrus.
White Claw Hard Seltzer 70 Pineapple
White Claw® Hard Seltzer 70 has 70 calories, 3.7% alcohol and 0g carbs. Our carefully crafted Pineapple flavor has a subtle fruit flavor for times when you crave a more delicate beverage.
White Claw Hard Seltzer Variety Pack
The way we see it, the most refreshing innovation in the hard beverage aisle is honesty. And when it comes to artificial additives, less isn't just more—it's best. So we've decided to pioneer something true to nature. Something pure.

White Claw Hard Seltzer: all-natural sparkling seltzer water with 5% alcohol and a hint of honest-to-goodness fruit.

Crafted dry, hard and refreshingly drinkable, any flavor pairs perfectly with good times and even better company. Whether you're beach-bound, out blazing trails or simply chilling, you can count on one deliciously crisp sip after another.

No additives. No funny business. Just 110 calories of good clean fun with a kick.

THE LEGEND OF THE WHITE CLAW WAVE

White Claw® Hard Seltzer takes its inspiration from the legend of the White Claw wave - when three perfect crests come together to create a moment of pure refreshment. We set out to make something as pure, refreshing and natural as this. The result? White Claw® Hard Seltzer. Made Pure™.


Cheers to that.