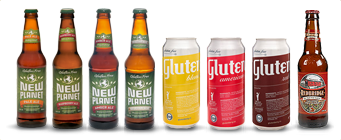 Ace Space Bloody Orange Cider
Our Facebook fans were polled and overwhelming chose this most recently launched Bloody Orange Flavor. This unfiltered addition of ACE is to honor the owner, Jeffrey House's wife who played Brea Tonnika in the cantina scene in the original Star Wars. Her picture is featured on the bottleneck. This limited edition cider comes in a clear bottle so you can see the vivid orange hue. ACE Space Bloody Orange is out of this world!
Crabbie's Original Alcoholic GInger Beer
Crabbie's Original Alcoholic Ginger Beer is part of Scotland's famous Crabbie clan, founded in 1801 in the ancient Scottish port of Leith. Made from a secret recipe, Crabbie's Original Alcoholic Ginger Beer has 4 top secret ingredients combined with steeped ginger
11.2 oz.
Bottle
24
$58.99
Departed Soles GoodbIPA Four my Homie
6% Gluten-free West Coast IPA
The amazing blend of citrus and sweetness from the sorghum will give you that incredible West Coast IPA feel

Departed Soles None Shall Path
Gluten-Free 6.3% Slightly Hazy American Pale Ale
Smooth dry-hopped Pale Ale with hints of stone fruit with a clean finish

Estrella Damm Daura (Apta Para Celíacos)
Gluten free - gluten removed after brewing. Formerly known as Estrella Damm Apta Para Celíacos
A version of the Estrella Damm brand brewed for people with the coeliac disease.
6ppm
Omission IPA
Omission IPA is a bright, hop forward Northwest Style IPA produced in the spirit of the original IPAs shipped from the UK to India in the late 1800's. ... The bitterness is what you would expect of a NW IPA but this beer is balanced and smooth due to the perfect level of malt sweetness.
Omission Lager
Omission Lager's aromatic hop profile offers a unique, easy-drinking gluten-free beer for those looking for a lighter and approachable beer style.
Gluten free.
Omission Pale Ale
Bold and hoppy, Omission Pale Ale is a hop-forward American Pale Ale, brewed to showcases the Cascade hop profile. Amber in color, Omission Pale Ale's floral aroma is complemented by caramel malt body, making for a delicious gluten-free craft beer.
Gluten Free.
Redbridge
Redbridge is a hearty, full-bodied lager brewed using imported Hallertau and domestic Cascade hops. It is brewed with sorghum and has a well-balanced, moderately hopped taste.
Gluten Free.
White Claw Black Cherry Hard Seltzer
Subtle yet unmistakable meets dry yet refreshing hard seltzer. The result? Crisp clean spiked sparkling water with mineral sweetness and no aftertaste- just a light hint of deliciously dark cherry.

White Claw Hard Seltzer Variety Pack
The way we see it, the most refreshing innovation in the hard beverage aisle is honesty. And when it comes to artificial additives, less isn't just more—it's best. So we've decided to pioneer something true to nature. Something pure.

White Claw Hard Seltzer: all-natural sparkling seltzer water with 5% alcohol and a hint of honest-to-goodness fruit.

Crafted dry, hard and refreshingly drinkable, any flavor pairs perfectly with good times and even better company. Whether you're beach-bound, out blazing trails or simply chilling, you can count on one deliciously crisp sip after another.

No additives. No funny business. Just 110 calories of good clean fun with a kick.

THE LEGEND OF THE WHITE CLAW WAVE

White Claw® Hard Seltzer takes its inspiration from the legend of the White Claw wave - when three perfect crests come together to create a moment of pure refreshment. We set out to make something as pure, refreshing and natural as this. The result? White Claw® Hard Seltzer. Made Pure™.


Cheers to that.