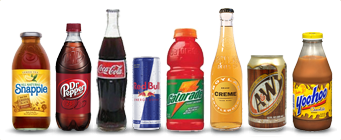 7UP
Shake UP your favorite drink with the refreshing taste of 7UP®.
A&W Root Beer
In 1919, at a parade honoring returning World War I veterans in Lodi, California, Roy Allen set up a roadside drink stand to offer a new thick and creamy drink, root beer. His creation was such a success, he decided to take on a partner, Frank Wright. In 1922, Allen and Wright combined their initials to name the beverage A&W Root Beer.
Arizona Iced Teas
Born in the heart of Brooklyn, AriZona® Beverages came onto the scene with a fresh take on iced tea, which has now taken the world by storm. Since 1992, we've made it our mission to bring our customers great-tasting products, using top-quality ingredients, presented in uniquely designed packaging. All of which has been skillfully produced and made affordable to everyone.

Lemon Iced Tea and Green Tea
24 oz.
Can
24
$17.99
ON

SALE
Boylan Soda
Boylan Bottling Co. offers a full line of hand-crafted small batch sodas and mixers to please any palate. From our Regular Sodas sweetened with pure cane sugar to our Diet line, one thing is always true of a Boylan soda — taste always comes first. The same is true of our Seltzer and Mixer lines…whether it's the taste of the beverage or what it's paired with, be want every Boylan occasion to be a celebration of flavor.

Flavors:
Original Birch Beer, Creamy Red Birch Beer, Black Cherry, Ginger Ale, Orange, Grape, Creme, Root Beer, Sugar Cane Cola ,Diet Root Beer, Diet Black Cherry, Diet Creme, Diet Cane Cola & Pure Seltzer
Canada Dry
Club Soda, Ginger Ale, Seltzer Water, Lemon Lime Seltzer, Mandarin Orange Seltzer and Mixed Berry Seltzer.
Coca-Cola
Coca-Cola is the most popular and biggest-selling soft drink in history, as well as one of the most recognizable brands in the world.

Created in 1886 in Atlanta, Georgia, by Dr. John S. Pemberton, Coca-Cola was first offered as a fountain beverage at Jacob's Pharmacy by mixing Coca-Colasyrup with carbonated water.

Coca-Cola was patented in 1887, registered as a trademark in 1893 and by 1895 it was being sold in every state and territory in the United States.

Coca-Cola Old Fashioned Bottles
Coca-Cola, Diet Coke and Sprite
Coca-Cola Zero Sugar
The new Coca-Cola Zero Sugar has more real Coca-Cola flavor, still without any sugar.

Also available in Caffeine Free.
Diet Coke
Diet Coke, also known as Coca-Cola light in some markets, is a sugar- and calorie-free soft drink. It was first introduced in the United States on August 9, 1982, as the first new brand since 1886 to use the Coca-Cola Trademark. Today, Diet Coke/Coca-Cola light is one of the largest and most successful brands of The Coca-Cola Company, available in more than 150 markets around the world.
Dr. Pepper
Dr Pepper is the oldest major soft drink in the United States. It is a "native Texan" originating at Morrison's Old Corner Drug Store in the town of Waco in 1885.

Dr. Pepper & Diet Dr. Pepper
Fanta Orange
Bright, bubbly and instantly refreshing, Fanta is made with 100% natural flavors and is caffeine free. Fanta Orange is a great orange flavored soda created by the Coca Cola Company. Fanta's crisp, clean taste really quenches your thirst. Fanta is a refreshing caffeine free soft drink.
Gatorade
Cool Blue, Lemon Lime, Fruit Punch, Orange & Variety Pack
Gosling's Ginger Beer
Gosling's Ginger Beer is a balanced and easy-drinking ginger beer that is enjoyable neat, but just perfect in a Dark 'n' Stormy.
Honest Tea
Half Tea & Half Lemonade, Honey Green Iced Tea, Lemon Iced Tea & Peach White Iced Tea
15.5 oz.
Bottle
12
$15.99
ON

SALE
Joe Tea
Why the name Joe, and what's the deal with the pickup truck?
As a boy, I loved Sunday drives with my father.
My dad Joe and I could spend the whole day just exploring in his old pickup truck.
I have many fond memories of summer afternoons together with the wind in our faces and nothing but life ahead of us.
I was one of those kids who could ask a hundred questions, followed by another hundred 'whys'.
I remember one day I asked, "Hey Dad, where are we going today?"
Smiling, my father turned to me and said "Nowhere and everywhere, my boy."
I didn't have any more questions.
I guess you could say that day was our inspiration for the brand.
Life is best lived by not following traffic or sitting at red lights. To live off road, is to cruise the path of the unknown and embrace the journey.
We are the little guys who started with a dream, and never stopped dreaming.
Join the ride.

Flavors: Lemon Iced Tea & Peach Tea
La Croix Sparkling Water
It's been a hell of a ride for LaCroix, from go-to for Midwest moms (and Midwest kids whose moms wouldn't let them drink soda), to indispensable urban refreshment tool, to occupier of an alarming amount of real estate at your local organic grocer. You may know that La Croix is one of the world's most popular brands of
sparkling water. Why not try it for yourself?

Flavors:
Can-Raspberry, Coconut, Grapefruit, Lemon, Lime, Mango, Passion-Fruit, Tangerine & Pure

Mexican Coca Cola
Mexican Coca-Cola is imported from Mexico and is sweetened by pure cane sugar, rather than the corn syrup found in the American version.
Mountain Dew
The original, the one that started it all. Mountain Dew® exhilarates and quenches with its one of a kind taste.

Diet Mountain Dew® All the great, exhilarating taste of MTN DEW® with less calories


Pepsi Cola
Pepsi - the bold, refreshing, robust cola.

The drink Pepsi was first introduced as "Brad's Drink" in New Bern, North Carolina, United States, in 1893 by Caleb Bradham, who made it at his drugstore where the drink was sold. It was renamed Pepsi Cola in 1898, named after the digestive enzyme pepsin and kola nuts used in the recipe.

Pepsi and Diet Pepsi
Polar Original Seltzer
Polar Seltzer has been crafted by the Crowley family in Worcester, Massachusetts since 1882.

And still today, Polar Seltzer is made with great care, attention to quality, and one simple goal –– be the most healthsmart, sparkling, 100% natural, calorie-free beverage people enjoy drinking & sharing with family.

NO CALORIES

NO SUGAR OR SWEETENERS

NO CAFFEINE

NO CARBS

NO SODIUM

NO GLUTEN

VEGAN

KOSHER

Polar Seltzer Variety Pack
Polar Seltzer tingles your taste buds while providing the health-smart hydration of water. Our seltzers are crafted with no more than three ingredients – water, bubbles and the best-tasting natural flavors you can find (…and nothing else).

Founded in 1882, Polar Seltzer is a true American original. We refreshed folks way back before color television, before the invention of bottle caps, even before North or South Dakota were part of America.

For over 130-years, Polar Seltzer has remained a family-owned and operated business. We still craft our own recipes, we bottle our products, we deliver them across the country, and then we work hard to make sure they stay fresh and stocked on your store shelf.

Refreshingly natural, don't you think?

Includes: 3 bottles each of Lime Seltzer, Black Cherry Seltzer, Raspberry Lime Seltzer & Lemon Seltzer
Red Bull Energy Drink
Red Bull - Vitalizes Body and Mind.®

Red Bull, Red Bull Sugar Free, Red Bull Zero, Red, Blue & Silver Editions
8.3 oz
Can
12
$18.99
ON

SALE
8.3 oz
Can
24
$37.99
ON

SALE
San Pellegrino
S.Pellegrino® Sparkling Natural Mineral Water is one of the world's best known and most enjoyed Italian products because of its image and unmistakable taste.
San Pellegrino Aranciata
Sanpellegrino® Aranciata, the famous Italian beverage made with real orange juice, has a unique taste and a long history, dating back to 1932. It has become a status symbol exported worldwide, distinguished by Italian style. It has very fine, intense aromas of real juice and peel from sun-ripened oranges, a taste that balances freshness and the soft sensation of sugar, with a predominantly citrusy finish. This delicious non-alcoholic sparkling fruit beverage fully conveys the natural taste of Italian oranges.


San Pellegrino Aranciata ROSSA
Aranciata Rossa is the beverage made with blood orange juice, perfect for those who love to quench their thirst while enjoying the delightful and intense fragrance of Sicilian blond and blood oranges. Its intense aroma of ripe blood orange juice brings out its elegance and a sweet, full and well-balanced taste. Cool and invigorating, with a distinctive touch and delicate finish of citrusy notes, Aranciata Rossa's taste is tan
San Pellegrino Clementina
The delicate and unforgettable taste of clementines transports you to Southern Italy, a scenic landscape where the sun always shines. The fragrance of this beverage, made with mandarin orange juice, is clean and frank. It has an abundance of intense, very fine aromas of fruit and a sweet, dry taste along with a note of freshness, all in perfect balance. It finishes with strong, fine citrus sensations. Refresh your mind and body with a chilled Clementina!
San Pellegrino Limonata
Zesty and lemony on the tongue and the palate, Sanpellegrino® sparkling Limonata has a full satisfying taste. Limonata is made with the real juices of ripe lemons from Southern Italy. This gives it a very fresh, excellent quality taste characterized by a perfect balance of pleasantly tart and sweet notes. Limonata, a real fragrant, thirst-quenching beverage.
San Pellegrino Melograno e Arancia
Melograno e Arancia is a beverage made with the juices of delicious oranges and pomegranate. It has a strong aroma of pomegranate combined with a delicate taste of orange to create a fresh tartness and a finish tending toward sweetness. Revitalizing flavors that truly embrace the bubbly, breezy, carefree lifestyle of Italy.
San Pellegrino Pompelmo
The fruity bittersweet taste of Pompelmo enriches the fragrance of this amazingly zesty and flavorful sparkling grapefruit beverage. With a predominantly sweet taste that softens the typical sourness, it offers a delightful finish. Cool and energizing, Sanpellegrino Pompelmo is made with high-quality grapefruit juice and the aroma of fresh citrus fruits. This beverage, made with grapefruit juice, is delicious and thirst-quenching.
San Pellegrino Sparkling, Pear&Orange,
The sweetness of orange marries the exciting and delicious flavor of prickly pear in this sparkling beverage made with cactus fruit and orange juices. Soft pink in color with strong glints of orange, it has a strong aroma of ripe oranges and prickly pears, a very sweet flavor and a delicate note of freshness that prolongs its persistence with notes of fruit. Every sip brings you closer to the Sicilian countryside where sunshine and sea breeze fill the air. Take one sip, then another and savor the exhilarating flavors of this magical la
Snapple
Flavors:
Diet Lemon Tea, Diet Peach Tea, Diet Raspberry, Diet Half Lemonade & Half Iced Tea, Fruit, Punch, Green Iced Tea, Kiwi Strawberry, Lemon Tea, Mango Madness, Peach Tea, Raspberry Peach, Grapeade, Orangeade, Raspberry Tea, Half Lemonade & Half Iced Tea, & Snapple Apple

Sprite
Introduced in 1961, Sprite is the world's leading lemon-lime flavored soft drink. Sprite is sold in more than 190 countries and ranks as the No. 3 soft drink worldwide.

Sprite and Sprite Zero
Sunkist Orange
The history of Sunkist dates back to way before it was an orange soda. It all started more than a hundred years ago, when citrus fruit growers in California and Arizona instituted the Sunkist trademark as a mark of freshness and premium flavor. As time went on, this mark began appearing on all sorts of great products, from vitamins to fruit snacks, and let everyone know that the thing they were holding was bursting with quality.

In 1978, General Cinema Corporation, a large theater operator and soft drink bottler, created the orange soda we enjoy today and licensed the use of the Sunkist trademark for their delicious orange soft drink.

In 1979, Sunkist Soda was launched nationally and quickly became the #1 orange soda on the market.

Sunkist Orange and Diet Sunkist Orange
Welch's Grape Soda
Welch's Grape Soda is considered the most delicious American grape soda on the market for one simple reason: unlike its competitors who use only grape flavoring, Welch's uses real grape juice! For a refreshing soft drink with real fruit juice that kids wil love, choose Welch's, a trusted American brand!