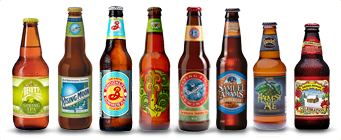 21st Amendment Hell or High Watermelon Wheat
Like Lady Liberty, 21st Amendment stands for independence and perseverance. In the pursuit of innovative beer, there is no obstacle too great. No journey too long. No fruit too gigantic. This American wheat beer is brewed with real watermelon, for a flavor that's surprisingly crisp, dry and refreshing—it's summer in a can! They start by brewing a classic American wheat beer, then add fresh melons for a straw-colored, delicious beer with a kiss of watermelon aroma and flavor.
Anchor Christmas Ale
Our annual Christmas Ale is a subtly spiced and sumptuously smooth winter warmer. This year's brew marks the 47th annual release of this Anchor holiday tradition.

Anchor Brewing made history as one of the first American breweries to release a holiday beer following Prohibition, and has continued the yearly tradition ever since. Each year, Anchor bottles a new, secret recipe paired with a festive hand-drawn label commemorating the winter solstice and the joy of changing seasons.
Brooklyn Winter IPA
FROSTY HOPS & WARM RYE
Cold weather calls for thick knit hats, swift sleds, and Brooklyn Winter IPA. this classic IPA layers Simcoe and Trident hops for notes of dark fruit, blood orange, and bright, frosty juniper and pine aromas. A touch of rye spice warms the finish to keep you cozy to the core. Stock up and enjoy the flurries while they last.
Departed Soles Brewing Company Brrr-berry
Winter Ale brewed with spices and raspberry puree.... GLUTEN FREE
Dogfish Head Camp Amp
Break out the s'mores fixin's - there's a new brew in town! Inspired by cold nights around the campfire, this milk stout is brewed with marshmallows, graham crackers, cocoa nibs, cinnamon, Madagascar vanilla beans and smoked malt. The only thing missing is a tent, and a few fireside ghost stories.
Downeast Winter Blend Craft Cider
Winter Blend pairs well with deep sofas, warm blankets, and a crackling fire. Our winter offering starts with fresh apple cider. It is fermented with our ale yeast and aged on toasted oak chips, cinnamon bark, and nutmeg. Not overwhelming on the spice, Winter Blend finishes clean – with enough kick for a cold winter night.


Harpoon Winter Warmer
Brewed since 1988, this beer has become a New England seasonal classic. Cinnamon and nutmeg dominate the aroma. The taste is a rich combination of the holiday spices and the hearty malt backbone. There is a mild sweetness to the finish along with the lingering flavor of the spices.
HOFBRÄU Oktoberfest
The Munich Beer Festival, or Oktoberfest, is an event of superlatives - it's the largest popular festival in the world, staging in the beer metropolis of Munich. Millions of visitors from all over the world flock along every year to enjoy its very special atmosphere. For this occasion, Hofbräu brews a rich, full-bodied beer which goes down ideally with traditional Bavarian cuisine. With its deliciously bitter taste and alcoholic content of 6.3% volume, Hofbräu Oktoberfestbier is as special as the Beer Festival itself.
11.2 oz.
Bottle
24
$35.99
Left Hand Milk Box Variety Pack
Our classic Milk Stout richly reimagined in four different ways.
The pure milk chocolate bliss of our classic Milk Stout richly reimagined four different ways. Indulge in creamy Peanut Butter, sultry Raspberry, aromatic Chai and the robust coffee infusion of Bittersweet Imperial Milk Stout. Three cans of each style included in every box.


Samuel Adams Cold Snap
FRESHER DAYS ARE COMING
Bright citrus and floral notes with a touch of vanilla, and smooth, subtle sweetness that says spring is on the way.
Crisp White Ale with orange peel, plum and a kick of spring spices.
Samuel Adams Holiday White Ale
BOLD AND CRISP
The holidays. Full of friends, family, festive parties...and last-minute gifts and food mishaps. Whatever happens, this beer is your trusty plus one, smoothing things over with orange peel and holiday spices.


Samuel Adams Winter Lager
This deep brown beer has a warm aroma of cinnamon and ginger, blending with the roasty sweetness of the malted barley and hint of citrus from the orange peel. Rich, full bodied, robust and warming; a wonderful way to enjoy the cold evenings of the season.

Samuel Smith Winter Welcome Ale
This seasonal beer is a limited edition brewed for the short days and long nights of winter. The full body resulting from fermentation in 'stone Yorkshire squares' and the luxurious malt character, which will appeal to a broad range of drinkers, is balanced against whole-dried Fuggle and Golding hops with nuances and complexities that should be contemplated before an open fire.

LIMITED EDITION SEASONAL BREW
11.2 oz.
Bottle
24
$69.99
Schlafly Coffee Stout
Schlafly Coffee Stout is a classic combination of a traditional stout and premium French roast coffee from St. Louis roaster, Kaldi's Coffee. We use a unique cold toddy extraction process to brew a less acidic coffee for the beer
Shiner Holiday Cheer
We hope you enjoy your Shiner Cheer, an Old World Dunkelweizen brewed with Texas peaches and roasted pecans. The malty flavors of this dark wheat ale are enhanced through the use of malted barley and wheat. And Kräusening ensures a smoothness that makes the subtle peach and pecan flavors all the more satisfying."
Sierra Nevada Celebration Fresh Hop IPA
The start of Celebration season is a festive event. Once the first fresh hops arrive from harvest, the party begins! We first brewed Celebration in 1981, blazing the path for American-style IPAs and offering a new take on holiday beers, which are often spiced and sweet. Famous for its citrus and pine aromas, Celebration is bold and intense, featuring Cascade, Centennial and Chinook hops—honoring everything we have at Sierra Nevada.
Southern Tier 2XMAS ALE
SPICED DOUBLE ALE WITH FIG PASTE, ORANGE PEELS, GINGER ROOT, CARDAMOM, CINNAMON AND CLOVES
SPICED DOUBLE WINTER ALE
Swedish flags are a fairly common sight in our part of the country. Holiday parties often have warm concoctions of spices and booze at the ready to knock the ice off of toes while raising spirits. We were inspired by a "Glögg" party, deciding on the spot to brew a beer that pays tribute to this Nordic tradition.

2XMAS ale combines traditional brewing ingredients with figs, orange peels, cardamom, cinnamon, clove and ginger root. It's a holiday addition to the 2X line and another reason to toast to the season, but unlike Glögg, we recommend serving this one chilled.
Southern Tier OLD MAN WINTER ALE
Our winter offering is here to quell your shivers and get you through the coldest of nights. A rich marriage of hops and barley to cast light upon the evening and melt your mind out of the snowdrifts. Old Man Winter's earthy hue and thickness lace around the glass, inviting you to linger in its warmth and share the spirits of the season with your friends and family. A deceptively strong brew, it's best to sit and ponder with this old man, sip by sip.
Southern Tier Warlock Imperial Stout
Warlock is brewed to enchant your palate on its own & also to counterpoint our Imperial Ale, Pumking. Make your own black magic by carefully pouring this Imperial Stout into a goblet.

Dark and mysterious, reanimate your senses with Warlock's huge roasted malt character, moderate carbonation & a spiced pumpkin pie aroma.

Food Pairing:
-Spicy BBQ
-Smoked & roasted foods
-Carrot cake or as a float with vanilla ice cream
Spaten Oktoberfest Ur-Märzen
Amber in color. This medium bodied beer has achieved its impeccable taste by balancing the roasted malt flavor with the perfect amount of hops. Having a rich textured palate with an underlying sweetness true to tradition.
STELLA ARTOIS SOLSTICE LAGER
Celebrating the return of Stella Artois Solstice Lager, a premium golden lager triple-filtered for refreshment & smoothness. While crafted in celebration of Summer's longest day, with citrus notes and a crisp clean finish, this beer is now available year-round.
11.2 oz.
Bottle
24
$36.99
Tröegs Mad Elf Ale
THE HOLIDAYS AT TRÖEGS START WITH
our inner Mad Elf momentarily taking over the brew deck. So blame "him" for this cheerful ruby red creation reminiscent of ripened cherries, raw honey and cocoa with notes of cinnamon, clove and allspice.