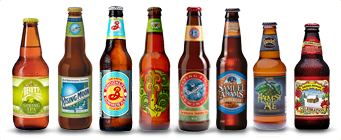 SIZE
TYPE
PACK
PRICE
Anchor Christmas Ale
Back in 1975, Anchor released the first holiday beer in America since Prohibition. Year after year, Anchor creates a new, secret recipe with a unique hand drawn label for their Christmas Ale, but the intent with each brew remains the same: joy for the changing seasons and celebration of the newness of life. With a heavily guarded, confidential recipe, Christmas Ale is sold only from early October to mid-January.
12 oz.
Bottle
6
$13.49
12 oz.
Bottle
24
$44.99
Brooklyn Black Chocolate Stout
REGAL & REFINED
Originally our Brewmaster Garrett Oliver's resume beer, Black Chocolate Stout is now a wintertime favorite among beer fans worldwide. Rich roasted malts come together to create an unmistakable dark chocolate flavor perfect for special occasions and late nights by the fire.
12 oz.
Bottle
6
$14.99
12 oz.
Bottle
24
$50.99
Brooklyn Winter IPA
FROSTY HOPS & WARM RYE
Cold weather calls for thick knit hats, swift sleds, and Brooklyn Winter IPA. this classic IPA layers Simcoe and Trident hops for notes of dark fruit, blood orange, and bright, frosty juniper and pine aromas. A touch of rye spice warms the finish to keep you cozy to the core. Stock up and enjoy the flurries while they last.
12 oz.
Bottle
6
$11.99
12 oz.
Bottle
24
$40.99
Departed Soles Brewing Company Brrr-berry
Winter Ale brewed with spices and raspberry puree.... GLUTEN FREE
12 oz.
Can
6
$15.99
Downeast Winter Blend Craft Cider
Winter Blend pairs well with deep sofas, warm blankets, and a crackling fire. Our winter offering starts with fresh apple cider. It is fermented with our ale yeast and aged on toasted oak chips, cinnamon bark, and nutmeg. Not overwhelming on the spice, Winter Blend finishes clean – with enough kick for a cold winter night.


12 oz.
Can
9
$19.99
12 oz.
Can
18
$38.99
Great Lakes Christmas Ale
Do not open 'til Christmas? Whoever coined that phrase obviously hasn't tasted Christmas Ale's fresh honey, cinnamon, and ginger flavors.

A Yuletide's worth of holiday spices and sweet honey to keep you a-wassailing all season long.
12 oz.
Bottle
6
$17.99
12 oz.
Bottle
24
$69.99
HOFBRÄU Oktoberfest
The Munich Beer Festival, or Oktoberfest, is an event of superlatives - it's the largest popular festival in the world, staging in the beer metropolis of Munich. Millions of visitors from all over the world flock along every year to enjoy its very special atmosphere. For this occasion, Hofbräu brews a rich, full-bodied beer which goes down ideally with traditional Bavarian cuisine. With its deliciously bitter taste and alcoholic content of 6.3% volume, Hofbräu Oktoberfestbier is as special as the Beer Festival itself.
11.2 oz.
Bottle
6
$10.99
11.2 oz.
Bottle
24
$39.99
Montauk Brewing Company Pumpkin Ale
Fall is a beautiful time in Montauk. The leaves change color, the air cools, the traffic thins, and the beaches clear out. Montauk Pumpkin Ale is a sign of the season – just the right amount of spices along with subtle hop aromas, this beer highlights the time of year just perfectly.
12 oz.
Can
6
$12.99
12 oz.
Can
24
$48.99
Montauk Cold Day Ipa
Winters at The End are not for the faint of heart. Icy winds and frosty waters replace the sunny skies and warm sand. With a slight haze and crisp juicy notes, Cold Day IPA is the perfect beer to warm the spirit and help remind you that even the freezing days are beautiful ones.


12 oz.
Can
6
$48.99
12 oz.
Can
24
$48.99
Samuel Adams Octoberfest
CELEBRATE BEER WITH BEER
Oktoberfest is a brief moment of fall beer drinking beauty. The world's biggest fest started in Munich, Germany in 1810 to celebrate the marriage of the crown prince of Bavaria to Princess Therese von Sachsen-Hildburghausen. The party was so off-the-chain it became an annual 16 day festival from Mid-September to Early October. It's a time celebrate beer for beer's sake, with food and friends to kick off cooler weather.
12 oz.
Bottle
12
$22.99
12 oz.
Bottle
24
$36.99
Samuel Adams Winter Lager
This deep brown beer has a warm aroma of cinnamon and ginger, blending with the roasty sweetness of the malted barley and hint of citrus from the orange peel. Rich, full bodied, robust and warming; a wonderful way to enjoy the cold evenings of the season.
12 oz.
Bottle
12
$22.99
12 oz.
Bottle
24
$37.99
Schlafly Pumpkin Ale
Hailed as one of the best beers of its kind, it's the reason why fall is your favorite season. Schlafly's Special Release Pumpkin Ale is well-balanced from start to finish, with notes of caramel and ginger throughout. Fermented in pounds of fresh pumpkin squash and a brewer's wort and sugar mix before being filtered through a spiced infusion of cinnamon, clove and nutmeg, it turns out exactly how we intend it to taste: like a slice of pie in a bottle.
12 oz.
Bottle
6
$13.99
12 oz.
Bottle
24
$52.99
Schöfferhofer Juicy Pineapple
SAY ALOHA TO THE LATEST FLAVOR SENSATION! Welcome
Juicy Pineapple to our Schöfferhofer Ohana. Schöfferhofer Juicy Pineapple is the unique combination of sparkling smooth Schöfferhofer unfiltered Hefeweizen beer with natural pineapple drink. The refreshing blend is the perfect balance of tropical sweet & tart.
12 oz.
Bottle
6
$11.99
12 oz.
Bottle
24
$36.99
Shiner Holiday Cheer
"We hope you enjoy your Shiner Cheer, an Old World Dunkelweizen brewed with Texas peaches and roasted pecans. The malty flavors of this dark wheat ale are enhanced through the use of malted barley and wheat. And Kräusening ensures a smoothness that makes the subtle peach and pecan flavors all the more satisfying."
12 oz.
Bottle
6
$11.99
12 oz.
Bottle
24
$39.99
Shipyard Pumpkinhead Ale
Pumpkinhead is a crisp, refreshing wheat ale with delightful aromatics and subtle spice flavor. To celebrate the fall season, Shipyard enhances the pumpkin flavor with a proprietary blend of spices including cinnamon and nutmeg.
12 oz.
Bottle
6
$11.99
12 oz.
Bottle
24
$42.99
Southern Tier Pumking Imperial Ale
All Hallow's Eve is a time of the year when spirits can make contact with the physical world, and when magic is most potent. It is thought that Southern Tier harnesses this magic to brew its powerful pumpkin ale. Not so, but it is with great respect to the magic of their trade that Southern Tier's brewers produce this fine beer. Take a whiff of this complex ale and your journey has just begun. At first sip, a magical spell will bewitch your taste buds, yet another victim enraptured by the Pumking!
12 oz.
Bottle
4
$14.99
12 oz.
Bottle
24
$89.99
Southern Tier Warlock Imperial Stout
Warlock is brewed to enchant your palate on its own & also to counterpoint our Imperial Ale, Pumking. Make your own black magic by carefully pouring this Imperial Stout into a goblet.

Dark and mysterious, reanimate your senses with Warlock's huge roasted malt character, moderate carbonation & a spiced pumpkin pie aroma.

Food Pairing:
-Spicy BBQ
-Smoked & roasted foods
-Carrot cake or as a float with vanilla ice cream
12 oz.
Bottle
4
$14.99
12 oz.
Bottle
24
$89.99
Spaten Oktoberfest Ur-Märzen
Amber in color. This medium bodied beer has achieved its impeccable taste by balancing the roasted malt flavor with the perfect amount of hops. Having a rich textured palate with an underlying sweetness true to tradition.
12 oz.
Bottle
12
$21.99
12 oz.
Can
24
$38.99
STELLA ARTOIS SOLSTICE LAGER
Celebrating the return of Stella Artois Solstice Lager, a premium golden lager triple-filtered for refreshment & smoothness. While crafted in celebration of Summer's longest day, with citrus notes and a crisp clean finish, this beer is now available year-round.
11.2 oz.
Bottle
6
$10.99
11.2 oz.
Bottle
24
$38.99
Tröegs Mad Elf
The holidays at Tröegs start with our inner Mad Elf momentarily taking over the brew deck. So blame "him" for this cheerful ruby red creation brewed with honey, cherries and Belgian yeast reminiscent of cinnamon, clove and allspice.
12 oz.
Bottle
6
$17.99
12 oz.
Bottle
24
$69.99
Tröegs NUGGET NECTAR
IT'S IMPOSSIBLE TO FORGET YOUR
first squeeze. Once a year, as the newest humulus lupulus harvest arrives at Tröegs, we blend these super-fresh hops into an Imperial Amber Ale. Excessively dry-hopped, Nugget Nectar is an explosion of pine, resin and mango.
12 oz.
Can
12
$27.99
12 oz.
Can
24
$49.99
Victory Summer Hazy Love IPA
Let's keep sharing the love. Summer Love goes Hazy in this IPA that sparkles with juicy hop notes for those days that feel like the sun never sets. Time for another.
12 oz.
Can
12
$21.99
16 oz.
Can
24
$38.99
Victory Summer Love
With the sublime, earthy familiarity of noble European hops backed up by fresh, clean German malts, Summer Love Ale ends with a surprising burst of lemony refreshment from fistfuls of American whole flower hops. Love Summer, now.
12 oz.
Can
12
$21.99
12 oz.
Can
24
$38.99