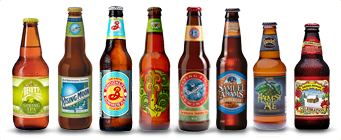 SIZE
TYPE
PACK
PRICE
21st Amendment Hell or High Watermelon Wheat
Like Lady Liberty, 21st Amendment stands for independence and perseverance. In the pursuit of innovative beer, there is no obstacle too great. No journey too long. No fruit too gigantic. This American wheat beer is brewed with real watermelon, for a flavor that's surprisingly crisp, dry and refreshing—it's summer in a can! They start by brewing a classic American wheat beer, then add fresh melons for a straw-colored, delicious beer with a kiss of watermelon aroma and flavor.
12 oz.
Can
6
$11.99
12 oz.
Can
15
$22.99
Brooklyn Black Chocolate Stout
REGAL & REFINED
Originally our Brewmaster Garrett Oliver's resume beer, Black Chocolate Stout is now a wintertime favorite among beer fans worldwide. Rich roasted malts come together to create an unmistakable dark chocolate flavor perfect for special occasions and late nights by the fire.
12 oz.
Bottle
6
$14.99
12 oz.
Bottle
24
$50.99
Brooklyn Summer Ale
Brooklyn Summer Ale is a modern rendition of the "Light Dinner Ales" brewed in England throughout the 1800s right up until the 1940s. They were also called "luncheon ales" or even "family ales," because they were refreshing and flavorful without being too heavy. Brooklyn Summer Ale is brewed from premium English barley malt, which gives this light-bodied golden beer a fresh bready flavor. German and American hops lend a light, crisp bitterness and a citrus/floral aroma resulting in a beer with a very sunny disposition.
12 oz.
Bottle
12
$22.99
12 oz.
Bottle
24
$40.99
12 oz.
Can
12
$22.99
12 oz.
Can
24
$40.99
Departed Soles Brewing Company Brrr-berry
Winter Ale brewed with spices and raspberry puree.... GLUTEN FREE
12 oz.
Can
6
$15.99
Great Lakes Christmas Ale
Do not open 'til Christmas? Whoever coined that phrase obviously hasn't tasted Christmas Ale's fresh honey, cinnamon, and ginger flavors.

A Yuletide's worth of holiday spices and sweet honey to keep you a-wassailing all season long.
12 oz.
Bottle
6
$17.99
12 oz.
Bottle
24
$69.99
HOFBRÄU Oktoberfest
The Munich Beer Festival, or Oktoberfest, is an event of superlatives - it's the largest popular festival in the world, staging in the beer metropolis of Munich. Millions of visitors from all over the world flock along every year to enjoy its very special atmosphere. For this occasion, Hofbräu brews a rich, full-bodied beer which goes down ideally with traditional Bavarian cuisine. With its deliciously bitter taste and alcoholic content of 6.3% volume, Hofbräu Oktoberfestbier is as special as the Beer Festival itself.
11.2 oz.
Bottle
6
$11.99
11.2 oz.
Bottle
24
$45.99
Leinenkugel Summer Shandy
Crisp weiss beer with natural lemonade flavor. Leinenkugel's unique take on Franz Kugler's original Munich tavern tradition. Leinenkugel's® Summer Shandy® is a traditional weiss beer with refreshing natural lemonade flavor that makes it the perfect summer beer. In 2012, Summer Shandy won a Silver medal at the Great American Beer Festival® in the Fruit Wheat Beer category.
12 oz.
Bottle
12
$22.99
12 oz.
Bottle
24
$41.99
Montauk Brewing Company Summer Ale
The official beer of summers in Montauk, and well, the world! Light caramel malt blended with just the right amount of wheat gives this brew a bold, yet refreshing finish. Experience the season as it was meant to be – celebrated with Montauk Summer Ale.
12 oz.
Can
12
$23.99
12 oz.
Can
24
$44.99
Samuel Adams Porch Rocker
Samuel Adams Porch Rocker is brewed as a "traditional Bavarian-style Radler," a blend of German-style Helles lager and real lemon. Expect a refreshing golden colored lager beer with the added flavor of lemon
12 oz.
Bottle
6
$11.99
12 oz.
Bottle
24
$40.99
Samuel Adams Summer Ale
Samuel Adams® Summer Ale is an American wheat ale. This summer seasonal uses malted wheat, lemon zest and Grains of Paradise, a rare pepper from Africa first used as a brewing spice in the 13th century, to create a crisp taste, spicy flavor and medium body. The ale fermentation imparts a background tropical fruit note reminiscent of mangos and peaches. All of these flavors come together to create a thirst quenching, clean finishing beer perfect for those warm summer days.
12 oz.
Bottle
12
$22.99
12 oz.
Bottle
24
$36.99
Schöfferhofer Juicy Pineapple
SAY ALOHA TO THE LATEST FLAVOR SENSATION! Welcome
Juicy Pineapple to our Schöfferhofer Ohana. Schöfferhofer Juicy Pineapple is the unique combination of sparkling smooth Schöfferhofer unfiltered Hefeweizen beer with natural pineapple drink. The refreshing blend is the perfect balance of tropical sweet & tart.
12 oz.
Bottle
6
$11.99
12 oz.
Bottle
24
$36.99
Spaten Oktoberfest Ur-Märzen
Amber in color. This medium bodied beer has achieved its impeccable taste by balancing the roasted malt flavor with the perfect amount of hops. Having a rich textured palate with an underlying sweetness true to tradition.
12 oz.
Bottle
12
$21.99
12 oz.
Can
24
$38.99
STELLA ARTOIS SOLSTICE LAGER
Celebrating the return of Stella Artois Solstice Lager, a premium golden lager triple-filtered for refreshment & smoothness. While crafted in celebration of Summer's longest day, with citrus notes and a crisp clean finish, this beer is now available year-round.
11.2 oz.
Bottle
6
$10.99
11.2 oz.
Bottle
24
$38.99
Victory Motel Paloma Grapefruit Summer Ale
Grab your room key! Motel Paloma is open for business. This cocktail-inspired Summer Ale is equal parts juicy and refreshing. With notes of bright grapefruit, blood orange and tangy lime, it's the perfect summertime refresher to help you make a splash. Motel Paloma. For your extended stay.
12 oz.
Can
12
$22.99
12 oz.
Can
24
$38.99
Victory Summer Love
With the sublime, earthy familiarity of noble European hops backed up by fresh, clean German malts, Summer Love Ale ends with a surprising burst of lemony refreshment from fistfuls of American whole flower hops. Love Summer, now.
12 oz.
Can
12
$22.99
12 oz.
Can
24
$38.99