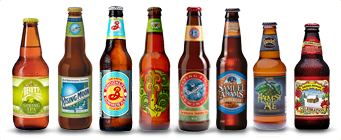 21st Amendment Hell or High Watermelon Wheat
Like Lady Liberty, we stand for independence and perseverance. In the pursuit of innovative beer, there is no obstacle too great. No journey too long. No fruit too gigantic. This American wheat beer is brewed with real watermelon, for a flavor that's surprisingly crisp, dry and refreshing—it's summer in a can! We start by brewing a classic American wheat beer, then add fresh melons for a straw-colored, delicious beer with a kiss of watermelon aroma and flavor.
902 Brewing CO. PEC On An Everything
The great debate lives on. We layered this grain bill with dark, roasty, malts, then added enough coffee beans and milk sugar to make your Jersey breakfast complete. Weather you call it by it's name or a "Taylor Ham", eNjoy as the compliment it's designed to be.
We know, we know. It is called Pork Roll. Drink this delicious coffee milk stout with that perfect breakfast sandwich.
Blue Moon Mango Wheat
Our head brewmaster, Keith Villa, got the idea for this refreshing, summer beer from spending time on the beaches in Puerto Vallarta, Mazatlan and Cancun and wanting a beer that was refreshing with a taste of ripe mangos. The fruit vendors would bring freshly cut mangos and put them on a stick to enjoy in the sunshine. This beer is created with mango and a hint of honey for a mild sweetness with a bright yellow-orange color and cloudy wheat haze.

Awards: Silver Medal, Fruit Wheat Beer 2016 Great American Beer Festival®

Blue Point OKTOBERFEST
Originally brewed a couple hundred years ago to celebrate the betrothal of the Crown Prince of Bavaria, we're helping keep the tradition alive by brewing Oktoberfest every fall for our most royal/loyal followers. Blue Point Oktoberfest is a rare example of the traditional German Oktoberfest style, particularly on the East coast where autumn seasonals are more common.
Brooklyn Post Road Pumpkin Ale
OUR COLONIAL STYLE
PUMPKIN ALE
We use a touch of spices and pounds of real pumpkins to create a warm but surprisingly crisp spin on the traditional pumpkin ales made by American colonists.
Brooklyn Winter Lager
With layers of dark malt flavors leading up to a light and dry finish, Winter Ale is our easy-drinking answer to the heavy ales and stouts that emerge in wintertime.
DESCHUTES SLIGHTLY EXAGGERATED IPA
A collaboration with Travel Oregon that captures the magic of Oregon like a whimsical fairy tale in a bottle. Explore a realm of unreal splendor, where tropical hops bloom amidst evergreen rainforests and light flavors of coconut come tumbling down clear alpine streams, descending into the dreamy depths of citrus zest.
Dogfish Head Punkin Ale
Every beer has a story, here's Punkin Ale...

A full-bodied brown ale with smooth hints of pumpkin and brown sugar. We brew our Punkin Ale with pumpkin meat, brown sugar and spices. As the season cools, this is the perfect beer to warm up with.

Punkin Ale is named after the seriously off-centered southern Delaware extravaganza Punkin Chunkin (check out some of these Discovery Channel videos of Punkin Chunkin, you gotta see it to believe it!). In fact, Punkin Ale made its debut as it claimed first prize in the 1994 Punkin Chunkin Recipe Contest. Yes, that was a full 6 months before we even opened our doors for business!
Dogfish Head Raison D'Extra
Raison D'Etre Voted 'American Beer Of The Year' in January 2000 by Malt Advocate Magazine. A deep mahogany ale brewed with beet sugar, green raisins, and Belgian yeast. As complex as a fine red wine. 36 IBU - available year round, 12 ounce bottles & draft - Descriptors: Notes of pit fruit, decadent, winey, raisiney, malty
Founders KBS (Kentucky Breakfast Stout)
What we've got here is an imperial stout brewed with a massive amount of coffee and chocolates, then cave-aged in oak bourbon barrels for an entire year to make sure wonderful bourbon undertones come through in the finish. Makes your taste buds squeal with delight.
A bit of backwoods pleasure without the banjo. This strong stout is brewed with a hint of coffee and vanilla then aged in oak bourbon barrels. Our process ensures that strong bourbon undertones come through in the finish in every batch we brew. We recommend decanting at room temperature and best enjoyed in a brandy snifter.
Goose Island Oktoberfest
Goose Oktoberfest is brimming with notes of toasted malt and freshly baked rye bread. This light bodied German lager is clean and crisp with a fine noble hop character and mild earthy bitterness that is the hallmark of Hallertau hops. Raise a few steins of Goose Oktoberfest this fall and celebrate this time honored tradition. Prost!
HOFBRÄU OKTOBERFESTBIER
he waitress is carrying ten liters and she still has a smile on her face. Celebrating, singing, swaying – Prost! The Hofbräu tent at the Oktoberfest is known for its lively atmosphere. Here is where the world comes to celebrate. Down Under in Lederhosen. Of course, the most popular folk festival in the world wouldn't be complete without a very special beer: Hofbräu Oktoberfest beer is a full-bodied, bottom-fermented specialty beer. With its fine hoppy aroma, it's perfect alongside a classic Oktoberfest roasted chicken.

Country of Origin: Germany
11.2 oz.
Bottle
24
$36.99
New Belgium VOODOO RANGER ATOMIC PUMPKIN
Deep Orange, bright with moderate of white foam. Slight sweetness that builds to slight-moderate in the middle. A slight bitterness in the finish. Strong cinnamon and clovers. Moderate Chili pepper. Slightly herbal with nice bready notes. Moderate Capsaicin spiciness in the back of the throat that lingers slight-moderately. Medium body, slightly alcohol-warming and astringent.
Samuel Adams Octoberfest
The first thing you notice when pouring a glass of this seasonal beer is the color. Samuel Adams® Octoberfest has a rich, deep golden amber hue which itself is reflective of the season. Samuel Adams® Octoberfest is a malt lover's dream, masterfully blending together four roasts of barley to create a delicious harmony of sweet flavors including caramel and toffee. The beer is kept from being overly sweet by the elegant bitterness imparted by the German Noble hops. Samuel Adams® Octoberfest provides a wonderful transition from the lighter beers of summer to the winter's heartier brews.
Samuel Adams Sweater Weather Variety Pack
When the temperature turns cool and crisp, it's time to pull out the old yarns. Look to these beers for that all-wrapped-up, cozy fall feeling. Sweater not included

Includes: Boston Lager, Octoberfest, Sam 76 Lager & Jack-O
SCHLAFLY PUMPKIN ALE
Hailed as one of the best beers of its kind, it's the reason why fall is your favorite season. Schlafly's Special Release Pumpkin Ale is well-balanced from start to finish, with notes of caramel and ginger throughout. Fermented in pounds of fresh pumpkin squash and a brewer's wort and sugar mix before being filtered through a spiced infusion of cinnamon, clove and nutmeg, it turns out exactly how we intend it to taste: like a slice of pie in a bottle.
Southern Tier Pumking
All Hallow's Eve is a time of the year when spirits can make contact with the physical world, and when magic is most potent. It is thought that Southern Tier harnesses this magic to brew its powerful pumpkin ale. Not so, but it is with great respect to the magic of their trade that Southern Tier's brewers produce this fine beer. Take a whiff of this complex ale and your journey has just begun. At first sip, a magical spell will bewitch your taste buds, yet another victim enraptured by the Pumking!
Southern Tier Warlock
Dark & Mischievous
Make your own black magic by carefully pouring this Imperial Stout into a goblet. Dark and mysterious, reanimate your senses with Warlock's huge roasted malt character, moderate carbonation & a spiced pumpkin pie aroma.
Spaten Oktoberfest
The world's first Oktoberfest beer. A German Marzen style suited for Munich's famous festival: aromatic, savoury and gold-colored.