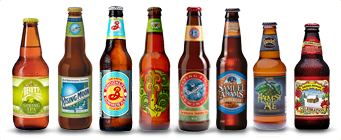 21st Amendment Hell or High Watermelon Wheat
Like Lady Liberty, 21st Amendment stands for independence and perseverance. In the pursuit of innovative beer, there is no obstacle too great. No journey too long. No fruit too gigantic. This American wheat beer is brewed with real watermelon, for a flavor that's surprisingly crisp, dry and refreshing—it's summer in a can! They start by brewing a classic American wheat beer, then add fresh melons for a straw-colored, delicious beer with a kiss of watermelon aroma and flavor.
902 Brewing Co. Brady's Nightmare Imperial IPA
This 10% New England Crusher (see what we did there?) pays homage to those fierce defenses and clutch throws of 2007 and 2011. Our biggest dry hop ever of Citra, Mosaic and Amarillo, this smooth NEIPA packs a ton of flavor without much bite.
902 Brewing Company Coffee Crumb Cake Breakfast Milk Stout
Coffee Crumb is our new 8.3% stout jam packed with lactose, brown sugar, vanilla, cinnamon, and coffee.
902 Brewing Company Irish Style Coffee Stout
Look no further than Jersey City for a proper pint this Saint Patrick's Day. We dialed up a traditional Irish Stout
then aged it on locally roasted coffee for a treat in a can. Sláinte!

902 BREWING Company KIWI KRUSH NEW ZEALAND STYLE IPA
Our annual New Zealand IPA features a different hop blend every go around. Motueka is the star this time
around and features flavors of citrus and sweet fruits. Cheers!

902 Brewing Company Piles of Powder NEIPA
We used a silly amount of Citra and Mosaic lupulin powder to brew this oat and wheated IPA. Hazy like woah.
902 Brewing Company Shamrock Shake Hopflurry Milkshake IPA
The leprechauns took our fan favorite Hopflurry and made it their own for Saint Patrick's Day. This Milkshake
IPA was brewed with lactose, aged on vanilla and mint leaves, and double dry hopped with citra and el
dorado.

902 Brewing Company Slushee Sour- Cherry
Our slushee sour base hit with silly amounts of cherry flavoring. Sweet, sour, and cherry
Blue Moon Mango Wheat
Our head brewmaster, Keith Villa, got the idea for this refreshing, summer beer from spending time on the beaches in Puerto Vallarta, Mazatlan and Cancun and wanting a beer that was refreshing with a taste of ripe mangos. The fruit vendors would bring freshly cut mangos and put them on a stick to enjoy in the sunshine. This beer is created with mango and a hint of honey for a mild sweetness with a bright yellow-orange color and cloudy wheat haze.

Awards: Silver Medal, Fruit Wheat Beer 2016 Great American Beer Festival®

BLUE MOON SUMMER HONEY DAZE
A light, refreshing, summer seasonal with only 114 calories and 3.9% alcohol. Brewed with real clover honey which pairs perfectly with any summer day.
Brooklyn Bel Air Sour Key Lime
Adds a squeeze of bright key lime to our award-winning Bel Air Sour Ale, amping up its uniquely tart taste to a whole new level. It's playful, tangy, and only here for a limited time. If you've got a tropical shirt in your closet, better break it out now.
Brooklyn Summer Ale
Brooklyn Summer Ale is a modern rendition of the "Light Dinner Ales" brewed in England throughout the 1800s right up until the 1940s. They were also called "luncheon ales" or even "family ales," because they were refreshing and flavorful without being too heavy. Brooklyn Summer Ale is brewed from premium English barley malt, which gives this light-bodied golden beer a fresh bready flavor. German and American hops lend a light, crisp bitterness and a citrus/floral aroma resulting in a beer with a very sunny disposition.
BURLINGTON BEER Company Barista
Barista is a Robust Coffee Porter aged on locally Roasted beans by our friends at Abracadabra Coffee Company. We age this Robust Porter on more than Two Pounds of Coffee per Barrel for a an intense flavor and aroma freshly brewed Coffee.
Departed Soles Brewing Company A Dark Night Black IPA
A Black IPA designed to taste like a Black & Tan shaken up… Hoppy, Dank, Resinous on the nose, Malty and Roasty on the back end. Gluten Free Cascadian Dark Ale
DEPARTED SOLES BREWING COMPANY Bogan Barley Wine Ale
Bogan, is the loyal brewery dog of Departed Soles, he really is the engine that runs this place! What better to celebrate our mascot than with a big 10.15% Barley Wine. This strong ale is back for the first time in over 3 years and it will push you right through till spring! We brewed Bogan Barley Wine with Mike's Hot Honey to give it a nice balance of sweetness and heat perfect for these wet cold days ahead.
Departed Soles Brewing Company Brrr-berry
Winter Ale brewed with spices and raspberry puree.... GLUTEN FREE
Departed Soles Brewing Company Deuces Imperial IPA
Our take on an East Coast Double IPA, Deuces features a subtle yeast haze, rich fruity flavor, similar to mango and grapefruit, plus a well balanced bitterness.
Departed Soles Brewing Company Doughnut Soles
Pastry Stout

Collab with Montclair Bread Company

Sweet, light bodied white stout with brioche doughnuts and cocoa
DEPARTED SOLES BREWING COMPANY Gingerbread Soles
Gingerbread Cookie inspired Winter Ale brewed in collaboration with Milk, Sugar, Love.
Departed Soles Brewing Company Island Gurl
A New England Style IPA, brewed with a hint of lactose for sweetness and that "Milkshake IPA" feel on the palate, without being overwhelming. Hopped with Citra, El Dorado, and Mosaic for an intense tropical hop aroma, with no hops added during the first half of boil, so bitterness was kept to a minimum. Aged on Coconut to accent the tropical aroma, with having a slight flavor impact.
DEPARTED SOLES BREWING COMPANY S'Mo 'N Joe
Imperial Pastry Stout brewed with Chocolate, Marshmallow, and Graham crackers.
Dogfish Head Punkin Ale
Every beer has a story, here's Punkin Ale's...

A full-bodied brown ale with smooth hints of pumpkin and brown sugar. Dogfish Head brews its Punkin Ale with pumpkin meat, brown sugar and spices. As the season cools, this is the perfect beer to warm up with.

Punkin Ale is named after the seriously off-centered southern Delaware extravaganza Punkin Chunkin (check out some of these Discovery Channel videos of Punkin Chunkin, you gotta see it to believe it!). In fact, Punkin Ale made its debut as it claimed first prize in the 1994 Punkin Chunkin Recipe Contest. Yes, that was a full 6 months before we even opened our doors for business!
Founders KBS (Kentucky Breakfast Stout)
What we've got here is an imperial stout brewed with a massive amount of coffee and chocolates, then cave-aged in oak bourbon barrels for an entire year to make sure wonderful bourbon undertones come through in the finish. Makes your taste buds squeal with delight.
A bit of backwoods pleasure without the banjo. This strong stout is brewed with a hint of coffee and vanilla then aged in oak bourbon barrels. Our process ensures that strong bourbon undertones come through in the finish in every batch we brew. We recommend decanting at room temperature and best enjoyed in a brandy snifter.
HOFBRÄU Oktoberfest
The Munich Beer Festival, or Oktoberfest, is an event of superlatives - it's the largest popular festival in the world, staging in the beer metropolis of Munich. Millions of visitors from all over the world flock along every year to enjoy its very special atmosphere. For this occasion, Hofbräu brews a rich, full-bodied beer which goes down ideally with traditional Bavarian cuisine. With its deliciously bitter taste and alcoholic content of 6.3% volume, Hofbräu Oktoberfestbier is as special as the Beer Festival itself.
11.2 oz.
Bottle
24
$35.99
Left Hand Milk Box Variety Pack
Our classic Milk Stout richly reimagined in four different ways.
The pure milk chocolate bliss of our classic Milk Stout richly reimagined four different ways. Indulge in creamy Peanut Butter, sultry Raspberry, aromatic Chai and the robust coffee infusion of Bittersweet Imperial Milk Stout. Three cans of each style included in every box.


Left Hand Peanut Butter Milk Stout
Rich milk chocolate notes team up with peanut buttery perfection for a deliciously dark duo.

Rhythm and Blues. Batman and Robin. Peanut Butter and Chocolate. These classic duos never go out of style. Enter Peanut Butter Milk Stout. We took the pure milk chocolate bliss of our classic Milk Stout and added peanut buttery goodness. It's like an adult peanut butter cup you can drink. It's rich and decadent on the palate and lusciously lingers into a nutty, dry finish. A perfect pair you'll want to share.
Leinenkugel's® Summer Shandy®
Our own unique take on Franz Kugler's original Munich tavern tradition. Leinenkugel's® Summer Shandy® is our traditional weiss beer with refreshing natural lemonade flavor that makes it the perfect summer beer.

In 2012, Summer Shandy won a Silver medal at the Great American Beer Festival® in the Fruit Wheat Beer category.
Samuel Adams Octoberfest
Celebrate the return of fall with Sam Adams OctoberFest. Made with a superb malt blend, this beer has a deep, robust amber color and a smooth, rich, roasted sweetness. Prost!


Samuel Adams Porch Rocker
Samuel Adams Porch Rocker is brewed as a "traditional Bavarian-style Radler," a blend of German-style Helles lager and real lemon. Expect a refreshing golden colored lager beer with the added flavor of lemon.

Samuel Adams Summer Ale
Now reformulated, the new Summer Ale recipe is brewed with a blend of orange, lemon & lime peels, plus Hallertau Mittelfruh and Saaz Noble hops, and Grains of Paradise for subtle spice. Enjoy a bigger burst of citrus flavors!
Shipyard Pumpkinhead Ale
Pumpkinhead is a crisp, refreshing wheat ale with delightful aromatics and subtle spice flavor.

To celebrate the fall season, Shipyard enhances the pumpkin flavor with a proprietary blend of spices including cinnamon and nutmeg.
Southern Tier Old Man Winter Ale
Our winter offering is here to quell your shivers and get you through the coldest of nights. A rich marriage of hops and barley to cast light upon the evening and melt your mind out of the snowdrifts. Old Man Winter's earthy hue and thickness lace around the glass, inviting you to linger in its warmth and share the spirits of the season with your friends and family. A deceptively strong brew, it's best to sit and ponder with this old man, sip by sip.
Southern Tier Pumking Imperial Ale
All Hallow's Eve is a time of the year when spirits can make contact with the physical world, and when magic is most potent. It is thought that Southern Tier harnesses this magic to brew its powerful pumpkin ale. Not so, but it is with great respect to the magic of their trade that Southern Tier's brewers produce this fine beer. Take a whiff of this complex ale and your journey has just begun. At first sip, a magical spell will bewitch your taste buds, yet another victim enraptured by the Pumking!
Southern Tier Warlock Imperial Stout
Warlock is brewed to enchant your palate on its own & also to counterpoint our Imperial Ale, Pumking. Make your own black magic by carefully pouring this Imperial Stout into a goblet.

Dark and mysterious, reanimate your senses with Warlock's huge roasted malt character, moderate carbonation & a spiced pumpkin pie aroma.

Food Pairing:
-Spicy BBQ
-Smoked & roasted foods
-Carrot cake or as a float with vanilla ice cream
Spaten Oktoberfest Ur-Märzen
Amber in color. This medium bodied beer has achieved its impeccable taste by balancing the roasted malt flavor with the perfect amount of hops. Having a rich textured palate with an underlying sweetness true to tradition.
STELLA ARTOIS SOLSTICE LAGER
Celebrating the return of Stella Artois Solstice Lager, a premium golden lager triple-filtered for refreshment & smoothness. While crafted in celebration of Summer's longest day, with citrus notes and a crisp clean finish, this beer is now available year-round.
11.2 oz.
Bottle
24
$34.99
Tröegs Nugget Nectar Ale
Squeeze those hops for all they're worth and prepare to pucker up: Tröegs' newest single batch brew, Nugget Nectar Ale, will take hopheads to nirvana with a heady collection of Nugget, Warrior and Tomahawk hops. Starting with the same base ingredients of our flagship HopBack Amber Ale, Nugget Nectar intensifies the malt and hop flavors to create an explosive hop experience.
VICTORY SUMMER LOVE ALE
A pale golden ale made with pale malts, German hops and Brandywine River water. This beer style has a broad appeal that's accessible for casual beer drinkers while retaining exciting hop notes. Initial floral hop aromas segue to refreshing dryness.