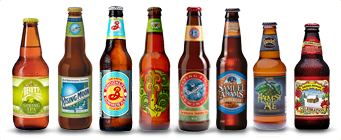 21st Amendment Hell or High Watermelon Wheat
Like Lady Liberty, we stand for independence and perseverance. In the pursuit of innovative beer, there is no obstacle too great. No journey too long. No fruit too gigantic. This American wheat beer is brewed with real watermelon, for a flavor that's surprisingly crisp, dry and refreshing—it's summer in a can! We start by brewing a classic American wheat beer, then add fresh melons for a straw-colored, delicious beer with a kiss of watermelon aroma and flavor.
Blue Moon Mango Wheat
Our head brewmaster, Keith Villa, got the idea for this refreshing, summer beer from spending time on the beaches in Puerto Vallarta, Mazatlan and Cancun and wanting a beer that was refreshing with a taste of ripe mangos. The fruit vendors would bring freshly cut mangos and put them on a stick to enjoy in the sunshine. This beer is created with mango and a hint of honey for a mild sweetness with a bright yellow-orange color and cloudy wheat haze.

Awards: Silver Medal, Fruit Wheat Beer 2016 Great American Beer Festival®

Blue Moon Summer Honey Wheat
A refreshing wheat ale crafted with clover honey for a hint of sweetness and a touch of orange peel for subtle citrus notes.

Brooklyn Summer Ale
Brooklyn Summer Ale is a modern rendition of the "Light Dinner Ales" brewed in England throughout the 1800's right up until the 1940's. They were also called "luncheon ales" or even "family ales", because they were refreshing and flavorful without being too heavy. We brew our Brooklyn Summer Ale from premium English barley malt, which gives this light-bodied golden beer a fresh bready flavor. German and American hops lend a light, crisp bitterness and a citrus/floral aroma resulting in a beer with a very sunny disposition.
Budweiser Reserve Copper Lager – Jim Beam
This is a flavorful American Copper Lager brewed with Two-row Barley and aged on real Jim Beam Bourbon barrel staves for a toasted Oak aroma, a deliciously nutty taste with Caramel Rye and Vanilla notes, and a smooth finish.
Cigar City Margarita Gose
German-style Sour Ale with Orange, Lime and Salt
Did you know?
Throw on your Hawaiian shirt and your lederhosen and meet Cigar City Brewing at the intersection of traditional German brewing and tropical relaxation. We've taken our German-style Gose, an ancient style of low alcohol beer brewed with salt, and given it the Jimmy Buffett treatment by adding orange peel and lime essence to create the perfect warm weather ale.
DESCHUTES SLIGHTLY EXAGGERATED IPA
A collaboration with Travel Oregon that captures the magic of Oregon like a whimsical fairy tale in a bottle. Explore a realm of unreal splendor, where tropical hops bloom amidst evergreen rainforests and light flavors of coconut come tumbling down clear alpine streams, descending into the dreamy depths of citrus zest.
Dogfish Head Flesh & Blood
An honest to goodness IPA brewed with a bounty of real citrus including lemon flesh, blood orange juice plus orange and lemon peel. A combination of Warrior, Centennial, and a rare experimental hop to perfectly complement the citrus ingredients and flavor. Flesh & Blood balances the resinous hoppy characteristics of an American IPA with the explosive, zesty fruitiness and subtle dry tartness of citrus to deliver a highly quaffable ale that's incredibly unique and lovely to down the whole year round.
Dogfish Head Fruit-Full Fort
A twist on our beloved Fort, Fruit-Full Fort is brewed with four types of berries … raspberries, blackberries, boysenberries and elderberries. This blend of dark berries creates a depth and complexity reminiscent of a jammy red wine. We punched up the malt bill with Munich malt in this new version of Fort to provide a firm backbone and help balance the tart flavor of the brew's berry blend. Clocking in at 15%-18% ABV, Fruit-Full Fort is dark maroon red in color with aromas of velvety cherry and berry sweetness, and flavors of raspberry and blackberry.

Limited release
Dogfish Head Raison D'Extra
Raison D'Etre Voted 'American Beer Of The Year' in January 2000 by Malt Advocate Magazine. A deep mahogany ale brewed with beet sugar, green raisins, and Belgian yeast. As complex as a fine red wine. 36 IBU - available year round, 12 ounce bottles & draft - Descriptors: Notes of pit fruit, decadent, winey, raisiney, malty
Dogfish Head Suddenly Comfy
Things are suddenly getting real comfy around these parts with our latest off-centered creation – Suddenly Comfy.

Brewed with fresh apple cider, Saigon cinnamon and Madagascar vanilla beans, this Imperial Cream Ale is made with all the fixings of a great apple pie … just like grandma used to make.

Inhale and you'll be greeted with aromas of pie crust and brûléed sugar. Sip and you'll find notes of fruity sweetness. Savor and you'll venture on a fragrant flashback that has you longing for the past.

Inspired by the classically decadent dessert, Suddenly Comfy is a result of our Beer Exploration Journal – a program designed to give our fans a peek into the world of R&DFH, while sampling, evaluating and rating new beers on tap exclusively at our Milton Tasting Room & Kitchen and Rehoboth brewpub.

After reading through hundreds of comments, we got the sense that we needed to bottle this beer. Some of our favorites included…
Founders KBS (Kentucky Breakfast Stout)
What we've got here is an imperial stout brewed with a massive amount of coffee and chocolates, then cave-aged in oak bourbon barrels for an entire year to make sure wonderful bourbon undertones come through in the finish. Makes your taste buds squeal with delight.
A bit of backwoods pleasure without the banjo. This strong stout is brewed with a hint of coffee and vanilla then aged in oak bourbon barrels. Our process ensures that strong bourbon undertones come through in the finish in every batch we brew. We recommend decanting at room temperature and best enjoyed in a brandy snifter.
Lagunitas Brown Shugga
An aborted batch of their Old Gnarleywine ended up tasting nearly as good as that they were hoping for, so they bottled it. God bless capitalism.

Leinenkugels Grapefruit Spritzen
Leinenkugel's Spritzen, named after the German word for "splash", is about to become synonymous with "refreshing". Spritzen combines the crisp effervescence of beer with the naturally fruity notes of a seltzer. At 93 calories and 0g sugar, it's all flavor with no compromise.


Leinenkugels Summer Shandy
Crisp weiss beer with natural lemonade flavor.

Our own unique take on Franz Kugler's original Munich tavern tradition. Leinenkugel's® Summer Shandy® is our traditional weiss beer with refreshing natural lemonade flavor that makes it the perfect summer beer.

In 2012, Summer Shandy won a Silver medal at the Great American Beer Festival® in the Fruit Wheat Beer category.
Samuel Adams Porch Rocker
This is brewed as a "traditional Bavarian-style Radler," a blend of German-style Helles lager and real lemon. Expect a refreshing golden colored lager beer with the added flavor of lemon.
Samuel Adams Summer Ale
Samuel Adams® Summer Ale is an American wheat ale. This summer seasonal uses malted wheat, lemon zest and Grains of Paradise, a rare pepper from Africa first used as a brewing spice in the 13th century, to create a crisp taste, spicy flavor and medium body. The ale fermentation imparts a background tropical fruit note reminiscent of mangos and peaches. All of these flavors come together to create a thirst quenching, clean finishing beer perfect for those warm summer days.
Victory Summer Love
Summer Love Golden Ale is by Victory Brewing Company in PA. It is composed of "noble European hops backed up by fresh, clean German malts" . " Refreshing and aromatic golden ale Enticing earthy and citrusy hop aromas give way to flavors of lemon and pine."