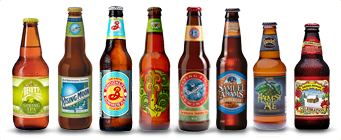 21st Amendment Hell or High Watermelon Wheat
Like Lady Liberty, we stand for independence and perseverance. In the pursuit of innovative beer, there is no obstacle too great. No journey too long. No fruit too gigantic. This American wheat beer is brewed with real watermelon, for a flavor that's surprisingly crisp, dry and refreshing—it's summer in a can! We start by brewing a classic American wheat beer, then add fresh melons for a straw-colored, delicious beer with a kiss of watermelon aroma and flavor.
902 Brewing Coffee Crumb Cake Breakfast Milk Stout
Coffee Crumb is our new 8.3% stout jam packed with lactose, brown sugar, vanilla, cinnamon, and coffee.
902 Brewing Slushee Sour- Cherry
Our slushee sour base hit with silly amounts of cherry flavoring. Sweet, sour, and cherry
Blue Moon Mango Wheat
Our head brewmaster, Keith Villa, got the idea for this refreshing, summer beer from spending time on the beaches in Puerto Vallarta, Mazatlan and Cancun and wanting a beer that was refreshing with a taste of ripe mangos. The fruit vendors would bring freshly cut mangos and put them on a stick to enjoy in the sunshine. This beer is created with mango and a hint of honey for a mild sweetness with a bright yellow-orange color and cloudy wheat haze.

Awards: Silver Medal, Fruit Wheat Beer 2016 Great American Beer Festival®

Departed Soles Brewing Company A Dark Night Black IPA
A Black IPA designed to taste like a Black & Tan shaken up… Hoppy, Dank, Resinous on the nose, Malty and Roasty on the back end. Gluten Free Cascadian Dark Ale
Departed Soles Brewing Company Brrr-berry
Winter Ale brewed with spices and raspberry puree.... GLUTEN FREE
Departed Soles Brewing Company Deuces Imperial IPA
Our take on an East Coast Double IPA, Deuces features a subtle yeast haze, rich fruity flavor, similar to mango and grapefruit, plus a well balanced bitterness.
Departed Soles Brewing Company Island Gurl
A New England Style IPA, brewed with a hint of lactose for sweetness and that "Milkshake IPA" feel on the palate, without being overwhelming. Hopped with Citra, El Dorado, and Mosaic for an intense tropical hop aroma, with no hops added during the first half of boil, so bitterness was kept to a minimum. Aged on Coconut to accent the tropical aroma, with having a slight flavor impact.
Founders KBS (Kentucky Breakfast Stout)
What we've got here is an imperial stout brewed with a massive amount of coffee and chocolates, then cave-aged in oak bourbon barrels for an entire year to make sure wonderful bourbon undertones come through in the finish. Makes your taste buds squeal with delight.
A bit of backwoods pleasure without the banjo. This strong stout is brewed with a hint of coffee and vanilla then aged in oak bourbon barrels. Our process ensures that strong bourbon undertones come through in the finish in every batch we brew. We recommend decanting at room temperature and best enjoyed in a brandy snifter.
Harpoon Tis the Seasonal
It's cold outside. Just the time to gather with friends and family to tell old stories and make new ones. We cobbled together this perfect mix pack just for these occasions.

'Tis the Seasonal contains all of your favorite holiday brews including Harpoon IPA, Winter Warmer, Juicer, and American IPA!
Hoboken Brewing Company The Muffin Man
The Muffin Man - That Lives on Drury Lane! Our aptly named brew after our head brewer Brendan Drury. Just in time for the holidays, enjoy this nicely bodied stout, brewed with cinnamon rolls!
Montclair Brewing Frog Hollow Orange Wheat
A light-bodied Belgian style wheat ale brewed with orange peel and coriander. Flavored with orange slices post-fermentation.
SAMUEL ADAMS COLD SNAP
Stirring from the haze of winter, Sam Adams Cold Snap, a refreshing unfiltered White Ale, awakens its smooth wheat with the bright snap of spring spices. From the subtle sweetness of orange peel and plum to the peppery bite of fresh ground coriander, the blend of spices creates just the right refreshing kick to signal that spring is on its way.
SAMUEL ADAMS WINTER LAGER
This deep brown beer has a warm aroma of cinnamon and ginger, blending with the roasty sweetness of the malted barley and hint of citrus from the orange peel. Rich, full bodied, robust and warming; a wonderful way to enjoy the cold evenings of the season.
Shiner Cold front Variety Pack
Only in Texas can it be 0 degrees in the Panhandle and 85 degrees on the Gulf Coast all on the same day. Just like the Texas weather, Shiner Cold Front will blow in three favorites. Winter Warmer and Frost return along with the new Maple Nut Brown Ale. Prosit!
Sierra Nevada Celebration Fresh Hop IPA
The start of Celebration season is a festive event. Once the first fresh hops arrive from harvest, the party begins! We first brewed Celebration in 1981, blazing the path for American-style IPAs and offering a new take on holiday beers, which are often spiced and sweet. Famous for its citrus and pine aromas, Celebration is bold and intense, featuring Cascade, Centennial and Chinook hops—honoring everything we have at Sierra Nevada.
Southern Tier 2XMAS ALE
SPICED DOUBLE WINTER ALE
Swedish flags are a fairly common sight in our part of the country. Holiday parties often have warm concoctions of spices and booze at the ready to knock the ice off of toes while raising spirits. We were inspired by a "Glögg" party, deciding on the spot to brew a beer that pays tribute to this Nordic tradition.

2XMAS ale combines traditional brewing ingredients with figs, orange peels, cardamom, cinnamon, clove and ginger root. It's a holiday addition to the 2X line and another reason to toast to the season, but unlike Glögg, we recommend serving this one chilled.
Southern Tier Old Man Winter Ale
Our winter offering is here to quell your shivers and get you through the coldest of nights. A rich marriage of hops and barley to cast light upon the evening and melt your mind out of the snowdrifts. Old Man Winter's earthy hue and thickness lace around the glass, inviting you to linger in its warmth and share the spirits of the season with your friends and family. A deceptively strong brew, it's best to sit and ponder with this old man, sip by sip.
Spaten Oktoberfest
The world's first Oktoberfest beer. A German Marzen style suited for Munich's famous festival: aromatic, savoury and gold-colored.
STELLA ARTOIS MIDNIGHT LAGER
A brewery with a history that dates back nearly 100 years has ventured out from its popular Pilsner with a limited-edition dark lager.
11.2 oz.
Bottle
12
$19.99
11.2 oz.
Bottle
24
$34.99
Victory Merry Monkey
This Belgian-style holiday ale combines the beloved flavor profile of golden monkey with notes of cranberry, orange peel, cinnamon and nutmeg to deliver a delightfully smooth finish, perfect for merry gatherings with family and friends.
Victory Victory Winter Cheers
A wheat ale, combining German wheat and barley malts, oats, torrified wheat and whole flower Tettnang and Citra hops, this fruity and warming holiday brew delivers a refreshing finish, with spicy hints of banana, clove and citrus.