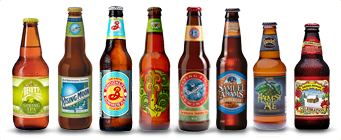 21st Amendment Hell or High Watermelon Wheat
Like Lady Liberty, 21st Amendment stands for independence and perseverance. In the pursuit of innovative beer, there is no obstacle too great. No journey too long. No fruit too gigantic. This American wheat beer is brewed with real watermelon, for a flavor that's surprisingly crisp, dry and refreshing—it's summer in a can! They start by brewing a classic American wheat beer, then add fresh melons for a straw-colored, delicious beer with a kiss of watermelon aroma and flavor.
Brooklyn Summer Ale
Brooklyn Summer Ale is a modern rendition of the "Light Dinner Ales" brewed in England throughout the 1800s right up until the 1940s. They were also called "luncheon ales" or even "family ales," because they were refreshing and flavorful without being too heavy. Brooklyn Summer Ale is brewed from premium English barley malt, which gives this light-bodied golden beer a fresh bready flavor. German and American hops lend a light, crisp bitterness and a citrus/floral aroma resulting in a beer with a very sunny disposition.
Departed Soles Brewing Company Brrr-berry
Winter Ale brewed with spices and raspberry puree.... GLUTEN FREE
Downeast Winter Blend Craft Cider
Winter Blend pairs well with deep sofas, warm blankets, and a crackling fire. Our winter offering starts with fresh apple cider. It is fermented with our ale yeast and aged on toasted oak chips, cinnamon bark, and nutmeg. Not overwhelming on the spice, Winter Blend finishes clean – with enough kick for a cold winter night.


HOFBRÄU Oktoberfest
The Munich Beer Festival, or Oktoberfest, is an event of superlatives - it's the largest popular festival in the world, staging in the beer metropolis of Munich. Millions of visitors from all over the world flock along every year to enjoy its very special atmosphere. For this occasion, Hofbräu brews a rich, full-bodied beer which goes down ideally with traditional Bavarian cuisine. With its deliciously bitter taste and alcoholic content of 6.3% volume, Hofbräu Oktoberfestbier is as special as the Beer Festival itself.
11.2 oz.
Bottle
24
$35.99
Left Hand Milk Box Variety Pack
Our classic Milk Stout richly reimagined in four different ways.
The pure milk chocolate bliss of our classic Milk Stout richly reimagined four different ways. Indulge in creamy Peanut Butter, sultry Raspberry, aromatic Chai and the robust coffee infusion of Bittersweet Imperial Milk Stout. Three cans of each style included in every box.


Leinenkugel Summer Shandy
Crisp weiss beer with natural lemonade flavor.

Leinenkugel's unique take on Franz Kugler's original Munich tavern tradition. Leinenkugel's® Summer Shandy® is a traditional weiss beer with refreshing natural lemonade flavor that makes it the perfect summer beer.

In 2012, Summer Shandy won a Silver medal at the Great American Beer Festival® in the Fruit Wheat Beer category.
River Horse Summer Blonde
Great summer memories are born out of uncomplicated times. We've made that the basis for our Summer blonde recipe and kept this ale pure and simple. Relax and enjoy this all natural light golden beauty.
Samuel Adams Cold Snap
FRESHER DAYS ARE COMING
Bright citrus and floral notes with a touch of vanilla, and smooth, subtle sweetness that says spring is on the way.
Crisp White Ale with orange peel, plum and a kick of spring spices.
Samuel Adams Summer Ale
Samuel Adams® Summer Ale is an American wheat ale. This summer seasonal uses malted wheat, lemon zest and Grains of Paradise, a rare pepper from Africa first used as a brewing spice in the 13th century, to create a crisp taste, spicy flavor and medium body. The ale fermentation imparts a background tropical fruit note reminiscent of mangos and peaches. All of these flavors come together to create a thirst quenching, clean finishing beer perfect for those warm summer days.
Samuel Smith Winter Welcome Ale
This seasonal beer is a limited edition brewed for the short days and long nights of winter. The full body resulting from fermentation in 'stone Yorkshire squares' and the luxurious malt character, which will appeal to a broad range of drinkers, is balanced against whole-dried Fuggle and Golding hops with nuances and complexities that should be contemplated before an open fire.

LIMITED EDITION SEASONAL BREW
11.2 oz.
Bottle
24
$69.99
Schlafly Coffee Stout
Schlafly Coffee Stout is a classic combination of a traditional stout and premium French roast coffee from St. Louis roaster, Kaldi's Coffee. We use a unique cold toddy extraction process to brew a less acidic coffee for the beer
Sierra Nevada Celebration Fresh Hop IPA
The start of Celebration season is a festive event. Once the first fresh hops arrive from harvest, the party begins! We first brewed Celebration in 1981, blazing the path for American-style IPAs and offering a new take on holiday beers, which are often spiced and sweet. Famous for its citrus and pine aromas, Celebration is bold and intense, featuring Cascade, Centennial and Chinook hops—honoring everything we have at Sierra Nevada.
Southern Tier Warlock Imperial Stout
Warlock is brewed to enchant your palate on its own & also to counterpoint our Imperial Ale, Pumking. Make your own black magic by carefully pouring this Imperial Stout into a goblet.

Dark and mysterious, reanimate your senses with Warlock's huge roasted malt character, moderate carbonation & a spiced pumpkin pie aroma.

Food Pairing:
-Spicy BBQ
-Smoked & roasted foods
-Carrot cake or as a float with vanilla ice cream
Spaten Oktoberfest Ur-Märzen
Amber in color. This medium bodied beer has achieved its impeccable taste by balancing the roasted malt flavor with the perfect amount of hops. Having a rich textured palate with an underlying sweetness true to tradition.
STELLA ARTOIS SOLSTICE LAGER
Celebrating the return of Stella Artois Solstice Lager, a premium golden lager triple-filtered for refreshment & smoothness. While crafted in celebration of Summer's longest day, with citrus notes and a crisp clean finish, this beer is now available year-round.
11.2 oz.
Bottle
24
$36.99
Tröegs NUGGET NECTAR
IT'S IMPOSSIBLE TO FORGET YOUR
first squeeze. Once a year, as the newest humulus lupulus harvest arrives at Tröegs, we blend these super-fresh hops into an Imperial Amber Ale. Excessively dry-hopped, Nugget Nectar is an explosion of pine, resin and mango.
Victory Summer Hazy Love IPA
Let's keep sharing the love. Summer Love goes Hazy in this IPA that sparkles with juicy hop notes for those days that feel like the sun never sets. Time for another.
Victory Summer Love
With the sublime, earthy familiarity of noble European hops backed up by fresh, clean German malts, Summer Love Ale ends with a surprising burst of lemony refreshment from fistfuls of American whole flower hops. Love Summer, now.