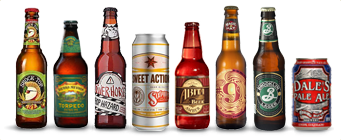 21st Amendment Brew Free or Die IPA
Brew Free! or Die IPA is brewed with some serious west coast attitude. This aromatic golden IPA starts with three different hops to the nose, quickly balanced by a solid malt backbone supporting the firm bitterness. Our top selling beer at the pub, this IPA starts big and finishes clean leaving you wanting more.
21st Amendment Hell or High Watermelon Wheat
Like Lady Liberty, we stand for independence and perseverance. In the pursuit of innovative beer, there is no obstacle too great. No journey too long. No fruit too gigantic. This American wheat beer is brewed with real watermelon, for a flavor that's surprisingly crisp, dry and refreshing—it's summer in a can! We start by brewing a classic American wheat beer, then add fresh melons for a straw-colored, delicious beer with a kiss of watermelon aroma and flavor.
902 Brewing Heaven, Hell, or Hoboken IPA
Heaven, Hell or Hoboken walks a fine line between an IPA and Double IPA. Coming in at 68 IBUs and 6.5% ABV, the Nugget hops really come through on the back end. Cascade hops were added late in the boil and impart a flowery, slightly citrus smell. The dark, amber color and slight sweetness can be attributed to the 120L specialty grains that we use. Well balanced, hop heavy, and pretty delicious. We hope you have much fun drinking it as we did making it!
902 Path – Pale Ale True Hoboken
The pale ale is a lighter, refreshing, full bodied session beer. Session beer: one who retains the flavorful taste of a craft beer, but allows you to enjoy a few without seeing double. It is a light copper color, has a crisp, flavorful taste.
Abita Purple Haze
A lager brewed with real raspberries added after filtration. The berries add a fruity aroma, tartly sweet taste and a subtle purple color and haze. You may see fruit pulp in the beer.
Allagash White
Delicately balances full flavor with a crisp, refreshing taste and subtle hints of spice. Naturally cloudy, bottled with yeast.
Anchor Steam
San Francisco's famous Anchor Steam®, the classic of American brewing tradition since 1896, is virtually handmade, with an exceptional respect for the ancient art of brewing. The deep amber color, thick creamy head, and rich flavor all testify to traditional brewing methods.
Ballast Point Grapefruit Sculpin
Our Grapefruit Sculpin is the latest take on our signature IPA. Some may say there are few ways to improve Sculpin's unique flavor, but the tart freshness of grapefruit perfectly complements our IPA's citrusy hop character. Grapefruit's a winter fruit, but this easy-drinking ale tastes like summer.
Ballast Point Sculpin IPA
The Sculpin IPA is a testament to our humble beginnings as Home Brew Mart. Founded in 1992, the Mart continues to be a catalyst for the San Diego brewing scene, setting the trend for handcrafted ales. Inspired by our customers, employees and brewers, the Sculpin IPA is bright with aromas of apricot, peach, mango and lemon. Its lighter body also brings out the crispness of the hops. This delicious Ballast Point Ale took a Bronze Medal at the 2007 Great American Beer Festival in the Pro Am category. The Sculpin fish has poisonous spikes on its fins that can give a strong sting. Ironically, the meat from a Sculpin is considered some of the most tasty. Something that has a sting but tastes great, sounds like a Ballast Point India Pale Ale.
Bell's Two Hearted Ale
Brewed with 100% Centennial hops from the Pacific Northwest and named after the Two Hearted River in Michigan's Upper Peninsula, this IPA is bursting with hop aromas ranging from pine to grapefruit from massive hop additions in both the kettle and the fermenter.

Perfectly balanced with a malt backbone and combined with the signature fruity aromas of Bell's house yeast, this beer is remarkably drinkable and well suited for adventures everywhere.

Bira 91 Blonde Lager
Bira 91 Blonde Lager is a refreshing contrast to insipid mass-market beers. Rich in color and made with the finest two-row barley. This flavorful lager is extra malty and high-hopped with a delicate aroma.
Bira 91 IPA
Bira 91 "The Indian Pale Ale" is a hop mutiny in the glass. High in alcohol (7%), this beer is made with a mix of two row pilsner malts, pale malts and wheat malts. Brewed with the world's most flavorful aroma and bitter hops (cascade, magnum, brewers' gold, and some secret exotic varieties!), this is a beer with a punch. Rich aromas of tropical fruit with a mildly sweet front start to seduce you, until you get hit by a burst of spicy, extra bitter finish. And the cycle repeats, till every taste bud of yours feels fresh and alive with flavor, and you adjust your bow tie, and ask the bartender for one more.
Bira 91 White
Bira 91 White. Bira 91 White is a deliciously different wheat beer with low bitterness, a hint of spicy citrus with a soft finish - a refreshing all day craft beer brewed with the finest all natural ingredients and brewed with barrels of passion.
Blue Moon Belgian White
Brewed with oats for creaminess and spiced with the perfect combination of orange peel and coriander.
An unfiltered wheat ale spiced in the Belgian tradition for an uncommonly smooth taste.
Blue Moon LightSky Citrus Wheat
A new light and refreshing wheat beer from Blue Moon, brewed with real tangerine peel for a lighter, exceptional taste at only 95 calories
Our Twist

Brewed with real tangerine peel

Blue Moon Mango Wheat
Our head brewmaster, Keith Villa, got the idea for this refreshing, summer beer from spending time on the beaches in Puerto Vallarta, Mazatlan and Cancun and wanting a beer that was refreshing with a taste of ripe mangos. The fruit vendors would bring freshly cut mangos and put them on a stick to enjoy in the sunshine. This beer is created with mango and a hint of honey for a mild sweetness with a bright yellow-orange color and cloudy wheat haze.

Awards: Silver Medal, Fruit Wheat Beer 2016 Great American Beer Festival®

Blue Moon Summer Honey Wheat
A refreshing wheat ale crafted with clover honey for a hint of sweetness and a touch of orange peel for subtle citrus notes.

Blue Moon Variety Pack
An Assortment of Blue Moon favorites including:
6 bottles Belgium White
3 bottles Mango Wheat
3 bottles Pacific Apricot Wheat

Blue Point Toasted Lager
Toasted Lager's balanced flavor of malt and hops makes for easy drinking and the special lager yeast produces an exceptional, long-lasting smooth finish.
Breckenridge Vanilla Porter
An ale that has all the chocolate and roasted nut flavor of a classic Porter, with an enigmatic surprise thrown in for good measure, real vanilla bean. A vanilla kiss in a rich, dark sea.
Brooklyn Bel Air Sour Ale
Brooklyn Bel Air Sour is full of surprises. Our sour ale starts up with bright notes of tropical fruit yet finishes crisp and gently tart. It's a trip that's laid back, breezy, and completely refreshing.
Brooklyn East India Pale Ale
Inspired by the original East India Pale Ales brewed in England in the early 1800's for the troops in India.
Brooklyn Lager
Brooklyn Lager, the Brewery's flagship label, is New York's "hometown" beer, brewed to a pre-Prohibition recipe that dates back to the days when Brooklyn was the brewing capital of the East Coast. Brooklyn Lager has won numerous awards. Wrote Michael Jackson in the Simon & Schuster Pocket Guide to Beer: "The dry-hopped, fresh, flowery, firm, flavourful, Brooklyn Lager **-*** started well, in 1988, and has gained in character since."
Brooklyn Pilsner
A refreshing golden lager beer, brewed in the style favored by New York's pre-prohibition brewers.
Brooklyn Rosé de ville
IT'S A PARTY NOW

Rosé de Ville harnesses perky raspberries and a tart edge to create a sour ale worth celebrating. Revel in the playful balance of sweet fruit and clean acidity, the bright, bubbly finish, and the brilliant pink hue. But be careful: like all the best parties, Rosé de Ville will be gone before you know it.

Brooklyn Summer Ale
Brooklyn Summer Ale is a modern rendition of the "Light Dinner Ales" brewed in England throughout the 1800's right up until the 1940's. They were also called "luncheon ales" or even "family ales", because they were refreshing and flavorful without being too heavy. We brew our Brooklyn Summer Ale from premium English barley malt, which gives this light-bodied golden beer a fresh bready flavor. German and American hops lend a light, crisp bitterness and a citrus/floral aroma resulting in a beer with a very sunny disposition.
Brooklyn Variety Pack
Brooklyn Brewery Variety Pack includes the pre-Prohibition Lager, Pennant Ale, Brown Ale, East India Pale Ale and Pilsner.
Budweiser Reserve Copper Lager – Jim Beam
This is a flavorful American Copper Lager brewed with Two-row Barley and aged on real Jim Beam Bourbon barrel staves for a toasted Oak aroma, a deliciously nutty taste with Caramel Rye and Vanilla notes, and a smooth finish.
Captain Lawrence Hop Commander IPA
At the core of every great IPA are the hops that make up its heart and soul. The Hop Commander IPA, gets its name from the ultimate hop harvesting vehicle, paying tribute to the ingenuity, creativity and hard work of the hop farmers who are tasked with getting the hops from the vine to the brewery.Captain Laereence
Cigar City Guayabera
Traditional throughout Latin America, the guayabera shirt combines style, functionality, form and tradition in its four-pocketed design. We at Cigar City Brewing feel the same reverence and appreciation for the guayabera that we do for the Citra hop varietal, an ingredient that imparts notes of tangerine, lime and berries to this traditional American Pale Ale. The exclusive use of Citra hops in this beer creates a flavor that's at once unique and recognizable, while its dry, crisp character and moderate alcohol make it as refreshing and functional as a crisp linen guayabera.
Cigar City Jai Alai India Pale Ale
Jai Alai India Pale Ale pays tribute to the original extreme sport. Jai Alai, a game native to the Basque region of Spain, is played on a court called a fronton. Jai Alai players attempt to catch a ball using a curved mitt, whilst the ball travels at speeds of up to 188 miles per hour! Proving they have a sense of humor the Spanish dub this game, with its ball traveling at race car speeds, """"the merry game."""" Tampa was once home to a busy Jai Alai fronton but sadly all that remains of Jai Alai in the Tampa Bay area is this India Pale Ale that we brew in tribute to the merry game. The India Pale Ale style of beer has its roots in the strong ales sent from England to thirsty British troops in India during the 18th century. To survive the journey the beers needed more alcohol and more hops (which act as a natural preservative). This "big" brewing practice made India Pale Ale one of the first """"extreme beers"""" and a favorite among the Queens military men in India. Eventually it became a favorite style of the new crop of American brewers seeking more flavor and complexity than mass-market brewers were willing to offer.
Cigar City Margarita Gose
German-style Sour Ale with Orange, Lime and Salt
Did you know?
Throw on your Hawaiian shirt and your lederhosen and meet Cigar City Brewing at the intersection of traditional German brewing and tropical relaxation. We've taken our German-style Gose, an ancient style of low alcohol beer brewed with salt, and given it the Jimmy Buffett treatment by adding orange peel and lime essence to create the perfect warm weather ale.
Crabbie's Original Alcoholic GInger Beer
Crabbie's Original Alcoholic Ginger Beer is part of Scotland's famous Crabbie clan, founded in 1801 in the ancient Scottish port of Leith. Made from a secret recipe, Crabbie's Original Alcoholic Ginger Beer has 4 top secret ingredients combined with steeped ginger
11.2 oz.
Bottle
24
$58.99
Delirium Nocturnum
Country of Origin: Belgium
A Belgian ale that is strong, complex, with lots of flavour and character. Delirium Nocturnum is a triple fermented beer with re-fermentation in the bottle.
11.2 oz.
Bottle
24
$129.99
Delirium Tremens
Country of Origin: Belgium
A full bodied and alluring, fruity-hoppy, blond speciality. Best served in a straight glass, with or without the sediment. Good with fish or seafood.
11.2 oz.
Bottle
24
$129.99
Departed Soles StartedFromTheBottomNowImBeer
The perfect beer for the imperfect year... a crispy, full flavored lager, coming in at a sessionable 4.7% Alc./Vol. for all of your social distancing pleasure. Enjoyable alone, or with friends on a Zoom call. Best consumed in multiples.
Deschutes Black Butte Porter
With a dark beer as our first and flagship brand, Black Butte defined Deschutes as a radical player. A slight hop bitterness up front enhances the distinctive chocolate and roasted finish. It's prized for its creamy mouthfeel and intense complex flavors.
Deschutes Da Shootz!
Clean, lightly toasted, light citrus, bubbly, and refreshing. A simple style with low ABV and low IBU so you can keep on keeping on.
Deschutes Fresh Haze IPA
A hazy twist on your main squeeze, this juice bomb explodes with notes of orange citrus sweetness and a soft malt body.
Deschutes Fresh Squeezed IPA
This mouthwateringly delicious IPA gets its flavor from a heavy helping of citra and mosaic hops. Don't worry, no fruit was harmed in the making of this beer.
Deschutes Lil' Squeezy
Juicy ✔

Effortless Drinking ✔

Fresh Squeezed IPA Lil' Sista? ✔

Kick back with a breezy blend of juicy hops and delicate malt character that's dripping with fresh citrus flavors and zesty aroma. Lil' Squeezy is gluten-reduced which means we took that gluten out!
DESCHUTES SLIGHTLY EXAGGERATED IPA
A collaboration with Travel Oregon that captures the magic of Oregon like a whimsical fairy tale in a bottle. Explore a realm of unreal splendor, where tropical hops bloom amidst evergreen rainforests and light flavors of coconut come tumbling down clear alpine streams, descending into the dreamy depths of citrus zest.
Dogfish Head 120 Minute IPA
Too extreme to be called beer? Brewed to a colossal 45°P, boiled for a full 2 hours while being continually hopped with high alpha American hops, dry-hopped every day in the fermenter for a month, and aged for a month on whole leaf hops, 120 Minute IPA is by far the strongest IPA ever brewed. And at 21% ABV and 120 IBU's, you can see why we are calling this the Holy Grail for Hopheads. Editors note: ABV reduced down to 18% in 2009.

Extremely limited!
Dogfish Head 60 Minute IPA
A powerful but balanced East Coast IPA with a lot of citrusy hop character. Tasting Notes: Citrus, cedar, pine & candied-orange flavors, floral.
Dogfish Head 90 Minute IPA
An Imperial I.P.A. brewed to be savored from a snifter. A big beer with a great malt backbone that stands up to the extreme hopping rate. This beer is an excellent candidate for use with Randall The Enamel Animal! 90 ibu.
Tasting Notes: Brandied fruitcake, raisiney, citrusy.
Dogfish Head Flesh & Blood
An honest to goodness IPA brewed with a bounty of real citrus including lemon flesh, blood orange juice plus orange and lemon peel. A combination of Warrior, Centennial, and a rare experimental hop to perfectly complement the citrus ingredients and flavor. Flesh & Blood balances the resinous hoppy characteristics of an American IPA with the explosive, zesty fruitiness and subtle dry tartness of citrus to deliver a highly quaffable ale that's incredibly unique and lovely to down the whole year round.
Dogfish Head Fruit-Full Fort
A twist on our beloved Fort, Fruit-Full Fort is brewed with four types of berries … raspberries, blackberries, boysenberries and elderberries. This blend of dark berries creates a depth and complexity reminiscent of a jammy red wine. We punched up the malt bill with Munich malt in this new version of Fort to provide a firm backbone and help balance the tart flavor of the brew's berry blend. Clocking in at 15%-18% ABV, Fruit-Full Fort is dark maroon red in color with aromas of velvety cherry and berry sweetness, and flavors of raspberry and blackberry.

Limited release
Dogfish Head Raison D'Extra
Raison D'Etre Voted 'American Beer Of The Year' in January 2000 by Malt Advocate Magazine. A deep mahogany ale brewed with beet sugar, green raisins, and Belgian yeast. As complex as a fine red wine. 36 IBU - available year round, 12 ounce bottles & draft - Descriptors: Notes of pit fruit, decadent, winey, raisiney, malty
Dogfish Head SeaQuench Ale
SeaQuench Ale is our session sour quencher made with lime peel, black lime and sea salt. It's a citrusy-tart union of three German styles of beer blissfully brewed into one. We begin by brewing a straightforward Kolsch with lots of wheat and Munich Malt, then we brew a salty Gose with black limes, coriander and our sea salt. We follow it all up with a citrusy-tart Berlinerweiss made with lime juice and lime peel. All three beers are then blended together in the fermentation tank to create this German hybrid.
Dogfish Head Slightly Mighty
Mighty hop character and just 95 calories … that can't be possible. Oh, but it is! After a year of R&D and months of fine-tuning what seemed to be unimaginable, Slightly Mighty is finally here! This true indie craft beer has all the character of a world class IPA, but with only 95 calories, 3.6g carbs, 1g protein and 0g fat per 12oz serving. Seriously.

But how? Digging deep into our culinary roots, we found our answer in an ancient Chinese delicacy - monk fruit. Sweeter than sugar per ounce, monk fruit amplifies the body and complexity of the beer, yet contains no calories. Whereas most IPAs start with a formidable malt bill to balance hoppy bitterness with malty sweetness, Slightly Mighty goes about it a different way – all through the magic of monk fruit. Most light beers are watery and lack body, but with Slightly Mighty, the monk fruit essentially acts as the beer's skeleton, on which mighty hop muscle and flavor can be built. It allows us to reduce the malt bill and avoid any unnecessary unfermentable sugars, and consequently deliver a beer that is lower in calories and carbs, and perfectly balanced.

The result is a hazy gold lo-cal IPA that throws tropical notes of pineapple, coconut, mango and citrus, all while delivering an aromatic hoppiness that makes it oh-so drinkable. Brewed with 'lo-cal'ly grown malted barley, Slightly Mighty is dynamic and crisp with a refreshing hop profile.
Dogfish Head Suddenly Comfy
Things are suddenly getting real comfy around these parts with our latest off-centered creation – Suddenly Comfy.

Brewed with fresh apple cider, Saigon cinnamon and Madagascar vanilla beans, this Imperial Cream Ale is made with all the fixings of a great apple pie … just like grandma used to make.

Inhale and you'll be greeted with aromas of pie crust and brûléed sugar. Sip and you'll find notes of fruity sweetness. Savor and you'll venture on a fragrant flashback that has you longing for the past.

Inspired by the classically decadent dessert, Suddenly Comfy is a result of our Beer Exploration Journal – a program designed to give our fans a peek into the world of R&DFH, while sampling, evaluating and rating new beers on tap exclusively at our Milton Tasting Room & Kitchen and Rehoboth brewpub.

After reading through hundreds of comments, we got the sense that we needed to bottle this beer. Some of our favorites included…
Flying Dog Double Dog
A generously hopped ale with a deep red color and pours with a nice frothy head. The abundance of hops will conjure some provocative aromas with hints of raisins and citrus.
12 oz.
CanBottle
6
$15.99
12 oz.
CanBottle
24
$58.99
Flying Dog Gonzo Imperial Porter
This turbo charged version of the Road Dog porter is mysteriously dark with a rich malty body, intense roasted flavors, and a surprisingly unique hop kick.
Flying Dog Raging Bitch
Belgian Style IPA... Wallow in its golden glow in a glass beneath a white foaming head. Remember, enjoying a RAGING BITCH, unleashed, untamed, unbridled – and in heat – is pure GONZO!! It has taken 20 years to get from there to here. Enjoy!" – Ralph Steadman
Founders All Day IPA
An all-day IPA naturally brewed with a complex array of malts, grains and hops. Balanced for optimal aromatic and a clean finish. The perfect reward for an honest day's work and the ultimate companion to celebrate life's simple pleasures.
12 oz.
Can
15
$18.99
ON

SALE
Founders Barrel Aged CBS (Canadian Breakfast Stout)
CBS was born when we stumbled upon some bourbon barrels that had previously housed maple syrup. We opted to put the same base beer as KBS, an imperialized version of Breakfast Stout, in the maple barrels and, after one taste, we knew we had something special. Rich maple syrup, roasted coffee and velvety chocolate meld together in what can only be described as a transcendental drinking experience.

You might notice that the label is missing a key, iconic element. You know, starts with "M" ends with "ountie." It's true – we did make the decision to remove the Mountie from CBS packaging out of respect for the Royal Canadian Mounted Police.

Limited quantities!


Founders KBS (Kentucky Breakfast Stout)
What we've got here is an imperial stout brewed with a massive amount of coffee and chocolates, then cave-aged in oak bourbon barrels for an entire year to make sure wonderful bourbon undertones come through in the finish. Makes your taste buds squeal with delight.
A bit of backwoods pleasure without the banjo. This strong stout is brewed with a hint of coffee and vanilla then aged in oak bourbon barrels. Our process ensures that strong bourbon undertones come through in the finish in every batch we brew. We recommend decanting at room temperature and best enjoyed in a brandy snifter.
Goose Island Bourbon County Stout
More than twenty years ago Greg Hall wanted to brew something truly unique for Goose Island brewpub's 1000th batch - he just needed inspiration. Then a chance encounter between Greg and Jim Beam's legendary More than twenty years ago Greg Hall wanted to brew something truly unique for Goose Island brewpub's 1000th batch - he just needed inspiration. Then a chance encounter between Greg and Jim Beam's legendary distiller, Booker Noe, led to Goose Island acquiring the barrels for what was to become the world's first bourbon barrel aged beer.

Since then, the beer has become a local favorite and globally known beer - and still people line-up down the street for its Black Friday release in Chicago. We're super excited about this year's variants, and we hope you are too!

Original Bourbon County Brand StoutAged in 4+ year old Heaven Hill Bourbon barrels, the original bourbon barrel aged stout is as good as when we first made it over 20 years ago. Flavors of cocoa, vanilla, caramel, almond, cherry, plus leather and tobacco flavors permeate this complex beer that deepens with each sip.

As Brewmaster Jared Jankoski stated, "It ain't broke, and we didn't try to fix it."
Goose Island IPA
A hop lover's dream. This classic ale adds a fruity aroma, set off by a dry malt middle, to ensure that the long hop finish is one you'll remember.