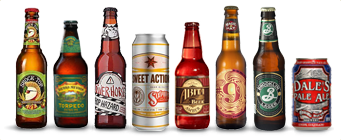 Harpoon IPA
This copper colored ale is floral, medium bodied, with a crisp, refreshing finish.
HOBOKEN BREWING COMPANY All Together IPA
A world wide collaboration hosted by Other Half, Stout Collective and Craftpeak to support the enormous amount of hospitality workers laid off during this difficult time. We brewed this recipe with 2-row, oats and carapils and then hopped it with a beautiful blend of hand selected Citra, Mosaic, Simcoe and Cascade.
Hoboken Brewing Company Bodi Blonde
Bodi Blonde Coconut Ale, has hop-driven notes of fresh citrus and takes part of its name from Patrick Swayze's character in Point Break. It's a light beer brewed with barley, wheat, and corn, and then filtered through a bed of fresh organic flaked coconut.
Hoboken Brewing Company Cityside IPA
Cityside IPA, is a New England Style India Pale Ale with Mosiac & Amarillo hops. It's a "sessionable" brew that focuses on the fresh aromatics and flavors of an IPA while being light in color, bitterness and overall Alcohol by Volume.
Hoboken Brewing Company Even Flow Pale Ale
We listened to our fans and evolved 2018's fan favorite Citra Pale Ale into this Pearl Jam inspired, delicious, crushable, juicy session. At 5.3%, Even Flow is the perfect brew as these summer days rolls in. It doesn't get Eddie Vedder than this!
HOBOKEN BREWING COMPANY Galaxy Dust
A twist on our classic DIPA, heavily dry-hopped with Galaxy, El Dorado and Idaho 7!
Hoboken Brewing Company Zest Pale Ale
Picturesque late summer sunsets… how can we create a beer that mimics these works of art? It would need to be bright and fluffy, yet colorful and quenching. Pealing only the bright outer skins of oranges and lemons, we're able to infuse tasty sunshine into a light pale ale. This beer tries to attract all your senses, without the added fruit sugar. But like a sunset, when it's gone, we want it back.
Kona Big Wave Golden Ale
Big Wave is a lighter bodied golden ale with a tropical hop aroma and flavor – a smooth, easy drinking refreshing ale.
Lagunitas A Little Sumpin' Sumpin' Ale
Way smooth and silky with a nice wheaty-esque-ish-ness. Just the little sumpin' sumpin' we all need to kick Summer into full swing! Ingredients: Hops, Malt, Hops, Hops, Yeast, Hops, Water, and Hops.


Lagunitas Daytime IPA
The beer in this can has achieved what we all hope for ourselves; to be made new again. There is freedom in burning down the house of expectations and it confers an undeniable lightness to being. We didn't invent these truths; they invented us.


Lagunitas Hazy Memory
We're going a bit blurry on this nebulous release... Hazy Memory is a cloudy IPA full of oats and smooth wheatly-esque-ish-ness, packed with some of the murkiest, juiciest, turbid Loral 291, Hallertau Blanc, Galaxy, and Citra Hops. It's a huge flavor you won't forget!
Lagunitas IPA
Made from Copius Cascade and Centennial hops with Crystal malt. Moderately hoppy and well balanced, this brew's perfect combination of hops and malt will leave your taste buds wanting more.
Lagunitas Maximus
At the height of the heat in the heart of the summer, we felt that the only cure was a raging mouthful of fresh hops and malt. Caution: May remove enamel from teeth. This is Lagunitas IPA pumped up by about 30%!
MONTCLAIR BREWING Claremont Pilsner
A smooth Czech style Pilsner, crisp, light bodied and well balanced.
MONTCLAIR BREWING MB Lager
A Munich Dunkel full body German style lager with a rich aroma and smooth mouthfeel with notes of light caramel, honey and bread.
MONTCLAIR BREWING NATIONAL EMERGENCY NEW ENGLAND IPA
Timing couldn't be more right, this is relevant now more than ever! Order this New England Style IPA on our website now. We can't give up the fight now we are in a state of "National Emergency."

A hoppy and hazy blond New England style IPA with a smooth and creamy mouthfeel with notes of tropical and citrus flavors from the citra, cascade and simcoe hops. A new favorite amongst IPA fans.
MONTCLAIR BREWING Poor Richard's IPA
This landmark IPA, named after the original owner of the brewery's building, is a well-balanced traditional American style India Pale Ale (IPA) with orange and piney notes from a blend of classically bred hops.
New Belgium Fat Tire
Named in honor of our founder Jeff's bike trip through Belgium, Fat Tire Amber Ale marks a turning point in the young electrical engineer's home brewing. Belgian beers use a far broader palette of ingredients (fruits, spices, esoteric yeast strains) than German or English styles. Jeff found the Belgian approach freeing. Upon his return, Jeff created Fat Tire and Abbey Belgian Ale, (assuming Abbey would be his big gun). He and his wife, Kim traveled around sampling their homebrews to the public. Fat Tire's appeal quickly became evident. People liked everything about it. Except the name. Fat Tire won fans is in its sense of balance: toasty, biscuit-like malt flavors coasting in equilibrium with hoppy freshness.
New Belgium VOODOO RANGER ATOMIC PUMPKIN
Deep Orange, bright with moderate of white foam. Slight sweetness that builds to slight-moderate in the middle. A slight bitterness in the finish. Strong cinnamon and clovers. Moderate Chili pepper. Slightly herbal with nice bready notes. Moderate Capsaicin spiciness in the back of the throat that lingers slight-moderately. Medium body, slightly alcohol-warming and astringent.
New Belgium VooDoo Ranger IPA
Are you a hopinista? Thank our Beer Rangers for inspiring (and begging for) this well-balanced Simcoe, Cascade and Chinook hopped IPA. 70 IBUs


Ommegang Witte
A traditional Belgian-style wheat ale with whispers of sweet orange and a touch of tart lemon. Soft and seductive, Ommegang Witte is this summer's version of spicy intrigue and refreshing flavor.
PINELANDS Brewing Company 08087 Pale Ale
Pinelands 08087 Ale is made with a single American malt & Mosaic hops. This light, easy drinking Pale Ale lets citrus notes from the hops shine through.

Jersey born & brewed; located right at the edge of the Pines in Little Egg Harbor, NJ.
Pinelands Brewing Company Swamp Donkey IPA
A new India Pale Ale (IPA) brewed with three kinds of hops. .A balance of floral and fruit from 3 types of American hops with a dry finish.

Jersey born & brewed; located right at the edge of the Pines in Little Egg Harbor, NJ.
R&H Amber Ale
Decadent malt accentuated with rich tones of toasty toffee and sweet caramel. Finished with delicate Northwest hops for a crushable ruby red finish. If anybody asks what your drinking just repeat all that guff with the malt and toffee and the caramel. You'll look like you know what you're doing in life.

A hundred years ago R&H Beer stood as one of the most beloved beers on Staten Island and beyond, and we're aiming to return it to it's rightful place in the hearts and minds of people everywhere. Your 4th favorite joker, Brian Quinn, loves beer and he loves Staten Island so he set about bringing back R&H back after 70 years and once again brewed in Staten Island New York.
R&H IPA
Old world meets West Coast (of Staten Island). This serenely balanced IPA takes American and experimental hops and pairs them with English and German malts for a tangy, tropical, biscuity mouth bomb. Is there anything better than a good mouth bomb?

A hundred years ago R&H Beer stood as one of the most beloved beers on Staten Island and beyond, and we're aiming to return it to it's rightful place in the hearts and minds of people everywhere. Your 4th favorite joker, Brian Quinn, loves beer and he loves Staten Island so he set about bringing back R&H back after 70 years and once again brewed in Staten Island New York.
R&H Pilsner
Crisp, clean and clear. This pilsner is hop forward; highlighting herbal and citrus varietals on the nose and finishing with grainy sweetness to balance this sessionable, bright pilsner. Perfect for enjoying while talking smack with old friends.

A hundred years ago R&H Beer stood as one of the most beloved beers on Staten Island and beyond, and we're aiming to return it to it's rightful place in the hearts and minds of people everywhere. Your 4th favorite joker, Brian Quinn, loves beer and he loves Staten Island so he set about bringing back R&H back after 70 years and once again brewed in Staten Island New York.
Rodenbach Alexander
Originally brewed in 1986 to commemorate the 200th birthday of one of the brewery's founding members – RODENBACH Alexander was re-released in limited edition bottles starting in 2016 and quickly became one of the most sought-after bottles of beer. Named one of the top beers of the year by Beer Connoisseur, it has earned a perfect 100/100 points by RateBeer and received high praise from Esquire, Eater, Food & Wine, USA Today and many other leading publications.
11.2 oz.
Bottle
24
$85.99
Rodenbach Grand Cru
3-time World Beer Cup award winner (GOLD), RODENBACH Grand Cru sets the standard for Flemish Red Ales and is one of the most awarded beers, globally.

RODENBACH Grand Cru is a blend of 2/3 authentically-aged ale (2-year matured beer from standing oak foeders) with 1/3 'young' ale. Bright and tart, with flavors of ripe berries, vinegar, vanilla and oak, RODENBACH Grand Cru has the refreshment of a beer and the complexity of a fine wine.
11.2 oz.
Bottle
24
$85.99
Samuel Adams Boston Lager
Complex and balanced, with a beautiful hop aroma. This deep amber to golden colored full bodied lager displays caramel sweet notes balanced with distinct citrus and piney notes. A strong, smooth finish and mouth feel.
12 oz.
Bottle
12
$19.99
ON

SALE
12 oz.
Bottle
24
$34.99
ON

SALE
Samuel Adams Octoberfest
The first thing you notice when pouring a glass of this seasonal beer is the color. Samuel Adams® Octoberfest has a rich, deep golden amber hue which itself is reflective of the season. Samuel Adams® Octoberfest is a malt lover's dream, masterfully blending together four roasts of barley to create a delicious harmony of sweet flavors including caramel and toffee. The beer is kept from being overly sweet by the elegant bitterness imparted by the German Noble hops. Samuel Adams® Octoberfest provides a wonderful transition from the lighter beers of summer to the winter's heartier brews.
Samuel Adams Sweater Weather Variety Pack
When the temperature turns cool and crisp, it's time to pull out the old yarns. Look to these beers for that all-wrapped-up, cozy fall feeling. Sweater not included

Includes: Boston Lager, Octoberfest, Sam 76 Lager & Jack-O
Samuel Adams Utopias 2019
BOSTON – The brewers at Samuel Adams announced the upcoming release of the eleventh batch of their highly sought after, barrel-aged extreme beer, Samuel Adams Utopias. The limited release will be available in select locations starting October 15 and for the first time on tap in the Samuel Adams Cincinnati Taproom on November 15. Utopias is a top shelf beer, reminiscent of a rich vintage Port or fine Sherry thanks to its unique barrel-aging process and proprietary brewing techniques, with brewers enhancing this year's brew by experimenting with Cognac and Madeira finishing barrels.

Blended, aged and carefully finished in dedicated barrel rooms at Samuel Adams' three breweries in Boston, Lehigh Valley, PA and Cincinnati, OH this specialty beer has been in the hearts and hands of many Samuel Adams coworkers. To mark the occasion and celebrate the new addition of Dogfish Head to The Boston Beer Company family earlier this year, the Samuel Adams team was joined by Dogfish Head coworkers for Utopias' time-intensive hand-bottling and packaging process. Coworkers across breweries and functions came together to complete the final stage of production and recognize the collective efforts of both creating this revolutionary beer and successfully integrating the two companies.

Only 77 wooden casks of Utopias were brewed this year, creating the highest naturally fermented beer at 28% ABV. The ruby black, uncarbonated 2019 Utopias challenges drinkers' expectations of beer and even gets better with age: drinkers can enjoy a portion of Utopias now and save the rest for other occasions. The first bottles of Utopias will be shared with Samuel Adams coworkers as a sign of appreciation, each created and bottled with care by their very own. A tradition that has been carried on since the Utopias' inception, each bottle of this limited release is numbered, with coworkers receiving the digits that correspond to their hire date. Like the Utopias aging process itself, tenure matters. Each release, coworkers eagerly anticipate the number assigned to their personal Utopias bottle. Samuel Adams Founder and Brewer Jim Koch fittingly receives Utopias bottle number 1 and Brewer Dean Gianocostas, number 2. This year, Dogfish Head will be included in this meaningful distribution.

Samuel Adams pioneered the practice of barrel-aging with its release of Triple Bock in 1994 and continued this practice with subsequent releases preceding the first Utopias release in 2002. Aging beer in used spirits barrels is now a mainstay of American craft brewing. Fittingly, Utopias has served as inspiration for an upcoming release of Dogfish Head's own extreme beer, World Wide Stout. At this year's Great American Beer Festival, Sam Calagione announced the 2020 release of this fan favorite off-centered ale would be aged in Utopias barrels.

Founder & Brewer Jim Koch on 2019 Utopias

"Since it was first brewed, Sam Adams Utopias has been nothing short of a labor of love. As brewers we take pride in everything we make, but there's something special about putting such a unique, extreme beer in the hands of not only the craft beer community but our coworkers. Involving new members of our team from Dogfish Head in the bottling process this year signified collaboration, progress and inspired future innovations that we can't wait to share."

Utopias' Unique Conditioning Process

This sought-after beer requires a time-intensive, multiyear brewing, aging and blending process, using only the world's finest ingredients. Like its predecessors, 2019 Utopias is a blend of earlier batches of Samuel Adams' extreme beers, a catalog dating back over 25 years, which have been aging in wooden bourbon casks from Buffalo Trace Distillery. Brewers took portions of this beer and transferred them to Aquavit, Carcavelos and ruby port barrels to impart complex flavors to the beer. This year, brewers also experimented with Cognac and Madeira finishing barrels which enhanced 2019 Utopias with distinct vanilla notes and subtle nutty and elegant dark fruit aromas. As a final step, and to add a slightly tart note, brewers blended in a touch of Kosmic Mother Funk (KMF), a unique wild ale that is fermented for two years in Hungarian Oak foeders at the Boston Brewery.

1 bottles available!
SCHLAFLY PUMPKIN ALE
Hailed as one of the best beers of its kind, it's the reason why fall is your favorite season. Schlafly's Special Release Pumpkin Ale is well-balanced from start to finish, with notes of caramel and ginger throughout. Fermented in pounds of fresh pumpkin squash and a brewer's wort and sugar mix before being filtered through a spiced infusion of cinnamon, clove and nutmeg, it turns out exactly how we intend it to taste: like a slice of pie in a bottle.
Schöfferhofer Grapefruit
Schofferhofer Grapefruit is the unique combination of sparkling smooth Schofferhofer Hefeweizen with grapefruit flavoring. A refreshing well-rounded taste with tangy character and hints of sweetness is pleasing to the palate. Tastes best ice cold and right from the bottle. 50% of Schofferhofer Unfiltered Hefeweizen blended with 50% grapefruit drink.


11.2 oz.
Bottle
24
$36.99
SCHÖFFERHOFER POMEGRANATE
A unique 50:50 blend of sparkling, unfiltered Schofferhofer Hefeweizen and real pomegranate juice. Delicious, exotic notes of pomegranate meet the crisp, smooth taste of a hefeweizen to deliver a uniquely refreshing beer.
11.2 oz.
Bottle
24
$36.99
Sierra Nevada Hazy Little Thing™ IPA
As brewers, we get the privilege to sample our beers straight from the tanks in all their raw glory. Some beers need a little polishing to get ready to go out into the world, while others—the hop-heavy, rowdy, crowd-pleasers—should just be left alone. We wanted to share this brewery-only treat with you, so we present this Hazy Little Thing, our unfiltered, unprocessed IPA, straight from the tanks and into the can
Sierra Nevada Pale Ale
Sierra Nevada Pale Ale, is a delightful interpretation of a classic style. It has a deep amber color and an exceptionally full-bodied, complex character. Generous quantities of premium Cascade hops give the Pale Ale its fragrant bouquet and spicy flavor.
Sierra Nevada Torpedo
An assertive American IPA deep reddish-gold in color, with a smooth and bready malt presence and over-the-top hop aromas. The beer has a solid bitterness and a massive hop flavor, yet remains easy drinking with a pleasant dry finish.
Sixpoint Bengali Tiger IPA
The Bengali Tiger has a hoppy snap upfront, but strides at a steady pace, and finishes balanced. The signature characteristic of the Tiger is the aroma… using massive quantities of whole East Kent Goldings hops to dry hop in our conditioning tanks.
Sixpoint Higher Volume Variety Pack
Sixpoint Higher Volume Variety 15 Pack features 4 Killer IPAs and 1 World Class Pilz. The package includes the classics —Bengali IPA (6.6%), The Crisp Pilz (5.4%), and Resin IIPA (9.1%), and two all-new Hazy IPAs including Trail Haze 99 Cal Adventure IPA (4.0% w/ Mosaic, Enigma, Vic Secret) brewed in collaboration with REI and Hootie Hazy IPA (6.2% w/ Idaho 7, Amarillo, El Dorado, Galaxy).

Sorry, temporally out of stock.
Sixpoint Jammer Session Variety Pack
Jammer

The schweat, the rhythmic rocking, and that aroma. We're talking about the ebb and flow of tides here… ahhh, that glorious brine! Gnarly waves, shooting off mist, just tangy enough to tingle the tastebuds. JAMMER! Let 'er rip.
Citrus Jammer

Lemon & Lime

Squeeze it. Salt that rim. We're talking about that Sixpoint Salty Tango with a twist—the tangy waves of JAMMER with just the right amount of lemon and lime juice. Time for some Vitamin J.
Berry Jammer

Strawberry, Raspberry, & Cranberry

The Mad Scientists tested dozens of juices and calibrated untold amounts of berry blends to get this one right. But you don't need to get bogged down in all that … just drink up until the ripe, red juice dribbles down your chin. It tastes like a mouth full of tangy berries—a JAMMER punch!
Tropical Jammer

Mango & Pineapple

Jammer's tangy waves lap at the shoreline while mangoes and pineapples grow sweet and ripe overhead. Introducing Tropical Jammer, a lush, tart brew with supremely refreshing tropical fruit—talk about a desert island beer.
Ruby Jammer

Grapefruit & Tangerine

The grapefruit is a hybrid fruit...a rare gem formed through an accidental crossbreed. Our Jammer hybrid is no accident—it's an authentic gose blended with real grapefruit and tangerine juice for eye-opening refreshment. You'll feel good about this one all day.

Sorry, temporally out of stock.
Sixpoint Sweet Action
If you traced from 2004, you'd see that SWEET ACTION is a representation of our palates at any given point in time… it's a vibe more so than it was ever one distinct formulation. This version, a juicy, blonde wheat ale, is the latest iteration in that story.
The first brew was for a friend's party. In three separate phone calls, she requested three different beers. First it was a wheat beer. Then it was a lager because her dad loved 'em. Then she wanted a pale ale. So we put them all together and fermented it out with a Belgian yeast to 7.2% ABV. It was a super spicy brew with tons of biscuit malt, aromatic malts, and some bitter, dank American hops. This all took place in Madison, Wisconsin.

Then came the infamous photo shoot. A chance encounter in 2004 in Red Hook, BKLYN, led this beer to be served at a launch party for a short lived local magazine. The thing finally had a true namesake, after the magazine: SWEET ACTION.

That might leave you wondering, what exactly is SWEET ACTION? Well, sometimes knowing isn't everything. Sink one… your palate just gets it.
Sixpoint The Crisp
We went to Germany for this one. (Well went back really: we first devised this beer while counting yeast cells in a German lab, and sinking liters in underground caves.) Anyway, when it comes to German hops, American breweries get the leftovers… the less desirable plots, amalgamated into a "hop sausage." Instead, at Sixpoint we go straight to the source for the prime cuts — the Tettnanger and Hallertau hops in THE CRISP are sourced 100% directly from farmers in Tettnang, Germany. This way we personally select what goes into our beers.
Look, legit pilz should have an aroma that leaps from the glass, and the bright, floral aroma of THE CRISP absolutely blasts your nostrils. Follow that up with a crisp, clean finish, and you'll be sinking this thing by the liter.
Sloop Juice Bomb
Juice bomb is a hazy, golden, unfiltered IPA.The low bitterness and late hopping showcases the citrusy, juicy notes that many American hops contain. A blast of tropical aroma is followed by a resiny and balanced flavor. Juice bomb features all the aspects and nuances of full hop flavor, not just bitterness — providing an upfront but easy drinking beer.
Sloop Super Soft New England IPA
No boil hops & a finish that lands on the palate like a ton of feathers. A aroma of pungent, tropical fruit & citrus with flavor notes of red grapefruit, ripe papaya, & hints of black tea. Crafted to crush.
Southern Tier Pumking
All Hallow's Eve is a time of the year when spirits can make contact with the physical world, and when magic is most potent. It is thought that Southern Tier harnesses this magic to brew its powerful pumpkin ale. Not so, but it is with great respect to the magic of their trade that Southern Tier's brewers produce this fine beer. Take a whiff of this complex ale and your journey has just begun. At first sip, a magical spell will bewitch your taste buds, yet another victim enraptured by the Pumking!
Southern Tier Warlock
Dark & Mischievous
Make your own black magic by carefully pouring this Imperial Stout into a goblet. Dark and mysterious, reanimate your senses with Warlock's huge roasted malt character, moderate carbonation & a spiced pumpkin pie aroma.
Stella Artois Solstice Lager
A limited-edition golden lager made with citrus essences. It then gets triple-filtered for smoothness and clarity, leaving a crisp finish according to a news release.
11.2 oz.
Bottle
12
$19.99
11.2 oz.
Bottle
24
$36.99
STONE DELICIOUS IPA
When creating an IPA deserving of the name "Delicious," intense flavor was paramount, and that's just what this bright, citrus-forward standout brings to the table. Crafted to reduce gluten, the beer and its magnificent lemon candylike flavor and hop spice can be enjoyed by nearly everyone.
STONE IPA
The IPA That Launched Generations of Hop Fanatics. By definition, an India pale ale is hoppier and higher in alcohol than its little brother, pale ale—and we deliver in spades. One of the most well-respected and best-selling IPAs in the country, this golden beauty explodes with tropical, citrusy, piney hop flavors and aromas, all perfectly balanced by a subtle malt character. This crisp, extra hoppy brew is hugely refreshing on a hot day, but will always deliver no matter when you choose to drink it.