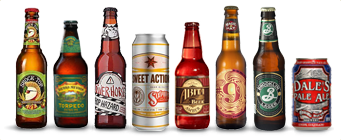 Harpoon IPA
This copper colored ale is floral, medium bodied, with a crisp, refreshing finish.
HOBOKEN BREWING COMPANY All Together IPA
A world wide collaboration hosted by Other Half, Stout Collective and Craftpeak to support the enormous amount of hospitality workers laid off during this difficult time. We brewed this recipe with 2-row, oats and carapils and then hopped it with a beautiful blend of hand selected Citra, Mosaic, Simcoe and Cascade.
Hoboken Brewing Company Bodi Blonde
Bodi Blonde Coconut Ale, has hop-driven notes of fresh citrus and takes part of its name from Patrick Swayze's character in Point Break. It's a light beer brewed with barley, wheat, and corn, and then filtered through a bed of fresh organic flaked coconut.
Hoboken Brewing Company Cityside IPA
Cityside IPA, is a New England Style India Pale Ale with Mosiac & Amarillo hops. It's a "sessionable" brew that focuses on the fresh aromatics and flavors of an IPA while being light in color, bitterness and overall Alcohol by Volume.
Hoboken Brewing Company Even Flow Pale Ale
We listened to our fans and evolved 2018's fan favorite Citra Pale Ale into this Pearl Jam inspired, delicious, crushable, juicy session. At 5.3%, Even Flow is the perfect brew as these summer days rolls in. It doesn't get Eddie Vedder than this!
Hoboken Brewing Company Zest Pale Ale
Picturesque late summer sunsets… how can we create a beer that mimics these works of art? It would need to be bright and fluffy, yet colorful and quenching. Pealing only the bright outer skins of oranges and lemons, we're able to infuse tasty sunshine into a light pale ale. This beer tries to attract all your senses, without the added fruit sugar. But like a sunset, when it's gone, we want it back.
Jersey Girl Brewing Company King Gambrinus
10% ABV - Belgian Tripel

This five-time award winning golden Belgian-style ale is strong and bold. Herbal and fruity notes dance around your palate, ending with a smooth, dry finish. Voted 50th out of the top 200 beers in the US.
Jersey Girl Brewing Company Rake Breaker IPA
Tropical IPA with Mosaic and Amarillo. Fresh, and incredibly drinkable. A tornado of tropical hops will be sure to break your perception of traditional bitter IPAs.
Jersey Girl Brewing Company Sun Kissed Citra
Hopped with loads of Citra and complimented with a soft piney touch of Centennial. A sweet orange nose paired with citrus and tropical flavors with a warming finish create a highly drinkable beer!
Kona Big Wave Golden Ale
Big Wave is a lighter bodied golden ale with a tropical hop aroma and flavor – a smooth, easy drinking refreshing ale.
Lagunitas A Little Sumpin' Sumpin' Ale
Way smooth and silky with a nice wheaty-esque-ish-ness. Just the little sumpin' sumpin' we all need to kick Summer into full swing! Ingredients: Hops, Malt, Hops, Hops, Yeast, Hops, Water, and Hops.


Lagunitas Daytime IPA
The beer in this can has achieved what we all hope for ourselves; to be made new again. There is freedom in burning down the house of expectations and it confers an undeniable lightness to being. We didn't invent these truths; they invented us.


Lagunitas HAZY WONDER
This fascinating ferment is full of fabulous Sabro, Citra, Cashmere and Comet hops for a smooth, tropical fruitiness. A slightly bitter, densely hazy phenomenon that's strangely light in mouthfeel, keeping you satiated and still coming back for more.
Lagunitas IPA
Made from Copius Cascade and Centennial hops with Crystal malt. Moderately hoppy and well balanced, this brew's perfect combination of hops and malt will leave your taste buds wanting more.
Left Hand Milk Box Variety Pack
Our classic Milk Stout richly reimagined in four different ways.
The pure milk chocolate bliss of our classic Milk Stout richly reimagined four different ways. Indulge in creamy Peanut Butter, sultry Raspberry, aromatic Chai and the robust coffee infusion of Bittersweet Imperial Milk Stout. Three cans of each style included in every box.


Left Hand Milk Stout Nitro
Super smooth with soft roastiness and mocha notes.
Experience America's Stout. Milk Stout Nitro is a full sensory experience. Gaze at the mesmerizing cascade of all those tiny Nitro bubbles. Breathe in the aromas of roasted coffee, milk chocolate, brown sugar and vanilla cream. Savor the super smooth Nitro sensation. And, smile as the perfectly pillowy head coats your upper lip. This portable draft beer experience is Good to Go straight from the can or served Like a Pro in a glass. From the bottle, Pour Hard to release the Nitro magic inside.
Left Hand Peanut Butter Milk Stout
Rich milk chocolate notes team up with peanut buttery perfection for a deliciously dark duo.

Rhythm and Blues. Batman and Robin. Peanut Butter and Chocolate. These classic duos never go out of style. Enter Peanut Butter Milk Stout. We took the pure milk chocolate bliss of our classic Milk Stout and added peanut buttery goodness. It's like an adult peanut butter cup you can drink. It's rich and decadent on the palate and lusciously lingers into a nutty, dry finish. A perfect pair you'll want to share.
Leinenkugel's® Summer Shandy®
Our own unique take on Franz Kugler's original Munich tavern tradition. Leinenkugel's® Summer Shandy® is our traditional weiss beer with refreshing natural lemonade flavor that makes it the perfect summer beer.

In 2012, Summer Shandy won a Silver medal at the Great American Beer Festival® in the Fruit Wheat Beer category.
MONTCLAIR BREWING Brewers Beer
IPA - American Red

6% ABV
Our brewers developed their perfect drinking beer. The Brewer's Beer contains all late addition hops making it a mellow and smooth drinking IPA with very little bitterness. Brewed with Citra whole cone hops to maintain a desired flavor profile and dry hopped with the complex Mosaic hops adding notes of fruit and berries.
MONTCLAIR BREWING NATIONAL EMERGENCY NEW ENGLAND IPA
Timing couldn't be more right, this is relevant now more than ever! Order this New England Style IPA on our website now. We can't give up the fight now we are in a state of "National Emergency."

A hoppy and hazy blond New England style IPA with a smooth and creamy mouthfeel with notes of tropical and citrus flavors from the citra, cascade and simcoe hops. A new favorite amongst IPA fans.
MONTCLAIR BREWING Nobel Like It Is Porter
Montclair Brewery and Harlem Brewing Company teamed up to create a porter called Noble Like It Is in honor of Gil Noble, a Black journalist who was a resident of both Harlem and Montclair.

Raised by Jamaican immigrants in Harlem, Noble was the producer and host of the show "Like It Is," which aired on New York City's WABC-TV station. Noble's show focused on issues facing Black people in America. During his career, he interviewed influential Black figures including Nelson Mandela, Bahiyah Betty Shabazz and Bob Marley. He also created documentaries about Malcolm X, Fannie Lou Hamer, Ella Baker, W.E.B DuBois and others.

"We decided to create a porter because porters and stouts are the most popular beers in

Jamaica, after Red Stripe," said Leo Sawadogo, lead brewer and co-owner.

To honor Noble's Jamaican heritage, Noble Like It Is is brewed with Jamaican pimento seeds -- also known as allspice, a warm, wintery spice that tastes similar to cinnamon and cloves.
MONTCLAIR BREWING Peoples Republic of Montclair
Belgian Dubbel

7.9% ABV
A smooth dark amber Belgian style ale with notes of coriander.



MONTCLAIR BREWING Poor Richard's IPA
This landmark IPA, named after the original owner of the brewery's building, is a well-balanced traditional American style India Pale Ale (IPA) with orange and piney notes from a blend of classically bred hops.
New Belgium Fat Tire
Named in honor of our founder Jeff's bike trip through Belgium, Fat Tire Amber Ale marks a turning point in the young electrical engineer's home brewing. Belgian beers use a far broader palette of ingredients (fruits, spices, esoteric yeast strains) than German or English styles. Jeff found the Belgian approach freeing. Upon his return, Jeff created Fat Tire and Abbey Belgian Ale, (assuming Abbey would be his big gun). He and his wife, Kim traveled around sampling their homebrews to the public. Fat Tire's appeal quickly became evident. People liked everything about it. Except the name. Fat Tire won fans is in its sense of balance: toasty, biscuit-like malt flavors coasting in equilibrium with hoppy freshness.
New Belgium VooDoo Ranger IPA
Are you a hopinista? Thank our Beer Rangers for inspiring (and begging for) this well-balanced Simcoe, Cascade and Chinook hopped IPA. 70 IBUs


Ommegang Witte
A traditional Belgian-style wheat ale with whispers of sweet orange and a touch of tart lemon. Soft and seductive, Ommegang Witte is this summer's version of spicy intrigue and refreshing flavor.
Rodenbach Alexander
Originally brewed in 1986 to commemorate the 200th birthday of one of the brewery's founding members – RODENBACH Alexander was re-released in limited edition bottles starting in 2016 and quickly became one of the most sought-after bottles of beer. Named one of the top beers of the year by Beer Connoisseur, it has earned a perfect 100/100 points by RateBeer and received high praise from Esquire, Eater, Food & Wine, USA Today and many other leading publications.
11.2 oz.
Bottle
24
$85.99
Rodenbach Grand Cru
3-time World Beer Cup award winner (GOLD), RODENBACH Grand Cru sets the standard for Flemish Red Ales and is one of the most awarded beers, globally.

RODENBACH Grand Cru is a blend of 2/3 authentically-aged ale (2-year matured beer from standing oak foeders) with 1/3 'young' ale. Bright and tart, with flavors of ripe berries, vinegar, vanilla and oak, RODENBACH Grand Cru has the refreshment of a beer and the complexity of a fine wine.
11.2 oz.
Bottle
24
$85.99
Samuel Adams Boston Lager
Complex and balanced, with a beautiful hop aroma. This deep amber to golden colored full bodied lager displays caramel sweet notes balanced with distinct citrus and piney notes. A strong, smooth finish and mouth feel.
12 oz.
Bottle
12
$19.99
ON

SALE
12 oz.
Bottle
24
$34.99
ON

SALE
Samuel Adams Octoberfest
Celebrate the return of fall with Sam Adams OctoberFest. Made with a superb malt blend, this beer has a deep, robust amber color and a smooth, rich, roasted sweetness. Prost!


Samuel Adams Porch Rocker
Samuel Adams Porch Rocker is brewed as a "traditional Bavarian-style Radler," a blend of German-style Helles lager and real lemon. Expect a refreshing golden colored lager beer with the added flavor of lemon.

Samuel Adams Summer Ale
Now reformulated, the new Summer Ale recipe is brewed with a blend of orange, lemon & lime peels, plus Hallertau Mittelfruh and Saaz Noble hops, and Grains of Paradise for subtle spice. Enjoy a bigger burst of citrus flavors!
Samuel Adams Wicked Easy
Picture this - you're not doing a damn thing. This is the beer that pairs with that. Easy drinking and bursting with citrus fruit, Wicked Easy is a refreshing, kick all the way back, crushable, sippable (is that a word? Is now) go-to when you need light beer big on flavor. Simply put, a light n hazy lager!
Samuel Adams Wicked Hazy IPA
IT'S GOOD TO BE WICKED
Super-juiced with haze for days. How about a rush of pineapple over here? How about a one-two punch of mango and peach over there? Wicked Hazy is a little bit extra - a blast of tropical fruit, with a smooth, silky finish. It's like a beautiful swirling magic-eye for your mouth, if that makes sense. Drink up, it will soon. Juicy New England IPA.
Schöfferhofer Grapefruit
Schofferhofer Grapefruit is the unique combination of sparkling smooth Schofferhofer Hefeweizen with grapefruit flavoring. A refreshing well-rounded taste with tangy character and hints of sweetness is pleasing to the palate. Tastes best ice cold and right from the bottle. 50% of Schofferhofer Unfiltered Hefeweizen blended with 50% grapefruit drink.


11.2 oz.
Bottle
24
$36.99
SCHÖFFERHOFER POMEGRANATE
A unique 50:50 blend of sparkling, unfiltered Schofferhofer Hefeweizen and real pomegranate juice. Delicious, exotic notes of pomegranate meet the crisp, smooth taste of a hefeweizen to deliver a uniquely refreshing beer.
11.2 oz.
Bottle
24
$36.99
Shiner Ruby Redbird
Shiner Ruby Redbird is brewed with genuine Texas Ruby Red Grapefruit, the signature sweet citrus of the Rio Grande Valley, and ginger. This lager beer features grapefruit tartness and finishes with a 'lil kick of ginger. With Texas Ruby Red Grapefruit and Ginger, Shiner Ruby Redbird is a crisp and refreshing summer beer.
Shipyard Pumpkinhead Ale
Pumpkinhead is a crisp, refreshing wheat ale with delightful aromatics and subtle spice flavor.

To celebrate the fall season, Shipyard enhances the pumpkin flavor with a proprietary blend of spices including cinnamon and nutmeg.
Sierra Nevada Hazy Little Thing™ IPA
As brewers, we get the privilege to sample our beers straight from the tanks in all their raw glory. Some beers need a little polishing to get ready to go out into the world, while others—the hop-heavy, rowdy, crowd-pleasers—should just be left alone. We wanted to share this brewery-only treat with you, so we present this Hazy Little Thing, our unfiltered, unprocessed IPA, straight from the tanks and into the can
Sierra Nevada Pale Ale
Sierra Nevada Pale Ale, is a delightful interpretation of a classic style. It has a deep amber color and an exceptionally full-bodied, complex character. Generous quantities of premium Cascade hops give the Pale Ale its fragrant bouquet and spicy flavor.
Sierra Nevada Torpedo
An assertive American IPA deep reddish-gold in color, with a smooth and bready malt presence and over-the-top hop aromas. The beer has a solid bitterness and a massive hop flavor, yet remains easy drinking with a pleasant dry finish.
Sixpoint Bengali Tiger IPA
The Bengali Tiger has a hoppy snap upfront, but strides at a steady pace, and finishes balanced. The signature characteristic of the Tiger is the aroma… using massive quantities of whole East Kent Goldings hops to dry hop in our conditioning tanks.
Sixpoint Higher Volume Variety Pack
Sixpoint Higher Volume Variety 15 Pack features 4 Killer IPAs and 1 World Class Pilz. The package includes the classics —Bengali IPA (6.6%), The Crisp Pilz (5.4%), and Resin IIPA (9.1%), and two all-new Hazy IPAs including Trail Haze 99 Cal Adventure IPA (4.0% w/ Mosaic, Enigma, Vic Secret) brewed in collaboration with REI and Hootie Hazy IPA (6.2% w/ Idaho 7, Amarillo, El Dorado, Galaxy).

Sorry, temporally out of stock.
Sixpoint Sweet Action
If you traced from 2004, you'd see that SWEET ACTION is a representation of our palates at any given point in time… it's a vibe more so than it was ever one distinct formulation. This version, a juicy, blonde wheat ale, is the latest iteration in that story.
The first brew was for a friend's party. In three separate phone calls, she requested three different beers. First it was a wheat beer. Then it was a lager because her dad loved 'em. Then she wanted a pale ale. So we put them all together and fermented it out with a Belgian yeast to 7.2% ABV. It was a super spicy brew with tons of biscuit malt, aromatic malts, and some bitter, dank American hops. This all took place in Madison, Wisconsin.

Then came the infamous photo shoot. A chance encounter in 2004 in Red Hook, BKLYN, led this beer to be served at a launch party for a short lived local magazine. The thing finally had a true namesake, after the magazine: SWEET ACTION.

That might leave you wondering, what exactly is SWEET ACTION? Well, sometimes knowing isn't everything. Sink one… your palate just gets it.
Sixpoint The Crisp
We went to Germany for this one. (Well went back really: we first devised this beer while counting yeast cells in a German lab, and sinking liters in underground caves.) Anyway, when it comes to German hops, American breweries get the leftovers… the less desirable plots, amalgamated into a "hop sausage." Instead, at Sixpoint we go straight to the source for the prime cuts — the Tettnanger and Hallertau hops in THE CRISP are sourced 100% directly from farmers in Tettnang, Germany. This way we personally select what goes into our beers.
Look, legit pilz should have an aroma that leaps from the glass, and the bright, floral aroma of THE CRISP absolutely blasts your nostrils. Follow that up with a crisp, clean finish, and you'll be sinking this thing by the liter.
Southern Tier Old Man Winter Ale
Our winter offering is here to quell your shivers and get you through the coldest of nights. A rich marriage of hops and barley to cast light upon the evening and melt your mind out of the snowdrifts. Old Man Winter's earthy hue and thickness lace around the glass, inviting you to linger in its warmth and share the spirits of the season with your friends and family. A deceptively strong brew, it's best to sit and ponder with this old man, sip by sip.
Southern Tier Pumking Imperial Ale
All Hallow's Eve is a time of the year when spirits can make contact with the physical world, and when magic is most potent. It is thought that Southern Tier harnesses this magic to brew its powerful pumpkin ale. Not so, but it is with great respect to the magic of their trade that Southern Tier's brewers produce this fine beer. Take a whiff of this complex ale and your journey has just begun. At first sip, a magical spell will bewitch your taste buds, yet another victim enraptured by the Pumking!
Southern Tier Warlock Imperial Stout
Warlock is brewed to enchant your palate on its own & also to counterpoint our Imperial Ale, Pumking. Make your own black magic by carefully pouring this Imperial Stout into a goblet.

Dark and mysterious, reanimate your senses with Warlock's huge roasted malt character, moderate carbonation & a spiced pumpkin pie aroma.

Food Pairing:
-Spicy BBQ
-Smoked & roasted foods
-Carrot cake or as a float with vanilla ice cream