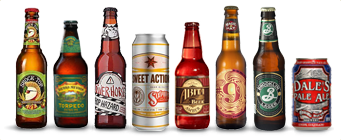 Harpoon Dunkin' Coffee Porter
American Porter- 6% ABV. Dunkin Coffee brings robust, roasty notes to this balanced and smooth coffee porter. this porter is our tribute to all the days that Dunkin has helped us fire up the brew kettle.
Harpoon IPA
This copper colored ale is floral, medium bodied, with a crisp, refreshing finish.
Harpoon Winter Warmer
Cinnamon and nutmeg in a beer. When we first introduced this beer, let's just say that people weren't exactly sure what to make of it. But after close to three decades of brewing this classic, there is no greater fervor for any of our seasonal beers than this one right here. Bring on the spice!

Brewed since 1988, this beer has become a New England seasonal classic. Cinnamon and nutmeg dominate the aroma. The taste is a rich combination of the holiday spices and the hearty malt backbone. There is a mild sweetness to the finish along with the lingering flavor of the spices.

Hoboken Brewing Company Bodi Blonde
Bodi Blonde Coconut Ale, has hop-driven notes of fresh citrus and takes part of its name from Patrick Swayze's character in Point Break. It's a light beer brewed with barley, wheat, and corn, and then filtered through a bed of fresh organic flaked coconut.
Hoboken Brewing Company Cityside IPA
Cityside IPA, is a New England Style India Pale Ale with Mosiac & Amarillo hops. It's a "sessionable" brew that focuses on the fresh aromatics and flavors of an IPA while being light in color, bitterness and overall Alcohol by Volume.
Ithaca Flower Power IPA
Elegantly traditional and rich in its' hop character, this India Pale Ale is thirst-quenching and soul-satisfying. Each sip delivers a bounty of herbal and floral hop character, balanced by the fruity signature of our house yeast.
Jammer Session Variety Pack
Jammer

The schweat, the rhythmic rocking, and that aroma. We're talking about the ebb and flow of tides here… ahhh, that glorious brine! Gnarly waves, shooting off mist, just tangy enough to tingle the tastebuds. JAMMER! Let 'er rip.
Citrus Jammer

Lemon & Lime

Squeeze it. Salt that rim. We're talking about that Sixpoint Salty Tango with a twist—the tangy waves of JAMMER with just the right amount of lemon and lime juice. Time for some Vitamin J.
Berry Jammer

Strawberry, Raspberry, & Cranberry

The Mad Scientists tested dozens of juices and calibrated untold amounts of berry blends to get this one right. But you don't need to get bogged down in all that … just drink up until the ripe, red juice dribbles down your chin. It tastes like a mouth full of tangy berries—a JAMMER punch!
Tropical Jammer

Mango & Pineapple

Jammer's tangy waves lap at the shoreline while mangoes and pineapples grow sweet and ripe overhead. Introducing Tropical Jammer, a lush, tart brew with supremely refreshing tropical fruit—talk about a desert island beer.
Ruby Jammer

Grapefruit & Tangerine

The grapefruit is a hybrid fruit...a rare gem formed through an accidental crossbreed. Our Jammer hybrid is no accident—it's an authentic gose blended with real grapefruit and tangerine juice for eye-opening refreshment. You'll feel good about this one all day.
Jersey Girl King Gambrinus
Belgian Tripel 10.0%
This five-time award winning golden Belgian-style ale is strong and bold. Herbal and fruity notes dance around your palate, ending with a smooth, dry finish.
Jersey Girl MO PILS
Pilsner 4.5%
With its name a nod our hometown of Mount Olive, our Pilsner is golden, light bodied lager, slight sweetness that finishes with a spicy, dry hop aroma and flavor.
Jersey Girl Rake Breaker
NE-Style IPA 6.5%
Tropical IPA with Mosaic and Amarillo. Fresh, and incredibly drinkable. A tornado of tropical hops will be sure to break your perception of traditional bitter IPAs.
Jersey Girl Sun Kissed Citra
NE-Style IPA 5.5%
Hopped with loads of Citra and complimented with a soft piney touch of Centennial. A sweet orange nose paired with citrus and tropical flavors with a warming finish create a highly drinkable beer!
Kona Big Wave Golden Ale
Big Wave is a lighter bodied golden ale with a tropical hop aroma and flavor – a smooth, easy drinking refreshing ale.
Kona Longboard Lager
A smooth refreshing lager fermented and aged for weeks at cold temperatures to yield its exceptionally smooth flavor.
Lagunitas Unlimited Release Hop Stoopid A Double-Barrel Dose of Malt and Hops
"Clean this mess up or else we'll all end up in jail...those test tubes and the scale...just get 'em all outta here..." He was referring to the complex super-critical-CO2 hop extraction equipment set up on the table in the lab across from the brewhouse. Hop extracts are for the BIG brewers, he thought - suitable only for crummy sub-standard and barely-passable industrial lagers, not the subtle and elegant craft beer made here. But wrong he was. The New Brewer does not eschew any possible inputs. In this case the mountain of extracts will replace the mountain of hop vegetative material in the kettle thus creating cleaner hop flavors and preventing the otherwise spinach-like mess of a kettle full of super-hopped wort from clogging up a pump or worse. The sensuous honey-like amber ooze was administered intravenously to the wort kettle and the sacrament was complete. Another kettle of Hop Stoopid is once again raised up and fermented on high.
Lagunitas A Little Sumpin' Sumpin' Ale
Way smooth and silky with a nice wheaty-esque-ish-ness. Just the little sumpin' sumpin' we all need to kick Summer into full swing! Ingredients: Hops, Malt, Hops, Hops, Yeast, Hops, Water, and Hops.


Lagunitas Born Yesterday Pale Ale
Born yesterday is a newborn version of our reborn pale, New Dogtown Pale, with a fresh addition: Virgin hops from the trellised lands of the verdant Yakima Valley. Unkilned for an immaculate reception. Then deliver the resulting lil' brew in 24hrs. Congrats. Its a beer!
Lagunitas Brown Shugga
An aborted batch of their Old Gnarleywine ended up tasting nearly as good as that they were hoping for, so they bottled it. God bless capitalism.

Lagunitas Cherry Jane One Hitter
"From Prunus, I think," said Brutus, the mink, as he took in a succulent taste. "That's Cherry, you mean!", cried Mary, the queen, and she sang with a bright rosy face. "You mean, it's an ale?" posed Felix and Gail. Their minds ran rightfully a-race… "So what's'it to beer?" asked an impatient Greer. "This is all just a frivolous waste!" or whatever…

This sweet tart sour ale is full of Turkish Delight cherries, giving it a puckered up punch of cherry charm, then it's fermented with some Brettanomyces for that extra funky funk. We love you, Cherry Jane. Do ya?
Lagunitas Hazy Memory
We're going a bit blurry on this nebulous release... Hazy Memory is a cloudy IPA full of oats and smooth wheatly-esque-ish-ness, packed with some of the murkiest, juiciest, turbid Loral 291, Hallertau Blanc, Galaxy, and Citra Hops. It's a huge flavor you won't forget!
Lagunitas IPA
Made from Copius Cascade and Centennial hops with Crystal malt. Moderately hoppy and well balanced, this brew's perfect combination of hops and malt will leave your taste buds wanting more.
Lagunitas Maximus
At the height of the heat in the heart of the summer, we felt that the only cure was a raging mouthful of fresh hops and malt. Caution: May remove enamel from teeth. This is Lagunitas IPA pumped up by about 30%!
Land Shark Lager
*Refreshing, drinkable beer
*Brewed for the island lifestyle
*Fins up!

Left Hand Nitro Milk Stout
Milk Stout Nitro cascades beautifully, building a tight, thick head like hard whipped cream. The aroma is of brown sugar and vanilla cream, with hints of roasted coffee. The pillowy head coats your upper lip and its creaminess entices your pallet. Initial roasty, mocha flavors rise up, with slight hop & roast bitterness in the finish.
Magic Hat #9
A sort of dry, crisp, fruity, refreshing, not-quite pale ale. #9 is really impossible to describe because there's never been anything else quite like it
Magic Hat Jam Pack Variety Cans
5 cans each:
Single Chair Golden Ale
Hocus Pocus Wheat Ale
Fat Angel Pale Ale
Montclair Brewery Golden Buddha Golden Ale
A light-bodied, golden ale flavored with passion fruit puree. The passion fruit gives a nice tropical aroma with a light fruit flavor that does not over power. The Golden Buddha is a refreshing drink for those wanting more than a traditional craft beer.
Montclair Brewery MB Lager
A full body German style lager with a rich aroma and smooth mouthfeel with notes of light caramel, honey and bread.
Montclair Brewery Poor Richard's American IPA
This landmark IPA, named after the original owner of the brewery's building, is a well-balanced traditional American style India Pale Ale (IPA) with orange and piney notes from a blend of classically bred hops.
Narragansett Lager
Narragansett Lager is old reliable. It was the first beer brewed by "The Original Six" back in 1890, the bestselling beer in New England from the 1930s to the 1970s, and the official beer of the Boston Red Sox from 1944-1975.
New Belgium Fat Tire
Named in honor of our founder Jeff's bike trip through Belgium, Fat Tire Amber Ale marks a turning point in the young electrical engineer's home brewing. Belgian beers use a far broader palette of ingredients (fruits, spices, esoteric yeast strains) than German or English styles. Jeff found the Belgian approach freeing. Upon his return, Jeff created Fat Tire and Abbey Belgian Ale, (assuming Abbey would be his big gun). He and his wife, Kim traveled around sampling their homebrews to the public. Fat Tire's appeal quickly became evident. People liked everything about it. Except the name. Fat Tire won fans is in its sense of balance: toasty, biscuit-like malt flavors coasting in equilibrium with hoppy freshness.
New Belgium Voodoo Ranger American Haze
Hazy Session IPA

With notes of passionfruit and freedom, American Haze is a supremely drinkable, juicy and unfiltered IPA brewed with all-American hops.

New Belgium VooDoo Ranger IPA
Are you a hopinista? Thank our Beer Rangers for inspiring (and begging for) this well-balanced Simcoe, Cascade and Chinook hopped IPA. 70 IBUs


Ommegang Hennepin
This hoppy, farmhouse style ale has a champagne like effervescence with a crisp but light on the tongue finish. Similar to the Belgian Saison style , this beer serves well as an aperitif. Hennepin has a majestic golden hue.
Ommegang Witte
A traditional Belgian-style wheat ale with whispers of sweet orange and a touch of tart lemon. Soft and seductive, Ommegang Witte is this summer's version of spicy intrigue and refreshing flavor.
Oskar Blues Dale's Pale Ale
Brewed with hefty amounts of European malts and four kinds of American hops, it delivers a blast of hop aromas, a rich middle of malt and hops, and a thrilling finish. It weighs in at 6.5 % alcohol by volume.
Pabst Blue Ribbon Hard Coffee
Can't decide between the pick-me-up of coffee and the pleasant buzz of a beer? You can now have both. Pabst Blue Ribbon is offering a new product, Pabst Hard Coffee, which is exactly what it sounds like: a combination of java and beer.

This new brew isn't just another coffee-flavored beer, it's really coffee spiked with alcohol. Pabst Brewing describes the drink as vanilla-infused premium iced coffee with 5 percent alcohol by volume. "It's a fun and deliciously unique drink made using Arabica and Robusta coffee beans and rich, creamy American milk," Pabst noted in a press release.
Rodenbach Alexander
Originally brewed in 1986 to commemorate the 200th birthday of one of the brewery's founding members – RODENBACH Alexander was re-released in limited edition bottles starting in 2016 and quickly became one of the most sought-after bottles of beer. Named one of the top beers of the year by Beer Connoisseur, it has earned a perfect 100/100 points by RateBeer and received high praise from Esquire, Eater, Food & Wine, USA Today and many other leading publications.
11.2 oz.
Bottle
24
$79.99
Rodenbach Fruitage
"A truly one-of-a-kind easy-drinking sour that delivers a complexity of flavors and aromas without the use of higher alcohol levels."

– THE BEER CONNOISSEUR

Receiving 99/100 points and named one of the best beers of the year by Craft Beer & Brewing magazine, RODENBACH Fruitage is a one-of-a-kind beer that's refreshingly delicious and low in alcohol with a sweet-sour cherry taste.

Brewed using RODENBACH's award-winning, age-old practices, RODENBACH Fruitage is a blend of 25% authentically aged RODENBACH ale (2-year matured beer from standing oak foeders) with 75% 'young' RODENBACH ale, along with cherry and elderberry juice for a refreshing finish.
Rodenbach Grand Cru
3-time World Beer Cup award winner (GOLD), RODENBACH Grand Cru sets the standard for Flemish Red Ales and is one of the most awarded beers, globally.

RODENBACH Grand Cru is a blend of 2/3 authentically-aged ale (2-year matured beer from standing oak foeders) with 1/3 'young' ale. Bright and tart, with flavors of ripe berries, vinegar, vanilla and oak, RODENBACH Grand Cru has the refreshment of a beer and the complexity of a fine wine.
11.2 oz.
Bottle
24
$79.99
Saint Archer Gold
Saint Archer Gold is a light-bodied, flavorful yet refreshing craft lager brewed in the tradition of Helles lagers, with just 95 calories and 2.6 grams of carbs.
Samuel Adams Boston Lager
Complex and balanced, with a beautiful hop aroma. This deep amber to golden colored full bodied lager displays caramel sweet notes balanced with distinct citrus and piney notes. A strong, smooth finish and mouth feel.
12 oz.
Bottle
12
$19.99
ON

SALE
12 oz.
Bottle
24
$34.99
ON

SALE
Samuel Adams Cherry Wheat
The sweet fruitiness of the cherries is balanced against the crisp, cereal note from the malted wheat and the subtle citrus flavor from the Noble hops. The end result is a sweet, refreshing beer that is light on the palate but long on complexity.
Samuel Adams Cold Snap
Crisp & lively, the hazy smoothness of this unfiltered White Ale is roused by the crackling of spring spices. From a hint of sweetness from orange peel & plum to the peppery bite of fresh ground coriander, the subtle blend of spices creates just the right refreshing kick to signal that spring is on its way. Cheers!
Samuel Adams Fall Variety Pack
Winter Classics has a new mix! This year's variety includes two bottles each of six styles:
Sam Adams Kosmic Sour
Boston Lager
Sam '76
Octoberfest

Perfect beers for sharing.
Samuel Adams New England IPA
Massachusetts- American India Pale Ale (IPA) - 6.8% ABV. 35 IBUs. Unlike classic American IPAs, New England IPAs are purposely unfiltered, providing a burst of fruited hop aroma and luscious mouthfeel. A delightful, citrusy hop flavor; not overly bitter, with a clean, smooth finish.
Samuel Adams Sam '76
By experimenting with both lager and ale yeast strains, the brewers at Sam Adams came up with the concept for a brand new beer – Sam '76. This truly unique brew takes two active fermentations and blends them together to create a deliciously harmonious result. This process delivers a distinct flavor that showcases the slight fruitiness of an ale with the balanced drinkability and smoothness of a lager. Sam '76 will surprise any craft beer lover with its huge flavor and aroma along with a light-bodied, refreshing crispness. At just 4.7% ABV, this brew is perfect for those sessionable occasions. Cascade, Citra, Mosaic, Simcoe and Galaxy hops impart a tropical citrus aroma that gives way to a bright, juicy citrus hop flavor but without the hop bitterness. The brewers have been experimenting for over a year, tested over 60 iterations with multiple combinations of 12 different hop varieties in the nano brewery in Boston in order to perfect the Sam '76 recipe.
Samuel Adams Utopias 2019
BOSTON – The brewers at Samuel Adams announced the upcoming release of the eleventh batch of their highly sought after, barrel-aged extreme beer, Samuel Adams Utopias. The limited release will be available in select locations starting October 15 and for the first time on tap in the Samuel Adams Cincinnati Taproom on November 15. Utopias is a top shelf beer, reminiscent of a rich vintage Port or fine Sherry thanks to its unique barrel-aging process and proprietary brewing techniques, with brewers enhancing this year's brew by experimenting with Cognac and Madeira finishing barrels.

Blended, aged and carefully finished in dedicated barrel rooms at Samuel Adams' three breweries in Boston, Lehigh Valley, PA and Cincinnati, OH this specialty beer has been in the hearts and hands of many Samuel Adams coworkers. To mark the occasion and celebrate the new addition of Dogfish Head to The Boston Beer Company family earlier this year, the Samuel Adams team was joined by Dogfish Head coworkers for Utopias' time-intensive hand-bottling and packaging process. Coworkers across breweries and functions came together to complete the final stage of production and recognize the collective efforts of both creating this revolutionary beer and successfully integrating the two companies.

Only 77 wooden casks of Utopias were brewed this year, creating the highest naturally fermented beer at 28% ABV. The ruby black, uncarbonated 2019 Utopias challenges drinkers' expectations of beer and even gets better with age: drinkers can enjoy a portion of Utopias now and save the rest for other occasions. The first bottles of Utopias will be shared with Samuel Adams coworkers as a sign of appreciation, each created and bottled with care by their very own. A tradition that has been carried on since the Utopias' inception, each bottle of this limited release is numbered, with coworkers receiving the digits that correspond to their hire date. Like the Utopias aging process itself, tenure matters. Each release, coworkers eagerly anticipate the number assigned to their personal Utopias bottle. Samuel Adams Founder and Brewer Jim Koch fittingly receives Utopias bottle number 1 and Brewer Dean Gianocostas, number 2. This year, Dogfish Head will be included in this meaningful distribution.

Samuel Adams pioneered the practice of barrel-aging with its release of Triple Bock in 1994 and continued this practice with subsequent releases preceding the first Utopias release in 2002. Aging beer in used spirits barrels is now a mainstay of American craft brewing. Fittingly, Utopias has served as inspiration for an upcoming release of Dogfish Head's own extreme beer, World Wide Stout. At this year's Great American Beer Festival, Sam Calagione announced the 2020 release of this fan favorite off-centered ale would be aged in Utopias barrels.

Founder & Brewer Jim Koch on 2019 Utopias

"Since it was first brewed, Sam Adams Utopias has been nothing short of a labor of love. As brewers we take pride in everything we make, but there's something special about putting such a unique, extreme beer in the hands of not only the craft beer community but our coworkers. Involving new members of our team from Dogfish Head in the bottling process this year signified collaboration, progress and inspired future innovations that we can't wait to share."

Utopias' Unique Conditioning Process

This sought-after beer requires a time-intensive, multiyear brewing, aging and blending process, using only the world's finest ingredients. Like its predecessors, 2019 Utopias is a blend of earlier batches of Samuel Adams' extreme beers, a catalog dating back over 25 years, which have been aging in wooden bourbon casks from Buffalo Trace Distillery. Brewers took portions of this beer and transferred them to Aquavit, Carcavelos and ruby port barrels to impart complex flavors to the beer. This year, brewers also experimented with Cognac and Madeira finishing barrels which enhanced 2019 Utopias with distinct vanilla notes and subtle nutty and elegant dark fruit aromas. As a final step, and to add a slightly tart note, brewers blended in a touch of Kosmic Mother Funk (KMF), a unique wild ale that is fermented for two years in Hungarian Oak foeders at the Boston Brewery.

1 bottles available!
Samuel Adams Winter Lager
Bold and rich, with a touch of holiday spice. The first thing one notices about a Samuel Adams® Winter Lager is the deep ruby color. Then comes the magical aroma which promises something special on the tongue. The cinnamon, ginger, and hint of citrus from the orange peel blend with the roasty sweetness of the malts to deliver a warming, spicy flavor. On the palate Samuel Adams Winter Lager is rich and full bodied, robust and warming, a wonderful way to enjoy the cold evenings that come with the season.
Schöfferhofer Grapefruit
Schofferhofer Grapefruit is the unique combination of sparkling smooth Schofferhofer Hefeweizen with grapefruit flavoring. A refreshing well-rounded taste with tangy character and hints of sweetness is pleasing to the palate. Tastes best ice cold and right from the bottle. 50% of Schofferhofer Unfiltered Hefeweizen blended with 50% grapefruit drink.
Schofferhofer Hefeweizen Pomegranate
A unique 50:50 blend of sparkling, unfiltered Schofferhofer Hefeweizen and real pomegranate juice. Delicious, exotic notes of pomegranate meet the crisp, smooth taste of a hefeweizen to deliver a uniquely refreshing beer.
11.2 oz.
Bottle
24
$35.99
Shock Top Belgian White
This light golden-colored, Belgian-style wheat beer is memorably aromatic and has a smooth, complex taste. Shock Top is unfiltered and naturally cloudy creating a traditional wheat beer with attitude.
Sierra Nevada Celebration Ale
The start of Celebration season is a festive event. Once the first fresh hops arrive from harvest, the party begins! We first brewed Celebration in 1981, blazing the path for American-style IPAs and offering a new take on holiday beers, which are often spiced and sweet. Famous for its citrus and pine aromas, Celebration is bold and intense, featuring Cascade, Centennial and Chinook hops—honoring everything we have at Sierra Nevada.

Sierra Nevada Celebration Ale represents a time honored tradition of brewing a special beer for the holiday season. There are generous portions of barley malts and fine whole hops of several varieties, creating a brew with a full, rich and hearty character.
Sierra Nevada Hazy Little Thing™ IPA
As brewers, we get the privilege to sample our beers straight from the tanks in all their raw glory. Some beers need a little polishing to get ready to go out into the world, while others—the hop-heavy, rowdy, crowd-pleasers—should just be left alone. We wanted to share this brewery-only treat with you, so we present this Hazy Little Thing, our unfiltered, unprocessed IPA, straight from the tanks and into the can
Sierra Nevada Pale Ale
Sierra Nevada Pale Ale, is a delightful interpretation of a classic style. It has a deep amber color and an exceptionally full-bodied, complex character. Generous quantities of premium Cascade hops give the Pale Ale its fragrant bouquet and spicy flavor.
Sierra Nevada Torpedo
An assertive American IPA deep reddish-gold in color, with a smooth and bready malt presence and over-the-top hop aromas. The beer has a solid bitterness and a massive hop flavor, yet remains easy drinking with a pleasant dry finish.
Sixpoint Bengali Tiger IPA
The Bengali Tiger has a hoppy snap upfront, but strides at a steady pace, and finishes balanced. The signature characteristic of the Tiger is the aroma… using massive quantities of whole East Kent Goldings hops to dry hop in our conditioning tanks.
Sixpoint Citrus Jammer Gose
Squeeze it. Salt that rim.

We're talking about that Sixpoint Salty Tango with a twist—the tangy waves of JAMMER with
Sixpoint Hi-Res
Let's talk optics. The study of light, and the eyeball… aka the prism that sends images blasting through your dome like a movie projector. As technology advances, resolution increases, so we can see the bigger picture AND the finer details. We're increasing the view -- in BOTH directions… Magnify the hop factor, amplify perception. Study the hop cone up close… this shiz is Hi-Resolution. We went microscopic; we got a grander view. Crack a HI-RES and widen your scope, both directions
Sixpoint Resin
It's been less than a year since we released our four core beers in cans, and we're ecstatic to announce a new addition to the flock. This isn't a seasonal release, like the Autumnation of last fall or Diesel, still going 'round this winter. It isn't our upcoming spring seasonal can, either. It's a never-before-released, big beer in a slim, 12 oz. can with a potent burst of hops and as strong as an ox: Resin.

We zeroed in on the botanical structure of the hop cone to get to the essence of this beer. When hops are at their peak maturity, their cores swell up with a sticky, golden, resinous substance that is the flavor you crave from an IPA. WIth an IBU of 103 and ABV of 9.1%, Resin can be loosely described as a double IPA — but rarely do Sixpoint beers adhere to any strict style demands.
Sixpoint Sweet Action
The original Sixpoint style - hard to define, but perhaps that's why people love it. Part pale ale, part wheat, part cream ale - all Sweet Action.
Sixpoint The Crisp
The original Sehr Crisp from Sixpoint. Brewed with noble hops for indelible sehr crisp flavor.
Sloop Juice Bomb
uice bomb is a hazy, golden, unfiltered IPA.The low bitterness and late hopping showcases the citrusy, juicy notes that many American hops contain. A blast of tropical aroma is followed by a resiny and balanced flavor. Juice bomb features all the aspects and nuances of full hop flavor, not just bitterness — providing an upfront but easy drinking beer.
Sloop Super Soft New England IPA
No boil hops & a finish that lands on the palate like a ton of feathers. A aroma of pungent, tropical fruit & citrus with flavor notes of red grapefruit, ripe papaya, & hints of black tea. Crafted to crush.
Stella Artois Midnight Lager
Introducing our limited edition Midnight Lager

When winter hits, we often reach for something a little special, a little richer, even a little darker. But we don't always crave the same flavors and textures of the usual dark beers. That's why we created Stella Artois Midnight Lager. This limited release dark lager has a light to medium body, balanced drinkability, 5.4 % ABV and surprisingly crisp, dry finish that helps make the season feel original again.
Palate
Filled with subtle notes of Belgian dark chocolate, freshly brewed espresso, and a pleasant hint of smoke in the finish. Herkules and Saaz hops add a note of earthiness that balances out the roasted malt flavors.

Country of Origin: Belgium
11.2 oz.
Bottle
24
$33.99
Sweet Water 420 Extra Pale Ale
Dry Hopped with a fat stash of Cascade hops.

Our most popular brew! A tasty West Coast style Extra Pale Ale accentuated with a stimulating hop character. First conceived in our bat cave on 4/20, this kind of beer keeps the wheels on the bus going round and round!