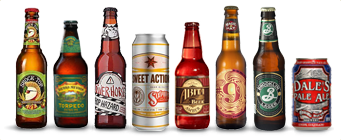 Victory Sour Monkey
Aroma is very varied with lemon, sour, and mild brettanomyces notes. Flavor follows with a tart acidity. Not dry as it finishes with a malty grain flavor.
Sour Monkey puts a tastefully tart twist on our Golden Monkey's sweet, fruity essence. A sharp, citrus-laden tang makes this brew a Monkey all its own!
Victory Golden Monkey
Enchanting and enlightening, this golden, frothy ale boasts an intriguing herbal aroma, warming alcohol esters on the tongue and light, but firm body to finish. Exotic spices add subtle notes to both the aroma and flavor. Strong, sensual and satisfying.
Victory Kick Back Variety Pack
5 styles. 15 beers. Countless ways to Kick Back! Our Kick Back Can Pack is now featuring 5 of your favorite Victory beers for the ultimate refreshment.

* Golden Monkey
* Sour Monkey
* Easy Ringer
* Cloud Walker
* No Brainer
Victory Merry Monkey
This Belgian-style holiday ale combines the beloved flavor profile of golden monkey with notes of cranberry, orange peel, cinnamon and nutmeg to deliver a delightfully smooth finish, perfect for merry gatherings with family and friends.
Victory Tart Monkey
Imported Belgian yeast and a swirling journey through the brewing process meet a fruity little twist of guava in this refreshing and tangy Session Sour Ale.
Victory Victory Winter Cheers
A wheat ale, combining German wheat and barley malts, oats, torrified wheat and whole flower Tettnang and Citra hops, this fruity and warming holiday brew delivers a refreshing finish, with spicy hints of banana, clove and citrus.