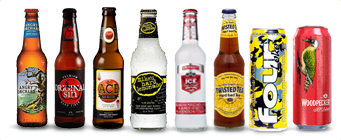 Ace Pineapple Cider
First pineapple cider developed in the world
5% ABV
Instant sweet taste with tart finish
Mixes well
Refreshing
Inspired by the House Family's annual visit to the beautiful Hawaiian Islands our Pineapple cider is an ideal drink for tropical hot and humid climates. Our signature drink the Hawaii 5-0 is a mix of Ace Pineapple cider, coconut rum, ice and a garnish of fresh pineapple. This original cider is perfect for a backyard BBQ, or Bacon dishes.
Ace Space Bloody Orange Cider
Our Facebook fans were polled and overwhelming chose this most recently launched Bloody Orange Flavor. This unfiltered addition of ACE is to honor the owner, Jeffrey House's wife who played Brea Tonnika in the cantina scene in the original Star Wars. Her picture is featured on the bottleneck. This limited edition cider comes in a clear bottle so you can see the vivid orange hue. ACE Space Bloody Orange is out of this world!
Angry Orchard Crisp Apple
This crisp and refreshing cider mixes the sweetness of the apples with a subtle dryness for a balanced cider taste. The fresh apple aroma and slightly sweet, ripe apple flavor make this cider hard to resist.

Hard Cider
Angry Orchard Rosé
The red flesh apples in Angry Orchard Rosé are from France. Each apple is crisp, juicy and red to the core, adding an irresistible rosy blush and apple-forward taste with a refreshing, dry finish. Angry Orchard Rosé can be enjoyed outside with friends or at the dinner table.
Angry Orchard Variety Pack
Angry Orchard Hard Cider Variety Pack:

3 bottles each of Crisp Apple, Apple Ginger, Traditional Dry and an exclusive seasonal cider
Gives the cider drinker wide variety
Naturally gluten free
Available year round in 2 seasonal offerings

Hard Cider


12 oz.
Bottle
12
$19.99
NEW
12 oz.
Bottle
24
$37.99
NEW
Bud Light Lime Straw-Ber-Rita
The beer based margarita is now introduced with strawberry flavoring. Beer drinkers were already mixing Bud Light Lime into margaritas to create 'beer ritas'; Lime-a-Rita just adds a new level of convenience by providing a beverage with the perfect balance of flavors.
Bud Light Mango O-Rita
Mang-O-Rita combines great margarita taste, with a refreshing twist of Bud Light Lime. Just pop, pour over ice, and enjoy!
Bud Light Water Melon-Rita
New Bud Light Lime Water-Melon-Rita combines the great taste of a watermelon margarita with a refreshing twist of Bud Light Lime and is a perfect complement to your summer. With Lime-A-Rita, there's no need to spend time mixing and blending to prepare a watermelon flavored margarita. Just pop open, pour over ice and enjoy!
Downeast Cider Original Blend
The Original Blend is made from freshly pressed Maine apples (thank you Ricker Hill Orchards, www.rickerhill.com) because we believe in making the best product we possibly can. We also like to support local agriculture. We use Red Delicious, Yellow Delicious, McIntosh, Cortland, and Gala apples in our cider.
Downeast Cider Summer Blend
hey, it gets hot around here. maybe not as oppressive as some other places, but hot enough to make us crave something a little lighter, a little crisper, and a little quaffable. that's where SB comes in – an unfiltered apple cider with the tart and tang of lemon and ginger.
Ironbound Hard Cider
Ironbound Hard Cider has a bold, fresh flavor because, unlike the big cider brands, it is made exclusively from fresh-pressed apples. And not just any apples. Ironbound is made from 100% American apples from Mid-Atlantic and New England orchards —the birthplace of many of America's most beloved apple varieties.
Ironbound Summer Hard Cider
Inspired by summers down the shore, Jersey Cider Works has announced the release of Ironbound Summer Cider, a blend of the cidery's popular Ironbound Hard Cider with iced tea and fresh-squeezed lemons.
Jersey Cider Works Ironbound Hard Cider
Fresh-pressed apples. Not from concentrate. Our fresh-pressed apples are from New Jersey and other nearby states – not China, where many "ciders" get their concentrate. This not only gives Ironbound Hard Cider its bold, fresh taste, but it also supports our local network of family farms. Back in the day, New Jersey was famous for its cider. Even George Washington knew it as the "champagne of ciders."
Magners Hard Apple Cider
A crisp, dry cider fermented in oak casks in Ireland.

Hard Apple Cider
11.2 oz.
Bottle
24
$40.99
Magners Hard Pear Cider
You'll only find 100% premium quality pears in Magners Pear, which we filter to get rid of any impurities before fermenting slowly.

That's what makes Magners Pear so fresh, fruity and full of flavor. So next time you're out and wanting a bit of a change, pour a Magners Pear, sit back and enjoy.
11.2 oz.
Bottle
24
$38.99
Mike's Hard Black Cherry Lemonade
We combined the refreshing taste of our classic lemonade with just the right amount of all-natural black cherry flavor for a refreshingly unique drink that's good 'til the last drop.
Mike's Hard Blackberry Pear Lemonade
Mike's Hard Blackberry Pear Lemonade is refreshing with its ripe pear-berry bouquet, subtle blackberry tang and Bosc pear juicy complexity. It's the perfect addition to any holiday celebration!
Mike's Hard Cranberry + Passion Fruit Lemonade
On one hand you've got sweet, on the other hand you've got tart. Right in the middle is mike's® Hard Cranberry + Passion Fruit Lemonade . From the cranberry fields to the lemon orchards, the perfect combination is together at last. Mike's Hard Cranberry Passionfruit Lemonade has a fragrant, fruity aroma and a sweet and tangy flavor.
Mike's Hard Lemonade
Our tried and true hard lemonade is a Canadian original. Made with all natural flavors and real vodka, mike's® Hard Lemonade has a smooth taste and a refreshing taste you'll love.
Mike's Hard Limeade
When life doesn't give you lemons, there's always Mike's® Hard Lime. We combined the refreshing taste of our classic lemonade with a generous helping of all-natural lime to keep your taste buds happy, lime after lime.
Mike's Hard Variety Pack
6 Mike's Hard Black Cherry Lemonade
6 Mike's Hard Lemonade
6 Mike's Hard Limeade
6 Mike's Hard Cranberry Lemonade
Mike's Hard Watermelon Lemonade
This "one in a melon" lemonade is gluten-removed and actually tastes like a true watermelon...with less seeds.
Mike's Peach Lemonade
A spring seasonal flavor that delivers the taste of right-off-the-tree fresh peaches, blended with the tartness of Mike's signature hard lemonade.
Rekorderlig – Strawberry & Lime Premium Cider
A super premium Swedish Cider and is made using the finest fermented pears with an added summery burst of strawberry & lime to make a truly wondrous cider that is deliciously refreshing and bursting with summery freshness!
Rekorderlig – Wild Berries Premium Cider
Made from the purest spring water that runs under our family brewery in Vimmerby Sweden, Rekorderlig Wild Berries Cider is a semi-sweet Cider that uses only the finest berries to produce a truly delicious Cider.
Rekorderlig Premium Pear Cider
With flavors of the Swedish garden. Made of fruit wine and pure spring water.
Smirnoff Ice Green Apple
Crisp, juicy green apple flavor. Not too sweet, and not too tart.
SMIRNOFF ICE®
SMIRNOFF ICE™ Original. The Original Premium Flavored Malt Beverage that started it all - with a delightfully crisp, citrus taste.

SMIRNOFF ICE® Mango
Smirnoff Ice brings you a new popular flavor - Mango. Add some fiesta to your next party with this fresh and tangy new flavor.
SMIRNOFF ICE® Margarita
Citrusy and tart with sweetness and complexing earthy/salty tequila notes
SMIRNOFF ICE® Raspberry
SMIRNOFF ICE™ Raspberry
Juicy red raspberry flavor complemented by a dry, crisp finish.

SMIRNOFF ICE® Screwdriver
A line of malt beverages inspired by classic freshly made mixed drinks. One of the latest and tastiest additions, this ready-to-drink malt beverage boasts a classic Screwdriver taste perfectly blended to appease your citrus cravings. Chill and enjoy straight from the bottle or in a glass over ice.
Smirnoff ICE™ Party Pack
Smirnoff ICE™ Party Pack:
Variety Pack featuring four delicious flavors: Smirnoff Ice Original, Smirnoff Ice Screwdriver, Smirnoff Ice Green Apple & Smirnoff Ice Peach Bellini.

Spiked Seltzer
SpikedSeltzer is made exclusively from purified water and natural ingredients. The fresh fruit flavors infused in SpikedSeltzer are derived from cold-pressed citrus essence from a variety of fruits. Fermentation of this citrus essence and sugar naturally produces 6% alcohol. The result is clean and clear without the sugary sweetness of wine or the heaviness of beer.

SpikedSeltzer contains 6% alcohol but it's the natural fruit flavors that shine through, thanks to the unique brewing process developed by brewmaster, Nick Shields.

Whether it's straight from the can, poured over ice, or used in a mixed drink, SpikedSeltzer always remains perfectly refreshing

Flavors: Cape Cod Cranberry, Indian River Valencia Grapefruit, West Indies Lime, Orange & Variety Pack
Stella Artois Cidre
A crisp and refreshing Belgian recipe hard cider.
Strongbow Cider Gold Apple Hard cider
Strongbow Gold Apple has a wonderful transparent gold color, a rich and complex aromatic array dominated by several varieties of apple and a refreshing texture with a true balance between first acidity, sharpness and sourness; and then sweetness and softness.
11.2 oz.
Bottle
24
$37.99
Twisted Tea Original
Our fans love Twisted Tea Original's true iced tea taste. They also love fast cars, loud music, liberty and justice, and really big BBQ grills. For a refreshing and smooth taste, we use select tea and natural lemon flavor. It's delicious. It's a little twisted.
White Claw Black Cherry Hard Seltzer
Subtle yet unmistakable meets dry yet refreshing hard seltzer. The result? Crisp clean spiked sparkling water with mineral sweetness and no aftertaste- just a light hint of deliciously dark cherry.

White Claw Hard Seltzer
The way we see it, the most refreshing innovation in the hard beverage aisle is honesty. And when it comes to artificial additives, less isn't just more—it's best. So we've decided to pioneer something true to nature. Something pure.

White Claw Hard Seltzer: all-natural sparkling seltzer water with 5% alcohol and a hint of honest-to-goodness fruit.

Crafted dry, hard and refreshingly drinkable, any flavor pairs perfectly with good times and even better company. Whether you're beach-bound, out blazing trails or simply chilling, you can count on one deliciously crisp sip after another.

No additives. No funny business. Just 110 calories of good clean fun with a kick.

Cheers to that.
White Claw Natural Lime Hard Seltzer
A crisp, clean spiked sparkling water wit notes of juicy lime for a taste that's timelessly refreshing. Minimal sweetness. No aftertaste. Just pure, dry hard seltzer with the slightest zest of lime.


White Claw Ruby Grapefruit Hard Seltzer
A dry yet refreshing seltzer meets tangy yet sweet grapefruit in a feat of delicious balance. Nothing bitter, nothing sweet. Simply crisp, clean spiked sparkling water kissed with true ruby grapefruit.