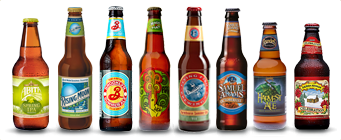 21st Amendment Hell or High Watermelon Wheat
Like Lady Liberty, we stand for independence and perseverance. In the pursuit of innovative beer, there is no obstacle too great. No journey too long. No fruit too gigantic. This American wheat beer is brewed with real watermelon, for a flavor that's surprisingly crisp, dry and refreshing—it's summer in a can! We start by brewing a classic American wheat beer, then add fresh melons for a straw-colored, delicious beer with a kiss of watermelon aroma and flavor.
Blue Moon Harvest Pumpkin Wheat
Brewed with real pumpkin and the right amount of harvest spices including cinnamon, nutmeg, cloves, and allspice.
Blue Moon Mango Wheat
Our head brewmaster, Keith Villa, got the idea for this refreshing, summer beer from spending time on the beaches in Puerto Vallarta, Mazatlan and Cancun and wanting a beer that was refreshing with a taste of ripe mangos. The fruit vendors would bring freshly cut mangos and put them on a stick to enjoy in the sunshine. This beer is created with mango and a hint of honey for a mild sweetness with a bright yellow-orange color and cloudy wheat haze.

Awards: Silver Medal, Fruit Wheat Beer 2016 Great American Beer Festival®

Brooklyn Oktoberfest
Brooklyn Oktoberfest was introduced in 2000. It is true to the original German style, full-bodied and malty, with a bready aroma and light, brisk hop bitterness. When Crown Prince Ludwig of Bavaria wanted to celebrate his wedding engagement in 1810, he did what any good Bavarian prince would--he threw a beer festival. Bothe the festival and the special beer served there became known as Oktoberfest. Brewed from the finest German malt and hops, Brooklyn Oktoberfest is true to the original style, fullbodied and malty, with a bready aroma and light, brisk hop bitterness.
Brooklyn Post Road Pumpkin Ale
Post Road Pumpkin Ale is a revival of a beer brewed by the early American colonists. Pumpkins were plentiful, flavorful and nutritious and they blended nicely with barley malt. Hundreds of pumpkins are blended into each batch of Post Road Pumpkin Ale, creating a beer with an orange amber color, warm pumpkin aroma, biscuity malt center and crisp finish. Post Road Pumpkin Ale is spiced with cinnamon and nutmeg.
Departed Soles Keys To the Caribbean
Summer existed? Must have missed that!

Since the summer is our brew team's busy time, we didn't get much time to enjoy the beach and tropical libations, so we decided to bring the beach to us, in #CraftBeer and #CraftCan form!

Inspired by the favorite dessert of our Entrepre-Brewer's temporary home in South Florida, Keys to the Caribbean says "buh-bye" to hopped up hazies, and presents a tart, yet sweet, fruit beer just in time for the tail end of summer, hopefully ushering in an Indian Summer!

Brewed with a split of wheat and barley, with just a touch of maris otter for a "crust" like maltiness, Keys to the Caribbean received minimal hops in the kettle and was fermented with a Kviek yeast for a fast fermentation and warm, tropical esters.

It was fermented on top of Key Lime from the very beginning, then received a 2nd dosage after cold crash. Once the fruit and yeast settled out, we hit the beer with marshmallow fluff and honey graham crackers (no teddy's were harmed in the making of this beer).

The end result comes at you from every direction, with honey, cracker, cinnamon, and sweetness on the nose, a light creamy body, and subtle key lime tartness that lingers on the pallet.

A truly unique brew for everyone that refuses to let summer go, and those that never got to experience it!
DESCHUTES SLIGHTLY EXAGGERATED IPA
A collaboration with Travel Oregon that captures the magic of Oregon like a whimsical fairy tale in a bottle. Explore a realm of unreal splendor, where tropical hops bloom amidst evergreen rainforests and light flavors of coconut come tumbling down clear alpine streams, descending into the dreamy depths of citrus zest.
Dogfish Head Dragons And Yumyums
An explosion of fruit in every sip, Dragons & YumYums is an intensely tropical - yet subtlety bitter - pale ale brewed with a combination of dragonfruit, yumberry, passionfruit, pear juice and black carrot juice. Clocking in at 6.5% ABV and 25 IBU, Dragons & YumYums is a first-of-its-kind beer and vinyl collaboration with American rock icons, The Flaming Lips. A sensory enveloping experience at the intersection of creative beer paired with creative music, the energy of this union inspired Flaming Lips front man Wayne Coyne to use ingredients from the beer - dragonfruit and yumberries - as characters in two original songs, The Story of Yum Yum and Dragon and Pouring Beer in Your Ear … making this the first beer with its own theme song! With dragonfruit and yumberry as the main elements, Wayne transformed them into storyful lyrics in the song like, "Yum Yum and Dragon went out for a drive, but Yum Yum doesn't have any eyes….Yum Yum and Dragon, they're happy they're friends…" The psychedelic influence of the label artwork, designed by Marq Spusta as part of Dogfish Head's Off-Centered Art Series, was influenced by the legacy of the Flaming Lips and the culinary components in Dragons & YumYums shown through radiating lines, movement of fire, dancing lips, rainbows and bold pink colors.
Dogfish Head Flesh & Blood
An honest to goodness IPA brewed with a bounty of real citrus including lemon flesh, blood orange juice plus orange and lemon peel. A combination of Warrior, Centennial, and a rare experimental hop to perfectly complement the citrus ingredients and flavor. Flesh & Blood balances the resinous hoppy characteristics of an American IPA with the explosive, zesty fruitiness and subtle dry tartness of citrus to deliver a highly quaffable ale that's incredibly unique and lovely to down the whole year round.
Dogfish Head Fruit-Full Fort
A twist on our beloved Fort, Fruit-Full Fort is brewed with four types of berries … raspberries, blackberries, boysenberries and elderberries. This blend of dark berries creates a depth and complexity reminiscent of a jammy red wine. We punched up the malt bill with Munich malt in this new version of Fort to provide a firm backbone and help balance the tart flavor of the brew's berry blend. Clocking in at 15%-18% ABV, Fruit-Full Fort is dark maroon red in color with aromas of velvety cherry and berry sweetness, and flavors of raspberry and blackberry.

Limited release
Dogfish Head Immort Ale
Vast in character, luscious & complex. Brewed with peat-smoked barley, this strong ale is brewed with organic juniper berries, vanilla & maple syrup. It's aged on oak and fermented with a blend of English & Belgian yeasts.


Dogfish Head Punkin Ale
Every beer has a story, here's Punkin Ale...

A full-bodied brown ale with smooth hints of pumpkin and brown sugar. We brew our Punkin Ale with pumpkin meat, brown sugar and spices. As the season cools, this is the perfect beer to warm up with.

Punkin Ale is named after the seriously off-centered southern Delaware extravaganza Punkin Chunkin (check out some of these Discovery Channel videos of Punkin Chunkin, you gotta see it to believe it!). In fact, Punkin Ale made its debut as it claimed first prize in the 1994 Punkin Chunkin Recipe Contest. Yes, that was a full 6 months before we even opened our doors for business!

Dogfish Head Raison D'Extra
Raison D'Etre Voted 'American Beer Of The Year' in January 2000 by Malt Advocate Magazine. A deep mahogany ale brewed with beet sugar, green raisins, and Belgian yeast. As complex as a fine red wine. 36 IBU - available year round, 12 ounce bottles & draft - Descriptors: Notes of pit fruit, decadent, winey, raisiney, malty
Flying Dog The Fear Imperial Pumpkin Ale
Why is there only one time of year – as goblins, ghouls, and ghosts frolic on front lawns – when we embrace THE FEAR? At all other times, THE FEAR dominates us, controls us, and prevents us from greatness. What is there to THE FEAR? Disagreement? Criticism? Humiliation? Whatever THE FEAR is that consumes you, embrace it, along with this Imperial Pumpkin Ale. Only then will the true artist in you rise up.
Founders KBS (Kentucky Breakfast Stout)
What we've got here is an imperial stout brewed with a massive amount of coffee and chocolates, then cave-aged in oak bourbon barrels for an entire year to make sure wonderful bourbon undertones come through in the finish. Makes your taste buds squeal with delight.
A bit of backwoods pleasure without the banjo. This strong stout is brewed with a hint of coffee and vanilla then aged in oak bourbon barrels. Our process ensures that strong bourbon undertones come through in the finish in every batch we brew. We recommend decanting at room temperature and best enjoyed in a brandy snifter.
Founders KBS Bourbon Barrel-Aged Chocolate Coffee Stout
What we've got here is an imperial stout brewed with a massive amount of coffee and chocolates, then cave-aged in oak bourbon barrels for an entire year to make sure wonderful bourbon undertones come through in the finish. Makes your taste buds squeal with delight.

Limited quantities!
Founders Mas Agave
We love cocktails. Like, really love them. If you ask us, few are more refreshing than the tart and tangy margarita and our latest barrel-aged beer pays tribute to that perennial classic. We took an imperial gose brewed with agave, lime and sea salt and then aged it in tequila barrels. Consider it a party in a bottle. ¡Más Agave! 10% ABV.

The label art was largely inspired by Day of the Dead imagery, specifically the elaborate altars built to honor deceased loved ones. Marigolds play heavily in the altars as it is said that the scent attracts the spirits. Upon the altar, spirits will find their favorite things including liquor, pan de muerto (a sweet, egg cake), family photos and other offerings. The monarch butterfly is representative of the travel ancestors make to reach their loved ones during the holiday.
Harpoon UFO Raspberry (R.A.Z) Hefeweizen
Natural raspberry flavors are added to our UFO Hefeweizen to create this beer. Consistent with the Hefeweizen style, this beer is unfiltered and cloudy with a solid foamy head. UFO R.A.Z. has a distinctive, hazy rose color. The scent of fresh raspberries hits the nose immediately, along with a subtle bready aroma from the wheat and yeast. The body is light and the unfiltered yeast provides a soft mouthfeel. The taste of the fruit compliments the beer nicely, neither overwhelms the other. There is a faint sweetness on the palate, which finishes cleanly in a semi-dry, tart finish.
Hofbräu München Oktoberfestbier
The Munich Beer Festival, or Oktoberfest, is an event of superlatives - it's the largest popular festival in the world, staging in the beer metropolis of Munich. Millions of visitors from all over the world flock along every year to enjoy its very special atmosphere.
For this occasion, Hofbräu brews a rich, full-bodied beer which goes down ideally with traditional Bavarian cuisine. With its deliciously bitter taste and alcoholic content of 6.3% volume, Hofbräu Oktoberfestbier is as special as the Beer Festival itself.
11.2 oz.
Bottle
24
$32.99
Lagunitas Hazy Memory
We're going a bit blurry on this nebulous release... Hazy Memory is a cloudy IPA full of oats and smooth wheatly-esque-ish-ness, packed with some of the murkiest, juiciest, turbid Loral 291, Hallertau Blanc, Galaxy, and Citra Hops. It's a huge flavor you won't forget!
Lagunitas Little Sumpin'Hazy
We're going au naturel for the summer with the classic wheatley-esque-ish-ness brew you know and love. With a special dry-hopping of Cashere, Citra & Mosaic on a bed of Centennial and Chinook. Juicy, catty, and leaves you with a hop scratch that you can't help but tickle with another taste. Does that clear things up?
Leinenkugels Grapefruit Shandy
A traditional shandy is beer mixed with a little something extra, like lemonade, soda or ginger ale. Leinenkugel's® Grapefruit Shandy is our take on this tradition. Each batch begins with our traditional weiss beer. We then combine it with natural white grapefruit flavor that adds a note of fresh-cut citrus, because here refreshment is our greatest natural resource.
Leinenkugels Summer Shandy
Our own unique take on Franz Kugler's original Munich tavern tradition. Leinenkugel's® Summer Shandy® is our traditional weiss beer with refreshing natural lemonade flavor that makes it the perfect summer beer.

In 2012, Summer Shandy won a Silver medal at the Great American Beer Festival® in the Fruit Wheat Beer category.

New Belgium Voodoo Ranger Atomic Pumpkin
Pumpkin Ale featuring cinnamon and habanero chili peppers for just the right amount of heat.
Samuel Adams Fall Variety Pack
Winter Classics has a new mix! This year's variety includes two bottles each of six styles:
Sam Adams Kosmic Sour
Boston Lager
Sam '76
Octoberfest

Perfect beers for sharing.
Samuel Adams Octoberfest
The first thing you notice when pouring a glass of this seasonal beer is the color. Samuel Adams® Octoberfest has a rich, deep golden amber hue which itself is reflective of the season. Samuel Adams® Octoberfest is a malt lover's dream, masterfully blending together four roasts of barley to create a delicious harmony of sweet flavors including caramel and toffee. The beer is kept from being overly sweet by the elegant bitterness imparted by the German Noble hops. Samuel Adams® Octoberfest provides a wonderful transition from the lighter beers of summer to the winter's heartier brews.
Schlafly Pumpkin Ale
A full-bodied, deep reddish amber beer made with pumpkin and butternut squash and spiced with nutmeg, clove and cinnamon. Celebrate the bounty of harvest with this rich, malty ale and invoke the season of plenty.
Shiner Oktoberfest
Here in Shiner, TX (pop. 2,070), we're suckers for tradition. Which is why this classic Oktoberfest brew is made with the highest quality two-row barley, Munich and caramel malts, along with German grown Hallertau Tradition and Hersbrucker hops. It's our way of honoring our ancestors and the beer they loved to celebrate with. So raise your stein to tradition and enjoy this utterly classic brew.
Shiner Ruby Redbird
Shiner Ruby Redbird is brewed with genuine Texas Rio Red Grapefruit, the signature sweet citrus of the Rio Grande Valley, and ginger. This lager beer features grapefruit tartness and finishes with a 'lil kick of ginger. With Texas Ruby Red Grapefruit and Ginger, Shiner Ruby Redbird is a crisp and refreshing summer beer.
Shiner Wicked Juicy IPA
Tropical hops with a Bright, juicy kick a drinkable 5.7% ABV ale with a moderate 60 IBU rating and a distinctly citrus fruit kick achieved thanks to generous dry hopping (hops added after the boil) and with a unique mouthfeel thanks to its unfiltered contents. Poured into a glass, this is a handsome brew with an alluring aroma and a flavor to match.
Shiner Wicked Juicy Pineapple & Coconut IPA
This is Wicked Juicy Pineapple & Coconut IPA and it will be a "laid-back" IPA brewed with pineapple & coconut and dry-hopped with Idaho 7 hops.
Shipyard Pumpkinhead
Pumpkinhead is a crisp, refreshing wheat ale with delightful aromatics and subtle spice flavor.

To celebrate the fall season, we enhance the pumpkin flavor with a proprietary blend of spices including cinnamon and nutmeg.
Sixpoint Citrus Jammer Gose
Squeeze it. Salt that rim.

We're talking about that Sixpoint Salty Tango with a twist—the tangy waves of JAMMER with
Sixpoint Hi-Res
Let's talk optics. The study of light, and the eyeball… aka the prism that sends images blasting through your dome like a movie projector. As technology advances, resolution increases, so we can see the bigger picture AND the finer details. We're increasing the view -- in BOTH directions… Magnify the hop factor, amplify perception. Study the hop cone up close… this shiz is Hi-Resolution. We went microscopic; we got a grander view. Crack a HI-RES and widen your scope, both directions
Sixpoint Hootie
It's a hazy, bright pale ale hopped with Amarillo, Citra, and Centennial. That blend of strains creates a potent, but light and fresh, hop aroma. Satisfying, and really easy to gulp.

"That's a hoot!" Bright and citrusy, short, quick finish. Slammer.
Sixpoint Sparkler
Sparkler is a brand new style—a Brut, or extra dry, IPA featuring Citra and Mosaic. It's got a beautiful, pungent candy-like and tropical aroma with a light body, mild haze, and low bitterness on the snappy, effervescent finish. You get this extra crisp, bone dry, almost-tart texture in our Brut IPA, and the beer delivers tons of juicy hop character but is more refreshing and repeatable than your average IPA.
Southern Tier Imperial Pumking
Pumking is an ode to Púca, a creature of Celtic folklore, who is both feared and respected by those who believe in it. Púca is said to waylay travelers throughout the night, tossing them on its back, and providing them the ride of their lives, from which they return forever changed. Brewed in the spirit of All Hallows Eve, a time of the year when spirits can make contact with the physical world and when magic is most potent. Pour Pumking into a goblet and allow it's alluring spirit to overflow. As spicy aromas present themselves, let it's deep copper color entrance you as your journey into this mystical brew has just begun. As the first drops touch your tongue a magical spell will bewitch your taste buds making it difficult to escape the Pumking.
Southern Tier Warlock Imperial Stout
Imperial stout brewed with pumpkins
Warlock is brewed to enchant your palate on its own and also to counterpoint our Imperial Ale, Pumking. Make your own black magic by carefully pouring this Imperial Stout into a goblet.
Dark and mysterious, the Blackwater Series is serious about high gravity. Reanimate your senses with Warlock's huge roasted malt character, moderate carbonation and spicy pumpkin pie aroma.

Spaten Oktoberfest Ur-Märzen
Amber in color. This medium bodied beer has achieved its impeccable taste by balancing the roasted malt flavor with the perfect amount of hops. Having a rich textured palate with an underlying sweetness true to tradition.
11.2 oz.
Bottle
24
$37.99
Weihenstephaner Festbier
A full rich bodied, hoppy, seasonal lager. Especially brewed for the Festbier season. This beer truly represents the Bavarian way of celebrating. Deep gold color, great mouthfeel and lots of flavor. Prost!
11.2 oz.
Bottle
24
$38.99