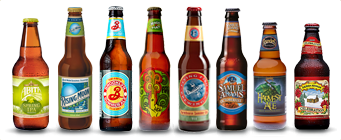 Ballast Point Sculpin IPA – Pineapple
Our Pineapple Sculpin IPA came from one of many small-batch cask experiments to enhance the flavor of our signature IPA. With so many tropical hop notes in Sculpin, how could we not try adding some sweet, juicy pineapple? The combination of fruity flavors and hop intensity definitely packs a punch.
Bell's Oberon Ale An American Wheat Ale
Oberon is a wheat ale fermented with our signature house ale yeast, mixing a spicy hop character with mildly fruity aromas. The addition of wheat malt lends a smooth mouthfeel, making it a classic summer beer. Made with only 4 ingredients, and without the use of any spices or fruit, Oberon is the color and scent of sunny afternoon.
Blue Moon Harvest Pumpkin Wheat
In 1995, we crafted our first autumn seasonal—Pumpkin Ale. At the time, Oktoberfest beers were in high demand. For our version, we wanted to create a beer that was a little different than what was already out there and complemented the season by highlighting the flavors we've all grown to love during this time. It was so popular that it became the first nationally available pumpkin ale. Harvest Pumpkin Wheat, as it's called now, is crafted with pumpkin and spices of cinnamon, nutmeg, cloves, and allspice for a taste you'll want to fall right into.
Blue Moon Mango Wheat
Our head brewmaster, Keith Villa, got the idea for this refreshing, summer beer from spending time on the beaches in Puerto Vallarta, Mazatlan and Cancun and wanting a beer that was refreshing with a taste of ripe mangos. The fruit vendors would bring freshly cut mangos and put them on a stick to enjoy in the sunshine. This beer is created with mango and a hint of honey for a mild sweetness with a bright yellow-orange color and cloudy wheat haze.

Awards: Silver Medal, Fruit Wheat Beer 2016 Great American Beer Festival®

Brooklyn Oktoberfest
Brooklyn Oktoberfest was introduced in 2000. It is true to the original German style, full-bodied and malty, with a bready aroma and light, brisk hop bitterness. When Crown Prince Ludwig of Bavaria wanted to celebrate his wedding engagement in 1810, he did what any good Bavarian prince would--he threw a beer festival. Bothe the festival and the special beer served there became known as Oktoberfest. Brewed from the finest German malt and hops, Brooklyn Oktoberfest is true to the original style, fullbodied and malty, with a bready aroma and light, brisk hop bitterness.
Budweiser Reserve Copper Lager
This is a flavorful American Copper Lager brewed with two-row barley malt and aged on real Jim Beam bourbon barrel staves for a toasted oak aroma, a deliciously nutty taste with caramel rye and vanilla notes, and a smooth finish.
Cigar City Cubano-Style Espresso Brown Ale
This English-style Brown Ale is brewed with a heaping of Cuban-style espresso beans from Tampa's Buddy Brew Coffee. Lactose and cacao are added as well, creating a bold ale that brings to mind a fine cup of Cuban coffee.
Brewed with a proprietary blend of coffee beans produced with Buddy Brew Coffee in Tampa, Florida.

Cigar City Guayabera Citra Pale Ale
Traditional throughout Latin America, the guayabera shirt combines style, functionality, form and tradition in it's four-pocketed design. We at Cigar City feel the same reverence and appreciation for the guayabera that we do for the Citra hop varietal, an ingredient that imparts notes of tangerine, lime and berries to this traditional American Pale Ale. The exclusive use of Citra hops in this beer creates a flavor that's at once unique and recognizable, while it's dry, crisp character and moderate alcohol make it as refreshing and functional as a crisp linen guayabera.
Cigar City Oktoberfest


In Florida the changing of seasons is decidedly more subtle than in most other places. Palm fronds rarely turn brilliant red and orange the way leaves do in the rest of the country, and for Floridians sweaters exist only as rumor. We at Cigar City rely heavily on our seasonal beers to mark the passing of each month and few beers are better at heralding the arrival of autumn than our Oktoberfest Lager.

Our Festbier nods firmly toward the style's history with it's amber color, bready malt complexity and restrained hop flavor and bitterness. At the heart of this beer is a malt bill of six different German malt varieties, including a generous helping of Munich malt. After adding Hallertauer Mittlefruh hops we ferment the beer with an authentic Bavarian lager yeast, resulting in a clean, dry and complex lager that's at once intriguing and drinkable.

As the temperature drops to the frosty mid-80's and the snowbirds return to their cool-weather roosts, we can't think of a better beer than Cigar City Oktoberfest to compliment the onset of autumn. Pour yourself a liter stein and let out a hearty prost!

Cigar City White Oak Jai Alai®
A truly unique India Pale Ale, this iteration of our Jai Alai IPA boasts the addition of white oak spirals to impart sleek notes of vanilla, coconut and a touch of dill to Jai Alai's bold citrus and caramel character. The oak also serves to temper the bitterness in the 70 IBU base beer while oak tannins elegantly dry the beer's body to create a unique drinking experience that still remains true to Jai Alai's unique qualities.
Dogfish Head Flesh & Blood
An honest to goodness IPA brewed with a bounty of real citrus including lemon flesh, blood orange juice plus orange and lemon peel. A combination of Warrior, Centennial, and a rare experimental hop to perfectly complement the citrus ingredients and flavor. Flesh & Blood balances the resinous hoppy characteristics of an American IPA with the explosive, zesty fruitiness and subtle dry tartness of citrus to deliver a highly quaffable ale that's incredibly unique and lovely to down the whole year round.
Dogfish Head Fruit-Full Fort
A twist on our beloved Fort, Fruit-Full Fort is brewed with four types of berries … raspberries, blackberries, boysenberries and elderberries. This blend of dark berries creates a depth and complexity reminiscent of a jammy red wine. We punched up the malt bill with Munich malt in this new version of Fort to provide a firm backbone and help balance the tart flavor of the brew's berry blend. Clocking in at 15%-18% ABV, Fruit-Full Fort is dark maroon red in color with aromas of velvety cherry and berry sweetness, and flavors of raspberry and blackberry.

Limited release
Dogfish Head Immort Ale
Vast in character, luscious & complex. Brewed with peat-smoked barley, this strong ale is brewed with organic juniper berries, vanilla & maple syrup. It's aged on oak and fermented with a blend of English & Belgian yeasts.


Dogfish Head Mixed Media
The closest an ale can legally be to wine! With 51% of the fermentable sugars coming from grain and 49% coming from grapes, Mixed Media is a complex saison-esque ale brewed with a distinct Belgian yeast strain. Using a late-harvest Viognier grape must from our friends at Alexandria Nicole Cellars in Washington, you'll find notes of white grape and melon in the aroma, and greeted with a spicy white wine body in every sip.

If you were (or still are) a fan of our Noble Rot or Oak-aged Noble Rot, you'll be delighted with the addition of Mixed Media to our lineup of beer-wine hybrids.

"We've been experimenting with grape juice and must in the brewing process with beers like Midas Touch, Red & White, Noble Rot and Sixty One, since we first opened 23 years ago as the smallest American craft brewery," says Dogfish Head founder & CEO Sam Calagione. "By blending the two seemingly opposite worlds of beer and wine together we've discovered that they collide quite nicely, and the combination of the two adds an additional thread of flavor and a layer of complexity to the mix."
Dogfish Head Punkin Ale
Punkin' Ale is a full-bodied, spiced brown ale brewed with baked pumpkins, cinnamon, nutmeg, and brown sugar. Dogfish Head Punkin' Ale is named after the annual Punkin' Chunkin Festival held near Lewes, Delaware the weekend after Halloween.
Dogfish Head Romantic Chemistry
Dogfish Head has been brewing off-centered ales for off-centered people since 1995, with inspiration from every facet of life - the spice cabinet, music, even art.

What you have here is a serious India Pale Ale shacking up and hunkering down with mango and apricots. At the same time! Romantic Chemistry is brewed with an intermingling of mangos, apricots and ginger, and then dry-hopped with three varieties of hops to deliver a tropical fruit aroma and a hop-forward finish.

It's fruity, it's hoppy, it's tasty!
Flying Dog Dogtoberfest
Dogtoberfest is a unique beer containing five premium malts. This lager draws its influence from the Vienna Marzen or Oktoberfest style. It is rich and malty with a sweet aroma and deep mahogany color.
Flying Dog The Fear Imperial Pumpkin Ale
Why is there only one time of year – as goblins, ghouls, and ghosts frolic on front lawns – when we embrace THE FEAR? At all other times, THE FEAR dominates us, controls us, and prevents us from greatness. What is there to THE FEAR? Disagreement? Criticism? Humiliation? Whatever THE FEAR is that consumes you, embrace it, along with this Imperial Pumpkin Ale. Only then will the true artist in you rise up.
Founders Breakfast Stout
The coffee lover's consummate beer. Brewed with an abundance of flaked oats, bitter and imported chocolates and two types of coffee, this stout has an intense fresh-roasted java nose topped with a frothy, cinnamon-colored head that goes forever.
Founders KBS Bourbon Barrel-Aged Chocolate Coffee Stout
What we've got here is an imperial stout brewed with a massive amount of coffee and chocolates, then cave-aged in oak bourbon barrels for an entire year to make sure wonderful bourbon undertones come through in the finish. Makes your taste buds squeal with delight.

Limited quantities!
Harpoon Flannel Friday
There's nothing that says "Fall is here! Fall is here!" louder than that first day at the brewery when everyone shows up in flannel.

This Hoppy Amber Ale is our tribute to the quintessential season of change. A bright hop aroma from late hop additions plays with its strong malt backbone. Amber hued, medium bodied, with hints of citrus and pine, this ale is made for the crisp days (and nights) of fall.

Harpoon UFO Pumpkin
Imagine a pumpkin vine wound its way in a field of barley, and a brewer harvested it all to make a beer. Add Northwestern hops and a blend of spices, and you've got UFO Pumpkin. The malt combination provides a smooth body and slightly sweet flavor, which balances perfectly with the earthy notes derived from the pure pumpkin. And like all of our UFO beers, UFO Pumpkin is unfiltered so all the wonderful flavors are right there in your glass. Cheers!
Harpoon UFO Raspberry (R.A.Z) Hefeweizen
Natural raspberry flavors are added to our UFO Hefeweizen to create this beer. Consistent with the Hefeweizen style, this beer is unfiltered and cloudy with a solid foamy head. UFO R.A.Z. has a distinctive, hazy rose color. The scent of fresh raspberries hits the nose immediately, along with a subtle bready aroma from the wheat and yeast. The body is light and the unfiltered yeast provides a soft mouthfeel. The taste of the fruit compliments the beer nicely, neither overwhelms the other. There is a faint sweetness on the palate, which finishes cleanly in a semi-dry, tart finish.
Hofbräu München Oktoberfestbier
The Munich Beer Festival, or Oktoberfest, is an event of superlatives - it's the largest popular festival in the world, staging in the beer metropolis of Munich. Millions of visitors from all over the world flock along every year to enjoy its very special atmosphere. For this occasion, Hofbräu brews a rich, full-bodied beer which goes down ideally with traditional Bavarian cuisine. With its deliciously bitter taste and alcoholic content of 6.3% volume, Hofbräu Oktoberfestbier is as special as the Beer Festival itself.
Lagunitas A Little Sumpin' Extra! Ale
Light in color, but huge in flavor and satisfaction.

The big sister of the Little Sumpin' Sumpin' Ale. Lots of wheat for a curious malt complexity and leaving it light in color, but huge in flavor and satisfaction
Net contents: Ounces and ounces of Malt, Hops, Yeast and water.
Lagunitas Born Yesterday Pale Ale
Born Yesterday is a newborn version of our re-born Pale, a Newer New Dogtown Pale with a fresh addition … We added some wet, lupulin-drenched, un-kilned, whole-cone, fresh-picked-and-rushed-straight-from-Yakima hops for your immaculate reception. This Un-Freakin-Filtered, wetter-than-wet beer has 11lbs-per-barrel of Simcoe, Citra, Mosaic and Indigenous Catawampus. Whoa.
Lagunitas Brown Shugga'
Dangerously Slammable

Originally a failed attempt at our 1997 batch of Olde GnarlyWine Ale resulting in an all-new-beer-style we like to call... Irresponsible. We believe this Special Ale is something unique. Feeding brown cane sugar to otherwise cultured brewery yeast is a'kin to feeding raw shark to your gerbil. It is unlikely to ever occur in nature without human intervention. And it looks weird besides. But it has happened and now it's too late.
Lagunitas Passion Grass Session Ale
We had a Joint Session with our friends at Short's Brewing in Bellaire, Mich. to create this smooth and drinkable 4.6% ABV West by Midwest Ale. With some passion fruit juice added for that pleasant summery-ness and rounded off with a special zing of lemongrass, it's best imbibed with your 'buds … it's good to have friends.
Lagunitas Super Cluster
A citra-hopped mega ale of intergalactic proportions
You are here. On a speck of dust, three tiny rocks from the source. At the edge of something much larger, in the middle of something else, at the beginning of the end. It's a lot to wrap your head around, so take it one gulp at a time. Life is uncertain...Super Cluster is a Citra-Hopped Mega Ale of intergalactic proportions. Everything we've learned about making hop-forward beer: Pale, cold, alcoholic, and bitter.
Leinenkugel Summer Shandy
Our own unique take on Franz Kugler's original Munich tavern tradition. Leinenkugel's® Summer Shandy® is our traditional weiss beer with refreshing natural lemonade flavor that makes it the perfect summer beer.
Leinenkugel Summer Variety Pack
A variety pack containing 3 bottles each:
Cherry Blonde Lager
Canoe Paddler
Summer Shandy
Orange Shandy
New Belgium Fat Tire Belgian White
25 years ago we started brewing Fat Tire Belgian Style Ale. It became an iconic beer, and a symbol synonymous with craft. Now, for the first time, we're adding a new beer to the Fat Tire family: Fat Tire Belgian White. Taking inspiration from our decades of experience brewing Belgian beers, Fat Tire Belgian White is made with Seville oranges and Indian coriander, both freshly ground less than a mile from our Fort Collins brewery. It's a fresh, perfectly sweet, natural tasting Belgian White.
Oskar Blues Death By Coconut
Originally a collaboration with Shamrock Brewing Co. Intense pure liquid cacao flavors swirl with popping coconut aromas, all supported by a semi-sweet porter made from loads of our dark chocolate and extra dark caramel malt. This limited release specialty comes around once a year to satisfy that sweet tooth, so get 'em while you can before they disappear. At 6.5% ABV and 25 IBUs, this choconut goodness will have you yellin' "Pass. Dash. Hit." all winter long.
Oskar Blues Fugli
Yuzu and Ugli fruit infusions twisted together with the blueberry, tangerine notes of Mosaic make for a tangy, juicy, zesty array of aroma and flavor. Salivation will instantly ensue with one sniff of this crushable brew (5.8% ABV, 60 IBUs) that was inspired by a Yuzu brew we made with some brewing friends in Japan.
Samuel Adams Octoberfest
The first thing you notice when pouring a glass of this seasonal beer is the color. Samuel Adams® Octoberfest has a rich, deep golden amber hue which itself is reflective of the season. Samuel Adams® Octoberfest is a malt lover's dream, masterfully blending together four roasts of barley to create a delicious harmony of sweet flavors including caramel and toffee. The beer is kept from being overly sweet by the elegant bitterness imparted by the German Noble hops. Samuel Adams® Octoberfest provides a wonderful transition from the lighter beers of summer to the winter's heartier brews.
Shipyard Pumpkinhead Ale
Shipyard Pumpkinhead Ale is a crisp and refreshing wheat ale with delightful aromatics and subtle spiced flavor.
Sixpoint Hi-Res
Let's talk optics. The study of light, and the eyeball… aka the prism that sends images blasting through your dome like a movie projector. As technology advances, resolution increases, so we can see the bigger picture AND the finer details. We're increasing the view -- in BOTH directions… Magnify the hop factor, amplify perception. Study the hop cone up close… this shiz is Hi-Resolution. We went microscopic; we got a grander view. Crack a HI-RES and widen your scope, both directions
Sixpoint Higher Volume Variety 12-Pack
Yeah, that's the good stuff. We're keeping our core beers fresh with this bangin' 12-pack. It's one of our favorite in-house designs to date and features 4 of our greatest hits, The Crisp, Resin, Bengali, and Sweet Action. Great for slinging over your shoulder on your way to a barbecue or rooftop jammer.
Sixpoint Puff Cloudy IPA
If you love Resin, try tasting it straight from the tanks.

That's PUFF — a hazy, unfiltered pour straight from the tanks, with an extra dose of dry hops before it hits the can and keg. How sweet to be a cloud — floating in a tank of Resin! It's Mad Science.

Sixpoint Righteous Ale Barrel Aged Rye

We're not saying you should worship what's inside the barrel…

but there's a certain righteousness about a beer made with three types of rye malts and then smoothed out in a blend of rye whiskey and bourbon barrels. The journey spans months, but the results are undeniable—a RIGHTEOUS ale indeed.
The Story
Lab Notes
After years of tinkering with small batch, we went all in on this barrel fleet. Hundreds of Woodforde Reserve Rye barrels from and Widow Jane Bourbon barrels house the precious liquid that makes up Sixpoint's second ever network wide barrel-aged release.
Southern Tier Blackwater Series: Warlock
mperial stout brewed with pumpkins Warlock is brewed to enchant your palate on its own and also to counterpoint our Imperial Ale, Pumking. Make your own black magic by carefully pouring this Imperial Stout into a goblet. Dark and mysterious, the Blackwater Series is serious about high gravity. Reanimate your senses with Warlock's huge roasted malt character, moderate carbonation and spicy pumpkin pie aroma.
Southern Tier Imperial Pumking
Pumking is an ode to Púca, a creature of Celtic folklore, who is both feared and respected by those who believe in it. Púca is said to waylay travelers throughout the night, tossing them on its back, and providing them the ride of their lives, from which they return forever changed. Brewed in the spirit of All Hallows Eve, a time of the year when spirits can make contact with the physical world and when magic is most potent. Pour Pumking into a goblet and allow it's alluring spirit to overflow. As spicy aromas present themselves, let it's deep copper color entrance you as your journey into this mystical brew has just begun. As the first drops touch your tongue a magical spell will bewitch your taste buds making it difficult to escape the Pumking.

Tröegs The Mad Elf Holiday Ale
The holidays at Tröegs start with our inner Mad Elf momentarily taking over the brew deck. So blame "him" for this cheerful ruby red creation reminiscent of ripened cherries, raw honey and cocoa with notes of cinnamon, clove and allspice. The combination of Cherries, Honey, and Chocolate Malts delivers gentle fruits and subtle spices. Fermented and aged with a unique yeast , this ruby red beer has significant warming strength that underlies the character of this Ale.
Victory Summer Love Golden Ale
Enjoy the easy days of summer with this refreshing and aromatic golden ale. Enticing earthy and citrusy hop aromas give way to flavors of lemon and pine.
Brewed locally at the Victory Brewery in Chester County, the Summer of Love Ale is a golden ale made with pale malts, German hops and Brandywine River water. This specific style of beer was chosen because it has a broad appeal and will be accessible for casual beer drinkers, but will still retain exciting hop notes.