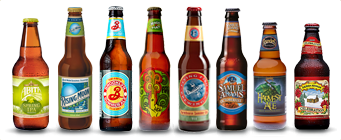 21st Amendment Fireside Chat
Like FDR's Depression-Era Radio Addresses, which were like a kick in the butt and a hug at the same time, our Fireside Chat is a subtle twist on the traditional seasonal brew. We begin with a rich, dark, English-style ale and then we improvise with spices until we know we have a beer worth sharing with the nation. Celebrating the right to be original.
Abita Peach Lager
Fresh Louisiana peaches are handpicked for this smooth lager. Pale malt gives the beer a sweet, crisp taste, with abundant amounts of ripe, juicy peaches added in the brewhouse to capture the flavors and aromas of real, fresh fruit. All our Harvest Series brews are made with the finest Louisiana-grown ingredients.
Anchor Christmas Ale 2016
The 2016 Christmas Ale is a deep mahogany brown with a creamy, tan head and boasts aromas of fruitcake, molasses, and fresh cut wood. The beer tastes of a roasted caramel malt, with notes of spiced chocolate and nuts. And it has a rich, smooth, and velvety mouthfeel. Every year the Anchor brewers look forward to formulating a new Christmas Ale recipe and tasting the fruits of their labors. We are always excited to please beer fans with its ever-changing recipe and label. Cheers from the Anchor brewers!
Ballast Point Barmy Apricot Ale
Made with only six ingredients. Malted 2-row barley, palisade hops, orange blossom honey, White Labs California Ale Yeast, apricots and San Diego carbon filtered tap water. Low bitterness is balanced by tart apricots with a sweet but not cloying finish. Barmy Ale can be aged up to eight years with a strong honey wine character emerging if cellared. Be careful not to be the barmiest of them all.
Ballast Point Sculpin IPA – Pineapple
Our Pineapple Sculpin IPA came from one of many small-batch cask experiments to enhance the flavor of our signature IPA. With so many tropical hop notes in Sculpin, how could we not try adding some sweet, juicy pineapple? The combination of fruity flavors and hop intensity definitely packs a punch.
Ballast Point Victory at Sea
Two of the world's oldest beverages join forces to conquer your palate. Victory at Sea embodies the art of masterful brewing by infusing a velvety Imperial Porter with pure vanilla flavor and specially-selected, hand roasted coffee. The addition of cold brewed coffee to the beer lends a subtle roasted flavor to this robust imperial porter, blending perfectly with rich vanilla and caramel undertones. By uniting two San Diego brewing traditions, Caffe Calabria freshly brewed coffee and Ballast Point beer, we have successfully created an artisanal masterpiece.
Blue Moon Cinnamon Horchata
Ale with a subtly sweet, yet spiced taste.
Blue Moon White IPA
Blue Moon White IPA is crafted with four varieties of hops, wheat, coriander, and a hint of orange peel for a balanced taste with bright hop aromas.
Brooklyn Bel Air Sour
Lead by our James Beard Award-winning Brewmaster, Garrett Oliver, our brewers put their collective minds together to conjure up one tasty magic trick—a thrilling jolt of tartness up front opens onto a riot of tropical fruit, courtesy of our lacto, our ale yeast, and a generous helping of Amarillo dry-hopping. Soft barley and wheat malts keep things dry and refreshing, and the whole thing comes together to close with a fine dry finish. Brooklyn Bel Air Sour is racy and maybe even a little bit dangerous, but also effortlessly cool, breezy, and undeniably compelling.
Brooklyn Black Chocolate Stout
A luscious deep dark chocolate flavor through a blend of specialty roasted malts. Brewed every year for the winter season. It is delicious when newly bottled, but also ages beautifully for years.
Brooklyn Black Ops
Barrel-aged in Woodford Reserve bottles. Brooklyn Black Ops does not exist. However, if it did exist, it would be a robust stout concocted by the Brooklyn brewing team under cover of secrecy and hidden from everyone else at the brewery. Supposedly, "Black Ops" was aged for four months in bourbon barrels, bottled flat, and re-fermented with Champagne yeast, creating big chocolate and coffee flavors with a rich underpinning of vanilla-like oak notes. They say it's vanishingly rare. We have no idea what they're talking about.
24 oz.
Bottle
1
$21.99
NEW
Dogfish Head Flesh & Blood
An honest to goodness IPA brewed with a bounty of real citrus including lemon flesh, blood orange juice plus orange and lemon peel. A combination of Warrior, Centennial, and a rare experimental hop to perfectly complement the citrus ingredients and flavor. Flesh & Blood balances the resinous hoppy characteristics of an American IPA with the explosive, zesty fruitiness and subtle dry tartness of citrus to deliver a highly quaffable ale that's incredibly unique and lovely to down the whole year round.
Dogfish Head Immort Ale
Vast in character, luscious & complex. Brewed with peat-smoked barley, this strong ale is brewed with organic juniper berries, vanilla & maple syrup. It's aged on oak and fermented with a blend of English & Belgian yeasts.


Flying Dog Imperial IPA – Azacca Single Hop
Azacca is a new hop variety that's making waves with huge aromas and flavors of pineapple, papaya, mango and citrus. Take your cheese and charcuterie plates to the next level with this guy in your glass.
Flying Dog Pearl Necklace Oyster Stout
It all began with a couple of guys drinking beer.

That can surely be said for a lot of things. But it's only fitting that after a few pints, Pearl Necklace Oyster Stout, Flying Dog Brewery's latest limited-edition brew, was born.

A dry stout brewed with local oysters, Pearl Necklace was the brainchild of Flying Dog, Rappahannock River Oysters, and Baltimore's Woodberry Kitchen.

"Both Rappahannock and Woodberry were great partners in educating us on the oyster issues facing the Chesapeake Bay," our Brewmaster Matt Brophy told us. "When we became fully aware of how crucial oysters are to the Bay's fragile ecosystem, we knew we needed to do more than just brew a beer."

Proceeds from Pearl Necklace will benefit the Oyster Recovery Partnership, which coordinates and conducts large-scale oyster restoration efforts in the Chesapeake Bay. Both Woodberry Kitchen and Rappahannock River Oysters work closely with the Partnership on shell recycling programs and more.s.
Flying Dog Tropical Bitch Belgian-Style IPA
2016 marks the 25th anniversary of Flying Dog, and to celebrate, we are launching our newest addition to the family, Tropical Bitch. A spin on the Belgian-Style IPA you already know and love, Tropical Bitch was brewed with pineapple, mango and passion fruit.
Flying Fish Grand Cru Winter Reserve
This Belgian-style strong golden ale showcases a variety of the ingredients and brewing methods that help differentiate Flying Fish beers. The Grand Cru is fermented at a higher temperature than our other beers adding an undercurrent of fruitiness and clove (although there is no fruit or spice in the beer). Very lightly filtered, the Grand Cru exhibits complex mouthfeel, strong malt flavors, a spicy hop presence and a soothing alcohol warmth, followed by a clean, dry finish. It is excellent with food as well as served by itself.

Always in stock. While supplies last!
Founders Breakfast Stout
You've got to love coffee to truly appreciate this phenomenal brew. Brewed with an abundance of flaked oats, bitter and sweetened imported chocolates, Sumatra and Kona coffee. We're actually not sure if this is some type of coffee cake or a beer. Either way you can drink this ale with a fork. Breakfast Stout has an intense fresh roasted coffee nose toped with a cinnamon colored frothy head that seems to never fade and makes you wish breakfast could last forever.

Limited quantities!


Founders Breakfast Stout
The coffee lover's consummate beer. Brewed with an abundance of flaked oats, bitter and imported chocolates and two types of coffee, this stout has an intense fresh-roasted java nose topped with a frothy, cinnamon-colored head that goes forever.

Always in stock.
Founders Curmudgeon Old Ale
This Old Ale conjures up thoughts of classic sea fairing ports, there local pubs and the weathered fisherman that frequent them. In traditional style Curmudgeon is brewed with an intense focus on the malt bill creating a very strong, rich, malty characteristic and a sweetness indicative of its cousin the barleywine. We are especially proud of the balance in this beer making it deceptively smooth and drinkable at 9.8% alcohol by volume.
Founders Devil Dancer Triple IPA
Founders most complex, most innovative, most feared and yet most revered ale produced. Massive in complexity the huge malt character balances the insane amount of alpha's used to create this monster. More IBU's than any brewery has documented, more than you would believe and dry-hopped for twenty-six days straight with a combination of 10 hop varieties. Dangerously drinkable and deliciously evil. We dare you to dance with the Devil. 112 IBUs
Goose Island Bourbon County Brand Stout
Brewed in honor of the 1000th batch at our original Clybourn brewpub. A liquid as dark and dense as a black hole with thick foam the color of a bourbon barrel. The nose is an intense mix of charred oak, chocolate, vanilla, caramel and smoke. One sip has more flavor than your average case of beer.
Harpoon Fresh Tracks
Hop forward without being bitter, this single hop Pale Ale showcases the piney, citrusy character of Centennial hops. Bright and golden, light and drinkable, the subtle malt flavor lets the hops shine.
Harpoon UFO Twist
This hefeweizen is hazy and golden in color and gives you the perfect Twist for your beer repertoire; blood orange brings the citrusy zest, and bergamot brings the zip.
Hofbräu München Oktoberfestbier
The Munich Beer Festival, or Oktoberfest, is an event of superlatives - it's the largest popular festival in the world, staging in the beer metropolis of Munich. Millions of visitors from all over the world flock along every year to enjoy its very special atmosphere. For this occasion, Hofbräu brews a rich, full-bodied beer which goes down ideally with traditional Bavarian cuisine. With its deliciously bitter taste and alcoholic content of 6.3% volume, Hofbräu Oktoberfestbier is as special as the Beer Festival itself.

Always in stock.
Lagunitas 12th of Never
A Unique Dry-Hopped Sweet Tart Sour Mash Ale

Tropically Hoppy. Light, yet Full-Bodied. Bright and Citrusy. Word. The magical, mystical 12th of Never is a blend of Old and New School hops that play bright citrus, rich coconut, and papaya-esque flavors, all on a solid stage of English puffed wheat. Tropically hoppy. Light, yet full-bodied. Bright and citrusy. The 12th of Never Ale is everything we've learned about making hop-forward beer expressed in a moderate voice. Pale, cold, slightly alcoholic and bitter. It's all we know.

Leinenkugels Harvest Patch Shandy
Satisfy your thirst for autumn with our Leinenkugel's® Harvest Patch® Shandy. It's our traditional weiss beer with natural pumpkin spice flavor to give you notes of nutmeg, allspice and clove for a refreshing fall seasonal. It's crisp and smooth, just like a perfect fall day on the Leinie Side.

Leinenkugels Shandy Sampler
An assortment of Leinenkugels autumn shandys.
Includes:
Ginger Shandy
Grapefruit Shandy
Harvest Patch Shandy
Autumn Tea Shandy
Long Trail Green Blaze IPA
Blaze a hoppy trail. Guide yourself through the lupulin landscape of pine, resin and tropical fruit hop notes in this trail-worthy American IPA.
The newest year-round offering in our family of ales, Green Blaze IPA features big pine, tropical fruit and resin hop notes with a light, biscuit malt backbone.
Magic Hat Winter Mingle
"Cold weather parties call for beer
Winter Mingle is finally here.
A touch of vanilla oh so sweet
And notes of chocolate and coffee.

Ho, ho, ho! Vanilla Stout.
Oh, oh, oh! Wicked good throughout.
Cold weather parties, sip, sip, sip
Winter Mingle on drinkers' lips."
New Belgium Folly Variety Pack
Our beer variety pack -- we call it the Folly Pack -- puts a mix of your favorite New Belgium beers in one box (what could be better than that?). The current 12-pack bottle Folly Pack includes:

Ben & Jerry's Chocolate Chip Cookie Dough
Fat Tire Amber Ale
Citradelic Tangerine Ale IPA
2' Below Ale
Ommegang Game of Thrones Seven Kingdoms Hoppy Wheat Ale
Seven Kingdoms is a marriage of a traditional Belgian-style wheat and a hop-forward American ale – but unlike so many of the marriages on the show, the resulting hoppy wheat is pleasant, playful and inspired. At 6.9% ABV, it possesses a nuanced complexity that pairs nicely with the hop-forward characteristics that make it surprisingly refreshing.
Oskar Blues Ten FIDY
This titanic, immensely viscous stout is loaded with inimitable flavors of chocolate-covered caramel and coffee and hide a hefty 98 IBUs underneath the smooth blanket of malt. Ten FIDY (10.5% ABV) is made with enormous amounts of two-row malt, chocolate malt, roasted barley, flaked oats and hops. Ten FIDY is the ultimate celebration of dark malts and boundary-stretching beer.
Paulaner Original Münchner Märzen
The name Paulaner stands for a Munich brewing tradition crafted over centuries, and acclaimed far beyond the borders of Bavaria throughout the entire world.
Doing business in a sustainable manner combined with courage and innovation, that is "the heaven of the Bavarians," a Paulaner tradition since 1634.
Is an amber beer style that was developed over 200 years ago to celebrate the original Oktoberfest. The Märzen name comes from "March beer" because it was historically brewed in March to be at peak flavor for the Oktoberfest celebration.

Country of Origin: Germany
Samuel Adams Hopscape
Four types of West Coast hops add bold notes of pine and juicy grapefruit to this deep golden wheat ale, for a crisp flavor that's a refreshing escape from winter's lingering chill.
Samuel Adams Winter Variety Pack
As Fall turns to Winter, and the temperature begins to drop, we look forward to our Winter Variety Pack. This Winter marks the return of Old Fezziwig Ale and Chocolate Bock, two old favorites, as well as two new, soon-to-be classic beers: Hopflake White IPA, and Ginger Beer.
Schlafly Kaldis Coffee Stout
Our Coffee Stout is a classic combination of a traditional stout and premium French roast coffee from St. Louis roaster, Kaldi's Coffee. Roasted barley and coffee dominate the aroma, with the sweetness from the stout balancing the acidity of the coffee. We use a unique cold toddy extraction process to brew a less acidic coffee for the beer.
Shiner 108 Cold-Brew Coffee Ale
For our 108th birthday, we've brewed up something special. Our first coffee ale, crafted in collaboration with Austin's own Chameleon Cold-Brew, made with dark-roasted specialty malt and Chameleon's beloved cold-brewed coffee, it's sure to wake up your tastebuds. But it won't be here forever, so pour yourself a fresh cup while you can.

Wake up and smell the beer!
Sierra Nevada Beer Camp® Golden IPA
Citrus-heavy hops in a dry, yet assertive IPA
At Beer Camp, no beer style is off limits, so we jumped at the idea of doing a Golden IPA using wheat malt for a light, dry body and bold American and experimental hops for intense citrus flavor. The perfect spring seasonal, we invite you to enjoy this year's Beer Camp encore.
Sierra Nevada Fall Variety Pack
Sierra Nevada Brewing Co. is premiering two brand new beers in its second seasonal variety 12-pack of the year. The Fall Pack seasonal sampler, heading to distributors this week, reimagines classic styles and highlights timeless favorites for a range of beer flavors from rich roasted malts to bright citrusy hops. The Fall Pack works its way through a spectrum of styles—just the thing for a season notorious for unexpected warm days and chilly nights.

Available through October 2014, the Fall Pack seasonal sampler includes:

Oktoberfest is the classic German-style festival beer: an easy-drinking yet compelling blend of silky toffee-like malt flavors balanced by crisp and floral hops. Oktoberfest beers were created for a celebration and this beer invites you to raise your glass and shout, "Prost!"
Vienna Lager is one of the world's most balanced beer styles. Nuanced flavors drift from semi-sweet, bready malt notes to a floral and peppery kick from whole-cone European hops. Vienna-style lagers pair with nearly every type of food and are a perfect match for an autumn afternoon.
Tumbler® is Sierra Nevada's beloved brown ale, back by popular demand – full of roasted malt flavor but delicate on the palate and just the thing for crisp fall days. Tumbler is layered with notes of chocolate and toasted bread and a hint of smoke.
Pale Ale began as a home brewer's dream, grew into an icon, and inspired countless brewers to follow a passion of their own. Its unique piney and grapefruit aromas from the use of whole-cone American hops have fascinated beer drinkers for decades and made this beer a classic, yet it remains new, complex and surprising to beer drinkers every day. It is—as it always has been—all natural, bottle conditioned and refreshingly bold.
Sierra Nevada Sidecar® Orange Pale Ale
A pale ale with a twist.
We love hops with a bright, citrus-heavy character. We always wondered what it would be like to punch up the citrus while maintaining a crisp hop bite and balance. The result is this new take on the hoppy pale ale brewed with Cascade, Equinox, and Mandarina hops with a hint of orange peel from additions in both the brew kettle and the fermenter that tweak the classic hop profile and add a zesty pop of bright orange flavor.
Sierra Nevada Tropical Torpedo®
Inspired by the island life, we created an IPA completely disconnected from the mainland. We used our one-of-a-kind Hop Torpedo to deliver an intense rush of hop flavor and the lush aromas of mango, papaya, and passionfruit with every sip. Enjoy our tropical twist on the American IPA.
Sixpoint 4Beans
...Constant renewal is a force of nature, so as creative cycles begin again, the Mad Scientists' formulations reach toward full flower. Complex flavors of barley, cacao and coffee, now overlaid with Madagascar vanilla, turn trinity to quadrality. The people have spoken. 4BEANS is in bloom. It's Mad Science.
Sixpoint Hi-Res
Hi-Res. Zoom on, zoom in, hop out. This beer goes up to eleven. Where the telescope ends, the microscope begins. Which of the two has the grander view?
Sixpoint Higher Volume Variety 12-Pack
Yeah, that's the good stuff. We're keeping our core beers fresh with this bangin' 12-pack. It's one of our favorite in-house designs to date and features 4 of our greatest hits, The Crisp, Resin, Bengali, and Sweet Action. Great for slinging over your shoulder on your way to a barbecue or rooftop jammer.
Spaten Oktoberfest Ur-Märzen
Amber in color. This medium bodied beer has achieved its impeccable taste by balancing the roasted malt flavor with the perfect amount of hops. Having a rich textured palate with an underlying sweetness true to tradition.

Country of Origin: Germany
Sweetwater Hash Brown IPA
Oh me oh my… what did we do?

We fired up the skillet to 420°, tossed in a sizzling concoction of 2-row, Wheat, Pale Chocolate, Cara-Brown and Midnight Wheat, then added in a hefty dose of hop hash and other dank-ish-ish-ish fixin's to scatter, smother and cover this baby all the way.

Resiny, citrusy hops spice up the rich chocolate and caramel notes the malt brought to the mix, making this platter slide down the counter at 60 IBU's.
Tröegs Nugget Nectar Ale
Squeeze those hops for all they're worth and prepare to pucker up: Tröegs' newest single batch brew, Nugget Nectar Ale, will take hopheads to nirvana with a heady collection of Nugget, Warrior and Tomahawk hops. Starting with the same base ingredients of our flagship HopBack Amber Ale, Nugget Nectar intensifies the malt and hop flavors to create an explosive hop experience.

While the brewery considers this an "Imperial Amber Ale" RateBeer considers it an IPA due to the hopping rate. There is no need to send any other corrections on the style.
Two Roads Beer Bus Variety Pack
An assortment of Two Roads finest brews
Ol' Factory Pils
Lil' Heaven
Honeyspot Road IPA
Route of all Evil
Two Roads Espressway Cold Brew Coffee Stout
In a process unique to Two Roads, we mixed a locally-roasted Ethiopian/Sumatran blend of beans with a rich oatmeal stout under pressure (like espresso without the steam) using our German-built "Brewnik" device. The mixture is steeped for several days resulting in a true, cold-brewed coffee stout. Hop on the Two Roads Espressway!
Two Roads Honeyspot Road IPA
The Two Roads interpretation of this emerging beer style naturally takes a road less traveled. Unlike other versions, ours employs an American ale yeast and no spices. The result is a soft wheat backdrop that accentuates the Pacific Northwest hop character.

Two Roads Route of All Evil
A hefty Black Ale with profound malt and hop complexity. Neither Stout nor Porter, it will be its own thing – full-bodied, bold and black. Flavor characteristics of dark chocolate, mocha, molasses and dark fruits. Balanced by piney citrusy notes of Pacific Northwest hops. Full-bodied and uncommonly satisfying at 7.5% alcohol.
Weihenstephaner Festbier
A full rich bodied, hoppy, seasonal lager. Especially brewed for the Festbier season. This beer truly represents the Bavarian way of celebrating. Deep gold color, great mouthfeel and lots of flavor. Prost!

Country of Origin: Germany
11.2 oz.
Bottle
24
$38.99
Whizbang Hoppy Blonde Ale
This easy-drinking beer sips light with vibrant notes of mango, lemon, blueberry and pine courtesy of Mosaic, UK Admiral and Centennial dry-hopping. Meanwhile, a soft malt base makes it refreshing enough to session but with a head rush of hops.