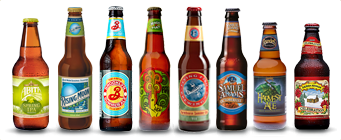 SIZE
TYPE
PACK
PRICE
21st Amendment Hell or High Watermelon Wheat


Like Lady Liberty, we stand for independence and perseverance. In the pursuit of innovative beer, there is no obstacle too great. No journey too long. No fruit too gigantic. This American wheat beer is brewed with real watermelon, for a flavor that's surprisingly crisp, dry and refreshing—summer in a can.

Hell or High Watermelon Wheat is our summer seasonal beer available from April through September in six pack cans and on draft. We start by brewing a classic American wheat beer, which undergoes a traditional secondary fermentation using fresh watermelon. A straw-colored, refreshing beer with a kiss of watermelon aroma and flavor.

12 oz.
Can
6
$10.99
12 oz.
Can
24
$39.99
Abita Blueberry Wheat
This crisp wheat beer has the aroma and fl avor of fresh Louisiana blueberries. It's brewed with pilsner and wheat malts and hopped with German Perle hops, then the juice from local blueberries is added to complement the toasty malt flavor. All our Harvest Series brews are made with the finest Louisiana-grown ingredients.

12 oz.
Can
6
$9.99
12 oz.
Can
24
$36.99
Abita Strawberry Lager
Abita Strawberry Harvest is a lager brewed with pilsner and wheat malts and Vanguard hops. Real Louisiana strawberry juice is added after filtration resulting in a crisp lager with a sweet strawberry flavor, aroma and haze. It is wonderful with desserts or lighter fare such as salads and pastas. Fresh cheeses such as Burrata, chèvre, Crescenza, mozzarella or Teleme pair well with Strawberry Harvest.
12 oz.
Bottle
6
$9.99
12 oz.
Bottle
24
$36.99
Abita To-Gose
In New Orleans, to-go cups mean the fun (and the beer) doesn't always have to stay inside the bar. To-Gose is Abita's refreshing take on a traditional Gose beer – a slightly salty and sour beer style. Brewed with malted wheat and barley and German Perle Hops, fresh key limes are added during aging to create this sour ale with hints of lime, coriander and sea salt.
12 oz.
Bottle
6
$9.99
12 oz.
Bottle
24
$36.99
Ballast Point Sculpin IPA – Pineapple
Our Pineapple Sculpin IPA came from one of many small-batch cask experiments to enhance the flavor of our signature IPA. With so many tropical hop notes in Sculpin, how could we not try adding some sweet, juicy pineapple? The combination of fruity flavors and hop intensity definitely packs a punch.
12 oz.
Can
6
$13.99
12 oz.
Can
24
$51.99
Blue Moon Summer Honey Wheat
A refreshing wheat ale crafted with clover honey for a hint of sweetness and a touch of orange peel for subtle citrus notes.
12 oz.
Bottle
6
$9.99
12 oz.
Bottle
24
$35.99
Brooklyn Summer Ale
Brooklyn Summer Ale is a modern rendition of the "Light Dinner Ales" brewed in England throughout the 1800's right up until the 1940's. They were also called "luncheon ales" or even "family ales", because they were refreshing and flavorful without being too heavy. We brew our Brooklyn Summer Ale from premium English barley malt, which gives this light-bodied golden beer a fresh bready flavor. German and American hops lend a light, crisp bitterness and a citrus/floral aroma resulting in a beer with a very sunny disposition. FOOD PAIRING Excellent with salads, seafood, quiches, and lightly spicy dishes. It's also great at a brunch. SPECS Style: English Style Light Dinner Ale Malts: Two Row British Malts Hops: German Perle and American Cascade, Fuggle, and Amarillo Alcohol: 4.5% by volume Original Gravity: 11 Plato

12 oz.
Bottle
6
$9.99
12 oz.
Bottle
24
$36.99
12 oz.
Can
12
$18.99
12 oz.
Can
24
$36.99
Dogfish Head Beer To Drink Music To '17
Music has been a part of Dogfish Head since before Dogfish Head. So it's a natural fit for a brewery that makes 'Analog

Music has been a part of Dogfish Head since before Dogfish Head. So it's a natural fit for a brewery that makes 'Analog Beer for the Digital Age' to be the Official Beer of Record Store Day, a celebration of the unique culture of record stores and the special role they play in their communities.

Of course, as the Official Beer of Record Store Day, we had to create a special brew for the occasion! Now for the second year, that's just what we've done with Beer To Drink Music To. In volume two of this celebratory ale, this Tropical Blonde is brewed with hibiscus flowers and kiwi juice. It's the perfect marriage of beer and music and best when paired with some of your favorite tunes.

Clocking in at 6.8% ABV, Beer To Drink Music To '17 is a pinkish-red brew with forward notes of tropical fruits with hints of berries and floral.

12 oz.
Bottle
6
$14.99
12 oz.
Bottle
24
$59.99
Dogfish Head Flesh & Blood
An honest to goodness IPA brewed with a bounty of real citrus including lemon flesh, blood orange juice plus orange and lemon peel. A combination of Warrior, Centennial, and a rare experimental hop to perfectly complement the citrus ingredients and flavor. Flesh & Blood balances the resinous hoppy characteristics of an American IPA with the explosive, zesty fruitiness and subtle dry tartness of citrus to deliver a highly quaffable ale that's incredibly unique and lovely to down the whole year round.
12 oz.
Can
6
$14.99
12 oz.
Can
24
$59.99
Dogfish Head Immort Ale
Vast in character, luscious & complex. Brewed with peat-smoked barley, this strong ale is brewed with organic juniper berries, vanilla & maple syrup. It's aged on oak and fermented with a blend of English & Belgian yeasts.


12 oz.
Bottle
4
$13.99
12 oz.
Bottle
24
$89.99
Dogfish Head Lupu-luaü IPA
What began as an exploration of all things hazy and pale, Lupuluaü morphed into a coconut-centric IPA. We combined Pils malt with flaked barley, rolled oats, and malted and raw wheat to bring the haze. Then we brought coconut to the party in 3 different ways with toasted organic coconut, dehydrated coconut water and an experimental hop variety that provides a unique coconut aroma.
12 oz.
Bottle
6
$14.99
12 oz.
Bottle
24
$59.99
Goose Island Bourbon County Brand Stout
Brewed in honor of the 1000th batch at our original Clybourn brewpub. A liquid as dark and dense as a black hole with thick foam the color of a bourbon barrel. The nose is an intense mix of charred oak, chocolate, vanilla, caramel and smoke. One sip has more flavor than your average case of beer.
16 oz.
Bottle
1
$10.99
Lagunitas 12th of Never
A Unique Dry-Hopped Sweet Tart Sour Mash Ale

Tropically Hoppy. Light, yet Full-Bodied. Bright and Citrusy. Word. The magical, mystical 12th of Never is a blend of Old and New School hops that play bright citrus, rich coconut, and papaya-esque flavors, all on a solid stage of English puffed wheat. Tropically hoppy. Light, yet full-bodied. Bright and citrusy. The 12th of Never Ale is everything we've learned about making hop-forward beer expressed in a moderate voice. Pale, cold, slightly alcoholic and bitter. It's all we know.

12 oz.
Can
12
$19.99
12 oz.
Can
24
$38.99
Lagunitas A Little Sumpin' Extra! Ale
Light in color, but huge in flavor and satisfaction.

The big sister of the Little Sumpin' Sumpin' Ale. Lots of wheat for a curious malt complexity and leaving it light in color, but huge in flavor and satisfaction
Net contents: Ounces and ounces of Malt, Hops, Yeast and water.
12 oz.
Bottle
6
$10.99
12 oz.
Bottle
24
$41.99
Leinenkugels Harvest Patch Shandy
Satisfy your thirst for autumn with our Leinenkugel's® Harvest Patch® Shandy. It's our traditional weiss beer with natural pumpkin spice flavor to give you notes of nutmeg, allspice and clove for a refreshing fall seasonal. It's crisp and smooth, just like a perfect fall day on the Leinie Side.

12 oz.
Bottle
12
$18.99
12 oz.
Bottle
24
$33.99
Leinenkugels Shandy Sampler
An assortment of Leinenkugels autumn shandys.
Includes:
Ginger Shandy
Grapefruit Shandy
Harvest Patch Shandy
Autumn Tea Shandy
12 oz.
Can
12
$18.99
12 oz.
Can
24
$33.99
Leinenkugels Watermelon Shandy
Leinenkugel's Watermelon Shandy is a refreshing addition to our Shandy style brewing tradition. It's our Weiss beer with a hint of watermelon flavor, perfect for relaxing outdoors.
12 oz.
Bottle
12
$18.99
12 oz.
Bottle
24
$33.99
Long Trail Green Blaze IPA
Blaze a hoppy trail. Guide yourself through the lupulin landscape of pine, resin and tropical fruit hop notes in this trail-worthy American IPA.
The newest year-round offering in our family of ales, Green Blaze IPA features big pine, tropical fruit and resin hop notes with a light, biscuit malt backbone.
12 oz.
Bottle
6
$9.99
12 oz.
Bottle
24
$34.99
New Belgium Folly Variety Pack
Our beer variety pack -- we call it the Folly Pack -- puts a mix of your favorite New Belgium beers in one box (what could be better than that?). The current 12-pack bottle Folly Pack includes:

Ben & Jerry's Chocolate Chip Cookie Dough
Fat Tire Amber Ale
Citradelic Tangerine Ale IPA
2' Below Ale
12 oz.
Bottle
12
$19.99
12 oz.
Bottle
24
$36.99
New Belgium Heavy Melon
A new headliner is coming to town, and it goes by the name HEAVY MELON. With a splash of fresh watermelon and a touch of lime, this beer will have you screaming for an encore.
12 oz.
Bottle
6
$9.99
12 oz.
Bottle
24
$36.99
Ommegang Game of Thrones Seven Kingdoms Hoppy Wheat Ale
Seven Kingdoms is a marriage of a traditional Belgian-style wheat and a hop-forward American ale – but unlike so many of the marriages on the show, the resulting hoppy wheat is pleasant, playful and inspired. At 6.9% ABV, it possesses a nuanced complexity that pairs nicely with the hop-forward characteristics that make it surprisingly refreshing.
24 oz.
Bottle
1
$10.99
Paulaner Original Münchner Märzen
The name Paulaner stands for a Munich brewing tradition crafted over centuries, and acclaimed far beyond the borders of Bavaria throughout the entire world.
Doing business in a sustainable manner combined with courage and innovation, that is "the heaven of the Bavarians," a Paulaner tradition since 1634.
Is an amber beer style that was developed over 200 years ago to celebrate the original Oktoberfest. The Märzen name comes from "March beer" because it was historically brewed in March to be at peak flavor for the Oktoberfest celebration.

Country of Origin: Germany
12 oz.
Bottle
6
$8.99
12 oz.
Bottle
24
$33.99
Samuel Adams Porch Rocker
Samuel Adams is currently in the process of brewing up a German style called "radler." The name radler translates to "cyclist," A 50/50 (ish) blend of beer and lemonade. (Like a shandy). Perfect for any summer day, Samuel Adams® Porch Rocker was inspired by traditional Bavarian Radlers that mix beer with German-style lemonade. For our bright and citrusy Radler, we blended a Helles beer with lemon for a fresh-squeezed lemon taste, effervescent sweetness, and slightly tart, refreshing finish. A light malt character and hint of hops balance out this summer brew.
12 oz.
Bottle
6
$9.99
12 oz.
Bottle
24
$36.99
Samuel Adams Summer Ale
Samuel Adams® Summer Ale is an American wheat ale. This summer seasonal uses malted wheat, lemon zest and Grains of Paradise, a rare pepper from Africa first used as a brewing spice in the 13th century, to create a crisp taste, spicy flavor and medium body. The ale fermentation imparts a background tropical fruit note reminiscent of mangos and peaches. All of these flavors come together to create a thirst quenching, clean finishing beer perfect for those warm summer days.
12 oz.
Bottle
12
$17.99
12 oz.
Bottle
24
$32.99
12 oz.
Can
12
$17.99
12 oz.
Can
24
$34.99
Shiner 108 Cold-Brew Coffee Ale
For our 108th birthday, we've brewed up something special. Our first coffee ale, crafted in collaboration with Austin's own Chameleon Cold-Brew, made with dark-roasted specialty malt and Chameleon's beloved cold-brewed coffee, it's sure to wake up your tastebuds. But it won't be here forever, so pour yourself a fresh cup while you can.

Wake up and smell the beer!
12 oz.
Bottle
6
$9.99
12 oz.
Bottle
24
$35.99
Shiner Homespun Cream Ale
Our Cream Ale is inspired by classic American recipes and homespun in Shiner, TX. It's brewed with an extra helping of specialty wheat malt to give it a velvety smooth, creamy mouthfeel. Pale gold in color, Homespun is a sessional go-to brew with a crisp, refreshing finish. so pop one open and join us in celebrating American brewing tradition… with a dash of southern hospitality from Shiner, Texas. Prosit, y'all!
12 oz.
Bottle
6
$9.99
12 oz.
Bottle
24
$35.99
Shock Top Lemon Shandy
Belgian-Style wheat beer brewed with spices and with natural lemonade flavor added.
12 oz.
Bottle
6
$8.99
12 oz.
Bottle
24
$27.99
Sixpoint C.R.E.A.M.
It doesn't take a pH.D: Drop the Acid, Drop the Base, Drop the Mic.... You started with cream in your coffee, now have coffee in your cream ale. Pour up a bright blonde coffee ale and end your day the way you started it. With a delicious craft brew. It's Mad Science.
12 oz.
Can
6
$12.99
12 oz.
Can
24
$48.99
Sixpoint Hi-Res
Hi-Res. Zoom on, zoom in, hop out. This beer goes up to eleven. Where the telescope ends, the microscope begins. Which of the two has the grander view?
12 oz.
Can
4
$11.99
12 oz.
Can
24
$69.99
Sixpoint Higher Volume Variety 12-Pack
Yeah, that's the good stuff. We're keeping our core beers fresh with this bangin' 12-pack. It's one of our favorite in-house designs to date and features 4 of our greatest hits, The Crisp, Resin, Bengali, and Sweet Action. Great for slinging over your shoulder on your way to a barbecue or rooftop jammer.
12 oz.
Can
12
$19.99
12 oz.
Can
24
$38.99
Sixpoint Jammer
...the Mad Scientists kept tweakin' that Jammer till it rocked so hard. Bygone brewers, repping the Sixpoint star, provided the concept and our friends at Jacobsen Salt hooked us up with the key ingredient. It's salty, it's sour, and it's slammin'. It's Mad Science.
12 oz.
Can
6
$9.99
12 oz.
Can
24
$38.99
Spaten Oktoberfest Ur-Märzen
Amber in color. This medium bodied beer has achieved its impeccable taste by balancing the roasted malt flavor with the perfect amount of hops. Having a rich textured palate with an underlying sweetness true to tradition.

Country of Origin: Germany
12 oz.
Bottle
6
$8.99
12 oz.
Bottle
24
$32.99
SweetWater Cool Breeze
A fresh and refreshing way to find that chill spot this summer. This cucumber flavored Belgian-style saison is light in body and laid back in spirit. Notes of fresh cucumber and lime flavors come through in this hazy golden summer crusher.
12 oz.
Bottle
6
$9.99
12 oz.
Bottle
24
$36.99
Sweetwater Goin' Coastal
Slide into Summer and step off the grid by Goin' Coastal with this pineapple laced IPA. The bright aromas of the five citrus hop additions are accentuated by the tropical fruit of the pineapple - and just like those three day weekends, its finish is quick.
12 oz.
Bottle
6
$9.99
12 oz.
Bottle
24
$36.99
Tröegs Nugget Nectar Ale
Squeeze those hops for all they're worth and prepare to pucker up: Tröegs' newest single batch brew, Nugget Nectar Ale, will take hopheads to nirvana with a heady collection of Nugget, Warrior and Tomahawk hops. Starting with the same base ingredients of our flagship HopBack Amber Ale, Nugget Nectar intensifies the malt and hop flavors to create an explosive hop experience.

While the brewery considers this an "Imperial Amber Ale" RateBeer considers it an IPA due to the hopping rate. There is no need to send any other corrections on the style.
12 oz.
Bottle
6
$12.99
12 oz.
Bottle
24
$49.99
Two Roads Honeyspot Road IPA
The Two Roads interpretation of this emerging beer style naturally takes a road less traveled. Unlike other versions, ours employs an American ale yeast and no spices. The result is a soft wheat backdrop that accentuates the Pacific Northwest hop character.

12 oz.
Bottle
6
$10.99
12 oz.
Bottle
24
$38.99
Victory Summer Love
Brewed locally at the Victory Brewery in Chester County, the Summer of Love Ale is a golden ale made with pale malts, German hops and Brandywine River water. This specific style of beer was chosen because it has a broad appeal and will be accessible for casual beer drinkers, but will still retain exciting hop notes.

The brew has a vibrant and refreshing pale color derived from its lean and refreshing malt body. And the initially floral aroma of hops segues into a well integrated, refreshing hop dryness of European heritage.
12 oz.
Bottle
6
$9.99
12 oz.
Bottle
24
$38.99