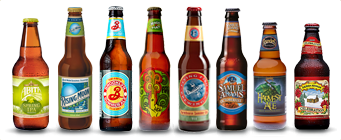 SIZE
TYPE
PACK
PRICE
Abita Blueberry Wheat
This crisp wheat beer has the aroma and fl avor of fresh Louisiana blueberries. It's brewed with pilsner and wheat malts and hopped with German Perle hops, then the juice from local blueberries is added to complement the toasty malt flavor. All our Harvest Series brews are made with the finest Louisiana-grown ingredients.

12 oz.
Can
6
$9.99
12 oz.
Can
24
$36.99
Abita Strawberry Lager
Abita Strawberry Harvest is a lager brewed with pilsner and wheat malts and Vanguard hops. Real Louisiana strawberry juice is added after filtration resulting in a crisp lager with a sweet strawberry flavor, aroma and haze. It is wonderful with desserts or lighter fare such as salads and pastas. Fresh cheeses such as Burrata, chèvre, Crescenza, mozzarella or Teleme pair well with Strawberry Harvest.
12 oz.
Bottle
6
$9.99
12 oz.
Bottle
24
$36.99
Abita To-Gose
In New Orleans, to-go cups mean the fun (and the beer) doesn't always have to stay inside the bar. To-Gose is Abita's refreshing take on a traditional Gose beer – a slightly salty and sour beer style. Brewed with malted wheat and barley and German Perle Hops, fresh key limes are added during aging to create this sour ale with hints of lime, coriander and sea salt.
12 oz.
Bottle
6
$9.99
12 oz.
Bottle
24
$36.99
Ballast Point Fathom India Pale Lager
Lager meets IPA in a winning combination.

Our Fathom India Pale Lager combines time-honored lagering techniques with the hop profiles of a West Coast IPA recipe. The cold-fermenting lager yeast provides a clean base that allows the citrus and pine aromas from the hops to really shine. The result is a gold medal beer with a refreshing, easy drinking character and just the right amount of depth.
12 oz.
Can
6
$9.99
12 oz.
Can
24
$39.99
Ballast Point Sculpin IPA – Pineapple
Our Pineapple Sculpin IPA came from one of many small-batch cask experiments to enhance the flavor of our signature IPA. With so many tropical hop notes in Sculpin, how could we not try adding some sweet, juicy pineapple? The combination of fruity flavors and hop intensity definitely packs a punch.
12 oz.
Can
6
$13.99
12 oz.
Can
24
$51.99
Ballast Point Sea Rose
American Wheat Ale with Cherries & Pomegranate.
12 oz.
Bottle
6
$9.99
12 oz.
Bottle
24
$39.99
Ballast Point Sour Wench – Blackberry
This pretty lady will make you pucker.
Our Sour Wench Blackberry Ale is a fruity Berliner Weisse-style beer bursting with Oregon blackberry flavor and aroma. The fruit addition adds a beautiful violet hue, and the taste has an approachable soft tartness from kettle souring. This artful gypsy will surely lure you into the world of sour beers.
12 oz.
Bottle
6
$14.99
12 oz.
Bottle
24
$51.99
Brooklyn Black Chocolate Stout
This is the famous Brooklyn Black Chocolate Stout. In the 18th century, Catherine the Great, Empress of Russia, ordered a stout to be sent to her from England. This beer was brewed strong and hoppy to survive the sea voyage, and it arrived in perfect condition. Soon "Russian Imperial Stout" became the toast of the Russian aristocracy. Brewed since 1994, our Black Chocolate Stout has itself become a modern classic, heralded the world over. It achieves its dark chocolate aroma and flavor through the artful blending of six malts and three distinct mashes. Properly kept, it will improve in the bottle for many years. This stout is the toast of the winter season in many countries, and there is nothing better to enjoy with chocolate desserts, cheesecake, ice cream, fine cheeses and roaring fireplaces.

Given this beer's higher ABV and sturdy character, we think it's a prime candidate for cellaring. Find a cool, dry spot away from light sources, and see how it changes in the years to come. You never quite know what will happen when you age a beer: perhaps the body will smooth out, notes of vanilla, oak, and tannins will come to the front, or hints of leather and soy sauce will make themselves known. No matter what, remember that beer is meant for drinking, so don't keep it to yourself for too long.
12 oz.
Bottle
6
$11.99
12 oz.
Bottle
24
$42.99
Brooklyn Winter Lager
Brooklyn Winter Lager is our answer to the heavy ales and stouts that emerge in wintertime. Though dark in color with a sturdy presence, our Schwarzbier-inspired lager layers notes of chocolate, roasted barley, and dark bread into a 5.6% ABV frame that finishes surprisingly light and pleasantly dry. Winter means different things depending where you live, but Brooklyn Winter Lager is ready for any chill.
12 oz.
Bottle
12
$18.99
12 oz.
Bottle
24
$36.99
Dogfish Head Flesh & Blood
An honest to goodness IPA brewed with a bounty of real citrus including lemon flesh, blood orange juice plus orange and lemon peel. A combination of Warrior, Centennial, and a rare experimental hop to perfectly complement the citrus ingredients and flavor. Flesh & Blood balances the resinous hoppy characteristics of an American IPA with the explosive, zesty fruitiness and subtle dry tartness of citrus to deliver a highly quaffable ale that's incredibly unique and lovely to down the whole year round.
12 oz.
Can
6
$14.99
12 oz.
Can
24
$59.99
Dogfish Head Immort Ale
Vast in character, luscious & complex. Brewed with peat-smoked barley, this strong ale is brewed with organic juniper berries, vanilla & maple syrup. It's aged on oak and fermented with a blend of English & Belgian yeasts.


12 oz.
Bottle
4
$13.99
12 oz.
Bottle
24
$89.99
Dogfish Head Liquid Truth Serum
You can handle the truth!

MYTH: IBUs (hop bitterness) can only be achieved in the boil. TRUTH: Uh-uh!

The truth is, Dogfish Head has been doing innovative things in the world of hopping since we opened in the mid-90s. From our continual hopping method found in our 60 Minute, 90 Minute and 120 Minute IPAs to our latest innovation of post-boil hop additions found in our Liquid Truth Serum!

Our unique process involving pelletized, powdered, leaf and liquefied hops makes for a blissfully inefficient IPA that's truthfully hoppy without being deceptively bitter. You'll find the perfect match of citrusy and tropical notes, making for a zesty finish ... honest.

12 oz.
Bottle
6
$14.99
12 oz.
Bottle
24
$59.99
Dogfish Head Lupu-luaü IPA
What began as an exploration of all things hazy and pale, Lupuluaü morphed into a coconut-centric IPA. We combined Pils malt with flaked barley, rolled oats, and malted and raw wheat to bring the haze. Then we brought coconut to the party in 3 different ways with toasted organic coconut, dehydrated coconut water and an experimental hop variety that provides a unique coconut aroma.
12 oz.
Bottle
6
$14.99
12 oz.
Bottle
24
$59.99
Dogfish Head Oak-Aged Vanilla World Wide Stout
Rare and often rumored about in the darkest corners of the beer community, World Wide Stout is dark, rich, roasty and complex, and lingers somewhere beyond the limits of the average beer.

Brewed with a ridiculous amount of barley, we've now taken this Dogfish Head classic and aged it on oak with real vanilla beans! With a little tender love and care we foster this beer from smooth, sweet wort into the big, bad blackend stout it always longed to be. Its bold, port-like complexity goes great with (or as) dessert.

With its high ABV, this is an excellent candidtate for cellaring, so grab a few bottles to enjoy now and lay the others down for a few years.

12 oz.
Bottle
1
$9.99
12 oz.
Bottle
4
$35.99
12 oz.
Bottle
24
$199.99
Founders Backwoods Bastard
Expect lovely, warm smells of single malt scotch, oaky bourbon barrels, smoke, sweet caramel and roasted malts, a bit of earthy spice and a scintilla of dark fruit. It's a kick-back sipper made to excite the palate.
12 oz.
Bottle
4
$14.99
12 oz.
Bottle
24
$89.99
Founders Breakfast Stout
The coffee lover's consummate beer. Brewed with an abundance of flaked oats, bitter and imported chocolates and two types of coffee, this stout has an intense fresh-roasted java nose topped with a frothy, cinnamon-colored head that goes forever.
12 oz.
Bottle
4
$11.99
12 oz.
Bottle
24
$69.99
Goose Island Bourbon County Brand Stout
Brewed in honor of the 1000th batch at our original Clybourn brewpub. A liquid as dark and dense as a black hole with thick foam the color of a bourbon barrel. The nose is an intense mix of charred oak, chocolate, vanilla, caramel and smoke. One sip has more flavor than your average case of beer.
16 oz.
Bottle
1
$10.99
Goose Island Oktoberfest
Brewed in the traditional Märzen style our Oktoberfest pours a brilliant copper over rose color with a bone white head. Notes of toffee and burnt sugar in the aroma and flavors of sweet dried apricots are delivered in a dry malty body with the mild earthy bitterness that is the hallmark of Hallertau hops.
12 oz.
Bottle
6
$8.99
12 oz.
Bottle
24
$34.99
Harpoon Flannel Friday
There's nothing that says "Fall is here! Fall is here!" louder than that first day at the brewery when everyone shows up in flannel.

This Hoppy Amber Ale is our tribute to the quintessential season of change. A bright hop aroma from late hop additions plays with its strong malt backbone. Amber hued, medium bodied, with hints of citrus and pine, this ale is made for the crisp days (and nights) of fall
12 oz.
Bottle
6
$9.99
12 oz.
Bottle
24
$37.99
Harpoon UFO Cranberry Hefewizen
This hefeweizen is infused with cranberries right from the bogs of Massachusetts. A little tart, a little sweet, and a lot delicious, this cranberry hefeweizen is a refreshing addition to leaf peepin', hiking, or just hanging out around a camp fire (s'mores encouraged).
12 oz.
Bottle
6
$9.99
12 oz.
Bottle
24
$37.99
Harpoon Vanilla Bean Porter
Always a party pleaser, our take on this luscious style is brewed for the season of celebrating and merriment with friends.

A deep chocolate hue complements the roasted malty aroma, delicate vanilla sweetness, and smooth character of this robust porter. Tasting Notes Appearance: Dark brown, almost black Aroma: Roasted, coffee-like bitterness blended with sweet vanilla Mouth feel: Medium to full body, almost velvety. Taste: Roasted bitterness up front Finish: Sweet vanilla aftertaste

12 oz.
Bottle
6
$9.99
12 oz.
Bottle
24
$37.99
Harpoon Winter Warmer
Cinnamon and nutmeg in a beer. When we first introduced this beer, let's just say that people weren't exactly sure what to make of it. But after close to three decades of brewing this classic, there is no greater fervor for any of our seasonal beers than this one right here. Bring on the spice!

Brewed since 1988, this beer has become a New England seasonal classic. Cinnamon and nutmeg dominate the aroma. The taste is a rich combination of the holiday spices and the hearty malt backbone. There is a mild sweetness to the finish along with the lingering flavor of the spices.

12 oz.
Bottle
6
$9.99
12 oz.
Bottle
24
$37.99
Lagunitas A Little Sumpin' Extra! Ale
Light in color, but huge in flavor and satisfaction.

The big sister of the Little Sumpin' Sumpin' Ale. Lots of wheat for a curious malt complexity and leaving it light in color, but huge in flavor and satisfaction
Net contents: Ounces and ounces of Malt, Hops, Yeast and water.
12 oz.
Bottle
6
$10.99
12 oz.
Bottle
24
$41.99
Magic Hat Jinx
Earthy, rich and steeped in autumn's magic: it's an ale of change. This potent infusion is haunted by memories of summer and the first frost on abandoned fields. Jinx prepares the bones for snow. It has the glint of golden maples at peak and finishes light as an ode to the fading sun. A bit of peat-smoked malt imparts a subtle hint of smoke that reminds us of fall's bonfires.
12 oz.
Bottle
6
$9.99
12 oz.
Bottle
24
$36.99
New Belgium Fat Tire Belgian White
25 years ago we started brewing Fat Tire Belgian Style Ale. It became an iconic beer, and a symbol synonymous with craft. Now, for the first time, we're adding a new beer to the Fat Tire family: Fat Tire Belgian White. Taking inspiration from our decades of experience brewing Belgian beers, Fat Tire Belgian White is made with Seville oranges and Indian coriander, both freshly ground less than a mile from our Fort Collins brewery. It's a fresh, perfectly sweet, natural tasting Belgian White.
12 oz.
Bottle
6
$9.99
12 oz.
Bottle
24
$36.99
New Belgium Folly Variety Pack
Our beer variety pack -- we call it the Folly Pack -- puts a mix of your favorite New Belgium beers in one box (what could be better than that?). The current 12-pack bottle Folly Pack includes:

Ben & Jerry's Chocolate Chip Cookie Dough
Fat Tire Amber Ale
Citradelic Tangerine Ale IPA
2' Below Ale
12 oz.
Bottle
12
$19.99
12 oz.
Bottle
24
$36.99
New Belgium Voodoo Ranger Atomic Pumpkin
Pumpkin Ale featuring cinnamon and habanero chili peppers for just the right amount of heat.
12 oz.
Bottle
6
$9.99
12 oz.
Bottle
24
$36.99
New Belgium Voodoo Ranger Atomic Pumpkin
Enough with the run-of-the-mill pumpkin beers. I'm not interested in an ale that takes cues from a frozen coffee drink, and neither are you. That's why I made Atomic Pumpkin. Does it really feature Habanero peppers? Yep! What about Saigon Cinnamon? Ding! I round it all out with a hearty malt bill that makes for a spicy brew that puts the "Fun" back in Pumpkin. (Spelling was never my strength). -- Voodoo Ranger
12 oz.
Bottle
6
$9.99
12 oz.
Bottle
24
$36.99
Paulaner Original Münchner Märzen
The name Paulaner stands for a Munich brewing tradition crafted over centuries, and acclaimed far beyond the borders of Bavaria throughout the entire world.
Doing business in a sustainable manner combined with courage and innovation, that is "the heaven of the Bavarians," a Paulaner tradition since 1634.
Is an amber beer style that was developed over 200 years ago to celebrate the original Oktoberfest. The Märzen name comes from "March beer" because it was historically brewed in March to be at peak flavor for the Oktoberfest celebration.

Country of Origin: Germany
12 oz.
Bottle
6
$8.99
12 oz.
Bottle
24
$33.99
Samuel Adams White Christmas
As crisp as the first snowfall of the year, this unfiltered white ale is blended with holiday spices including cinnamon, nutmeg, & orange peel. The familiar citrus and wheat characters of the ale are complimented by the warmth of the spices for a festive brew that's perfect for the season.
12 oz.
Bottle
6
$9.99
12 oz.
Bottle
24
$36.99
Samuel Adams Winter Lager
Bold and rich, with a touch of holiday spice. The first thing one notices about a Samuel Adams® Winter Lager is the deep ruby color. Then comes the magical aroma which promises something special on the tongue. The cinnamon, ginger, and hint of citrus from the orange peel blend with the roasty sweetness of the malts to deliver a warming, spicy flavor. On the palate Samuel Adams Winter Lager is rich and full bodied, robust and warming, a wonderful way to enjoy the cold evenings that come with the season.
12 oz.
Bottle
12
$17.99
12 oz.
Bottle
24
$32.99
Shiner Holiday Cheer
Happy Holidays from the "Little Brewery" in Shiner, TX. We hope you enjoy your Shiner Cheer, an Old World Dunkelweizen brewed with Texas peaches and roasted pecans. The malty flavors of this dark wheat ale are enhanced through the use of malted barley and wheat. And Kräusening ensures a smoothnessthat makes the subtle peach and pecan flavors all the more satisfying. May your days be merry and bright and your Shiner be cold.

PROSIT!
12 oz.
Bottle
6
$9.99
12 oz.
Bottle
24
$35.99
Sierra Nevada Celebration Ale
Sierra Nevada Celebration Ale represents a time honored tradition of brewing a special beer for the holiday season. There are generous portions of barley malts and fine whole hops of several varieties, creating a brew with a full, rich and hearty character.
12 oz.
Bottle
6
$9.99
12 oz.
Bottle
24
$36.99
Sixpoint C.R.E.A.M.
It doesn't take a pH.D: Drop the Acid, Drop the Base, Drop the Mic.... You started with cream in your coffee, now have coffee in your cream ale. Pour up a bright blonde coffee ale and end your day the way you started it. With a delicious craft brew. It's Mad Science.
12 oz.
Can
6
$12.99
12 oz.
Can
24
$48.99
Sixpoint Higher Volume Variety 12-Pack
Yeah, that's the good stuff. We're keeping our core beers fresh with this bangin' 12-pack. It's one of our favorite in-house designs to date and features 4 of our greatest hits, The Crisp, Resin, Bengali, and Sweet Action. Great for slinging over your shoulder on your way to a barbecue or rooftop jammer.
12 oz.
Can
12
$19.99
12 oz.
Can
24
$38.99
Sixpoint Jammer
...the Mad Scientists kept tweakin' that Jammer till it rocked so hard. Bygone brewers, repping the Sixpoint star, provided the concept and our friends at Jacobsen Salt hooked us up with the key ingredient. It's salty, it's sour, and it's slammin'. It's Mad Science.
12 oz.
Can
6
$9.99
12 oz.
Can
24
$38.99
Sixpoint Tesla Lager
We harnessed the sun's energy, channeled the power of malt, charged this beer with tons of hop energy and sent it surging around the globe. Think the juicyness of big doses of American Wet-Hops, with that clean snappiness of a cold fermented, meticulously lagered beer. How's that relevant to Tesla's shocking experiments? When there's serious creativity flowing, everyone can feel it.
12 oz.
Can
6
$12.99
12 oz.
Can
24
$48.99
Southern Tier 2XMAS
wedish flags are a fairly common sight in our part of the country. Holiday parties often have warm concoctions of spices and booze at the ready to knock the ice off of toes while raising spirits. We were inspired by a "Glögg" party, deciding on the spot to brew a beer that pays tribute to this Nordic tradition.

2XMAS ale combines traditional brewing ingredients with figs, orange peels, cardamom, cinnamon, clove and ginger root. It's a holiday addition to the 2X line and another reason to toast to the season, but unlike Glögg, we recommend serving this one chilled.
12 oz.
Bottle
6
$10.99
12 oz.
Bottle
24
$39.99
Spaten Oktoberfest Ur-Märzen
Amber in color. This medium bodied beer has achieved its impeccable taste by balancing the roasted malt flavor with the perfect amount of hops. Having a rich textured palate with an underlying sweetness true to tradition.

Country of Origin: Germany
12 oz.
Bottle
6
$8.99
12 oz.
Bottle
24
$32.99
Sweetwater TripleTail
A tropical approach to the IPA style- TripleTail weaves juicy and bodacious hops with notes of papaya, pineapple and passionfruit into this lush hop-forward IPA, creating a mouthwatering vacation for your senses. At 5.5% ABV, you can lean back assured it will refresh from sun up to sun down.
12 oz.
Bottle
6
$9.99
12 oz.
Bottle
24
$36.99
Tröegs The Mad Elf Holiday Ale
The combination of Cherries, Honey, and Chocolate Malts delivers gentle fruits and subtle spices. Fermented and aged with a unique yeast , this ruby red beer has significant warming strength that underlies the character of this Ale.
12 oz.
Bottle
6
$15.99
12 oz.
Bottle
24
$59.99
Two Roads Honeyspot Road IPA
The Two Roads interpretation of this emerging beer style naturally takes a road less traveled. Unlike other versions, ours employs an American ale yeast and no spices. The result is a soft wheat backdrop that accentuates the Pacific Northwest hop character.

12 oz.
Bottle
6
$10.99
12 oz.
Bottle
24
$38.99
Victory Summer Love
Brewed locally at the Victory Brewery in Chester County, the Summer of Love Ale is a golden ale made with pale malts, German hops and Brandywine River water. This specific style of beer was chosen because it has a broad appeal and will be accessible for casual beer drinkers, but will still retain exciting hop notes.

The brew has a vibrant and refreshing pale color derived from its lean and refreshing malt body. And the initially floral aroma of hops segues into a well integrated, refreshing hop dryness of European heritage.
12 oz.
Bottle
6
$9.99
12 oz.
Bottle
24
$38.99
Victory Winter Cheers
A wheat ale, combining German wheat and barley malts, oats, torrified wheat and whole flower Tettnang and Citra hops, this fruity and warming holiday brew delivers a refreshing finish, with spicy hints of banana, clove and citrus.
12 oz.
Bottle
6
$9.99
12 oz.
Bottle
24
$38.99