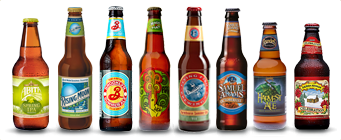 21st Amendment Fireside Chat
Like FDR's Depression-era radio addresses, which were like a kick in the butt and a hug at the same time, our Fireside Chat is a subtle twist on the traditional seasonal brew. We begin with a rich, dark, English-style ale and then we improvise with spices until we know we have a beer worth sharing with the nation.

Fireside Chat is our holiday seasonal available from November through December in six pack cans and on draft. Brewed like a classic, warming Strong Ale but with a subtle blend of hand-selected spices for just the right festive flair.

Anchor Christmas Ale 2018
A smooth and creamy winter warmer with rich flavors of cacao, toffee and roasted nuts, and subtle hints of honey and herbal spice, this year's brew marks the 44th annual release of this Anchor tradition.

It is sold only from early November to mid–January. The Ale's recipe is different every year—as is the tree on the label—but the intent with which we offer it remains the same: joy and celebration of the newness of life. Since ancient times, trees have symbolized the winter solstice when the earth, with its seasons, appears born anew. With a heavily guarded, secret recipe, Christmas Ale is a highly anticipated seasonal delight, complex and full in flavor with a velvety texture and alluring, yet subtle, spiced aroma.
Bell's Arabicadabra
A little brewers' magic transforms locally roasted Arabica beans and a variety of specialty malts into a creamy, intense coffee stout. Enjoy before it disappears.

Arabicadabra is brewed with a cold coffee extract made at the brewery using a combination of fair trade, organic Nicaraguan coffee beans and Sumatra coffee beans. Lactose is also used for creaminess (those with dairy allergies or sensitivities should take note). It was inspired by Milchkaffe, another specialty Bell's bee
Bell's Christmas Ale
The basic inspiration for Bell's Christmas Ale was to create a sessionable holiday beer, using locally grown malt, which would stand apart from the array of spiced winter warmers that are typically introduced this time of year. In contrast to many other seasonals, Christmas Ale doesn't contain any spices: all of the dry, toasted notes & subtle toffee flavors come from the 100% Michigan-grown barley, custom malted by Briess Malting, while a blend of hops from Michigan & the Pacific Northwest lend earthy, herbal aromas. At 5.5% ABV, it stands as a smooth, highly drinkable beer intended to complement holiday menus, not overshadow them.
Bell's Oberon Ale An American Wheat Ale
Oberon is a wheat ale fermented with our signature house ale yeast, mixing a spicy hop character with mildly fruity aromas. The addition of wheat malt lends a smooth mouthfeel, making it a classic summer beer. Made with only 4 ingredients, and without the use of any spices or fruit, Oberon is the color and scent of sunny afternoon.
Blue Moon Mango Wheat
Our head brewmaster, Keith Villa, got the idea for this refreshing, summer beer from spending time on the beaches in Puerto Vallarta, Mazatlan and Cancun and wanting a beer that was refreshing with a taste of ripe mangos. The fruit vendors would bring freshly cut mangos and put them on a stick to enjoy in the sunshine. This beer is created with mango and a hint of honey for a mild sweetness with a bright yellow-orange color and cloudy wheat haze.

Awards: Silver Medal, Fruit Wheat Beer 2016 Great American Beer Festival®

Brooklyn Winter Lager
Brooklyn Winter Lager is our answer to the heavy ales and stouts that emerge in wintertime. Though dark in color with a sturdy presence, our Schwarzbier-inspired lager layers notes of chocolate, roasted barley, and dark bread into a 5.6% ABV frame that finishes surprisingly light and pleasantly dry. Winter means different things depending where you live, but Brooklyn Winter Lager is ready for any chill

Cigar City Cubano-Style Espresso Brown Ale
This English-style Brown Ale is brewed with a heaping of Cuban-style espresso beans from Tampa's Buddy Brew Coffee. Lactose and cacao are added as well, creating a bold ale that brings to mind a fine cup of Cuban coffee.
Brewed with a proprietary blend of coffee beans produced with Buddy Brew Coffee in Tampa, Florida.

Cigar City Guayabera Citra Pale Ale
Traditional throughout Latin America, the guayabera shirt combines style, functionality, form and tradition in it's four-pocketed design. We at Cigar City feel the same reverence and appreciation for the guayabera that we do for the Citra hop varietal, an ingredient that imparts notes of tangerine, lime and berries to this traditional American Pale Ale. The exclusive use of Citra hops in this beer creates a flavor that's at once unique and recognizable, while it's dry, crisp character and moderate alcohol make it as refreshing and functional as a crisp linen guayabera.
Cigar City Oktoberfest


In Florida the changing of seasons is decidedly more subtle than in most other places. Palm fronds rarely turn brilliant red and orange the way leaves do in the rest of the country, and for Floridians sweaters exist only as rumor. We at Cigar City rely heavily on our seasonal beers to mark the passing of each month and few beers are better at heralding the arrival of autumn than our Oktoberfest Lager.

Our Festbier nods firmly toward the style's history with it's amber color, bready malt complexity and restrained hop flavor and bitterness. At the heart of this beer is a malt bill of six different German malt varieties, including a generous helping of Munich malt. After adding Hallertauer Mittlefruh hops we ferment the beer with an authentic Bavarian lager yeast, resulting in a clean, dry and complex lager that's at once intriguing and drinkable.

As the temperature drops to the frosty mid-80's and the snowbirds return to their cool-weather roosts, we can't think of a better beer than Cigar City Oktoberfest to compliment the onset of autumn. Pour yourself a liter stein and let out a hearty prost!

Cigar City White Oak Jai Alai®
A truly unique India Pale Ale, this iteration of our Jai Alai IPA boasts the addition of white oak spirals to impart sleek notes of vanilla, coconut and a touch of dill to Jai Alai's bold citrus and caramel character. The oak also serves to temper the bitterness in the 70 IBU base beer while oak tannins elegantly dry the beer's body to create a unique drinking experience that still remains true to Jai Alai's unique qualities.
Dogfish Head 75 Minute IPA
It's been a minute … but 75 Minute IPA is back! What began as a cask-conditioned ale at our Rehoboth brewpub back in 2011, quickly grew to become a cult-favorite amongst craft enthusiasts. From the groucho glasses that adorned the label to it's slightly dry and lingering bitterness, 75 Minute was (and is) beloved by many.

Now in our latest iteration, this classic IPA is again brewed with maple syrup from Sam's family farm in Massachusetts, while being continually hopped throughout the boil, and then dry-hopped with a slew of cascade hops. The result is a malty and earthy brew with citrusy-pine aromas, balanced by subtle maple notes.

Dogfish Head Flesh & Blood
An honest to goodness IPA brewed with a bounty of real citrus including lemon flesh, blood orange juice plus orange and lemon peel. A combination of Warrior, Centennial, and a rare experimental hop to perfectly complement the citrus ingredients and flavor. Flesh & Blood balances the resinous hoppy characteristics of an American IPA with the explosive, zesty fruitiness and subtle dry tartness of citrus to deliver a highly quaffable ale that's incredibly unique and lovely to down the whole year round.
Dogfish Head Fruit-Full Fort
A twist on our beloved Fort, Fruit-Full Fort is brewed with four types of berries … raspberries, blackberries, boysenberries and elderberries. This blend of dark berries creates a depth and complexity reminiscent of a jammy red wine. We punched up the malt bill with Munich malt in this new version of Fort to provide a firm backbone and help balance the tart flavor of the brew's berry blend. Clocking in at 15%-18% ABV, Fruit-Full Fort is dark maroon red in color with aromas of velvety cherry and berry sweetness, and flavors of raspberry and blackberry.

Limited release
Dogfish Head Immort Ale
Vast in character, luscious & complex. Brewed with peat-smoked barley, this strong ale is brewed with organic juniper berries, vanilla & maple syrup. It's aged on oak and fermented with a blend of English & Belgian yeasts.


Dogfish Head IPAs for the Holidays
Tis the season for family, friends and IPAs! Why IPAs, you ask? Think of the citrusy and piney characteristics this style is known to bring to the table, and then think about those foods you'll be bringing to the table.

Includes:
60 Minute - Can't go wrong with anything smothered in barbeque or buffalo sauce.
90 Minute - This one is super versatile - turkey, mashed potatoes, and pretty much anything you put on the table.
61 Minute - The continually hopped India Pale Ale brewed with Syrah grape must.
Viniferous IPA - Brewed with pils malt, malted wheat, flaked oats and fermented with Riesling and Viognier grape must, this beer/wine hybrid fuses the hoppiness of an IPA with the fruity complexity of a dry white wine.

Dogfish Head Mixed Media
The closest an ale can legally be to wine! With 51% of the fermentable sugars coming from grain and 49% coming from grapes, Mixed Media is a complex saison-esque ale brewed with a distinct Belgian yeast strain. Using a late-harvest Viognier grape must from our friends at Alexandria Nicole Cellars in Washington, you'll find notes of white grape and melon in the aroma, and greeted with a spicy white wine body in every sip.

If you were (or still are) a fan of our Noble Rot or Oak-aged Noble Rot, you'll be delighted with the addition of Mixed Media to our lineup of beer-wine hybrids.

"We've been experimenting with grape juice and must in the brewing process with beers like Midas Touch, Red & White, Noble Rot and Sixty One, since we first opened 23 years ago as the smallest American craft brewery," says Dogfish Head founder & CEO Sam Calagione. "By blending the two seemingly opposite worlds of beer and wine together we've discovered that they collide quite nicely, and the combination of the two adds an additional thread of flavor and a layer of complexity to the mix."
Dogfish Head Romantic Chemistry
Dogfish Head has been brewing off-centered ales for off-centered people since 1995, with inspiration from every facet of life - the spice cabinet, music, even art.

What you have here is a serious India Pale Ale shacking up and hunkering down with mango and apricots. At the same time! Romantic Chemistry is brewed with an intermingling of mangos, apricots and ginger, and then dry-hopped with three varieties of hops to deliver a tropical fruit aroma and a hop-forward finish.

It's fruity, it's hoppy, it's tasty!
Dogfish Head Siracusa Nera
Combining a roasty Imperial Stout with a jammy Syrah wine, this beer is bold and complex. Notes of coffee, dark chocolate and anise from a blend of roasted malts meld with flavors of plums, cherries and stewed fruits from Syrah grape must in this jet black stout. Aged on American oak to add some light toasty vanilla to the mix.
Flying Dog Dogtoberfest
Dogtoberfest is a unique beer containing five premium malts. This lager draws its influence from the Vienna Marzen or Oktoberfest style. It is rich and malty with a sweet aroma and deep mahogany color.
Founders Breakfast Stout
The coffee lover's consummate beer. Brewed with an abundance of flaked oats, bitter and imported chocolates and two types of coffee, this stout has an intense fresh-roasted java nose topped with a frothy, cinnamon-colored head that goes forever.
Founders KBS Bourbon Barrel-Aged Chocolate Coffee Stout
What we've got here is an imperial stout brewed with a massive amount of coffee and chocolates, then cave-aged in oak bourbon barrels for an entire year to make sure wonderful bourbon undertones come through in the finish. Makes your taste buds squeal with delight.

Limited quantities!
Great Lakes Christmas Ale
Do not open 'til Christmas? Whoever coined that phrase obviously hasn't tasted Christmas Ale's fresh honey, cinnamon, and ginger flavors.
A Yuletide's worth of holiday spices and sweet honey to keep you a-wassailing all season long.

Harpoon 'Tis the Seasonal Variety Pack
It's cold outside. Just the time to gather with friends and family to tell old stories and make new ones. We cobbled together this perfect mix pack just for these occasions: our IPA, a light-bodied Golden Ale, our limited edition Harpoon Dunkin' Coffee Porter and our Winter Warmer.

'Tis the Seasonal contains all of your favorite holiday brews including Harpoon Winter Warmer, Harpoon Dunkin' Coffee Porter, Harpoon IPA, and Harpoon House Golden!

Harpoon Dunkin' Coffee Porter
BOSTON AND CANTON, MASSACHUSETTS (October 1, 2018) – Two of America's iconic beverage brands are bringing a bold new way for fans to toast the start of fall. Dunkin' and Harpoon Brewery, New England staples with millions of fans across the country, have come together for the first time to combine the taste of Dunkin's Espresso Blend Coffee with Harpoon's famous craft beer, launching the new Harpoon Dunkin' Coffee Porter. A balanced and smooth brew offering robust and roasty notes, Dunkin' Coffee Porter was created by Harpoon as a tribute to all the days that Dunkin' has helped the brew masters fire up the brew kettle.

Limited edition!
Harpoon UFO Jingle All The Way Variety Pack
Holiday party-goers rejoice! This is the perfect mix of beers for even the pickiest in your friend circle. This pack includes:
UFO White
UFO Pineapple
UFO Raspberry
UFO Winter Blonde.
Harpoon UFO Raspberry (R.A.Z) Hefeweizen
Natural raspberry flavors are added to our UFO Hefeweizen to create this beer. Consistent with the Hefeweizen style, this beer is unfiltered and cloudy with a solid foamy head. UFO R.A.Z. has a distinctive, hazy rose color. The scent of fresh raspberries hits the nose immediately, along with a subtle bready aroma from the wheat and yeast. The body is light and the unfiltered yeast provides a soft mouthfeel. The taste of the fruit compliments the beer nicely, neither overwhelms the other. There is a faint sweetness on the palate, which finishes cleanly in a semi-dry, tart finish.
Harpoon Winter Warmer
Cinnamon and nutmeg in a beer. When we first introduced this beer, let's just say that people weren't exactly sure what to make of it. But after close to three decades of brewing this classic, there is no greater fervor for any of our seasonal beers than this one right here. Bring on the spice!

Brewed since 1988, this beer has become a New England seasonal classic. Cinnamon and nutmeg dominate the aroma. The taste is a rich combination of the holiday spices and the hearty malt backbone. There is a mild sweetness to the finish along with the lingering flavor of the spices.

Lagunitas A Little Sumpin' Extra! Ale
Light in color, but huge in flavor and satisfaction.

The big sister of the Little Sumpin' Sumpin' Ale. Lots of wheat for a curious malt complexity and leaving it light in color, but huge in flavor and satisfaction
Net contents: Ounces and ounces of Malt, Hops, Yeast and water.
Lagunitas Born Yesterday Pale Ale
Born Yesterday is a newborn version of our re-born Pale, a Newer New Dogtown Pale with a fresh addition … We added some wet, lupulin-drenched, un-kilned, whole-cone, fresh-picked-and-rushed-straight-from-Yakima hops for your immaculate reception. This Un-Freakin-Filtered, wetter-than-wet beer has 11lbs-per-barrel of Simcoe, Citra, Mosaic and Indigenous Catawampus. Whoa.
Lagunitas Brown Shugga'
Dangerously Slammable

Originally a failed attempt at our 1997 batch of Olde GnarlyWine Ale resulting in an all-new-beer-style we like to call... Irresponsible. We believe this Special Ale is something unique. Feeding brown cane sugar to otherwise cultured brewery yeast is a'kin to feeding raw shark to your gerbil. It is unlikely to ever occur in nature without human intervention. And it looks weird besides. But it has happened and now it's too late.
Lagunitas Passion Grass Session Ale
We had a Joint Session with our friends at Short's Brewing in Bellaire, Mich. to create this smooth and drinkable 4.6% ABV West by Midwest Ale. With some passion fruit juice added for that pleasant summery-ness and rounded off with a special zing of lemongrass, it's best imbibed with your 'buds … it's good to have friends.
Lagunitas Sparkling Swan
This sparkling beer-wine hybrid is something new to toast to…brewed with red wine grapes and super bubbly like champagne, but with a gentle kiss of hops and a light malt backbone like a beer. It's a purple people pleaser, perfect for any celebration. Share it with 'buds this holidaze season.
Lagunitas Super Cluster
A citra-hopped mega ale of intergalactic proportions
You are here. On a speck of dust, three tiny rocks from the source. At the edge of something much larger, in the middle of something else, at the beginning of the end. It's a lot to wrap your head around, so take it one gulp at a time. Life is uncertain...Super Cluster is a Citra-Hopped Mega Ale of intergalactic proportions. Everything we've learned about making hop-forward beer: Pale, cold, alcoholic, and bitter.
Left Hand Pixan Pepper Porter
Dried cherry and plum flavors with subtle smoke, roasty malt sweetness and the warmth of chilis. ABV: 7.2%
New Belgium Fat Tire Belgian White
25 years ago we started brewing Fat Tire Belgian Style Ale. It became an iconic beer, and a symbol synonymous with craft. Now, for the first time, we're adding a new beer to the Fat Tire family: Fat Tire Belgian White. Taking inspiration from our decades of experience brewing Belgian beers, Fat Tire Belgian White is made with Seville oranges and Indian coriander, both freshly ground less than a mile from our Fort Collins brewery. It's a fresh, perfectly sweet, natural tasting Belgian White.
Oskar Blues Death By Coconut
Originally a collaboration with Shamrock Brewing Co. Intense pure liquid cacao flavors swirl with popping coconut aromas, all supported by a semi-sweet porter made from loads of our dark chocolate and extra dark caramel malt. This limited release specialty comes around once a year to satisfy that sweet tooth, so get 'em while you can before they disappear. At 6.5% ABV and 25 IBUs, this choconut goodness will have you yellin' "Pass. Dash. Hit." all winter long.
Oskar Blues Fugli
Yuzu and Ugli fruit infusions twisted together with the blueberry, tangerine notes of Mosaic make for a tangy, juicy, zesty array of aroma and flavor. Salivation will instantly ensue with one sniff of this crushable brew (5.8% ABV, 60 IBUs) that was inspired by a Yuzu brew we made with some brewing friends in Japan.
Samuel Adams Winter Classics Variety Pack
Winter Classics has a new mix! This year's variety includes two bottles each of six styles:
Sam Adams Winter Lager
Boston Lager
Sam '76
Old Fezziwig
Holiday Porter
Chocolate Bock.
This variety is perfect for any holiday party.
Samuel Adams Winter Lager
Bold and rich, with a touch of holiday spice. The first thing one notices about a Samuel Adams® Winter Lager is the deep ruby color. Then comes the magical aroma which promises something special on the tongue. The cinnamon, ginger, and hint of citrus from the orange peel blend with the roasty sweetness of the malts to deliver a warming, spicy flavor. On the palate Samuel Adams Winter Lager is rich and full bodied, robust and warming, a wonderful way to enjoy the cold evenings that come with the season. [Special Ingredients: Orange peel, ginger, and cinnamon, 14.3°]
Schlafly Merry Berry
The Merry Berry Ale uses three of our favorites: raspberry, blueberry and blackberry. Its deep-red color arises out of this medley of fruit. With grace notes of vanilla and a hint of lemon, the Merry Berry Ale captures the essence of a delicate French pastry. Always a cause to celebrate, this ale is sure to capture the palate and the eye.
Shiner Holiday Cheer
'Tis the Season for Cheer Happy Holidays from the "Little Brewery" in Shiner, TX. We hope you enjoy your Shiner Cheer, an Old World Dunkelweizen brewed with Texas peaches and roasted pecans. The malty flavors of this dark wheat ale are enhanced through the use of malted barley and wheat. And Kräusening ensures a smoothnessthat makes the subtle peach and pecan flavors all the more satisfying. May your days be merry and bright and your Shiner be cold. PROSIT!
Shiner Wicked Juicy IPA
Tropical hops with a Bright, juicy kick a drinkable 5.7% ABV ale with a moderate 60 IBU rating and a distinctly citrus fruit kick achieved thanks to generous dry hopping (hops added after the boil) and with a unique mouthfeel thanks to its unfiltered contents. Poured into a glass, this is a handsome brew with an alluring aroma and a flavor to match.
Shipyard Pumpkinhead Ale
Shipyard Pumpkinhead Ale is a crisp and refreshing wheat ale with delightful aromatics and subtle spiced flavor.
Sixpoint Alpenflo Helles Lager
Some beers are easy to make and difficult to drink… but ALPENFLO is the opposite on both counts. It took years to acquire the materials and formula for Alpenflo—we're talking all-malt, 100% 2-row barley, and we source all of the hops directly from family farms in Bavaria to give it that gentle spice. This lager is then cold-stored in horizontal lagering tanks to round out the flavor profile. Once opened, that frothy beverage is gone in a flash.

Alpenflo gets its clean noble hop character from Tettnanger hops sourced from family farms in Germany. It's real lager—all 2-row barley malt—and horizontal lagering tanks provide the exact right conditions to create bright, beautiful beer.
Sixpoint Hi-Res
Let's talk optics. The study of light, and the eyeball… aka the prism that sends images blasting through your dome like a movie projector. As technology advances, resolution increases, so we can see the bigger picture AND the finer details. We're increasing the view -- in BOTH directions… Magnify the hop factor, amplify perception. Study the hop cone up close… this shiz is Hi-Resolution. We went microscopic; we got a grander view. Crack a HI-RES and widen your scope, both directions
Sixpoint Higher Volume Variety 12-Pack
Yeah, that's the good stuff. We're keeping our core beers fresh with this bangin' 12-pack. It's one of our favorite in-house designs to date and features 4 of our greatest hits, The Crisp, Resin, Bengali, and Sweet Action. Great for slinging over your shoulder on your way to a barbecue or rooftop jammer.
Sixpoint Meltdown
Finally, a MELTDOWN that isn't global. We're talking about what's going on in the hop cone – tons of Mosaic and Mandarina hops heated until the solid lupulin sap is diffused into a solution, As that liquid sap dissolves in gets more intense, but you can't even see it happen. It changes stated of matter to change your state of mind. Finally, you reach saturation and haze starts to show. Your eyes aren't playing tricks on you…that's seriously pure hop juice oozing out of the can. Enough to melt you face! ABV: 7.8%
Sixpoint Puff Cloudy IPA
If you love Resin, try tasting it straight from the tanks.

That's PUFF — a hazy, unfiltered pour straight from the tanks, with an extra dose of dry hops before it hits the can and keg. How sweet to be a cloud — floating in a tank of Resin! It's Mad Science.

Southern Tier 2XXMas Ale
Swedish flags are a fairly common sight in our part of the country. Holiday parties often have warm concoctions of spices and booze at the ready to knock the ice off of toes while raising spirits. We were inspired by a "Glögg" party, deciding on the spot to brew a beer that pays tribute to this Nordic tradition.

2XMAS ale combines traditional brewing ingredients with figs, orange peels, cardamom, cinnamon, clove and ginger root. It's a holiday addition to the 2X line and another reason to toast to the season, but unlike Glögg, we recommend serving this one chilled.
Southern Tier Old Man Winter Ale
Our winter offering is here to quell your shivers and get you through the coldest of nights. A rich marriage of hops and barley to cast light upon the evening and melt your mind out of the snowdrifts. Old Man Winter's earthy hue and thickness lace around the glass, inviting you to linger in its warmth and share the spirits of the season with your friends and family. A deceptively strong brew, it's best to sit and ponder with this old man, sip by sip.