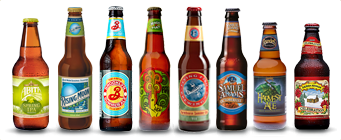 21st Amendment Hell or High Watermelon Wheat
A classic American wheat beer using fresh watermelon. Straw-colored and refreshing with a kiss of watermelon aroma and flavor.
Ballast Point Sculpin IPA – Pineapple
Our Pineapple Sculpin IPA came from one of many small-batch cask experiments to enhance the flavor of our signature IPA. With so many tropical hop notes in Sculpin, how could we not try adding some sweet, juicy pineapple? The combination of fruity flavors and hop intensity definitely packs a punch.
Bell's Oberon Ale An American Wheat Ale
Oberon is a wheat ale fermented with our signature house ale yeast, mixing a spicy hop character with mildly fruity aromas. The addition of wheat malt lends a smooth mouthfeel, making it a classic summer beer. Made with only 4 ingredients, and without the use of any spices or fruit, Oberon is the color and scent of sunny afternoon.
Blue Moon Harvest Pumpkin Wheat
In 1995, we crafted our first autumn seasonal—Pumpkin Ale. At the time, Oktoberfest beers were in high demand. For our version, we wanted to create a beer that was a little different than what was already out there and complemented the season by highlighting the flavors we've all grown to love during this time. It was so popular that it became the first nationally available pumpkin ale. Harvest Pumpkin Wheat, as it's called now, is crafted with pumpkin and spices of cinnamon, nutmeg, cloves, and allspice for a taste you'll want to fall right into.
Blue Moon Mango Wheat
Our head brewmaster, Keith Villa, got the idea for this refreshing, summer beer from spending time on the beaches in Puerto Vallarta, Mazatlan and Cancun and wanting a beer that was refreshing with a taste of ripe mangos. The fruit vendors would bring freshly cut mangos and put them on a stick to enjoy in the sunshine. This beer is created with mango and a hint of honey for a mild sweetness with a bright yellow-orange color and cloudy wheat haze.

Awards: Silver Medal, Fruit Wheat Beer 2016 Great American Beer Festival®

Brooklyn Bel Air Sour
Brooklyn Bel Air Sour is full of surprises. Our sour ale starts up with bright notes of tropical fruit yet finishes crisp and gently tart. It's a trip that's laid back, breezy, and completely refreshing.
Brooklyn Summer Ale
Summer in Brooklyn is all about following your impulses, winging it from beaches and barbecues to stoops and rooftops. Brooklyn Summer Ale is a refreshing, flavorful pale ale made to accompany you on all your warm weather adventures. 100% British 2-row barley brings its famed bready flavors, capped off with German and American hops to provide a snappy, clean bitterness and a bright, floral aroma. It's a sunny pale ale, Brooklyn style.
Cigar City White Oak Jai Alai®
A truly unique India Pale Ale, this iteration of our Jai Alai IPA boasts the addition of white oak spirals to impart sleek notes of vanilla, coconut and a touch of dill to Jai Alai's bold citrus and caramel character. The oak also serves to temper the bitterness in the 70 IBU base beer while oak tannins elegantly dry the beer's body to create a unique drinking experience that still remains true to Jai Alai's unique qualities.
Dogfish Head Flesh & Blood
An honest to goodness IPA brewed with a bounty of real citrus including lemon flesh, blood orange juice plus orange and lemon peel. A combination of Warrior, Centennial, and a rare experimental hop to perfectly complement the citrus ingredients and flavor. Flesh & Blood balances the resinous hoppy characteristics of an American IPA with the explosive, zesty fruitiness and subtle dry tartness of citrus to deliver a highly quaffable ale that's incredibly unique and lovely to down the whole year round.
Dogfish Head Fruit-Full Fort
A twist on our beloved Fort, Fruit-Full Fort is brewed with four types of berries … raspberries, blackberries, boysenberries and elderberries. This blend of dark berries creates a depth and complexity reminiscent of a jammy red wine. We punched up the malt bill with Munich malt in this new version of Fort to provide a firm backbone and help balance the tart flavor of the brew's berry blend. Clocking in at 15%-18% ABV, Fruit-Full Fort is dark maroon red in color with aromas of velvety cherry and berry sweetness, and flavors of raspberry and blackberry.

Limited release
Dogfish Head Immort Ale
Vast in character, luscious & complex. Brewed with peat-smoked barley, this strong ale is brewed with organic juniper berries, vanilla & maple syrup. It's aged on oak and fermented with a blend of English & Belgian yeasts.


Dogfish Head Lupu-luaü IPA
What began as an exploration of all things hazy and pale, Lupuluaü morphed into a coconut-centric IPA. We combined Pils malt with flaked barley, rolled oats, and malted and raw wheat to bring the haze. Then we brought coconut to the party in 3 different ways with toasted organic coconut, dehydrated coconut water and an experimental hop variety that provides a unique coconut aroma.
Dogfish Head Mixed Media
The closest an ale can legally be to wine! With 51% of the fermentable sugars coming from grain and 49% coming from grapes, Mixed Media is a complex saison-esque ale brewed with a distinct Belgian yeast strain. Using a late-harvest Viognier grape must from our friends at Alexandria Nicole Cellars in Washington, you'll find notes of white grape and melon in the aroma, and greeted with a spicy white wine body in every sip.

If you were (or still are) a fan of our Noble Rot or Oak-aged Noble Rot, you'll be delighted with the addition of Mixed Media to our lineup of beer-wine hybrids.

"We've been experimenting with grape juice and must in the brewing process with beers like Midas Touch, Red & White, Noble Rot and Sixty One, since we first opened 23 years ago as the smallest American craft brewery," says Dogfish Head founder & CEO Sam Calagione. "By blending the two seemingly opposite worlds of beer and wine together we've discovered that they collide quite nicely, and the combination of the two adds an additional thread of flavor and a layer of complexity to the mix."
Dogfish Head Romantic Chemistry
Dogfish Head has been brewing off-centered ales for off-centered people since 1995, with inspiration from every facet of life - the spice cabinet, music, even art.

What you have here is a serious India Pale Ale shacking up and hunkering down with mango and apricots. At the same time! Romantic Chemistry is brewed with an intermingling of mangos, apricots and ginger, and then dry-hopped with three varieties of hops to deliver a tropical fruit aroma and a hop-forward finish.

It's fruity, it's hoppy, it's tasty!
Founders Backwoods Bastard
Expect lovely, warm smells of single malt scotch, oaky bourbon barrels, smoke, sweet caramel and roasted malts, a bit of earthy spice and a scintilla of dark fruit. It's a kick-back sipper made to excite the palate.
Founders Breakfast Stout
The coffee lover's consummate beer. Brewed with an abundance of flaked oats, bitter and imported chocolates and two types of coffee, this stout has an intense fresh-roasted java nose topped with a frothy, cinnamon-colored head that goes forever.
Founders KBS Bourbon Barrel-Aged Chocolate Coffee Stout
What we've got here is an imperial stout brewed with a massive amount of coffee and chocolates, then cave-aged in oak bourbon barrels for an entire year to make sure wonderful bourbon undertones come through in the finish. Makes your taste buds squeal with delight.

Limited quantities!
Harpoon UFO Pineapple
Golden, juicy, tropical. No matter the season, UFO Pineapple makes it the perfect time to get your luau on. It's island time!
Harpoon UFO Pink Lemonade Shandy
Sunny, citrusy, and fun, UFO Pink Lemonade Shandy is the perfect summertime beer. Find your beach chair, grab a 6-pack, add some friends and you've got yourself a recipe for a sensational summer day
Harpoon UFO Raspberry (R.A.Z) Hefeweizen
Natural raspberry flavors are added to our UFO Hefeweizen to create this beer. Consistent with the Hefeweizen style, this beer is unfiltered and cloudy with a solid foamy head. UFO R.A.Z. has a distinctive, hazy rose color. The scent of fresh raspberries hits the nose immediately, along with a subtle bready aroma from the wheat and yeast. The body is light and the unfiltered yeast provides a soft mouthfeel. The taste of the fruit compliments the beer nicely, neither overwhelms the other. There is a faint sweetness on the palate, which finishes cleanly in a semi-dry, tart finish.
Lagunitas A Little Sumpin' Extra! Ale
Light in color, but huge in flavor and satisfaction.

The big sister of the Little Sumpin' Sumpin' Ale. Lots of wheat for a curious malt complexity and leaving it light in color, but huge in flavor and satisfaction
Net contents: Ounces and ounces of Malt, Hops, Yeast and water.
Lagunitas Brown Shugga
We believe this Special Ale is Something Unique. Feeding Brown Cane Sugar to otherwise Cultured Brewery Yeast is a'kin to feeding Raw Shark to your Gerbil. It is unlikely to ever occur in nature without Human Intervention. And it looks weird besides. But it has happened and now it's too Late.
Lagunitas Dark Swan
One Hitter Dark Swan
An experimentally hopped sour ale fermented with dark red wine grapes giving it its uniquely deep and rich purple hue. Then it received the signature Lagunitas treatment with a healthy dose of experimental dry hops. This might just shock your taste buds! There just really isn't anything else like the Dark Swan... it's a dark purple hybrid ale the takes our house yeast and feeds it some Petite Sirah grapes to munch on. It's smooth, slightly sour, and superbly strange. Give it a taste, if you dare!
Leinenkugel Summer Shandy
Our own unique take on Franz Kugler's original Munich tavern tradition. Leinenkugel's® Summer Shandy® is our traditional weiss beer with refreshing natural lemonade flavor that makes it the perfect summer beer.
Leinenkugel Summer Variety Pack
A variety pack containing 3 bottles each:
Cherry Blonde Lager
Canoe Paddler
Summer Shandy
Orange Shandy
Leinenkugels Grapefruit Shandy
A traditional shandy is beer mixed with a little something extra, like lemonade, soda or ginger ale. Leinenkugel's® Grapefruit Shandy is our take on this tradition. Each batch begins with our traditional weiss beer. We then combine it with natural white grapefruit flavor that adds a note of fresh-cut citrus, because here refreshment is our greatest natural resource.
Narragansett Del's Shandy
Hi Neighbor! Great-Grandfather DeLucia made his first frozen lemonade back in Italy in 1840. During the winter he carried snow into nearby caves and insulated it with straw. When summer arrived, he mixed the snow with fresh, local lemon juice and sugar, making a refreshing drink. His grandson, Angelo, introduced this icy treat to Rhode Island in 1948, and today there are over 30 Del's stands across America. 'Gansett is proud to present this delicious Shandy with the perfect balance of Narragansett Lager and lemon flavor. It's refreshingly different!
New Belgium Fat Tire Belgian White
25 years ago we started brewing Fat Tire Belgian Style Ale. It became an iconic beer, and a symbol synonymous with craft. Now, for the first time, we're adding a new beer to the Fat Tire family: Fat Tire Belgian White. Taking inspiration from our decades of experience brewing Belgian beers, Fat Tire Belgian White is made with Seville oranges and Indian coriander, both freshly ground less than a mile from our Fort Collins brewery. It's a fresh, perfectly sweet, natural tasting Belgian White.
Oskar Blues Fugli
Yuzu and Ugli fruit infusions twisted together with the blueberry, tangerine notes of Mosaic make for a tangy, juicy, zesty array of aroma and flavor. Salivation will instantly ensue with one sniff of this crushable brew (5.8% ABV, 60 IBUs) that was inspired by a Yuzu brew we made with some brewing friends in Japan.
Samuel Adams Sam '76
Sam '76 is a revolutionary new beer that is an unmatched combination of refreshment, craft flavor, and aroma. By experimenting with both lager and ale yeast strains, our brewers developed a unique brewing process that takes two active fermentations and blends them together to create a deliciously harmonious result. This process delivers a distinct flavor that showcases the slight fruitiness of an ale with the balanced drinkability and smoothness of a lager. So whether you're tailgating, watching the game, or headed to a party with friends, Sam '76 can be your go-to beer.
Samuel Adams Summer Ale
Golden, hazy and thirst-quenching, this American wheat ale is synonymous with summer. Lemon peel adds a bright citrus note that's complemented by spicy, citrusy Hallertau Mittelfrueh and Saaz Noble hops. Grains of Paradise accent the crisp wheat character with a peppery spice that finishes clean. Iconic as it is refreshing, Summer Ale is just right for any summer day.
Shiner Ruby Redbird
Shiner Ruby Redbird is brewed with genuine Texas Rio Red Grapefruit, the signature sweet citrus of the Rio Grande Valley, and ginger. This lager beer features grapefruit tartness and finishes with a 'lil kick of ginger. With Texas Ruby Red Grapefruit and Ginger, Shiner Ruby Redbird is a crisp and refreshing summer beer.
Sixpoint Hi-Res
Let's talk optics. The study of light, and the eyeball… aka the prism that sends images blasting through your dome like a movie projector. As technology advances, resolution increases, so we can see the bigger picture AND the finer details. We're increasing the view -- in BOTH directions… Magnify the hop factor, amplify perception. Study the hop cone up close… this shiz is Hi-Resolution. We went microscopic; we got a grander view. Crack a HI-RES and widen your scope, both directions
Sixpoint Higher Volume Variety 12-Pack
Yeah, that's the good stuff. We're keeping our core beers fresh with this bangin' 12-pack. It's one of our favorite in-house designs to date and features 4 of our greatest hits, The Crisp, Resin, Bengali, and Sweet Action. Great for slinging over your shoulder on your way to a barbecue or rooftop jammer.
Sixpoint Puff Cloudy IPA
If you love Resin, try tasting it straight from the tanks.

That's PUFF — a hazy, unfiltered pour straight from the tanks, with an extra dose of dry hops before it hits the can and keg. How sweet to be a cloud — floating in a tank of Resin! It's Mad Science.

Sixpoint Righteous Ale Barrel Aged Rye

We're not saying you should worship what's inside the barrel…

but there's a certain righteousness about a beer made with three types of rye malts and then smoothed out in a blend of rye whiskey and bourbon barrels. The journey spans months, but the results are undeniable—a RIGHTEOUS ale indeed.
The Story
Lab Notes
After years of tinkering with small batch, we went all in on this barrel fleet. Hundreds of Woodforde Reserve Rye barrels from and Widow Jane Bourbon barrels house the precious liquid that makes up Sixpoint's second ever network wide barrel-aged release.
Troegs Nugget Nectar
Squeeze those hops for all they're worth and prepare to pucker up: Tröegs' newest single batch brew, Nugget Nectar Ale, will take hopheads to nirvana with a heady collection of Nugget, Warrior and Tomahawk hops. Starting with the same base ingredients of our flagship HopBack Amber Ale, Nugget Nectar intensifies the malt and hop flavors to create an explosive hop experience.

While the brewery considers this an "Imperial Amber Ale" RateBeer considers it an IPA due to the hopping rate. There is no need to send any other corrections on the style.
Victory Summer Love Golden Ale
Enjoy the easy days of summer with this refreshing and aromatic golden ale. Enticing earthy and citrusy hop aromas give way to flavors of lemon and pine.
Brewed locally at the Victory Brewery in Chester County, the Summer of Love Ale is a golden ale made with pale malts, German hops and Brandywine River water. This specific style of beer was chosen because it has a broad appeal and will be accessible for casual beer drinkers, but will still retain exciting hop notes.