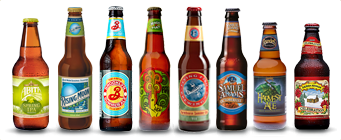 Anchor Merry Christmas Ale 2017
Anchor Christmas Ale is perfect for cozy nights by the fire, and it pairs well with holiday fare, whether it is a roasted turkey dinner, sweet potato pie, or roasted chestnuts. A beloved tradition for many Anchor fans is to collect multiple years of Christmas Ale. The beer's wintry spiced flavors evolve over time, making vertical tastings an interesting and tasty holiday activity. Christmas Ale should be stored in a dark and cool place for the best results.
Ballast Point Fathom India Pale Lager
Lager meets IPA in a winning combination.

Our Fathom India Pale Lager combines time-honored lagering techniques with the hop profiles of a West Coast IPA recipe. The cold-fermenting lager yeast provides a clean base that allows the citrus and pine aromas from the hops to really shine. The result is a gold medal beer with a refreshing, easy drinking character and just the right amount of depth.
Ballast Point Sculpin IPA – Pineapple
Our Pineapple Sculpin IPA came from one of many small-batch cask experiments to enhance the flavor of our signature IPA. With so many tropical hop notes in Sculpin, how could we not try adding some sweet, juicy pineapple? The combination of fruity flavors and hop intensity definitely packs a punch.
Brooklyn Black Ops
Brooklyn Black Ops does not exist. However, if it did exist, it would be a strong stout concocted by the Brooklyn brewing team under cover of secrecy and hidden from everyone else at the brewery. The myth is that this supposed "Black Ops" was then aged for months in bourbon barrels, bottled flat, and re-fermented with Champagne yeast. Presumably such a beer would raise a rich, fluffy dark brown head and it would combine chocolate and coffee flavors with a rich underpinning of vanilla-like bourbon notes. A beer like that would be mighty nice, but it would be hard to make more than few cases – it could never be sold or released to the public. They say that the brewmaster revealed the beer to a few other people at the brewery only after it had been barreled. The rumor going around is that the brewery plans to drink the beer themselves over the holidays and give some to their family and friends. That's what they say. But frankly, there's no evidence for any of this. This beer is obviously a figment of people's fervent imaginations. People tend to get loopy around the holidays. Everyone go home now – there's nothing to see here.

Given this beer's higher ABV and sturdy character, we think it's a prime candidate for cellaring. Find a cool, dry spot away from light sources, and see how it changes in the years to come. You never quite know what will happen when you age a beer: perhaps the body will smooth out, notes of vanilla, oak, and tannins will come to the front, or hints of leather and soy sauce will make themselves known. No matter what, remember that beer is meant for drinking, so don't keep it to yourself for too long.
Brooklyn Naranjito
Brooklyn Naranjito is a classic American pale ale pushed a tiny bit further. An extra burst of aromatic hops and a sizable helping of sweet orange peel create just the right pop of citrus. It elevates your favorite meals, brightens spices, and proves what a little orange can do.

Brooklyn Naranjito will be available as a limited release in the United States in January, or earlier if you get lucky. Find it here
Brooklyn Winter Lager
Brooklyn Winter Lager is our answer to the heavy ales and stouts that emerge in wintertime. Though dark in color with a sturdy presence, our Schwarzbier-inspired lager layers notes of chocolate, roasted barley, and dark bread into a 5.6% ABV frame that finishes surprisingly light and pleasantly dry. Winter means different things depending where you live, but Brooklyn Winter Lager is ready for any chill.
Dogfish Head Flesh & Blood
An honest to goodness IPA brewed with a bounty of real citrus including lemon flesh, blood orange juice plus orange and lemon peel. A combination of Warrior, Centennial, and a rare experimental hop to perfectly complement the citrus ingredients and flavor. Flesh & Blood balances the resinous hoppy characteristics of an American IPA with the explosive, zesty fruitiness and subtle dry tartness of citrus to deliver a highly quaffable ale that's incredibly unique and lovely to down the whole year round.
Dogfish Head Immort Ale
Vast in character, luscious & complex. Brewed with peat-smoked barley, this strong ale is brewed with organic juniper berries, vanilla & maple syrup. It's aged on oak and fermented with a blend of English & Belgian yeasts.


Dogfish Head Lupu-luaü IPA
What began as an exploration of all things hazy and pale, Lupuluaü morphed into a coconut-centric IPA. We combined Pils malt with flaked barley, rolled oats, and malted and raw wheat to bring the haze. Then we brought coconut to the party in 3 different ways with toasted organic coconut, dehydrated coconut water and an experimental hop variety that provides a unique coconut aroma.
Dogfish Head Romantic Chemistry
Dogfish Head has been brewing off-centered ales for off-centered people since 1995, with inspiration from every facet of life - the spice cabinet, music, even art.

What you have here is a serious India Pale Ale shacking up and hunkering down with mango and apricots. At the same time! Romantic Chemistry is brewed with an intermingling of mangos, apricots and ginger, and then dry-hopped with three varieties of hops to deliver a tropical fruit aroma and a hop-forward finish.

It's fruity, it's hoppy, it's tasty!
Founders Backwoods Bastard
Expect lovely, warm smells of single malt scotch, oaky bourbon barrels, smoke, sweet caramel and roasted malts, a bit of earthy spice and a scintilla of dark fruit. It's a kick-back sipper made to excite the palate.
Founders Breakfast Stout
The coffee lover's consummate beer. Brewed with an abundance of flaked oats, bitter and imported chocolates and two types of coffee, this stout has an intense fresh-roasted java nose topped with a frothy, cinnamon-colored head that goes forever.
Goose Island Bourbon County Brand Stout
Brewed in honor of the 1000th batch at our original Clybourn brewpub. A liquid as dark and dense as a black hole with thick foam the color of a bourbon barrel. The nose is an intense mix of charred oak, chocolate, vanilla, caramel and smoke. One sip has more flavor than your average case of beer.
Great Lakes Christmas Ale
Do not open 'til Christmas? Whoever coined that phrase obviously hasn't tasted Christmas Ale's fresh honey, cinnamon, and ginger flavors.
Flavor
A Yuletide's worth of holiday spices and sweet honey to keep you a-wassailing all season long.

Limited quantities.

Harpoon UFO Abracadabra
The Whole Story

The spring can be a magical time – a new year to look forward to! We gave our brewers the challenge of creating a bright, refreshing, wheat beer for the new year and what did they come up with? UFO Apricadabra! The right mix of refreshing and fruit flavor. Ta-da!
Harpoon UFO Cranberry Hefewizen
This hefeweizen is infused with cranberries right from the bogs of Massachusetts. A little tart, a little sweet, and a lot delicious, this cranberry hefeweizen is a refreshing addition to leaf peepin', hiking, or just hanging out around a camp fire (s'mores encouraged).
Harpoon UFO Raspberry (R.A.Z) Hefeweizen
Natural raspberry flavors are added to our UFO Hefeweizen to create this beer. Consistent with the Hefeweizen style, this beer is unfiltered and cloudy with a solid foamy head. UFO R.A.Z. has a distinctive, hazy rose color. The scent of fresh raspberries hits the nose immediately, along with a subtle bready aroma from the wheat and yeast. The body is light and the unfiltered yeast provides a soft mouthfeel. The taste of the fruit compliments the beer nicely, neither overwhelms the other. There is a faint sweetness on the palate, which finishes cleanly in a semi-dry, tart finish.
Lagunitas A Little Sumpin' Extra! Ale
Light in color, but huge in flavor and satisfaction.

The big sister of the Little Sumpin' Sumpin' Ale. Lots of wheat for a curious malt complexity and leaving it light in color, but huge in flavor and satisfaction
Net contents: Ounces and ounces of Malt, Hops, Yeast and water.
Lagunitas Brown Shugga
We believe this Special Ale is Something Unique. Feeding Brown Cane Sugar to otherwise Cultured Brewery Yeast is a'kin to feeding Raw Shark to your Gerbil. It is unlikely to ever occur in nature without Human Intervention. And it looks weird besides. But it has happened and now it's too Late.
New Belgium Fat Tire Belgian White
25 years ago we started brewing Fat Tire Belgian Style Ale. It became an iconic beer, and a symbol synonymous with craft. Now, for the first time, we're adding a new beer to the Fat Tire family: Fat Tire Belgian White. Taking inspiration from our decades of experience brewing Belgian beers, Fat Tire Belgian White is made with Seville oranges and Indian coriander, both freshly ground less than a mile from our Fort Collins brewery. It's a fresh, perfectly sweet, natural tasting Belgian White.
Paulaner Original Münchner Märzen
The name Paulaner stands for a Munich brewing tradition crafted over centuries, and acclaimed far beyond the borders of Bavaria throughout the entire world.
Doing business in a sustainable manner combined with courage and innovation, that is "the heaven of the Bavarians," a Paulaner tradition since 1634.
Is an amber beer style that was developed over 200 years ago to celebrate the original Oktoberfest. The Märzen name comes from "March beer" because it was historically brewed in March to be at peak flavor for the Oktoberfest celebration.

Country of Origin: Germany
Samuel Adams Cold Snap
Back by popular demand! The crisp character of this lively unfiltered White Ale gets a kick from a bright blend of spring spices. Orange peel and plum add subtle sweetness, while coriander contributes a peppery bite, creating a refreshing flavor that signals spring is on its way.
Samuel Adams Sam '76
Sam '76 is a revolutionary new beer that is an unmatched combination of refreshment, craft flavor, and aroma. By experimenting with both lager and ale yeast strains, our brewers developed a unique brewing process that takes two active fermentations and blends them together to create a deliciously harmonious result. This process delivers a distinct flavor that showcases the slight fruitiness of an ale with the balanced drinkability and smoothness of a lager. So whether you're tailgating, watching the game, or headed to a party with friends, Sam '76 can be your go-to beer.
Samuel Adams Winter Lager
Bold and rich, with a touch of holiday spice. The first thing one notices about a Samuel Adams® Winter Lager is the deep ruby color. Then comes the magical aroma which promises something special on the tongue. The cinnamon, ginger, and hint of citrus from the orange peel blend with the roasty sweetness of the malts to deliver a warming, spicy flavor. On the palate Samuel Adams Winter Lager is rich and full bodied, robust and warming, a wonderful way to enjoy the cold evenings that come with the season.
Sierra Nevada Celebration Ale
Sierra Nevada Celebration Ale represents a time honored tradition of brewing a special beer for the holiday season. There are generous portions of barley malts and fine whole hops of several varieties, creating a brew with a full, rich and hearty character.
Sixpoint Hi-Res
Let's talk optics. The study of light, and the eyeball… aka the prism that sends images blasting through your dome like a movie projector. As technology advances, resolution increases, so we can see the bigger picture AND the finer details. We're increasing the view -- in BOTH directions… Magnify the hop factor, amplify perception. Study the hop cone up close… this shiz is Hi-Resolution. We went microscopic; we got a grander view. Crack a HI-RES and widen your scope, both directions
Sixpoint Higher Volume Variety 12-Pack
Yeah, that's the good stuff. We're keeping our core beers fresh with this bangin' 12-pack. It's one of our favorite in-house designs to date and features 4 of our greatest hits, The Crisp, Resin, Bengali, and Sweet Action. Great for slinging over your shoulder on your way to a barbecue or rooftop jammer.
Spaten Oktoberfest Ur-Märzen
Amber in color. This medium bodied beer has achieved its impeccable taste by balancing the roasted malt flavor with the perfect amount of hops. Having a rich textured palate with an underlying sweetness true to tradition.

Country of Origin: Germany
Troegs Nugget Nectar
Squeeze those hops for all they're worth and prepare to pucker up: Tröegs' newest single batch brew, Nugget Nectar Ale, will take hopheads to nirvana with a heady collection of Nugget, Warrior and Tomahawk hops. Starting with the same base ingredients of our flagship HopBack Amber Ale, Nugget Nectar intensifies the malt and hop flavors to create an explosive hop experience.

While the brewery considers this an "Imperial Amber Ale" RateBeer considers it an IPA due to the hopping rate. There is no need to send any other corrections on the style.