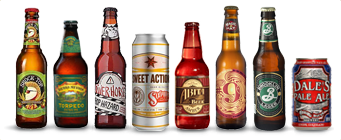 21st Amendment Back in Black
Brewed like an American IPA but with the addition of rich, dark malts, this beer has all the flavor and hop character you expect with a smooth, mellow finish.
21st Amendment Brew Free or Die IPA
Deep golden color. Citrus and piney hop aromas. Assertive malt backbone supporting the overwhelming bitterness. Dry hopped in the fermenter with four types of hops giving an explosive hop aroma. Previously known as 21A-IPA.
21st Amendment Down To Earth
Whether you have a long mission behind you or a full afternoon ahead, this session IPA will help keep things real. More relaxed than an IPA, but with all the hop aroma and flavor. Down to Earth is our Tribute to unsung heroes and unplanned adventures. Down to Earth is the natural evolution (pun intended) of Bitter American, our original session ale. We thought it would be fitting to bring our space chimp home and let him chill. Down to Earth is available year-round in six-pack cans and on draft and pairs nicely with a variety of things, including lunch.
21st Amendment Hell or High Watermelon Wheat
Like Lady Liberty, we stand for independence and perseverance. In the pursuit of innovative beer, there is no obstacle too great. No journey too long. No fruit too gigantic. This American wheat beer is brewed with real watermelon, for a flavor that's surprisingly crisp, dry and refreshing—summer in a can.
Abita Louisiana Spiced Ale
In Louisiana, we like spice in our food, our lives and our beer, too. With hints of celery, paprika, lemon peel, bay leaves and a pinch of cayenne, this ale has the savory quality of a crawfish boil. We hopped it with Cascades for a citrus flavor. Refreshing, crisp and slightly sweet with enough kick to keep the party going.
Abita Purple Haze
A lager brewed with real raspberries added after filtration. The berries add a fruity aroma, tartly sweet taste and a subtle purple color and haze. You may see fruit pulp in the beer.
Abita Strawberry Harvest Lager
Ripe, red Louisiana strawberries are harvested at the peak of the season in the early morning chill. The scent of the juicy red Ponchatoula berries fills the air as they're picked and pressed for Abita Strawberry Harvest Lager. The end result is a light, crisp lager with just a hint of strawberry sweetness.
Allagash Black
A Belgian style stout, is brewed with German 2 row barley, Torrified wheat and oats, balanced by a large addition of Belgian dark candi to give the Black a full and silky mouth feel. Roasted malts give this stout its classic chocolate, toast and malty taste, and contribute to chocolate notes and a hint of roasted coffee in the aroma.
Allagash Dubbel
A deep red color and a complex malty taste. The finish is dry with subtle hints of chocolate and nuts.
Allagash Hugh Malone
A blend of both Belgian and U.S. brewing traditions. This limited release Tribute Series beer combines the intense characteristics of American aroma hop varieties with the delicate esters of a Belgian style yeast. It is brewed with a blend of Pilsner Malt and Raw Wheat and fermented with the Allagash house yeast strain.
Allagash Saison
It is a golden hued beer, brewed with a 2-Row blend, malted rye, oats and dark Belgian candi sugar. It was hopped with Tettnang, Bravo and Cascade hops. Fermented with a traditional saison yeast strain, this beer exhibits notes of spice and tropical fruit in the aroma. Citrus and a peppery spice dominate the flavor and make way for a pleasant malt character. Saison is full bodied with a remarkably dry finish.
12 oz.
Bottle
4
$9.99
NEW
12 oz.
Bottle
24
$55.99
NEW
Allagash Tripel
This golden hued ale is marked by passion fruit and herbal notes in the aroma, with subtle suggestions of banana and honey surfacing from its deep and complex palate. The Tripel's finish is remarkably long and soothing.
Allagash White
Delicately balances full flavor with a crisp, refreshing taste and subtle hints of spice. Naturally cloudy, bottled with yeast.
Anchor Mango Wheat
Anchor's Mango Wheat is crisply refreshing, effervescent, golden ale that highlights the delectable character of this singular fruit: Brightness without sharpness, fullness of flavor without heaviness, tropical aroma without pungency, and complexity without cacophony. This brew pours marigold yellow, slightly hazy with white wheaty head. The aromas are fruity, ripe mangoes with hints of apricot and peach with a taste slightly sweet from mangoes with a hint of citrus tartness. It has a light and easy drinking mouthfeel and finishes crisp and clean.
Anchor Meyer Lemon Lager
Meyer Lemon Lager uses two different malts; pale two-row and Pils. In the whirlpool we use California cluster hops, then dry hop the beer with Nugget, Steiner, and Experimental No. 07270 hops. Our special ingredient is the California-grown Meyer Lemons, which are a cross between a true lemon and an orange, adding a sweeter, less acidic flavor than traditional lemons.
Anchor Steam
San Francisco's famous Anchor Steam®, the classic of American brewing tradition since 1896, is virtually handmade, with an exceptional respect for the ancient art of brewing. The deep amber color, thick creamy head, and rich flavor all testify to traditional brewing methods.
Ballast Point Big Eye IPA
If you have fallen for the IPA style like we have, Big Eye will be a welcome addition to your repertoire. You'll revel in Big Eye's bitter, hoppy flavor thanks to the American Columbus and Centennial hops that are used to flavor and dry hop our flagship IPA. We thank our hops every day that the English loved their bitters—or else the IPA style may not have been born to help the beer survive the journey from Cape Hope to India back in the 18th century.
Ballast Point Even Keel – Mango
Our Mango Even Keel is the ideal beer for easy drinking. This hoppy, session ale gets a flavor boost from mango, which perfectly plays off the citrusy hop bouquet. With fruit, hops, and a low ABV, this beer truly is on another level.
Ballast Point Grapefruit Sculpin
Our Grapefruit Sculpin is the latest take on our signature IPA. Some may say there are few ways to improve Sculpin's unique flavor, but the tart freshness of grapefruit perfectly complements our IPA's citrusy hop character. Grapefruit's a winter fruit, but this easy-drinking ale tastes like summer.
Ballast Point Sculpin IPA
The Sculpin IPA is a testament to our humble beginnings as Home Brew Mart. Founded in 1992, the Mart continues to be a catalyst for the San Diego brewing scene, setting the trend for handcrafted ales. Inspired by our customers, employees and brewers, the Sculpin IPA is bright with aromas of apricot, peach, mango and lemon. Its lighter body also brings out the crispness of the hops. This delicious Ballast Point Ale took a Bronze Medal at the 2007 Great American Beer Festival in the Pro Am category. The Sculpin fish has poisonous spikes on its fins that can give a strong sting. Ironically, the meat from a Sculpin is considered some of the most tasty. Something that has a sting but tastes great, sounds like a Ballast Point India Pale Ale.
Ballast Point Sculpin IPA – Pineapple
Our Pineapple Sculpin IPA came from one of many small-batch cask experiments to enhance the flavor of our signature IPA. With so many tropical hop notes in Sculpin, how could we not try adding some sweet, juicy pineapple? The combination of fruity flavors and hop intensity definitely packs a punch.
Best Damn Cherry Cola
Put a Cherry on Tap,' and our brewmasters have outdone themselves with this new brew: a delicious combination of cherry, caramel and cola notes."
Best Damn Root Beer
Throw back a throwback. The root beer's tagline – Ale aged on vanilla beans, 5.5% ABV.
Blue Moon Belgian White
Brewed with oats for creaminess and spiced with the perfect combination of orange peel and coriander.
An unfiltered wheat ale spiced in the Belgian tradition for an uncommonly smooth taste.
Blue Moon Cinnamon Horchata
Ale with a subtly sweet, yet spiced taste.
Blue Moon Variety Pack
An Assortment of Blue Moon favorites including:
Belgium White, Cinnamon Hochata Ale, White Ipa & Chai Spiced Ale.
Blue Moon White IPA
Blue Moon White IPA is crafted with four varieties of hops, wheat, coriander, and a hint of orange peel for a balanced taste with bright hop aromas.
Blue Point Blueberry Ale
A wonderful blend of fresh blueberries matched with a thirst quenching distinctive ale. 132 lbs of blueberries to each special batch. Brewed with 100% American ingredients
Blue Point Hoptical Illusion
Generous amount of selected hops balance out the malty backbone of this delicious golden India Pale Ale.
Blue Point Toasted Lager
Toasted Lager's balanced flavor of malt and hops makes for easy drinking and the special lager yeast produces an exceptional, long-lasting smooth finish.
Breckenridge Vanilla Porter
An ale that has all the chocolate and roasted nut flavor of a classic Porter, with an enigmatic surprise thrown in for good measure, real vanilla bean. A vanilla kiss in a rich, dark sea.
Brooklyn American Ale
Brooklyn American Ale is brewed exclusively for Finland. It has more crystal malt than Summer Ale and is more heavily dry-hopped. The dry-hopping in Summer Ale is all Amarillo, while Brooklyn American Ale has a blend of Amarillo and Cascade.
Brooklyn Black Chocolate Stout
A luscious deep dark chocolate flavor through a blend of specialty roasted malts. Brewed every year for the winter season. It is delicious when newly bottled, but also ages beautifully for years.
Brooklyn Blast
Brewed in New York, about halfway between the hop fields of the Pacific Northwest and the hop fields of Kent, England. So we use earthy English hops to build the foundation and bright citrusy American hops to bring the noise in the rambunctious IPA we call BLAST! British Maris Otter and German Pilsner malts lends solidity, balance and bready flavors to brace up a beer that's beautifully hoppy, strangely quaffable and oddly compelling. Minerally hop bitterness is followed by a shock wave of flavor and aroma. You won't even know what hit you.
Brooklyn Brown Ale
Brooklyn Brown uses pale, crystal, chocolate, and black malts to attain a complex creamy texture. It is more heavily hopped than its British forbears.
Brooklyn East India Pale Ale
Inspired by the original East India Pale Ales brewed in England in the early 1800's for the troops in India.
Brooklyn Greenmarket Wheat
Brooklyn Greenmarket Wheat Beer is brewed from 70% New York State-grown wheat and barley. Drinking this lovely beer helps reinvigorate the state's grain industry and benefit GrowNYC's mission to support family farms, farmers markets, gardens, recycling and education. Greenmarket Wheat is as bright and refreshing as a summer day. The Raw wheat gives this beer its zing, barley malt brings depth, and Belgian yeast lends complexity. Accented with orange peel, local honey and a dash of coriander, the beer is naturally carbonated by re-fermentation
Brooklyn Lager
Brooklyn Lager, the Brewery's flagship label, is New York's "hometown" beer, brewed to a pre-Prohibition recipe that dates back to the days when Brooklyn was the brewing capital of the East Coast. Brooklyn Lager has won numerous awards. Wrote Michael Jackson in the Simon & Schuster Pocket Guide to Beer: "The dry-hopped, fresh, flowery, firm, flavourful, Brooklyn Lager **-*** started well, in 1988, and has gained in character since."
Brooklyn Pilsner
A refreshing golden lager beer, brewed in the style favored by New York's pre-prohibition brewers.
Brooklyn Sorachi Ace
Brooklyn Sorachi Ace is a classic saison, a cracklingly dry, hoppy unfiltered golden farmhouse ale, but featuring rare Sorachi Ace hop.Fermented with our special Belgian ale strain, we add Sorachi Ace hops post-fermentation. After 100% bottle re-fermentation with Champagne yeast, the beer emerges with a bright spicy lemon zest aroma. It tastes like sunshine in a glass, and that suits us just fine, especially with seafood dishes and fresh cheeses.
Brooklyn Summer Ale
Brooklyn Summer Ale is a modern rendition of the "Light Dinner Ales" brewed in England throughout the 1800's right up until the 1940's. They were also called "luncheon ales" or even "family ales", because they were refreshing and flavorful without being too heavy. We brew our Brooklyn Summer Ale from premium English barley malt, which gives this light-bodied golden beer a fresh bready flavor. German and American hops lend a light, crisp bitterness and a citrus/floral aroma resulting in a beer with a very sunny disposition.
Brooklyn Variety Pack
Brooklyn Brewery Variety Pack includes the pre-Prohibition Lager, Pennant Ale, Brown Ale, East India Pale Ale and Pilsner.
Coney Island Hard Ginger Ale
What we have behind the curtain will amaze you! Astound you! Astonish you! Hailing from deep in the ground in a far off land comes an ingredient so fragrant and so delightful that a single sip will wash away your worries like waves crashing on sunny shores.

Feast your eyes on Coney Island Hard Ginger Ale: a tantalizing libation enhanced with exotic West African ginger. Are you tall enough to ride?

ABV: 5.6%
12 oz.
Bottle
6
$8.99
ON

SALE
Coney Island Hard Orange Cream Ale
Get your tickets here! It's a small price for a thrilling escape. Buckle up, passengers, and hang on to your hats; we're on a steep track to bring you back to the boardwalk.

Some rides are deceiving, but this one is all there. Coney Island Hard Orange Cream Ale is an amalgamation of orange, vanilla and spice inspired by the deliciously unexpected concoctions you only find on the boardwalk. Are you tall enough to ride?

ABV: 5.0%
12 oz.
Bottle
6
$8.99
ON

SALE
Coney Island Hard Root Beer
The gypsy should have predicted this. The most dignified beverage of days past, reimagined for your future self. The wooden planks under your feet and a hot dog in your hand; the only difference is that now you're tall enough to ride the ride.

Coney Island Hard Root Beer is a new twist on an old favorite. With hints of vanilla, licorice and birch, this root beer will bring you back to the boardwalk.

5.8% ABV
12 oz.
Bottle
6
$8.99
ON

SALE
Curious Traveler Shandy
Driven by wanderlust and a desire for discovery, the Curious Traveler™ set out to explore the globe. Always fearlessly inquisitive, he relished opportunities to befriend other travelers and to experience cultures he had only previously imagined. He sampled their wares, their foods and most importantly their libations. Some were good. Some not so good. Others were downright dangerous. Many years into his travels, his pace slowed on a particularly sweltering day. He sought refuge in a small pub to escape the oppressive heat. Before he could even finish wiping his brow, the bartender handed him a glistening glass of ale. The Traveler took a liking to the invigorating lemon shandy concoction. "Quite a refresher!" he said gratefully. The Traveler has never stopped exploring – in fact, he's on the road this very day. Somewhere. Only one thing has changed: he now makes sure he orders a shandy everywhere he goes.
Delirium Nocturnum
Country of Origin: Belgium
A Belgian ale that is strong, complex, with lots of flavour and character. Delirium Nocturnum is a triple fermented beer with re-fermentation in the bottle.
11.2 oz.
Bottle
4
$21.99
NEW
11.2 oz.
Bottle
24
$129.99
NEW
Delirium Tremens
Country of Origin: Belgium
A full bodied and alluring, fruity-hoppy, blond speciality. Best served in a straight glass, with or without the sediment. Good with fish or seafood.
11.2 oz.
Bottle
24
$129.99
Dogfish Head 120 Minute IPA
Too extreme to be called beer? Brewed to a colossal 45°P, boiled for a full 2 hours while being continually hopped with high alpha American hops, dry-hopped every day in the fermenter for a month, and aged for a month on whole leaf hops, 120 Minute IPA is by far the strongest IPA ever brewed. And at 21% ABV and 120 IBU's, you can see why we are calling this the Holy Grail for Hopheads. Editors note: ABV reduced down to 18% in 2009.
When available limited quantities!
Dogfish Head 60 Minute IPA
A powerful but balanced East Coast IPA with a lot of citrusy hop character. Tasting Notes: Citrus, cedar, pine & candied-orange flavors, floral.
Dogfish Head 90 Minute IPA
An Imperial I.P.A. brewed to be savored from a snifter. A big beer with a great malt backbone that stands up to the extreme hopping rate. This beer is an excellent candidate for use with Randall The Enamel Animal! 90 ibu.
Tasting Notes: Brandied fruitcake, raisiney, citrusy.
Dogfish Head Beer To Drink Music To
A Belgian-style ale brewed with sweet orange peel, green cardamom, peppercorns & vanilla

Limited quantities!
Dogfish Head Biere de Provence
Inspired by the fields of Provence in southern France, Bière de Provence begins with 2-row wheat and rye malts, and Jarrylo hops. A bounty of herbs, including lavender, bay leaf, marjoram and chervil, gives it a floral and spicy nose. With a hazy golden appearance, Bière de Provence is fermented using a Belgian yeast strain lending to a sweet and malty flavor profile. This summer saison has a smooth finish with a flavor that's just as complex as it is crisp and refreshing.
Dogfish Head Burton Baton
The elusive brew is made from pilsner malt and amber malt with an original gravity of 26.5?P, yielding an 11% abv. It's hopped with Warrior and Glacier varieties. Primary fermentation takes place in open vessels using two yeast strains, one American and one English
Dogfish Head Flesh & Blood
An honest to goodness IPA brewed with a bounty of real citrus including lemon flesh, blood orange juice plus orange and lemon peel. A combination of Warrior, Centennial, and a rare experimental hop to perfectly complement the citrus ingredients and flavor. Flesh & Blood balances the resinous hoppy characteristics of an American IPA with the explosive, zesty fruitiness and subtle dry tartness of citrus to deliver a highly quaffable ale that's incredibly unique and lovely to down the whole year round.
Dogfish Head Higher Math
Higher Math is a tribute to that auspicious first beer and celebrates 20 off-centered years of Dogfish Head. It's a golden strong ale fermented with sour cherry juice and cocoa nibs and clocks in at 17% ABV.

Higher Math has forward notes of cherries, pineapple and stewed fruit, with late notes of cocoa. It has a lingering sweetness and a notable warmth from the alcohol.
Limited quantities!
Dogfish Head Immort Ale
Vast in character, luscious & complex. Brewed with peat-smoked barley, this strong ale is brewed with organic juniper berries, vanilla & maple syrup. It's aged on oak and fermented with a blend of English & Belgian yeasts.


Dogfish Head Indian Brown Ale
A cross between a Scotch Ale, an I.P.A, and an American Pale, this beer is well hopped and malty at the same time. It is brewed with Aromatic Barley and caramelized brown sugar. - 50 IBU Notes of molasses, coffee, ginger, raisinettes, chocolate
Dogfish Head Midas Touch
This sweet yet dry beer is made with ingredients found in 2,700-year-old drinking vessels from the tomb of King Midas.
Dogfish Head Namaste
A Belgian-style White made with dried organic orange slices, fresh cut lemongrass and a bit of coriander. This beer will be a great summer quencher.

Namaste was brewed with Leo from Birra del Borgo in Italy as a tribute to our friends at 3 Fonteinen brewery in Belgium, who recently had devastating production loss (1/3 of their annual production!) at their brewery
Dogfish Head Palo Santo Marron
An unfiltered, unfettered, unprecedented brown ale aged in handmade wooden brewing vessels.
Dogfish Head Pennsylvania Tuxedo
A spruce-infused 4.7% ABV Pale Ale, Pennsylvania Tuxedo pays homage to the flannel suited hunters and gatherers who dwell deep in the back country woods of Central PA. Pennsylvania Tuxedo Brewed in collaboration with Family Run outerwear company Woolrich, our two like-minded companies came together to make a beer with Pacific Northwest hop varieties to make a sessionable concoction with a grassy citrus kick complimented by the resinous conifer qualities of fresh green Spruce Tips. We went into the forests of Northern Pennsylvania and Georgetown Delaware and picked these fresh tips ourselves. A dry yet doughy malt backbone lets the hops and Spruce shine while still balancing out the bitterness to make this one easy sipper.

Limited quantities!
Dogfish Head Romantic Chemistry
What you have here is a serious India Pale Ale shacking up and hunkering down with mango and apricots. At the same time! Romantic Chemistry is brewed with an intermingling of mangos, apricots and ginger, and then dry-hopped with three varieties of hops to deliver a tropical fruit aroma and a hop-forward finish. It's fruity, it's hoppy, it's tasty!

Limited quantities!
Dogfish Head Sixty-One
A continually hopped India Pale Ale brewed with Syrah grape must.
DuClaw Sweet Baby Jesus! Peanut Butter Porter
A complex, robust porter. It is jet black in color with a tan, rocky head, full body and creamy, luxurious mouthfeel. Its lightly sweet, malty flavor is accented by strong notes of chocolate, coffee and peanut butter, and balanced by a subtle hop character and moderate 6.5% abv. Sweet Baby Jesus finishes smooth, dry and roasty with notes of chocolate, espresso and peanut butter so tasty, you'll have no choice but to exclaim the name!
12 oz.
Bottle
6
$9.99
NEW
Flying Dog Bloodline Blood Orange IPA
Bloodline is brewed with blood orange peel and blood orange juice and hits the perfect balance between citrus sweetness and bitterness.
Bloodline begins with huge grapefruit on the nose. Then, a delicate balance of citrus sweetness and bitterness.
Flying Dog Brewhouse Rarities: Sriracha Pale Ale
Flying Dog Doggie Style Pale Ale
Dry hopped with lots of Cascade hops, pleasant malt flavor.
Flying Dog Double Dog
A generously hopped ale with a deep red color and pours with a nice frothy head. The abundance of hops will conjure some provocative aromas with hints of raisins and citrus.
12 oz.
CanBottle
6
$14.99
12 oz.
CanBottle
24
$55.99
Flying Dog Gonzo Imperial Porter
This turbo charged version of the Road Dog porter is mysteriously dark with a rich malty body, intense roasted flavors, and a surprisingly unique hop kick.
Flying Dog Raging Bitch
Belgian Style IPA... Wallow in its golden glow in a glass beneath a white foaming head. Remember, enjoying a RAGING BITCH, unleashed, untamed, unbridled – and in heat – is pure GONZO!! It has taken 20 years to get from there to here. Enjoy!" – Ralph Steadman
Flying Dog Snake Dog IPA
More cunning than a snake in the bush...Snake Dog India Pale Ale is a Colorado-style IPA, power hopped with specialty hops from the Pacific Northwest. This is the brewery's hop monster, and the citrus fruit aroma will hypnotize the senses of the most hardcore of craft drinkers. 15 Plato, 60 IBU, Crystal Malt, Warrior and Columbus hops, and dry hopped with Columbus.
Flying Dog Supertramp
Tart Cherry Ale - Crisp, clean with a tart cherry finish. Made with sweet and sour cherry purée.
12 oz.
Bottle
6
$9.99
NEW
Flying Dog Tropical Bitch IPA
2016 marks the 25th anniversary of Flying Dog, and to celebrate, we are launching our newest addition to the family, Tropical Bitch. A spin on the Belgian-Style IPA you already know and love, Tropical Bitch was brewed with pineapple, mango and passionfruit.
Flying Fish Belgian Abbey Dubbel
his Belgian-style Abbey Dubbel is an exceptionally complex beer with many interwoven flavors. This classic-style Abbey beer features an immense head with a fruity nose and a generous body. Malty in the middle, the beer features a clean, almondy dry finish and a slight alcohol warmth. More like a wine than a beer—it has a lot of the qualities of a fine Burgundy. The beer is bottle-conditioned.
Flying Fish Exit 16 Wild Rice IPA
Double IPA with generous additions of Chinook and Citra hops to create a nose that hints at tangerine, mango, papaya and pine.
Flying Fish Exit 4 American Trippel
A Belgian trippel, finished with plenty of American hops. Note the hazy golden hue and the aroma of citrus with hints of banana and clove. Then taste the Belgian malt flavors and a subdued bitterness in the finish. Bottle conditioned, this beer will develop as it ages.
Flying Fish Extra Pale Ale
An original American pale ale, the XPA highlights the subtle, sophisticated flavors and aromas of Midwestern two-row malt and imported aromatic and Munich malts. Washington-grown Mt. Hood and Fuggles hops create an extremely balanced beer with a beautiful straw color.
Flying Fish Hopfish IPA
An IPA with a deep golden color, and plenty of hop bitterness balanced by malt sweetness.
Flying Fish Red Fish
West Coast hoppy red ale. Columbus, Chinook and Cascade hops give the beer a robust piney nose. Two-row, crystal and cara-red malts give the beer a malty background and a 7% abv.
Flying Fish Variety Pack
An Assortment of Flying Fish favorites including:
Extra Pale Ale, Hopfish IPA. Redfish & Abbey Dubbel
Founders All Day IPA
An all-day IPA naturally brewed with a complex array of malts, grains and hops. Balanced for optimal aromatic and a clean finish. The perfect reward for an honest day's work and the ultimate companion to celebrate life's simple pleasures.
12 oz.
Can
15
$17.99
ON

SALE
Founders Centennial Ipa
Complex flavorful ale and bask in the frothy head's floral bouquet. Relish the immense citrus accents, achieved by the abundance of dry hopping. This ale's sweet, malty undertones balance the hop character with a finish that never turns too bitter.
Founders Curmudgeon Old Ale
This Old Ale conjures up thoughts of classic sea fairing ports, there local pubs and the weathered fisherman that frequent them. In traditional style Curmudgeon is brewed with an intense focus on the malt bill creating a very strong, rich, malty characteristic and a sweetness indicative of its cousin the barleywine. We are especially proud of the balance in this beer making it deceptively smooth and drinkable at 9.8% alcohol by volume.
Founders Devil Dancer Triple IPA
Founders most complex, most innovative, most feared and yet most revered ale produced. Massive in complexity the huge malt character balances the insane amount of alpha's used to create this monster. More IBU's than any brewery has documented, more than you would believe and dry-hopped for twenty-six days straight with a combination of 10 hop varieties. Dangerously drinkable and deliciously evil. We dare you to dance with the Devil. 112 IBUs
Founders Dirty Bastard
So good it's almost wrong. Dark ruby in color and brewed with seven varieties of imported malts.
Goose Island 312 Urban Wheat Ale
The first thing you notice is the hazy, cloudy appearance. That's how you know it's unfiltered. What hits you next is the spicy aroma of Cascade hops, followed by the crispy, fruity ale flavor delivered in a smooth, creamy body, the result of blending barley malt with torrified wheat. It's not like any other Goose Island Beer, but no less that you'd expect.
Goose Island IPA
A hop lover's dream. This classic ale adds a fruity aroma, set off by a dry malt middle, to ensure that the long hop finish is one you'll remember.
Great Divide Hercules Double IPA
Hoppier, maltier and with more alcohol than a standard IPA, Hercules Double IPA definitely is not for the faint of heart. Hercules Double IPA is, however, an elixir fit for the gods. A brash but creamy wonder, Hercules pours a deep orange-coppery color, forming substantial lace in the glass. Hercules Double IPA delivers a huge amount of piney, floral, and citrusy hop aroma and flavor from start to finish. A hefty backbone of nutty, toffee-like malt character balances Hercules' aggressive, punchy hop profile
Great Divide Yetti Imperial Stout
An almost viscous, inky-black brew, Yeti opens with a massive, roasty, chocolate, coffee malt flavor that eventually gives way to rich toffee and burnt caramel notes. Packed with an enormous quantity of American hops, Yeti's hop profile reveals a slightly citrusy, piney, and wonderfully dry hoppy finish
Great Lakes Burning River Ipa
An assertively hopped American Pale Ale with citrusy and piney Cascade hops. Subtle malt flavors balance the hop profile and provide a satisfying dry finish.
Great Lakes Commodore Perry Ipa
Medium bodied and well hopped with dry, fruity aftertaste, this monumental India Pale Ale honors the hero from The War of 1812 who battled the enemy on Lake Erie.
Great Lakes Dortmunder Gold
This smooth lager strikes a delicate balance between malt and hops in the aroma, palate, finish and body. It has more body and less hops than a Pilsner, and less malt and more hops than a Munich style lager. 30 IBU.
Great Lakes Edward Fitzgerald Porter
Complex, roasty aroma with a bittersweet, chocolate-coffee taste and a bold hop presence.
Great Lakes Eliot Ness
Deep Amber red color, with a fragrant malt aroma. Flavorful notes of rich caramelized malt and noble hop flavors harmonize on the palate leading to a crisp clean finish. Named after one of Cleveland's most respected safety directors, who frequented the brewpub's bar during his tenure from 1935-1941 and, according to popular legend, was responsible for the bullet holes still evident today.