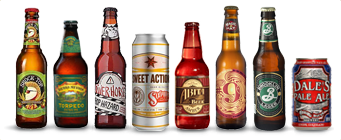 21st Amendment Hell or High Watermelon Wheat
A classic American wheat beer using fresh watermelon. Straw-colored and refreshing with a kiss of watermelon aroma and flavor.
Abita Purple Haze
A lager brewed with real raspberries added after filtration. The berries add a fruity aroma, tartly sweet taste and a subtle purple color and haze. You may see fruit pulp in the beer.
Allagash White
Delicately balances full flavor with a crisp, refreshing taste and subtle hints of spice. Naturally cloudy, bottled with yeast.
Anchor Steam
San Francisco's famous Anchor Steam®, the classic of American brewing tradition since 1896, is virtually handmade, with an exceptional respect for the ancient art of brewing. The deep amber color, thick creamy head, and rich flavor all testify to traditional brewing methods.
Ballast Point Fathom India Pale Lager
Lager meets IPA in a winning combination.

Our Fathom India Pale Lager combines time-honored lagering techniques with the hop profiles of a West Coast IPA recipe. The cold-fermenting lager yeast provides a clean base that allows the citrus and pine aromas from the hops to really shine. The result is a gold medal beer with a refreshing, easy drinking character and just the right amount of depth.
Ballast Point Grapefruit Sculpin
Our Grapefruit Sculpin is the latest take on our signature IPA. Some may say there are few ways to improve Sculpin's unique flavor, but the tart freshness of grapefruit perfectly complements our IPA's citrusy hop character. Grapefruit's a winter fruit, but this easy-drinking ale tastes like summer.
Ballast Point Sculpin IPA
The Sculpin IPA is a testament to our humble beginnings as Home Brew Mart. Founded in 1992, the Mart continues to be a catalyst for the San Diego brewing scene, setting the trend for handcrafted ales. Inspired by our customers, employees and brewers, the Sculpin IPA is bright with aromas of apricot, peach, mango and lemon. Its lighter body also brings out the crispness of the hops. This delicious Ballast Point Ale took a Bronze Medal at the 2007 Great American Beer Festival in the Pro Am category. The Sculpin fish has poisonous spikes on its fins that can give a strong sting. Ironically, the meat from a Sculpin is considered some of the most tasty. Something that has a sting but tastes great, sounds like a Ballast Point India Pale Ale.
Ballast Point Sculpin IPA – Pineapple
Our Pineapple Sculpin IPA came from one of many small-batch cask experiments to enhance the flavor of our signature IPA. With so many tropical hop notes in Sculpin, how could we not try adding some sweet, juicy pineapple? The combination of fruity flavors and hop intensity definitely packs a punch.
Bira 91 Blonde Lager
Bira 91 Blonde Lager is a refreshing contrast to insipid mass-market beers. Rich in color and made with the finest two-row barley. This flavorful lager is extra malty and high-hopped with a delicate aroma.
Bira 91 IPA
Bira 91 "The Indian Pale Ale" is a hop mutiny in the glass. High in alcohol (7%), this beer is made with a mix of two row pilsner malts, pale malts and wheat malts. Brewed with the world's most flavorful aroma and bitter hops (cascade, magnum, brewers' gold, and some secret exotic varieties!), this is a beer with a punch. Rich aromas of tropical fruit with a mildly sweet front start to seduce you, until you get hit by a burst of spicy, extra bitter finish. And the cycle repeats, till every taste bud of yours feels fresh and alive with flavor, and you adjust your bow tie, and ask the bartender for one more.
Bira 91 White
Bira 91 White. Bira 91 White is a deliciously different wheat beer with low bitterness, a hint of spicy citrus with a soft finish - a refreshing all day craft beer brewed with the finest all natural ingredients and brewed with barrels of passion.
Blue Moon Belgian White
Brewed with oats for creaminess and spiced with the perfect combination of orange peel and coriander.
An unfiltered wheat ale spiced in the Belgian tradition for an uncommonly smooth taste.
Blue Moon Mango Wheat
Our head brewmaster, Keith Villa, got the idea for this refreshing, summer beer from spending time on the beaches in Puerto Vallarta, Mazatlan and Cancun and wanting a beer that was refreshing with a taste of ripe mangos. The fruit vendors would bring freshly cut mangos and put them on a stick to enjoy in the sunshine. This beer is created with mango and a hint of honey for a mild sweetness with a bright yellow-orange color and cloudy wheat haze.

Awards: Silver Medal, Fruit Wheat Beer 2016 Great American Beer Festival®

Blue Moon Summer Honey Wheat
Ahhh...Summer Honey Wheat at Last.

When we first opened our doors in 1995, our summer seasonal was one of the first beers we brewed. Back then, we called it Honey Blonde Ale, and it was a favorite of baseball fans coming to a game during the heat of the Colorado summer. It took an extended summer break in 1999, reappearing in 2006 in time to win a Gold Medal at the Great American Beer Festival® under the name Blue Moon Honeymoon in the Specialty Honey Lager or Ale Category. In 2010, it became known as Blue Moon® Summer Honey Wheat Ale.

The beer with more name changes than a professional athlete, today Blue Moon® Summer Honey Wheat is crafted with clover honey and orange peel for a refreshing taste that makes the most of sun-soaked days.

Gold Medal at the 2010 Great American Beer Festival®—Blue Moon® Summer Honey Wheat Ale, Specialty Honey Beer Category
Blue Moon Variety Pack
An Assortment of Blue Moon favorites including:
Belgium White
Cinnamon Hochata Ale
Mango Wheat
Pacific Apricot Wheat
Valencia Grove Amber

Blue Point Blueberry Ale
A wonderful blend of fresh blueberries matched with a thirst quenching distinctive ale. 132 lbs of blueberries to each special batch. Brewed with 100% American ingredients
Blue Point Hoptical Illusion
Generous amount of selected hops balance out the malty backbone of this delicious golden India Pale Ale.
Blue Point Toasted Lager
Toasted Lager's balanced flavor of malt and hops makes for easy drinking and the special lager yeast produces an exceptional, long-lasting smooth finish.
Breckenridge Vanilla Porter
An ale that has all the chocolate and roasted nut flavor of a classic Porter, with an enigmatic surprise thrown in for good measure, real vanilla bean. A vanilla kiss in a rich, dark sea.
Brooklyn Black Ops
Brooklyn Black Ops does not exist. However, if it did exist, it would be a strong stout concocted by the Brooklyn brewing team under cover of secrecy and hidden from everyone else at the brewery. The myth is that this supposed "Black Ops" was then aged for months in bourbon barrels, bottled flat, and re-fermented with Champagne yeast. Presumably such a beer would raise a rich, fluffy dark brown head and it would combine chocolate and coffee flavors with a rich underpinning of vanilla-like bourbon notes. A beer like that would be mighty nice, but it would be hard to make more than few cases – it could never be sold or released to the public. They say that the brewmaster revealed the beer to a few other people at the brewery only after it had been barreled. The rumor going around is that the brewery plans to drink the beer themselves over the holidays and give some to their family and friends. That's what they say. But frankly, there's no evidence for any of this. This beer is obviously a figment of people's fervent imaginations. People tend to get loopy around the holidays. Everyone go home now – there's nothing to see here.

Given this beer's higher ABV and sturdy character, we think it's a prime candidate for cellaring. Find a cool, dry spot away from light sources, and see how it changes in the years to come. You never quite know what will happen when you age a beer: perhaps the body will smooth out, notes of vanilla, oak, and tannins will come to the front, or hints of leather and soy sauce will make themselves known. No matter what, remember that beer is meant for drinking, so don't keep it to yourself for too long.
Brooklyn Brown Ale
Brooklyn Brown uses pale, crystal, chocolate, and black malts to attain a complex creamy texture. It is more heavily hopped than its British forbears.
Brooklyn East India Pale Ale
Inspired by the original East India Pale Ales brewed in England in the early 1800's for the troops in India.
Brooklyn Lager
Brooklyn Lager, the Brewery's flagship label, is New York's "hometown" beer, brewed to a pre-Prohibition recipe that dates back to the days when Brooklyn was the brewing capital of the East Coast. Brooklyn Lager has won numerous awards. Wrote Michael Jackson in the Simon & Schuster Pocket Guide to Beer: "The dry-hopped, fresh, flowery, firm, flavourful, Brooklyn Lager **-*** started well, in 1988, and has gained in character since."
Brooklyn Pilsner
A refreshing golden lager beer, brewed in the style favored by New York's pre-prohibition brewers.
Brooklyn Summer Ale
Summer in Brooklyn is all about following your impulses, winging it from beaches and barbecues to stoops and rooftops. Brooklyn Summer Ale is a refreshing, flavorful pale ale made to accompany you on all your warm weather adventures. 100% British 2-row barley brings its famed bready flavors, capped off with German and American hops to provide a snappy, clean bitterness and a bright, floral aroma. It's a sunny pale ale, Brooklyn style.
Brooklyn The Defender
THE DEFENDER is constantly vigilant, standing guard over all those who dare to drink great beer. This bright, juicy, West Coast-style IPA takes on a reddish twist from a dash of roasted malt. Bold, fruity hop bitterness and an intensely resinous nose lead the way into a dry finish that blazes the trail for your next sip. Who is this masked hero? The Defender emerged in an era when gloomy walls and bland beer held our city in a stranglehold. Slowly, murals began to brighten the landscape and flavorful beer flooded the taps. Today the city is alive with fiery art and delicious beer. The Defender maintains constant vigilance to battle back the blandness lurking around the edges. Ours is a world of light, fury, and song. This is it's Defender! Brooklyn Defender IPA was forged in collaboration with our sidekicks at New York Comic Con as the official beer of the convention. Malts: Pilsner, Crisp, Carared, Crystal Hops: Pilgrim, Willamette, Cascade, Mosaic, Amarillo
Brooklyn Variety Pack
Brooklyn Brewery Variety Pack includes the pre-Prohibition Lager, Pennant Ale, Brown Ale, East India Pale Ale and Pilsner.
Cigar City Florida Cracker White Ale
The Cracker Cowboys of Florida were colonial-era settlers, often of Scots-Irish descent, who arrived in Florida when Spain traded their territory of La Florida to the English. The term Cracker in Florida usage relates to the whip these "cow hunters" used to herd cattle in Florida's Palmetto Prairies. Called Quáqueros by the Spanish, these hardy and hard working Cracker Cowboys helped to shape the history of Florida, the nation's oldest cattle raising state. We brew Florida Cracker White ale with unmalted wheat, orange peel and coriander and then ferment it with a French Saison yeast strain to give it a spicy and dry finish. Perfect for a warm day on the Palmetto Prairie.
Cigar City Guayabera
Traditional throughout Latin America, the guayabera shirt combines style, functionality, form and tradition in it's four-pocketed design. We at Cigar City feel the same reverence and appreciation for the guayabera that we do for the Citra hop varietal, an ingredient that imparts notes of tangerine, lime and berries to this traditional American Pale Ale. The exclusive use of Citra hops in this beer creates a flavor that's at once unique and recognizable, while it's dry, crisp character and moderate alcohol make it as refreshing and functional as a crisp linen guayabera.
Cigar City Jai Alai India Pale Ale
Jai Alai India Pale Ale pays tribute to the original extreme sport. Jai Alai, a game native to the Basque region of Spain, is played on a court called a fronton. Jai Alai players attempt to catch a ball using a curved mitt, whilst the ball travels at speeds of up to 188 miles per hour! Proving they have a sense of humor the Spanish dub this game, with its ball traveling at race car speeds, """"the merry game."""" Tampa was once home to a busy Jai Alai fronton but sadly all that remains of Jai Alai in the Tampa Bay area is this India Pale Ale that we brew in tribute to the merry game. The India Pale Ale style of beer has its roots in the strong ales sent from England to thirsty British troops in India during the 18th century. To survive the journey the beers needed more alcohol and more hops (which act as a natural preservative). This "big" brewing practice made India Pale Ale one of the first """"extreme beers"""" and a favorite among the Queens military men in India. Eventually it became a favorite style of the new crop of American brewers seeking more flavor and complexity than mass-market brewers were willing to offer.
Cigar City White Oak Jai Alai®
A truly unique India Pale Ale, this iteration of our Jai Alai IPA boasts the addition of white oak spirals to impart sleek notes of vanilla, coconut and a touch of dill to Jai Alai's bold citrus and caramel character. The oak also serves to temper the bitterness in the 70 IBU base beer while oak tannins elegantly dry the beer's body to create a unique drinking experience that still remains true to Jai Alai's unique qualities.
Coney Island Mermaid Pilsner
Mermaid Pilsner is a light-bodied, crisp-drinking, nicely hopped lager. A heavy-handed addition of rye malt adds a mild spiciness, which is balanced by a light, fruity, floral hop aroma.
Mermaids, those mysterious aquatic lovelies, have popped up all over the world in legend since 1000 BC. No scientific evidence has ever surfaced to support their existence, but we're not ones to argue with folklore.
Coney Island Merman NY IPA
Bringing together the strong malt backbone of traditional East Coast IPAs, the clean hop bitterness of West Coast IPAs, and the hazy, intensely fruity hop character of New England IPAs, we have created an IPA that stands alone. Thrill your tastebuds with Coney Island Merman IPA, our very own New York IPA.
Delirium Nocturnum
Country of Origin: Belgium
A Belgian ale that is strong, complex, with lots of flavour and character. Delirium Nocturnum is a triple fermented beer with re-fermentation in the bottle.
11.2 oz.
Bottle
24
$129.99
Delirium Tremens
Country of Origin: Belgium
A full bodied and alluring, fruity-hoppy, blond speciality. Best served in a straight glass, with or without the sediment. Good with fish or seafood.
11.2 oz.
Bottle
24
$129.99
Dogfish Head 120 Minute IPA
Too extreme to be called beer? Brewed to a colossal 45°P, boiled for a full 2 hours while being continually hopped with high alpha American hops, dry-hopped every day in the fermenter for a month, and aged for a month on whole leaf hops, 120 Minute IPA is by far the strongest IPA ever brewed. And at 21% ABV and 120 IBU's, you can see why we are calling this the Holy Grail for Hopheads. Editors note: ABV reduced down to 18% in 2009.

Extremely limited... Now Available!
Dogfish Head 60 Minute IPA
A powerful but balanced East Coast IPA with a lot of citrusy hop character. Tasting Notes: Citrus, cedar, pine & candied-orange flavors, floral.
Dogfish Head 90 Minute IPA
An Imperial I.P.A. brewed to be savored from a snifter. A big beer with a great malt backbone that stands up to the extreme hopping rate. This beer is an excellent candidate for use with Randall The Enamel Animal! 90 ibu.
Tasting Notes: Brandied fruitcake, raisiney, citrusy.
Dogfish Head Burton Baton
The elusive brew is made from pilsner malt and amber malt with an original gravity of 26.5?P, yielding an 11% abv. It's hopped with Warrior and Glacier varieties. Primary fermentation takes place in open vessels using two yeast strains, one American and one English
Dogfish Head Dragons & YumYums
An explosion of fruit in every sip, Dragons & YumYums is an intensely tropical - yet subtlety bitter - pale ale brewed with a combination of dragonfruit, yumberry, passionfruit, pear juice and black carrot juice. Clocking in at 6.5% ABV and 25 IBU, Dragons & YumYums is a first-of-its-kind beer and vinyl collaboration with American rock icons, The Flaming Lips.
Dogfish Head Flesh & Blood
An honest to goodness IPA brewed with a bounty of real citrus including lemon flesh, blood orange juice plus orange and lemon peel. A combination of Warrior, Centennial, and a rare experimental hop to perfectly complement the citrus ingredients and flavor. Flesh & Blood balances the resinous hoppy characteristics of an American IPA with the explosive, zesty fruitiness and subtle dry tartness of citrus to deliver a highly quaffable ale that's incredibly unique and lovely to down the whole year round.
Dogfish Head Immort Ale
Vast in character, luscious & complex. Brewed with peat-smoked barley, this strong ale is brewed with organic juniper berries, vanilla & maple syrup. It's aged on oak and fermented with a blend of English & Belgian yeasts.


Dogfish Head Lupu-luaü IPA
What began as an exploration of all things hazy and pale, Lupuluaü morphed into a coconut-centric IPA. We combined Pils malt with flaked barley, rolled oats, and malted and raw wheat to bring the haze. Then we brought coconut to the party in 3 different ways with toasted organic coconut, dehydrated coconut water and an experimental hop variety that provides a unique coconut aroma.
Dogfish Head Mixed Media
The closest an ale can legally be to wine! With 51% of the fermentable sugars coming from grain and 49% coming from grapes, Mixed Media is a complex saison-esque ale brewed with a distinct Belgian yeast strain. Using a late-harvest Viognier grape must from our friends at Alexandria Nicole Cellars in Washington, you'll find notes of white grape and melon in the aroma, and greeted with a spicy white wine body in every sip.

If you were (or still are) a fan of our Noble Rot or Oak-aged Noble Rot, you'll be delighted with the addition of Mixed Media to our lineup of beer-wine hybrids.

"We've been experimenting with grape juice and must in the brewing process with beers like Midas Touch, Red & White, Noble Rot and Sixty One, since we first opened 23 years ago as the smallest American craft brewery," says Dogfish Head founder & CEO Sam Calagione. "By blending the two seemingly opposite worlds of beer and wine together we've discovered that they collide quite nicely, and the combination of the two adds an additional thread of flavor and a layer of complexity to the mix."
Dogfish Head Namaste
A Belgian-style White made with dried organic orange slices, fresh cut lemongrass and a bit of coriander. This beer will be a great summer quencher.

Namaste was brewed with Leo from Birra del Borgo in Italy as a tribute to our friends at 3 Fonteinen brewery in Belgium, who recently had devastating production loss (1/3 of their annual production!) at their brewery
Dogfish Head Pennsylvania Tuxedo (8.5%)
Pennsylvania Tuxedo pays homage to the flannel suited hunters and gatherers who dwell deep in the back country woods of Central PA. Pennsylvania Tuxedo Brewed in collaboration with Family Run outerwear company Woolrich, our two like-minded companies came together to make a beer with Pacific Northwest hop varieties to make a concoction with a grassy citrus kick complimented by the resinous conifer qualities of fresh green Spruce Tips. We went into the forests of Northern Pennsylvania and Georgetown Delaware and picked these fresh tips ourselves.
Dogfish Head Romantic Chemistry
Dogfish Head has been brewing off-centered ales for off-centered people since 1995, with inspiration from every facet of life - the spice cabinet, music, even art.

What you have here is a serious India Pale Ale shacking up and hunkering down with mango and apricots. At the same time! Romantic Chemistry is brewed with an intermingling of mangos, apricots and ginger, and then dry-hopped with three varieties of hops to deliver a tropical fruit aroma and a hop-forward finish.

It's fruity, it's hoppy, it's tasty!
DuClaw Sweet Baby Jesus! Peanut Butter Porter
A complex, robust porter. It is jet black in color with a tan, rocky head, full body and creamy, luxurious mouthfeel. Its lightly sweet, malty flavor is accented by strong notes of chocolate, coffee and peanut butter, and balanced by a subtle hop character and moderate 6.5% abv. Sweet Baby Jesus finishes smooth, dry and roasty with notes of chocolate, espresso and peanut butter so tasty, you'll have no choice but to exclaim the name!
12 oz.
Bottle
6
$9.99
NEW
Flying Dog Double Dog
A generously hopped ale with a deep red color and pours with a nice frothy head. The abundance of hops will conjure some provocative aromas with hints of raisins and citrus.
12 oz.
CanBottle
6
$14.99
12 oz.
CanBottle
24
$55.99
Flying Dog Gonzo Imperial Porter
This turbo charged version of the Road Dog porter is mysteriously dark with a rich malty body, intense roasted flavors, and a surprisingly unique hop kick.
Flying Dog Raging Bitch
Belgian Style IPA... Wallow in its golden glow in a glass beneath a white foaming head. Remember, enjoying a RAGING BITCH, unleashed, untamed, unbridled – and in heat – is pure GONZO!! It has taken 20 years to get from there to here. Enjoy!" – Ralph Steadman
Founders All Day IPA
An all-day IPA naturally brewed with a complex array of malts, grains and hops. Balanced for optimal aromatic and a clean finish. The perfect reward for an honest day's work and the ultimate companion to celebrate life's simple pleasures.
12 oz.
Can
15
$17.99
ON

SALE
Founders Backwoods Bastard
Expect lovely, warm smells of single malt scotch, oaky bourbon barrels, smoke, sweet caramel and roasted malts, a bit of earthy spice and a scintilla of dark fruit. It's a kick-back sipper made to excite the palate.
Founders Breakfast Stout
The coffee lover's consummate beer. Brewed with an abundance of flaked oats, bitter and imported chocolates and two types of coffee, this stout has an intense fresh-roasted java nose topped with a frothy, cinnamon-colored head that goes forever.
Founders KBS Bourbon Barrel-Aged Chocolate Coffee Stout
What we've got here is an imperial stout brewed with a massive amount of coffee and chocolates, then cave-aged in oak bourbon barrels for an entire year to make sure wonderful bourbon undertones come through in the finish. Makes your taste buds squeal with delight.

Limited quantities!
Goose Island 312 Urban Wheat Ale
The first thing you notice is the hazy, cloudy appearance. That's how you know it's unfiltered. What hits you next is the spicy aroma of Cascade hops, followed by the crispy, fruity ale flavor delivered in a smooth, creamy body, the result of blending barley malt with torrified wheat. It's not like any other Goose Island Beer, but no less that you'd expect.
Goose Island Bourbon County Brand Stout
Brewed in honor of the 1000th batch at our original Clybourn brewpub. A liquid as dark and dense as a black hole with thick foam the color of a bourbon barrel. The nose is an intense mix of charred oak, chocolate, vanilla, caramel and smoke. One sip has more flavor than your average case of beer.
Goose Island IPA
A hop lover's dream. This classic ale adds a fruity aroma, set off by a dry malt middle, to ensure that the long hop finish is one you'll remember.