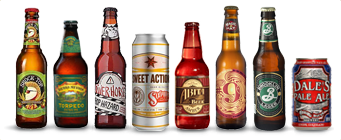 Harpoon Flannel Friday
There's nothing that says "Fall is here! Fall is here!" louder than that first day at the brewery when everyone shows up in flannel.

This Hoppy Amber Ale is our tribute to the quintessential season of change. A bright hop aroma from late hop additions plays with its strong malt backbone. Amber hued, medium bodied, with hints of citrus and pine, this ale is made for the crisp days (and nights) of fall.

Harpoon IPA
This copper colored ale is floral, medium bodied, with a crisp, refreshing finish.
Harpoon UFO Hefewizen
Brewed with orange peel and a unique blend of spices, UFO White is the perfect choice for a summer's barbecue, a night out with friends or any time you¹re thirsting for something a little different.
Harpoon UFO Pumpkin
Imagine a pumpkin vine wound its way in a field of barley, and a brewer harvested it all to make a beer. Add Northwestern hops and a blend of spices, and you've got UFO Pumpkin. The malt combination provides a smooth body and slightly sweet flavor, which balances perfectly with the earthy notes derived from the pure pumpkin. And like all of our UFO beers, UFO Pumpkin is unfiltered so all the wonderful flavors are right there in your glass. Cheers!
Harpoon UFO Raspberry (R.A.Z) Hefeweizen
Natural raspberry flavors are added to our UFO Hefeweizen to create this beer. Consistent with the Hefeweizen style, this beer is unfiltered and cloudy with a solid foamy head. UFO R.A.Z. has a distinctive, hazy rose color. The scent of fresh raspberries hits the nose immediately, along with a subtle bready aroma from the wheat and yeast. The body is light and the unfiltered yeast provides a soft mouthfeel. The taste of the fruit compliments the beer nicely, neither overwhelms the other. There is a faint sweetness on the palate, which finishes cleanly in a semi-dry, tart finish.
Hoboken Brewing Company Bodi Blonde
Bodi Blonde Coconut Ale, has hop-driven notes of fresh citrus and takes part of its name from Patrick Swayze's character in Point Break. It's a light beer brewed with barley, wheat, and corn, and then filtered through a bed of fresh organic flaked coconut.
Hoboken Brewing Company Cityside IPA
Cityside IPA, is a New England Style India Pale Ale with Mosiac & Amarillo hops. It's a "sessionable" brew that focuses on the fresh aromatics and flavors of an IPA while being light in color, bitterness and overall Alcohol by Volume.
Ithaca Apricot Wheat
An easy-drinking wheat beer is light in color and body...perfect for the warmer weather. In crafting this fine ale, we add many pounds of real apricot fruit to create a "secondary fermentation." This creates a gentle wheat beer with just a hint of apricot flavor in the finish. A very drinkable, mildly fruity ale.
Ithaca Apricot Wheat
An easy-drinking wheat beer is light in color and body...perfect for the warmer weather. In crafting this fine ale, we add many pounds of real apricot fruit to create a "secondary fermentation." This creates a gentle wheat beer with just a hint of apricot flavor in the finish. A very drinkable, mildly fruity ale.
Ithaca Flower Power IPA
Elegantly traditional and rich in its' hop character, this India Pale Ale is thirst-quenching and soul-satisfying. Each sip delivers a bounty of herbal and floral hop character, balanced by the fruity signature of our house yeast.
Kentucky Bourbon Barrel Ale
A smooth, golden elixir unlike any other. Subtle yet familiar flavors of vanilla and oak are imparted to this special ale as it rests in the charred barrel. We attribute this to what the bourbon maker calls the "angel's share". Elegantly smooth and modestly carbonated, Kentucky Bourbon Barrel Ale is a fine sipping ale with the distinctive nose of a well-crafted Kentucky bourbon.
12 oz.
Bottle
4
$11.99
NEW
Kona Big Wave Golden Ale
Big Wave is a lighter bodied golden ale with a tropical hop aroma and flavor – a smooth, easy drinking refreshing ale.
Kona Longboard Lager
A smooth refreshing lager fermented and aged for weeks at cold temperatures to yield its exceptionally smooth flavor.
Lagunitas A Little Sumpin' Extra! Ale
Light in color, but huge in flavor and satisfaction.

The big sister of the Little Sumpin' Sumpin' Ale. Lots of wheat for a curious malt complexity and leaving it light in color, but huge in flavor and satisfaction
Net contents: Ounces and ounces of Malt, Hops, Yeast and water.
Lagunitas A Little Sumpin' Sumpin' Ale
Way smooth and silky with a nice wheaty-esque-ish-ness. Just the little sumpin' sumpin' we all need to kick Summer into full swing! Ingredients: Hops, Malt, Hops, Hops, Yeast, Hops, Water, and Hops.


Lagunitas Aunt Sally
A Unique Dry-Hopped Sweet Tart Sour Mash Ale

We soured the wort on the Hot Side with Lactobacillus for a few days and then brewed up this smooth and hoppy sour. It tastes like a big bowl of fruity candy or some chewable flavored vitamins, but what's the difference? It's sweet, tart, and sassy, just like the tasty cherry pie that your favorite aunt makes. For all the Aunt Sally's out there, You know who you are...


Lagunitas Born Yesterday Pale Ale
Born Yesterday is a newborn version of our re-born Pale, a Newer New Dogtown Pale with a fresh addition … We added some wet, lupulin-drenched, un-kilned, whole-cone, fresh-picked-and-rushed-straight-from-Yakima hops for your immaculate reception. This Un-Freakin-Filtered, wetter-than-wet beer has 11lbs-per-barrel of Simcoe, Citra, Mosaic and Indigenous Catawampus. Whoa.
Lagunitas Brown Shugga'
Dangerously Slammable

Originally a failed attempt at our 1997 batch of Olde GnarlyWine Ale resulting in an all-new-beer-style we like to call... Irresponsible. We believe this Special Ale is something unique. Feeding brown cane sugar to otherwise cultured brewery yeast is a'kin to feeding raw shark to your gerbil. It is unlikely to ever occur in nature without human intervention. And it looks weird besides. But it has happened and now it's too late.
Lagunitas IPA
Made from Copius Cascade and Centennial hops with Crystal malt. Moderately hoppy and well balanced, this brew's perfect combination of hops and malt will leave your taste buds wanting more.
Lagunitas Maximus
At the height of the heat in the heart of the summer, we felt that the only cure was a raging mouthful of fresh hops and malt. Caution: May remove enamel from teeth. This is Lagunitas IPA pumped up by about 30%!
Lagunitas Passion Grass Session Ale
We had a Joint Session with our friends at Short's Brewing in Bellaire, Mich. to create this smooth and drinkable 4.6% ABV West by Midwest Ale. With some passion fruit juice added for that pleasant summery-ness and rounded off with a special zing of lemongrass, it's best imbibed with your 'buds … it's good to have friends.
Lagunitas SUCKS
During the 2011 holiday season, we didn't have the brewing capacity to make our favorite seasonal brew, the widely feared Brown Shugga' Ale. So this substitute beer is a 'Cereal Medley' of Barley, Rye, Wheat, and Oats…. Full of complexishness from the 4 grains, and weighing in at 7.6% abv, Then joyously dry-hopped for that big aroma and resinous hop flavor.

Back this year by popular demand!
12 oz.
Bottle
6
$10.99
NEW
Lagunitas Super Cluster
A citra-hopped mega ale of intergalactic proportions
You are here. On a speck of dust, three tiny rocks from the source. At the edge of something much larger, in the middle of something else, at the beginning of the end. It's a lot to wrap your head around, so take it one gulp at a time. Life is uncertain...Super Cluster is a Citra-Hopped Mega Ale of intergalactic proportions. Everything we've learned about making hop-forward beer: Pale, cold, alcoholic, and bitter.
Land Shark Lager
*Refreshing, drinkable beer
*Brewed for the island lifestyle
*Fins up!

Left Hand Nitro Milk Stout
Milk Stout Nitro cascades beautifully, building a tight, thick head like hard whipped cream. The aroma is of brown sugar and vanilla cream, with hints of roasted coffee. The pillowy head coats your upper lip and its creaminess entices your pallet. Initial roasty, mocha flavors rise up, with slight hop & roast bitterness in the finish.
Leinenkugel Summer Shandy
Our own unique take on Franz Kugler's original Munich tavern tradition. Leinenkugel's® Summer Shandy® is our traditional weiss beer with refreshing natural lemonade flavor that makes it the perfect summer beer.
Leinenkugel Summer Variety Pack
A variety pack containing 3 bottles each:
Cherry Blonde Lager
Canoe Paddler
Summer Shandy
Orange Shandy
Magic Hat #9
A sort of dry, crisp, fruity, refreshing, not-quite pale ale. #9 is really impossible to describe because there's never been anything else quite like it
Magic Hat Jam Pack Variety Cans
5 cans each:
Single Chair Golden Ale
Hocus Pocus Wheat Ale
Fat Angel Pale Ale
Maine Beer Lunch
Lunch is a special whale that has been spotted off the Maine coast since 1982. She has what looks like a bite taken out of her fin, which adds to her unique character. We dedicate this beer to her determination and persistence. Keep on swimming!
Our "East Coast" version of a West Coast-style IPA. Intense hop flavors and aromas of tropical and citrus fruits and pine dominate. A subtle malt sweetness brings the beer into balance.
Narragansett Lager
Narragansett Lager is old reliable. It was the first beer brewed by "The Original Six" back in 1890, the bestselling beer in New England from the 1930s to the 1970s, and the official beer of the Boston Red Sox from 1944-1975.
New Belgium Citradelic Tangerine IPA
Tune in and hop out with New Belgium Citradelic. Set adrift on a kaleidoscopic wave of hoppiness brought to you by a mystical marriage of Citra hops and tangerine peel, which elevates each sip onto a plane of pure tropical, fruity pleasure. Citradelic's namesake hop and fruit combine to jam with visions of additional hops like citrusy Mandarina Bavaria, tropical Azzaca, and fruity Galaxy for a colorful explosion that's grounded by just a touch of malty sweetness. Bored by the status quo? Expand your palate with a pour of Citradelic.
New Belgium Fat Tire
Named in honor of our founder Jeff's bike trip through Belgium, Fat Tire Amber Ale marks a turning point in the young electrical engineer's home brewing. Belgian beers use a far broader palette of ingredients (fruits, spices, esoteric yeast strains) than German or English styles. Jeff found the Belgian approach freeing. Upon his return, Jeff created Fat Tire and Abbey Belgian Ale, (assuming Abbey would be his big gun). He and his wife, Kim traveled around sampling their homebrews to the public. Fat Tire's appeal quickly became evident. People liked everything about it. Except the name. Fat Tire won fans is in its sense of balance: toasty, biscuit-like malt flavors coasting in equilibrium with hoppy freshness.
New Belgium Fat Tire Belgian White
25 years ago we started brewing Fat Tire Belgian Style Ale. It became an iconic beer, and a symbol synonymous with craft. Now, for the first time, we're adding a new beer to the Fat Tire family: Fat Tire Belgian White. Taking inspiration from our decades of experience brewing Belgian beers, Fat Tire Belgian White is made with Seville oranges and Indian coriander, both freshly ground less than a mile from our Fort Collins brewery. It's a fresh, perfectly sweet, natural tasting Belgian White.
New Belgium VooDoo Ranger IPA
Are you a hopinista? Thank our Beer Rangers for inspiring (and begging for) this well-balanced Simcoe, Cascade and Chinook hopped IPA. 70 IBUs


New Belgium Voodoo Ranger Juicy Haze IPA
Packed with bright tropical aromas and brilliant citrusy flavors, this unfiltered IPA wraps up with a pleasantly smooth finish.
Not Your Father's Root Beer (5.9%) – Small Town Brewery
We'll just say this: Don't let kids get their hands on your pack of Not Your Father's Root Beer. While beer normally tastes like, well, beer, Not Your Father's Root Beer, an ale from Illinois's Small Town Brewery, tastes just like root beer. Just like root beer.
Ommegang Hennepin
This hoppy, farmhouse style ale has a champagne like effervescence with a crisp but light on the tongue finish. Similar to the Belgian Saison style , this beer serves well as an aperitif. Hennepin has a majestic golden hue.
Ommegang Nirvana IPA
Nirvana IPA is kettle-hopped with Bravo, Simcoe, Centennial, Topaz, and Mosaic, dry-hopped with Centennial, Citra, Simcoe and Amarillo and clocks in at 6.5% ABV and 60 IBUs. The flavor is hoppy, juicy and citrusy goodness – without harsh bitterness.
Ommegang Witte
A traditional Belgian-style wheat ale with whispers of sweet orange and a touch of tart lemon. Soft and seductive, Ommegang Witte is this summer's version of spicy intrigue and refreshing flavor.
Oskar Blues Dale's Pale Ale
Brewed with hefty amounts of European malts and four kinds of American hops, it delivers a blast of hop aromas, a rich middle of malt and hops, and a thrilling finish. It weighs in at 6.5 % alcohol by volume.
Oskar Blues Death By Coconut
Originally a collaboration with Shamrock Brewing Co. Intense pure liquid cacao flavors swirl with popping coconut aromas, all supported by a semi-sweet porter made from loads of our dark chocolate and extra dark caramel malt. This limited release specialty comes around once a year to satisfy that sweet tooth, so get 'em while you can before they disappear. At 6.5% ABV and 25 IBUs, this choconut goodness will have you yellin' "Pass. Dash. Hit." all winter long.
Oskar Blues Fugli
Yuzu and Ugli fruit infusions twisted together with the blueberry, tangerine notes of Mosaic make for a tangy, juicy, zesty array of aroma and flavor. Salivation will instantly ensue with one sniff of this crushable brew (5.8% ABV, 60 IBUs) that was inspired by a Yuzu brew we made with some brewing friends in Japan.
Samuel Adams Boston Lager
Complex and balanced, with a beautiful hop aroma. This deep amber to golden colored full bodied lager displays caramel sweet notes balanced with distinct citrus and piney notes. A strong, smooth finish and mouth feel.
12 oz.
Bottle
12
$17.99
ON

SALE
12 oz.
Bottle
24
$34.99
ON

SALE
Samuel Adams Cherry Wheat
The sweet fruitiness of the cherries is balanced against the crisp, cereal note from the malted wheat and the subtle citrus flavor from the Noble hops. The end result is a sweet, refreshing beer that is light on the palate but long on complexity.
Samuel Adams Octoberfest
The first thing you notice when pouring a glass of this seasonal beer is the color. Samuel Adams® Octoberfest has a rich, deep golden amber hue which itself is reflective of the season. Samuel Adams® Octoberfest is a malt lover's dream, masterfully blending together four roasts of barley to create a delicious harmony of sweet flavors including caramel and toffee. The beer is kept from being overly sweet by the elegant bitterness imparted by the German Noble hops. Samuel Adams® Octoberfest provides a wonderful transition from the lighter beers of summer to the winter's heartier brews.
Samuel Adams Rebel Ipa
Brewed with 5 varieties of West coast hops: cascade, simcoe, centennial, chinook, & amarillo. It's everything we love about West coast style IPA's. Big citrus & grapefruit flavors with subtle pine notes for a flavorful refreshing brew.
Shiner Bock
A distinctive, rich, full-flavored, deep amber-colored beer with an inviting smooth taste without excessive bitterness.
Shiner Family Reunion Variety Pack
An awesome variety which usually includes Shiner Bock, Shiner Black Lager, Shiner Blonde, Shiner Hefeweizen, Shiner Kosmos & a surprise brew
Shipyard Pumpkinhead Ale
Shipyard Pumpkinhead Ale is a crisp and refreshing wheat ale with delightful aromatics and subtle spiced flavor.
Shock Top Belgian White
This light golden-colored, Belgian-style wheat beer is memorably aromatic and has a smooth, complex taste. Shock Top is unfiltered and naturally cloudy creating a traditional wheat beer with attitude.
Sierra Nevada Hazy Little Thing™ IPA
As brewers, we get the privilege to sample our beers straight from the tanks in all their raw glory. Some beers need a little polishing to get ready to go out into the world, while others—the hop-heavy, rowdy, crowd-pleasers—should just be left alone. We wanted to share this brewery-only treat with you, so we present this Hazy Little Thing, our unfiltered, unprocessed IPA, straight from the tanks and into the can
Sierra Nevada Pale Ale
Sierra Nevada Pale Ale, is a delightful interpretation of a classic style. It has a deep amber color and an exceptionally full-bodied, complex character. Generous quantities of premium Cascade hops give the Pale Ale its fragrant bouquet and spicy flavor.
Sierra Nevada Torpedo
An assertive American IPA deep reddish-gold in color, with a smooth and bready malt presence and over-the-top hop aromas. The beer has a solid bitterness and a massive hop flavor, yet remains easy drinking with a pleasant dry finish.
Sixpoint Bengali Tiger IPA
The Bengali Tiger has a hoppy snap upfront, but strides at a steady pace, and finishes balanced. The signature characteristic of the Tiger is the aroma… using massive quantities of whole East Kent Goldings hops to dry hop in our conditioning tanks.
Sixpoint Hi-Res
Let's talk optics. The study of light, and the eyeball… aka the prism that sends images blasting through your dome like a movie projector. As technology advances, resolution increases, so we can see the bigger picture AND the finer details. We're increasing the view -- in BOTH directions… Magnify the hop factor, amplify perception. Study the hop cone up close… this shiz is Hi-Resolution. We went microscopic; we got a grander view. Crack a HI-RES and widen your scope, both directions
Sixpoint Higher Volume Variety 12-Pack
Yeah, that's the good stuff. We're keeping our core beers fresh with this bangin' 12-pack. It's one of our favorite in-house designs to date and features 4 of our greatest hits, The Crisp, Resin, Bengali, and Sweet Action. Great for slinging over your shoulder on your way to a barbecue or rooftop jammer.
Sixpoint Puff Cloudy IPA
If you love Resin, try tasting it straight from the tanks.

That's PUFF — a hazy, unfiltered pour straight from the tanks, with an extra dose of dry hops before it hits the can and keg. How sweet to be a cloud — floating in a tank of Resin! It's Mad Science.

Sixpoint Righteous Ale Barrel Aged Rye

We're not saying you should worship what's inside the barrel…

but there's a certain righteousness about a beer made with three types of rye malts and then smoothed out in a blend of rye whiskey and bourbon barrels. The journey spans months, but the results are undeniable—a RIGHTEOUS ale indeed.
The Story
Lab Notes
After years of tinkering with small batch, we went all in on this barrel fleet. Hundreds of Woodforde Reserve Rye barrels from and Widow Jane Bourbon barrels house the precious liquid that makes up Sixpoint's second ever network wide barrel-aged release.
Sixpoint Sweet Action
The original Sixpoint style - hard to define, but perhaps that's why people love it. Part pale ale, part wheat, part cream ale - all Sweet Action.
Sixpoint The Crisp
The original Sehr Crisp from Sixpoint. Brewed with noble hops for indelible sehr crisp flavor.
Southern Tier Blackwater Series: Warlock
mperial stout brewed with pumpkins Warlock is brewed to enchant your palate on its own and also to counterpoint our Imperial Ale, Pumking. Make your own black magic by carefully pouring this Imperial Stout into a goblet. Dark and mysterious, the Blackwater Series is serious about high gravity. Reanimate your senses with Warlock's huge roasted malt character, moderate carbonation and spicy pumpkin pie aroma.
Southern Tier Imperial Pumking
Pumking is an ode to Púca, a creature of Celtic folklore, who is both feared and respected by those who believe in it. Púca is said to waylay travelers throughout the night, tossing them on its back, and providing them the ride of their lives, from which they return forever changed. Brewed in the spirit of All Hallows Eve, a time of the year when spirits can make contact with the physical world and when magic is most potent. Pour Pumking into a goblet and allow it's alluring spirit to overflow. As spicy aromas present themselves, let it's deep copper color entrance you as your journey into this mystical brew has just begun. As the first drops touch your tongue a magical spell will bewitch your taste buds making it difficult to escape the Pumking.

Spencer Trappist Ale
Inspired by traditional refectory ales brewed by monks for the monks' table, Spencer is a full-bodied, golden-hued Trappist ale with fruit accents, a dry finish and light hop bitterness. St. Joseph's Abbey in Spenser, Massachusetts, is home to a community of Trappist monks and the first American Trappist brewery.
11.2 oz.
Bottle
4
$15.99
NEW
11.2 oz.
Bottle
24
$89.99
Sweetwater 420 Extra Pale Ale
Our most popular beer. 420 Extra Pale Ale is a tasty West Coast Style Pale Ale with a good hop feel to it and a crisp finish. First brewed on April 20th, 1997 this beer has developed quite the following in the Southeast. Drink em if you got em

Sweetwater IPA
This mammoth IPA is defined by generous quantities of premium hops and balanced with a premium selection of English malt. Traditionally unfiltered IPA's lead to the slight haze appearance. An extensive dry-hopping process contributes to its very intense floral hop aroma. The IPA is unfiltered and as always, unpasteurized to leave all the natural flavors intact. If you're at the brewery you'll be able to guess what style of beer every brewer has in his hand. THE BEER YOU'VE BEEN TRAINING FOR!