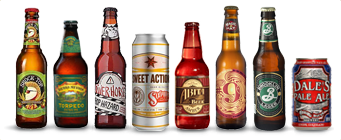 Harpoon IPA
This copper colored ale is floral, medium bodied, with a crisp, refreshing finish.
Harpoon One Hazy Summer
Intense aromas of citrus, berry, and tropical fruit in a hazy Summer pale ale. We don't need any excuses to celebrate One Hazy Summer. Open, and enjoy!
Harpoon UFO Big Squeeze Shandy
When we first started thinking of a UFO summer seasonal, we knew we had our work cut out for us. We loaded up the vans for the beach and spent days "researching" every combination of fresh fruit juice and beer we could think of until we discovered a combination that made our decision easy. Made with grapefruit juice.
Harpoon UFO Big Wit
It started as a luscious wit. And then we added lots of coriander and white pepper to crank up the zest. Then we threw in extra orange peel for a deep citrus flavor. And now we have this big, bold, beautiful Wit. Behold the Big Wit!
Harpoon UFO Hefewizen
Brewed with orange peel and a unique blend of spices, UFO White is the perfect choice for a summer's barbecue, a night out with friends or any time you¹re thirsting for something a little different.
Harpoon UFO Jingle All The Way Variety Pack
Holiday party-goers rejoice! This is the perfect mix of beers for even the pickiest in your friend circle. This pack includes:
UFO White
UFO Pineapple
UFO Raspberry
UFO Winter Blonde.
Harpoon UFO Raspberry (R.A.Z) Hefeweizen
Natural raspberry flavors are added to our UFO Hefeweizen to create this beer. Consistent with the Hefeweizen style, this beer is unfiltered and cloudy with a solid foamy head. UFO R.A.Z. has a distinctive, hazy rose color. The scent of fresh raspberries hits the nose immediately, along with a subtle bready aroma from the wheat and yeast. The body is light and the unfiltered yeast provides a soft mouthfeel. The taste of the fruit compliments the beer nicely, neither overwhelms the other. There is a faint sweetness on the palate, which finishes cleanly in a semi-dry, tart finish.
Harpoon UFO White
Light, crisp, refreshing UFO White follows in the tradition of spiced wheat beers that have been brewed in Belgium for well over 300 years. Brewed with orange peel and a unique blend of spices, UFO White is the perfect choice for a summer's barbecue, a night out with friends or any time you¹re thirsting for something a little different. Like UFO Hefeweizen and UFO Raspberry Hefeweizen, we leave UFO White UnFiltered for a more natural taste and appearance.
Hoboken Brewing Company Bodi Blonde
Bodi Blonde Coconut Ale, has hop-driven notes of fresh citrus and takes part of its name from Patrick Swayze's character in Point Break. It's a light beer brewed with barley, wheat, and corn, and then filtered through a bed of fresh organic flaked coconut.
Hoboken Brewing Company Cityside IPA
Cityside IPA, is a New England Style India Pale Ale with Mosiac & Amarillo hops. It's a "sessionable" brew that focuses on the fresh aromatics and flavors of an IPA while being light in color, bitterness and overall Alcohol by Volume.
Ithaca Flower Power IPA
Elegantly traditional and rich in its' hop character, this India Pale Ale is thirst-quenching and soul-satisfying. Each sip delivers a bounty of herbal and floral hop character, balanced by the fruity signature of our house yeast.
Jammer Session Variety Pack
Jammer

The schweat, the rhythmic rocking, and that aroma. We're talking about the ebb and flow of tides here… ahhh, that glorious brine! Gnarly waves, shooting off mist, just tangy enough to tingle the tastebuds. JAMMER! Let 'er rip.
Citrus Jammer

Lemon & Lime

Squeeze it. Salt that rim. We're talking about that Sixpoint Salty Tango with a twist—the tangy waves of JAMMER with just the right amount of lemon and lime juice. Time for some Vitamin J.
Berry Jammer

Strawberry, Raspberry, & Cranberry

The Mad Scientists tested dozens of juices and calibrated untold amounts of berry blends to get this one right. But you don't need to get bogged down in all that … just drink up until the ripe, red juice dribbles down your chin. It tastes like a mouth full of tangy berries—a JAMMER punch!
Tropical Jammer

Mango & Pineapple

Jammer's tangy waves lap at the shoreline while mangoes and pineapples grow sweet and ripe overhead. Introducing Tropical Jammer, a lush, tart brew with supremely refreshing tropical fruit—talk about a desert island beer.
Ruby Jammer

Grapefruit & Tangerine

The grapefruit is a hybrid fruit...a rare gem formed through an accidental crossbreed. Our Jammer hybrid is no accident—it's an authentic gose blended with real grapefruit and tangerine juice for eye-opening refreshment. You'll feel good about this one all day.
Kona Big Wave Golden Ale
Big Wave is a lighter bodied golden ale with a tropical hop aroma and flavor – a smooth, easy drinking refreshing ale.
Kona Longboard Lager
A smooth refreshing lager fermented and aged for weeks at cold temperatures to yield its exceptionally smooth flavor.
Lagunitas A Little Sumpin' Extra! Ale
Light in color, but huge in flavor and satisfaction.

The big sister of the Little Sumpin' Sumpin' Ale. Lots of wheat for a curious malt complexity and leaving it light in color, but huge in flavor and satisfaction
Net contents: Ounces and ounces of Malt, Hops, Yeast and water.
Lagunitas A Little Sumpin' Sumpin' Ale
Way smooth and silky with a nice wheaty-esque-ish-ness. Just the little sumpin' sumpin' we all need to kick Summer into full swing! Ingredients: Hops, Malt, Hops, Hops, Yeast, Hops, Water, and Hops.


Lagunitas Aunt Sally
A Unique Dry-Hopped Sweet Tart Sour Mash Ale

We soured the wort on the Hot Side with Lactobacillus for a few days and then brewed up this smooth and hoppy sour. It tastes like a big bowl of fruity candy or some chewable flavored vitamins, but what's the difference? It's sweet, tart, and sassy, just like the tasty cherry pie that your favorite aunt makes. For all the Aunt Sally's out there, You know who you are...


Lagunitas Born Yesterday Pale Ale
Born Yesterday is a newborn version of our re-born Pale, a Newer New Dogtown Pale with a fresh addition … We added some wet, lupulin-drenched, un-kilned, whole-cone, fresh-picked-and-rushed-straight-from-Yakima hops for your immaculate reception. This Un-Freakin-Filtered, wetter-than-wet beer has 11lbs-per-barrel of Simcoe, Citra, Mosaic and Indigenous Catawampus. Whoa.
Lagunitas IPA
Made from Copius Cascade and Centennial hops with Crystal malt. Moderately hoppy and well balanced, this brew's perfect combination of hops and malt will leave your taste buds wanting more.
Lagunitas Little Sumpin'Hazy
We're going au naturel for the summer with the classic wheatley-esque-ish-ness brew you know and love. With a special dry-hopping of Cashere, Citra & Mosaic on a bed of Centennial and Chinook. Juicy, catty, and leaves you with a hop scratch that you can't help but tickle with another taste. Does that clear things up?
Lagunitas Maximus
At the height of the heat in the heart of the summer, we felt that the only cure was a raging mouthful of fresh hops and malt. Caution: May remove enamel from teeth. This is Lagunitas IPA pumped up by about 30%!
Lagunitas SUCKS
During the 2011 holiday season, we didn't have the brewing capacity to make our favorite seasonal brew, the widely feared Brown Shugga' Ale. So this substitute beer is a 'Cereal Medley' of Barley, Rye, Wheat, and Oats…. Full of complexishness from the 4 grains, and weighing in at 7.6% abv, Then joyously dry-hopped for that big aroma and resinous hop flavor.

Back this year by popular demand!
12 oz.
Bottle
6
$10.99
NEW
Land Shark Lager
*Refreshing, drinkable beer
*Brewed for the island lifestyle
*Fins up!

Left Hand Nitro Milk Stout
Milk Stout Nitro cascades beautifully, building a tight, thick head like hard whipped cream. The aroma is of brown sugar and vanilla cream, with hints of roasted coffee. The pillowy head coats your upper lip and its creaminess entices your pallet. Initial roasty, mocha flavors rise up, with slight hop & roast bitterness in the finish.
Leinenkugels Grapefruit Shandy
A traditional shandy is beer mixed with a little something extra, like lemonade, soda or ginger ale. Leinenkugel's® Grapefruit Shandy is our take on this tradition. Each batch begins with our traditional weiss beer. We then combine it with natural white grapefruit flavor that adds a note of fresh-cut citrus, because here refreshment is our greatest natural resource.
Leinenkugels Summer Shandy
Our own unique take on Franz Kugler's original Munich tavern tradition. Leinenkugel's® Summer Shandy® is our traditional weiss beer with refreshing natural lemonade flavor that makes it the perfect summer beer.

In 2012, Summer Shandy won a Silver medal at the Great American Beer Festival® in the Fruit Wheat Beer category.

Magic Hat #9
A sort of dry, crisp, fruity, refreshing, not-quite pale ale. #9 is really impossible to describe because there's never been anything else quite like it
Magic Hat Jam Pack Variety Cans
5 cans each:
Single Chair Golden Ale
Hocus Pocus Wheat Ale
Fat Angel Pale Ale
Narragansett Lager
Narragansett Lager is old reliable. It was the first beer brewed by "The Original Six" back in 1890, the bestselling beer in New England from the 1930s to the 1970s, and the official beer of the Boston Red Sox from 1944-1975.
New Belgium / Cervecería Primus Mural Agua Fresca
Fort Collins, Colo. – New Belgium Brewing and Mexico City's Primus Microcerveceria have teamed up to capture the spirit and flavor of Mexican street culture and art Find a Craft Brewerywith their newest collaborative release, Mural Agua Fresca Cerveza. Inspired by the refreshing, fruit-infused drink popular throughout Mexico, Agua Fresca, this super crisp beer is brewed with hibiscus, agave, watermelon juice and whole lime puree.
New Belgium Fat Tire
Named in honor of our founder Jeff's bike trip through Belgium, Fat Tire Amber Ale marks a turning point in the young electrical engineer's home brewing. Belgian beers use a far broader palette of ingredients (fruits, spices, esoteric yeast strains) than German or English styles. Jeff found the Belgian approach freeing. Upon his return, Jeff created Fat Tire and Abbey Belgian Ale, (assuming Abbey would be his big gun). He and his wife, Kim traveled around sampling their homebrews to the public. Fat Tire's appeal quickly became evident. People liked everything about it. Except the name. Fat Tire won fans is in its sense of balance: toasty, biscuit-like malt flavors coasting in equilibrium with hoppy freshness.
New Belgium VooDoo Ranger IPA
Are you a hopinista? Thank our Beer Rangers for inspiring (and begging for) this well-balanced Simcoe, Cascade and Chinook hopped IPA. 70 IBUs


Ommegang Hennepin
This hoppy, farmhouse style ale has a champagne like effervescence with a crisp but light on the tongue finish. Similar to the Belgian Saison style , this beer serves well as an aperitif. Hennepin has a majestic golden hue.
Ommegang Witte
A traditional Belgian-style wheat ale with whispers of sweet orange and a touch of tart lemon. Soft and seductive, Ommegang Witte is this summer's version of spicy intrigue and refreshing flavor.
Oskar Blues Dale's Pale Ale
Brewed with hefty amounts of European malts and four kinds of American hops, it delivers a blast of hop aromas, a rich middle of malt and hops, and a thrilling finish. It weighs in at 6.5 % alcohol by volume.
Pabst Blue Ribbon Hard Coffee
Can't decide between the pick-me-up of coffee and the pleasant buzz of a beer? You can now have both. Pabst Blue Ribbon is offering a new product, Pabst Hard Coffee, which is exactly what it sounds like: a combination of java and beer.

This new brew isn't just another coffee-flavored beer, it's really coffee spiked with alcohol. Pabst Brewing describes the drink as vanilla-infused premium iced coffee with 5 percent alcohol by volume. "It's a fun and deliciously unique drink made using Arabica and Robusta coffee beans and rich, creamy American milk," Pabst noted in a press release.
River Horse Summer Blonde
A light, refreshing Ale that is easy to drink yet complex. Perfect for the warmer months.


Rodenbach Alexander
Originally brewed in 1986 to commemorate the 200th birthday of one of the brewery's founding members – RODENBACH Alexander was re-released in limited edition bottles starting in 2016 and quickly became one of the most sought-after bottles of beer. Named one of the top beers of the year by Beer Connoisseur, it has earned a perfect 100/100 points by RateBeer and received high praise from Esquire, Eater, Food & Wine, USA Today and many other leading publications.
11.2 oz.
Bottle
24
$79.99
Rodenbach Fruitage
"A truly one-of-a-kind easy-drinking sour that delivers a complexity of flavors and aromas without the use of higher alcohol levels."

– THE BEER CONNOISSEUR

Receiving 99/100 points and named one of the best beers of the year by Craft Beer & Brewing magazine, RODENBACH Fruitage is a one-of-a-kind beer that's refreshingly delicious and low in alcohol with a sweet-sour cherry taste.

Brewed using RODENBACH's award-winning, age-old practices, RODENBACH Fruitage is a blend of 25% authentically aged RODENBACH ale (2-year matured beer from standing oak foeders) with 75% 'young' RODENBACH ale, along with cherry and elderberry juice for a refreshing finish.
Rodenbach Grand Cru
3-time World Beer Cup award winner (GOLD), RODENBACH Grand Cru sets the standard for Flemish Red Ales and is one of the most awarded beers, globally.

RODENBACH Grand Cru is a blend of 2/3 authentically-aged ale (2-year matured beer from standing oak foeders) with 1/3 'young' ale. Bright and tart, with flavors of ripe berries, vinegar, vanilla and oak, RODENBACH Grand Cru has the refreshment of a beer and the complexity of a fine wine.
11.2 oz.
Bottle
24
$79.99
Samuel Adams Boston Lager
Complex and balanced, with a beautiful hop aroma. This deep amber to golden colored full bodied lager displays caramel sweet notes balanced with distinct citrus and piney notes. A strong, smooth finish and mouth feel.
12 oz.
Bottle
12
$19.99
ON

SALE
12 oz.
Bottle
24
$34.99
ON

SALE
Samuel Adams Cherry Wheat
The sweet fruitiness of the cherries is balanced against the crisp, cereal note from the malted wheat and the subtle citrus flavor from the Noble hops. The end result is a sweet, refreshing beer that is light on the palate but long on complexity.
Samuel Adams Game Day Variety Pack
Winter Classics has a new mix! This year's variety includes two bottles each of six styles:
Sam Adams Cold Snap
Boston Lager
Sam '76
Bavarian Lager

Perfect beers for sharing.
Samuel Adams Rebel Ipa
Brewed with 5 varieties of West coast hops: cascade, simcoe, centennial, chinook, & amarillo. It's everything we love about West coast style IPA's. Big citrus & grapefruit flavors with subtle pine notes for a flavorful refreshing brew.
Samuel Adams Summer Ale
Samuel Adams® Summer Ale is an American wheat ale. This summer seasonal uses malted wheat, lemon zest and Grains of Paradise, a rare pepper from Africa first used as a brewing spice in the 13th century, to create a crisp taste, spicy flavor and medium body. The ale fermentation imparts a background tropical fruit note reminiscent of mangos and peaches. All of these flavors come together to create a thirst quenching, clean finishing beer perfect for those warm summer days.
Schöfferhofer Grapefruit
Schofferhofer Grapefruit is the unique combination of sparkling smooth Schofferhofer Hefeweizen with grapefruit flavoring. A refreshing well-rounded taste with tangy character and hints of sweetness is pleasing to the palate. Tastes best ice cold and right from the bottle. 50% of Schofferhofer Unfiltered Hefeweizen blended with 50% grapefruit drink.
Schofferhofer Hefeweizen Pomegranate
A unique 50:50 blend of sparkling, unfiltered Schofferhofer Hefeweizen and real pomegranate juice. Delicious, exotic notes of pomegranate meet the crisp, smooth taste of a hefeweizen to deliver a uniquely refreshing beer.
11.2 oz.
Bottle
24
$35.99
Shiner Bock
A distinctive, rich, full-flavored, deep amber-colored beer with an inviting smooth taste without excessive bitterness.
Shiner Family Reunion Variety Pack
An awesome variety which usually includes Shiner Bock, Shiner Black Lager, Shiner Blonde, Shiner Hefeweizen, Shiner Kosmos & a surprise brew
Shiner Ruby Redbird
Shiner Ruby Redbird is brewed with genuine Texas Rio Red Grapefruit, the signature sweet citrus of the Rio Grande Valley, and ginger. This lager beer features grapefruit tartness and finishes with a 'lil kick of ginger. With Texas Ruby Red Grapefruit and Ginger, Shiner Ruby Redbird is a crisp and refreshing summer beer.
Shiner Wicked Juicy IPA
Tropical hops with a Bright, juicy kick a drinkable 5.7% ABV ale with a moderate 60 IBU rating and a distinctly citrus fruit kick achieved thanks to generous dry hopping (hops added after the boil) and with a unique mouthfeel thanks to its unfiltered contents. Poured into a glass, this is a handsome brew with an alluring aroma and a flavor to match.
Shiner Wicked Juicy Pineapple & Coconut IPA
This is Wicked Juicy Pineapple & Coconut IPA and it will be a "laid-back" IPA brewed with pineapple & coconut and dry-hopped with Idaho 7 hops.
Shock Top Belgian White
This light golden-colored, Belgian-style wheat beer is memorably aromatic and has a smooth, complex taste. Shock Top is unfiltered and naturally cloudy creating a traditional wheat beer with attitude.
Sierra Nevada Celebration Ale
Sierra Nevada Celebration Ale represents a time honored tradition of brewing a special beer for the holiday season. There are generous portions of barley malts and fine whole hops of several varieties, creating a brew with a full, rich and hearty characte

Always in stock.
Sierra Nevada Hazy Little Thing™ IPA
As brewers, we get the privilege to sample our beers straight from the tanks in all their raw glory. Some beers need a little polishing to get ready to go out into the world, while others—the hop-heavy, rowdy, crowd-pleasers—should just be left alone. We wanted to share this brewery-only treat with you, so we present this Hazy Little Thing, our unfiltered, unprocessed IPA, straight from the tanks and into the can
Sierra Nevada Pale Ale
Sierra Nevada Pale Ale, is a delightful interpretation of a classic style. It has a deep amber color and an exceptionally full-bodied, complex character. Generous quantities of premium Cascade hops give the Pale Ale its fragrant bouquet and spicy flavor.
Sierra Nevada Torpedo
An assertive American IPA deep reddish-gold in color, with a smooth and bready malt presence and over-the-top hop aromas. The beer has a solid bitterness and a massive hop flavor, yet remains easy drinking with a pleasant dry finish.
Sixpoint Alpenflo Helles Lager
Some beers are easy to make and difficult to drink… but ALPENFLO is the opposite on both counts. It took years to acquire the materials and formula for Alpenflo—we're talking all-malt, 100% 2-row barley, and we source all of the hops directly from family farms in Bavaria to give it that gentle spice. This lager is then cold-stored in horizontal lagering tanks to round out the flavor profile. Once opened, that frothy beverage is gone in a flash.

Alpenflo gets its clean noble hop character from Tettnanger hops sourced from family farms in Germany. It's real lager—all 2-row barley malt—and horizontal lagering tanks provide the exact right conditions to create bright, beautiful beer.
Sixpoint Bengali Tiger IPA
The Bengali Tiger has a hoppy snap upfront, but strides at a steady pace, and finishes balanced. The signature characteristic of the Tiger is the aroma… using massive quantities of whole East Kent Goldings hops to dry hop in our conditioning tanks.
Sixpoint Citrus Jammer Gose
Squeeze it. Salt that rim.

We're talking about that Sixpoint Salty Tango with a twist—the tangy waves of JAMMER with
Sixpoint Dabble IPA
We spend thousands of hours with a consistent look, aroma and taste as our goal and certainly acknowledge those merits. But in the interest of Mad Science, for Dabble IPA we're going to formulate as we go, unconstrained. So don't be surprised when you notice small evolutions in Dabble one month to the next. One thing will remain constant – the liquid will be eye-popping, aromatic, and juicy as hell.
Sixpoint Hi-Res
Let's talk optics. The study of light, and the eyeball… aka the prism that sends images blasting through your dome like a movie projector. As technology advances, resolution increases, so we can see the bigger picture AND the finer details. We're increasing the view -- in BOTH directions… Magnify the hop factor, amplify perception. Study the hop cone up close… this shiz is Hi-Resolution. We went microscopic; we got a grander view. Crack a HI-RES and widen your scope, both directions
Sixpoint Higher Volume Variety 12-Pack
Yeah, that's the good stuff. We're keeping our core beers fresh with this bangin' 12-pack. It's one of our favorite in-house designs to date and features 4 of our greatest hits, The Crisp, Resin, Bengali, and Sweet Action. Great for slinging over your shoulder on your way to a barbecue or rooftop jammer.
Sixpoint Hootie
It's a hazy, bright pale ale hopped with Amarillo, Citra, and Centennial. That blend of strains creates a potent, but light and fresh, hop aroma. Satisfying, and really easy to gulp.

"That's a hoot!" Bright and citrusy, short, quick finish. Slammer.
Sixpoint Jammer
The schweat, the rhythmic rocking, and that aroma.

We're talking about the ebb and flow of tides here… ahhh, that glorious brine! Gnarly waves, shooting off mist, just tangy enough to tingle the tastebuds. JAMMER! Let 'er rip.

Sixpoint Meltdown
Finally, a MELTDOWN that isn't global. We're talking about what's going on in the hop cone – tons of Mosaic and Mandarina hops heated until the solid lupulin sap is diffused into a solution, As that liquid sap dissolves in gets more intense, but you can't even see it happen. It changes stated of matter to change your state of mind. Finally, you reach saturation and haze starts to show. Your eyes aren't playing tricks on you…that's seriously pure hop juice oozing out of the can. Enough to melt you face! ABV: 7.8%
Sixpoint Sparkler
Sparkler is a brand new style—a Brut, or extra dry, IPA featuring Citra and Mosaic. It's got a beautiful, pungent candy-like and tropical aroma with a light body, mild haze, and low bitterness on the snappy, effervescent finish. You get this extra crisp, bone dry, almost-tart texture in our Brut IPA, and the beer delivers tons of juicy hop character but is more refreshing and repeatable than your average IPA.
Sixpoint Sweet Action
The original Sixpoint style - hard to define, but perhaps that's why people love it. Part pale ale, part wheat, part cream ale - all Sweet Action.
Sixpoint The Crisp
The original Sehr Crisp from Sixpoint. Brewed with noble hops for indelible sehr crisp flavor.