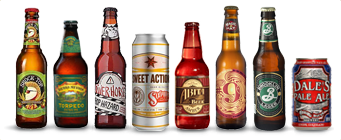 Troegs Nugget Nectar
Squeeze those hops for all they're worth and prepare to pucker up: Tröegs' newest single batch brew, Nugget Nectar Ale, will take hopheads to nirvana with a heady collection of Nugget, Warrior and Tomahawk hops. Starting with the same base ingredients of our flagship HopBack Amber Ale, Nugget Nectar intensifies the malt and hop flavors to create an explosive hop experience.

While the brewery considers this an "Imperial Amber Ale" RateBeer considers it an IPA due to the hopping rate. There is no need to send any other corrections on the style.
Victory Sour Monkey
Aroma is very varied with lemon, sour, and mild brettanomyces notes. Flavor follows with a tart acidity. Not dry as it finishes with a malty grain flavor.
Sour Monkey puts a tastefully tart twist on our Golden Monkey's sweet, fruity essence. A sharp, citrus-laden tang makes this brew a Monkey all its own!
Victory Golden Monkey
Enchanting and enlightening, this golden, frothy ale boasts an intriguing herbal aroma, warming alcohol esters on the tongue and light, but firm body to finish. Exotic spices add subtle notes to both the aroma and flavor. Strong, sensual and satisfying.
Victory HopDevil
Bold, spicy and menacingly delicious, this American-hopped India Pale Ale offers an aromatic punch and then follows through with a lasting, full-bodied finish.
Victory Kick Back Variety Pack
A variety pack consisting of:
Home Grown American Lager
Prima Pils
Hop Devil
Vital IPA
Victory Summer Love Golden Ale
Enjoy the easy days of summer with this refreshing and aromatic golden ale. Enticing earthy and citrusy hop aromas give way to flavors of lemon and pine.
Brewed locally at the Victory Brewery in Chester County, the Summer of Love Ale is a golden ale made with pale malts, German hops and Brandywine River water. This specific style of beer was chosen because it has a broad appeal and will be accessible for casual beer drinkers, but will still retain exciting hop notes.


Young's Double Chocolate Stout
Chocolate malt and real dark chocolate are combined with Young's award winning rich, full flavoured dark beer to craft a satisfyingly indulgent, but never overly sweet experience.
11.2 oz.
Bottle
24
$55.99