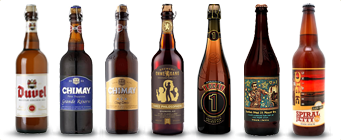 Brooklyn Black Ops
Brooklyn Black Ops does not exist. However, if it did exist, it would be a strong stout concocted by the Brooklyn brewing team under cover of secrecy and hidden from everyone else at the brewery. The myth is that this supposed "Black Ops" was then aged for months in bourbon barrels, bottled flat, and re-fermented with Champagne yeast. Presumably such a beer would raise a rich, fluffy dark brown head and it would combine chocolate and coffee flavors with a rich underpinning of vanilla-like bourbon notes. A beer like that would be mighty nice, but it would be hard to make more than few cases – it could never be sold or released to the public. They say that the brewmaster revealed the beer to a few other people at the brewery only after it had been barreled. The rumor going around is that the brewery plans to drink the beer themselves over the holidays and give some to their family and friends. That's what they say. But frankly, there's no evidence for any of this. This beer is obviously a figment of people's fervent imaginations. People tend to get loopy around the holidays. Everyone go home now – there's nothing to see here.

Given this beer's higher ABV and sturdy character, we think it's a prime candidate for cellaring. Find a cool, dry spot away from light sources, and see how it changes in the years to come. You never quite know what will happen when you age a beer: perhaps the body will smooth out, notes of vanilla, oak, and tannins will come to the front, or hints of leather and soy sauce will make themselves known. No matter what, remember that beer is meant for drinking, so don't keep it to yourself for too long.
Brooklyn Local 2
Here in Brooklyn we've combined European malt and hops, Belgian dark sugar, and raw wildflower honey from a New York family farm to create Brooklyn Local 2. Our special Belgian yeast adds hints of spice to the dark fruit, caramel, and chocolate flavors. After 100% bottle re-fermentation, this ale reveals a marvelous dry complexity, enjoyable by itself or at the dinner table.
Brooklyn Sorachi Ace
Brooklyn Sorachi Ace is a classic saison, a cracklingly dry, hoppy unfiltered golden farmhouse ale, but featuring rare Sorachi Ace hop.Fermented with our special Belgian ale strain, we add Sorachi Ace hops post-fermentation. After 100% bottle re-fermentation with Champagne yeast, the beer emerges with a bright spicy lemon zest aroma. It tastes like sunshine in a glass, and that suits us just fine, especially with seafood dishes and fresh cheeses.
Chimay Blue Grande Réserve
Chimay Blue is principally distinguished by its character of a strong beer. This is a beer whose fragrance of fresh yeast with a light, flowery rosy touch is especially pleasant. Its flavour, noticed when tasting it, only accentuates the pleasant sensations perceived in the aroma , while revealing a light but pleasant touch of roasted malt. This top fermented Trappist beer, refermented in the bottle, is not pasteurized.

Country of Origin: Belgium
Chimay Red Première
Chimay Red is noted for its coppery color which makes it particularly attractive. Topped with a creamy head, it gives off a light, fruity apricot aroma produced by the fermentation. The taste perceived in the mouth is a balance confirming the fruity nuances noticed in the fragrance. Its taste, which imparts a silky sensation to the tongue, is made refreshing by a light touch of bitterness.

Country of Origin: Belgium
Chimay Triple White Cinq Cents
Chimay Tripel, with its typical golden color, its slightly hazy appearance and its fine head is especially characterized by its aroma which results from an agreeable combination of fresh hops and yeast. The beer's flavor, as sensed in the mouth, comes from the smell of hops: above all it is the fruity notes of muscat and raisins that give this beer a particularly attractive aroma. The aroma complements the touch of bitterness

Country of Origin: Belgium
Dogfish Head 120 Minute IPA
Too extreme to be called beer? Brewed to a colossal 45°P, boiled for a full 2 hours while being continually hopped with high alpha American hops, dry-hopped every day in the fermenter for a month, and aged for a month on whole leaf hops, 120 Minute IPA is by far the strongest IPA ever brewed. And at 21% ABV and 120 IBU's, you can see why we are calling this the Holy Grail for Hopheads. Editors note: ABV reduced down to 18% in 2009.

Extremely limited... Now Available!
Dogfish Head World Wide Stout
This listing encompasses: A) the November, 2001 release (18% abv), B) the November, 2003 U.S. (but not U.K.) release (18.8% abv), C) the November, 2004 release (18% abv), and D) the November 2005 release (17.8% abv) and E) all subsequent releases due both to their similarity in alcohol content and a lack of change in recipe. None of the releases' labels provides its ABV, however:
2001 - (18%) displays the unaltered words "Vim and Vigor" on the label, gold cap
Duvel Golden Ale
Bottle conditioned.
Four generations of the Moortgat family have brought together Pilsner malts, Bohemian hops, and a unique yeast strain to create this intense, aromatic and beguiling ale. This Belgian favorite is best enjoyed chilled (40 - 50 F) with discerning friends or good-looking strangers.

Country of Origin: Belgium
Founders KBS Bourbon Barrel-Aged Chocolate Coffee Stout
What we've got here is an imperial stout brewed with a massive amount of coffee and chocolates, then cave-aged in oak bourbon barrels for an entire year to make sure wonderful bourbon undertones come through in the finish. Makes your taste buds squeal with delight.

Limited quantities!
Goose Island Bourbon County Brand Stout
Brewed in honor of the 1000th batch at our original Clybourn brewpub. A liquid as dark and dense as a black hole with thick foam the color of a bourbon barrel. The nose is an intense mix of charred oak, chocolate, vanilla, caramel and smoke. One sip has more flavor than your average case of beer.