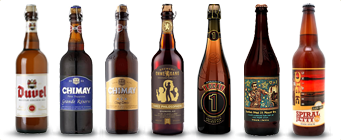 Chimay Blue Grande Réserve
Chimay Blue is principally distinguished by its character of a strong beer. This is a beer whose fragrance of fresh yeast with a light, flowery rosy touch is especially pleasant. Its flavour, noticed when tasting it, only accentuates the pleasant sensations perceived in the aroma , while revealing a light but pleasant touch of roasted malt. This top fermented Trappist beer, refermented in the bottle, is not pasteurized.

Country of Origin: Belgium
Chimay Red Première
Chimay Red is noted for its coppery color which makes it particularly attractive. Topped with a creamy head, it gives off a light, fruity apricot aroma produced by the fermentation. The taste perceived in the mouth is a balance confirming the fruity nuances noticed in the fragrance. Its taste, which imparts a silky sensation to the tongue, is made refreshing by a light touch of bitterness.

Country of Origin: Belgium
Chimay Triple White Cinq Cents
Chimay Tripel, with its typical golden color, its slightly hazy appearance and its fine head is especially characterized by its aroma which results from an agreeable combination of fresh hops and yeast. The beer's flavor, as sensed in the mouth, comes from the smell of hops: above all it is the fruity notes of muscat and raisins that give this beer a particularly attractive aroma. The aroma complements the touch of bitterness

Country of Origin: Belgium
Dogfish Head 120 Minute IPA
Too extreme to be called beer? Brewed to a colossal 45°P, boiled for a full 2 hours while being continually hopped with high alpha American hops, dry-hopped every day in the fermenter for a month, and aged for a month on whole leaf hops, 120 Minute IPA is by far the strongest IPA ever brewed. And at 21% ABV and 120 IBU's, you can see why we are calling this the Holy Grail for Hopheads. Editors note: ABV reduced down to 18% in 2009.

Extremely limited... Now Available!
Duvel Golden Ale
Bottle conditioned.
Four generations of the Moortgat family have brought together Pilsner malts, Bohemian hops, and a unique yeast strain to create this intense, aromatic and beguiling ale. This Belgian favorite is best enjoyed chilled (40 - 50 F) with discerning friends or good-looking strangers.

Country of Origin: Belgium
Founders Barrel Aged CBS (Canadian Breakfast Stout)
CBS was born when we stumbled upon some bourbon barrels that had previously housed maple syrup. We opted to put the same base beer as KBS, an imperialized version of Breakfast Stout, in the maple barrels and, after one taste, we knew we had something special. Rich maple syrup, roasted coffee and velvety chocolate meld together in what can only be described as a transcendental drinking experience.

You might notice that the label is missing a key, iconic element. You know, starts with "M" ends with "ountie." It's true – we did make the decision to remove the Mountie from CBS packaging out of respect for the Royal Canadian Mounted Police.

Limited quantities!


Founders KBS Bourbon Barrel-Aged Chocolate Coffee Stout
What we've got here is an imperial stout brewed with a massive amount of coffee and chocolates, then cave-aged in oak bourbon barrels for an entire year to make sure wonderful bourbon undertones come through in the finish. Makes your taste buds squeal with delight.

Limited quantities!
Goose Island Bourbon County Stout
More than twenty years ago Greg Hall wanted to brew something truly unique for Goose Island brewpub's 1000th batch - he just needed inspiration. Then a chance encounter between Greg and Jim Beam's legendary More than twenty years ago Greg Hall wanted to brew something truly unique for Goose Island brewpub's 1000th batch - he just needed inspiration. Then a chance encounter between Greg and Jim Beam's legendary distiller, Booker Noe, led to Goose Island acquiring the barrels for what was to become the world's first bourbon barrel aged beer.

Since then, the beer has become a local favorite and globally known beer - and still people line-up down the street for its Black Friday release in Chicago. We're super excited about this year's variants, and we hope you are too!

Original Bourbon County Brand StoutAged in 4+ year old Heaven Hill Bourbon barrels, the original bourbon barrel aged stout is as good as when we first made it over 20 years ago. Flavors of cocoa, vanilla, caramel, almond, cherry, plus leather and tobacco flavors permeate this complex beer that deepens with each sip.

As Brewmaster Jared Jankoski stated, "It ain't broke, and we didn't try to fix it."