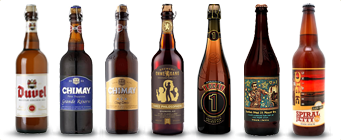 Brooklyn Black Ops
Barrel-aged in Woodford Reserve bottles. Brooklyn Black Ops does not exist. However, if it did exist, it would be a robust stout concocted by the Brooklyn brewing team under cover of secrecy and hidden from everyone else at the brewery. Supposedly, "Black Ops" was aged for four months in bourbon barrels, bottled flat, and re-fermented with Champagne yeast, creating big chocolate and coffee flavors with a rich underpinning of vanilla-like oak notes. They say it's vanishingly rare. We have no idea what they're talking about.
24 oz.
Bottle
1
$21.99
NEW
Brooklyn Local 1
In Williamsburg, Brooklyn, we forge barley malt and hops from Germany, aromatic raw sugar from Mauritius and yeast from Belgium into our latest beer, Brooklyn Local 1. Behind the full golden color you'll find an alluring aroma, a dynamic complex of flavors. Belgian flair, Brooklyn fortitude and a dusting of our special yeast. To create this beer, we use the old technique of 100% bottle re-fermentation, a practice now rare even in Europe. It gives this beer a palate of unusual depth. Enjoy it locally or globally, as an aperitif or with your favorite dishes. It is particularly nice with spicy seafood and with fine cheeses.
Brooklyn Local 2
Here in Brooklyn we've combined European malt and hops, Belgian dark sugar, and raw wildflower honey from a New York family farm to create Brooklyn Local 2. Our special Belgian yeast adds hints of spice to the dark fruit, caramel, and chocolate flavors. After 100% bottle re-fermentation, this ale reveals a marvelous dry complexity, enjoyable by itself or at the dinner table.
Brooklyn Sorachi Ace
Brooklyn Sorachi Ace is a classic saison, a cracklingly dry, hoppy unfiltered golden farmhouse ale, but featuring rare Sorachi Ace hop.Fermented with our special Belgian ale strain, we add Sorachi Ace hops post-fermentation. After 100% bottle re-fermentation with Champagne yeast, the beer emerges with a bright spicy lemon zest aroma. It tastes like sunshine in a glass, and that suits us just fine, especially with seafood dishes and fresh cheeses.
Chimay Blue Grande Réserve
Chimay Blue is principally distinguished by its character of a strong beer. This is a beer whose fragrance of fresh yeast with a light, flowery rosy touch is especially pleasant. Its flavour, noticed when tasting it, only accentuates the pleasant sensations perceived in the aroma , while revealing a light but pleasant touch of roasted malt. This top fermented Trappist beer, refermented in the bottle, is not pasteurized.

Country of Origin: Belgium
Chimay Red Première
Chimay Red is noted for its coppery color which makes it particularly attractive. Topped with a creamy head, it gives off a light, fruity apricot aroma produced by the fermentation. The taste perceived in the mouth is a balance confirming the fruity nuances noticed in the fragrance. Its taste, which imparts a silky sensation to the tongue, is made refreshing by a light touch of bitterness.

Country of Origin: Belgium
Chimay Triple White Cinq Cents
Chimay Tripel, with its typical golden color, its slightly hazy appearance and its fine head is especially characterized by its aroma which results from an agreeable combination of fresh hops and yeast. The beer's flavor, as sensed in the mouth, comes from the smell of hops: above all it is the fruity notes of muscat and raisins that give this beer a particularly attractive aroma. The aroma complements the touch of bitterness

Country of Origin: Belgium
Duvel Golden Ale
Bottle conditioned.
Four generations of the Moortgat family have brought together Pilsner malts, Bohemian hops, and a unique yeast strain to create this intense, aromatic and beguiling ale. This Belgian favorite is best enjoyed chilled (40 - 50 F) with discerning friends or good-looking strangers.

Country of Origin: Belgium
Goose Island Bourbon County Brand Stout
Brewed in honor of the 1000th batch at our original Clybourn brewpub. A liquid as dark and dense as a black hole with thick foam the color of a bourbon barrel. The nose is an intense mix of charred oak, chocolate, vanilla, caramel and smoke. One sip has more flavor than your average case of beer.
Ommegang Game Of Thrones – Valar Dohaeris
Valar Dohaeris Tripel Ale is brewed with pilsner and specialty malts. It's hopped with Apollo and Hallertau Spalt Select hops, which gives it a balanced touches of both sweetness and bitterness.
Ommegang Game Of Thrones #1 – Iron Throne Blonde Ale
Collaboration with HBO for the Game of Thrones series.

Blonde ale with malty sweetness and a touch of fruity spiciness, Noble Hops aromas and notes of citrus. Suitable to serve to kings, or pretenders to the iron throne.

Iron Throne has a slightly hazy golden amber hue. The head is full and fluffy. The finish is crisp, backed by a touch of spice and hops. The aroma is a bit grassy with a hint of lemon fruitiness from the lemon peel. The taste is lightly malty, rounded by honey malt sweetness.

Pour slowly so as to not disturb the yeast sediment, but with enough vigor to create a luxurious head and release the rich bouquet.
Ommegang Game Of Thrones #2 – Take the Black Stout
Take the Black Stout is a 7% beer, brewed with base, caramel, chocolate and roasted barley malts. Hopping includes Northern Brewer and Columbus; spices are licorice root and star anise. Hue is black with full tan head. Aromas include chocolate, caramel, and earthy hops, light roastiness, a touch of fruitiness. Tastes include chocolate, coffee, rich malts, and balanced roastiness. Clean hop bitterness joins with slight woody character and spiciness; the finish offers sweet malt character leading to spicy, earthy, hop bitterness.
Ommegang Game of Thrones Seven Kingdoms Hoppy Wheat Ale
Seven Kingdoms is a marriage of a traditional Belgian-style wheat and a hop-forward American ale – but unlike so many of the marriages on the show, the resulting hoppy wheat is pleasant, playful and inspired. At 6.9% ABV, it possesses a nuanced complexity that pairs nicely with the hop-forward characteristics that make it surprisingly refreshing.