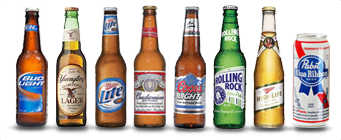 Bud Ice
Introduced in 1994, Bud Ice is a smooth-tasting ice beer. Combined with Bud Ice Light, Bud Ice is one of the country's top-selling ice beers.
Bud Light
Introduced nationally in 1982, Bud Light is brewed with a malt and hops ratio different from Budweiser for a distinctively crisp taste with fewer calories.
12 oz.
Can
30
$23.99
ON

SALE
16 oz.
Alum. Btl.
20
$24.99
ON

SALE
Bud Light Lime
Premium Light Beer with 100% Natural Lime Flavor
12 oz.
Can
30
$27.99
ON

SALE
Bud Light Lime Straw-Ber-Rita
The beer based margarita is now introduced with strawberry flavoring. Beer drinkers were already mixing Bud Light Lime into margaritas to create 'beer ritas'; Lime-a-Rita just adds a new level of convenience by providing a beverage with the perfect balance of flavors.
Bud Light Lime-A-Rita
Blending the flavor of an authentic margarita with a refreshing splash of Bud Light Lime, Lime-a-Rita is an 8%* ABV margarita-flavored alcohol beverage that meets a growing demand among adult drinkers seeking sweeter alternatives.
Bud Light Mango O-Rita
Mang-O-Rita combines great margarita taste, with a refreshing twist of Bud Light Lime. Just pop, pour over ice, and enjoy!
Bud Light Platinum
Bud Light Platinum has reinvented the category of light beer. Within each cobalt blue bottle lies a bold formula that's triple filtered with a smooth finish to create its stop shelf taste. Its the first of its kind, and the only beer worthy of the name Bud Light Platinum.
Bud Light Water Melon-Rita
New Bud Light Lime Water-Melon-Rita combines the great taste of a watermelon margarita with a refreshing twist of Bud Light Lime and is a perfect complement to your summer. With Lime-A-Rita, there's no need to spend time mixing and blending to prepare a watermelon flavored margarita. Just pop open, pour over ice and enjoy!
Bud Select 55
The 55-calorie, 100% refreshing lighter beer.
Budweiser
"We know of no brand produced by any other brewer which costs so much to brew and age. Our exclusive Beechwood Aging produces a taste, a smoothness and a drinkability you will find in no other beer at any price."
12 oz.
Can
30
$23.99
ON

SALE
Colt 45
Slightly sweet and super smooth Colt 45 is the malt liquor that works every time.
Coors Extra Gold
Brewing Extra Gold Lager requires uncommon patience. Patience in the slow aging of the roasted malts. Patience to take the three extra brewing steps needed to craft every batch. This added time and effort yields an exceptional, refined lager.
Coors Light
A premium light beer with 105 calories per 12-ounce serving.
Coors Original
The Banquet Beer was born in the Rockies and has been a proud part of the American experience for generations, stubbornly refusing to compromise, since 1873.
12 oz.
Can
30
$22.99
ON

SALE
Land Shark Lager
*Refreshing, drinkable beer
*Brewed for the island lifestyle
*Fins up!

Michelob Lager
Super-premium Michelob was developed in 1896 as a "draught beer for connoisseurs." Michelob is brewed with a superior ingredient blend for fuller body with a clean finish, using all imported hops and a high percentage of two-row barley malt.
Michelob Ultra Light
Michelob Ultra, the new low-carb light beer with taste smooth enough to carry the Michelob name.
Miller 64
Formerly Miller Genuine Draft 64. A lighter version of Miller Genuine Draft.
Miller Genuine Draft
Representing a true innovation in American brewing, MGD's patented cold-filtered process fashions the smooth drink-ability of draft beer available in bottles and cans.
Miller High Life
Miller High Life, the "champagne of beers," dates to 1903. Miller High Life is a classic American-style lager recognized for its consistently crisp, smooth taste and iconic clear-glass bottle.
Miller Lite
This carefully crafted pilsner uses the finest ingredients and brewing techniques to ensure rich, full-bodied beer taste at only 96 calories.
Narragansett Lager
Narragansett Lager is old reliable. It was the first beer brewed by "The Original Six" back in 1890, the bestselling beer in New England from the 1930s to the 1970s, and the official beer of the Boston Red Sox from 1944-1975.
Olde English 800
Olde English 800 is one of America's leading malt liquor brands. Commonly referred to as "OE800," it offers a smooth, rich taste with a slightly fruity aroma that is a favorite among malt liquor drinkers. Introduced in 1964, Olde English 800 was one of America's original malt liquor brands. Olde English 800 enjoys a diverse consumer base that is linked together by an urban mind-set.
Pabst Blue Ribbon
Established in Milwaukee in 1844, this is the original Pabst Blue Ribbon beer. Nature's choicest products provide its prized flavor. Only the finest of hops and grains are used. Selected as America's Best in 1893.
Redd's Apple Ale
The beer is "Crisp like an Apple. Brewed like an ale." This is no cider, it's a golden ale with red apple hints.
Rolling Rock
From the glass lined tanks of Old Latrobe we tender this premium beer for your enjoyment, as a tribute to your good taste. It comes from the mountain springs to you.
Yuengling Black & Tan
A dark brew, smooth and mellow, with a slight caramel flavor.
Yuengling Lager
An iconic American lager famous for its rich amber color and medium-bodied flavor - with a roasted caramel malt for a subtle sweetness and a combination of cluster and cascade hops, this true original delivers a well-balanced taste with very distinct character.
12 oz.
Bottle
12
$10.99
ON

SALE
Yuengling Light
Yuengling Light Beer is skillfully crafted to deliver a consistently refreshing brew with only 98 calories.