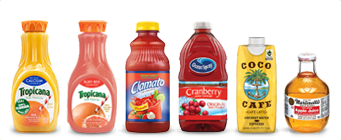 Clamato
The invigorating blend of Tomato Cocktail and spices that we all enjoy!
Dole Pineapple Juice
8.3 oz.
Can
24
$16.99
NEW
Ocean Spray Cranberry
Enjoy the crisp, clean taste of real cranberries straight from the bog. It's a delicious way to get your daily dose of vitamin C and unique cranberry health benefits.
Vita Coco Coconut Water
Vita Coco offers one of the most stupidly simple drinks on the planet.

That's it. Wherever we find complexity (in food culture or the world at large), we fight it with a machete of simplicity. We point out the absurdity of the complex and answer it with the beauty of the simple. Stupidly simple simplicity.

Vita Coco. Stupidly Simple.®

16.9 oz.
Bottle
12
$19.99
Zico Coconut Water
Never sweetened, ZICO 100% Coconut Water naturally supports hydration with five electrolytes, including as much potassium as a banana. Coconut water is naturally fat, gluten, and cholesterol free, which means when you crack open a delicious ZICO, you're making a choice that you can feel good about.

Available in: Pure & Chocolate
16.9 oz.
Bottle
12
$22.69
NEW