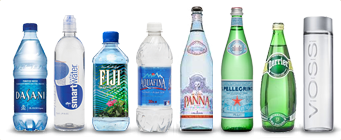 Acqua Panna Natural Spring Water
Acqua Panna is an Italian brand of bottled water. Acqua Panna takes its name from the Villa Panna in the hills of Tuscany, where the natural spring was first discovered.
Aquafina Water
Aquafina® bottled water goes through a state-of-the-art purification process so that you get the refreshment your body craves in its purest form.


Clear Valley Mountain Spring Water
Clear Valley Mountain Spring Water has come directly from a natural spring in Gratz, Pennsylvania. Clear Valley Mountain Spring Water realizes that you "cannot get spring water out of a filter." We start our bottling process with water that is naturally pure and therefore tastes wonderfully natural instead of artificial and processed. Other companies rely on filters, additives, and purifiers to achieve a "spring-like" taste. So next time you ask for water, insist upon Clear Valley Mountain Spring Water.
5 gallon
Jug
1
$3.99
ON

SALE
Dasani Water
In designing DASANI to be the best tasting water, we start with the local water supply, which is then filtered by reverse osmosis to remove impurities. The purified water is then enhanced with a special blend of minerals for the pure, crisp, fresh taste that's delightfully DASANI.
Evian Water
evian's unique and balanced mineral composition gives it its distinctive smooth, buttery taste.
The origins of evian® Natural Mineral Water date back thousands of years to the very birth of the French Alps. Over several ice ages, a natural filter developed, creating a one of a kind haven for the planet's most precious treasure.
1.5 litre
Bottle
12
$23.99
Fiji Water
On a remote Pacific island, 1,600 miles from the nearest continent, equatorial trade winds purify the clouds that begin FIJI® Water's journey through one of the world's last virgin ecosystems. As tropical rain falls on a pristine rain forest, it filters through layers of volcanic rock, slowly gathering the natural minerals and electrolytes that give FIJI Water its soft, smooth taste.
1.5 litre
Bottle
12
$25.99
Glacéau Smart Water
glacéau smartwater is inspired by the way mother nature makes water, known as the hydrologic cycle. we simulate this process by vapor distilling water, making every drop as pure as the very first drop of rain (before it passes through pollutants, of course). if that's not smart enough, we then one-up mother nature by adding in electrolytes for a clean crisp taste. if that sounds like genius, it is. smartwater is smart because it's made that way.
1.5 litre
Bottle
12
$27.99
Glacéau Vitamin Water
Flavors:
Defense, Essential, Focus, Power C, Revive, Drive Zero, Focus Zero, Squeezed, XXX, Glow Zero, GoGo Zero, Mega C Zero, Power C Zero, Revive Zero, Rise Zero, Squeezed Zero & XXX Zero,
Perrier
Elegant, sparkling and refreshing, with just a hint of zaniness... PERRIER is unique.
Poland Spring
Poland Spring® Brand 100% Natural Spring Water is sourced only from carefully selected springs, and contains naturally occurring minerals for a crisp, clean taste.
1.5 litre
Bottle
12
$9.99
24 oz.
Sport Bottle
24
$8.99
Poland Spring Sparkling
Poland Spring ® Brand Sparkling Natural Spring Water is comprised of just three natural ingredients- spring water, natural fruit essence, and bubbles! And, with no sugar or calories, Poland Spring ® Brand Sparkling Natural Spring Water is a good alternative to soda.

Flavors: Orange, Original, Lime, Lemon, Raspberry Lime & Variety Pack
San Pellegrino
S.Pellegrino® Sparkling Natural Mineral Water is one of the world's best known and most enjoyed Italian products because of its image and unmistakable taste.
San Pellegrino Aranciata
Sanpellegrino® Aranciata, the famous Italian beverage made with real orange juice, has a unique taste and a long history, dating back to 1932. It has become a status symbol exported worldwide, distinguished by Italian style. It has very fine, intense aromas of real juice and peel from sun-ripened oranges, a taste that balances freshness and the soft sensation of sugar, with a predominantly citrusy finish. This delicious non-alcoholic sparkling fruit beverage fully conveys the natural taste of Italian oranges.


San Pellegrino Aranciata ROSSA
Aranciata Rossa is the beverage made with blood orange juice, perfect for those who love to quench their thirst while enjoying the delightful and intense fragrance of Sicilian blond and blood oranges. Its intense aroma of ripe blood orange juice brings out its elegance and a sweet, full and well-balanced taste. Cool and invigorating, with a distinctive touch and delicate finish of citrusy notes, Aranciata Rossa's taste is tan
San Pellegrino Clementina
The delicate and unforgettable taste of clementines transports you to Southern Italy, a scenic landscape where the sun always shines. The fragrance of this beverage, made with mandarin orange juice, is clean and frank. It has an abundance of intense, very fine aromas of fruit and a sweet, dry taste along with a note of freshness, all in perfect balance. It finishes with strong, fine citrus sensations. Refresh your mind and body with a chilled Clementina!
San Pellegrino Limonata
Zesty and lemony on the tongue and the palate, Sanpellegrino® sparkling Limonata has a full satisfying taste. Limonata is made with the real juices of ripe lemons from Southern Italy. This gives it a very fresh, excellent quality taste characterized by a perfect balance of pleasantly tart and sweet notes. Limonata, a real fragrant, thirst-quenching beverage.
6.75 oz.
Bottle
24
$21.99
San Pellegrino Melograno e Arancia
Melograno e Arancia is a beverage made with the juices of delicious oranges and pomegranate. It has a strong aroma of pomegranate combined with a delicate taste of orange to create a fresh tartness and a finish tending toward sweetness. Revitalizing flavors that truly embrace the bubbly, breezy, carefree lifestyle of Italy.
San Pellegrino Pompelmo
The fruity bittersweet taste of Pompelmo enriches the fragrance of this amazingly zesty and flavorful sparkling grapefruit beverage. With a predominantly sweet taste that softens the typical sourness, it offers a delightful finish. Cool and energizing, Sanpellegrino Pompelmo is made with high-quality grapefruit juice and the aroma of fresh citrus fruits. This beverage, made with grapefruit juice, is delicious and thirst-quenching.
San Pellegrino Sparkling, Pear&Orange,
The sweetness of orange marries the exciting and delicious flavor of prickly pear in this sparkling beverage made with cactus fruit and orange juices. Soft pink in color with strong glints of orange, it has a strong aroma of ripe oranges and prickly pears, a very sweet flavor and a delicate note of freshness that prolongs its persistence with notes of fruit. Every sip brings you closer to the Sicilian countryside where sunshine and sea breeze fill the air. Take one sip, then another and savor the exhilarating flavors of this magical la
Saratoga Spring Water
From deep beneath the lush Adirondack foothills flows one of nature's most delicious and celebrated spring waters. Since the 14th century, the springs of Saratoga have quenched the thirst of people in search of crisp, clean water.

Available in sparkling and non-sparkling

Tulpehocken Steam Distilled Water
We start our bottling process with spring water that is naturally pure and therefore tastes wonderfully natural. Distillation is the process in which water is boiled, evaporated and the vapour condensed. Distilled water is free of dissolved minerals.
Voss Sparkling Water
VOSS is bottled at a pure water source in Southern Norway.

Available in still and sparkling.
Voss Spring Water
VOSS is bottled at a pure water source in Southern Norway.

Available in still and sparkling.